I was doing some research on voting machines when I came across something that grabbed my attention.
Question: What would the republican President Donald Trump's adviser and daughter Ivanka Trump be doing with obtaining a Chinese trademark for voting machines? I reviewed several news reports dated in early November 2018 about Ivanka Trump having been granted approval for 34 Chinese trademarks, but this question was never adequately addressed. Before May 2018, she had 10 of her Chinese trademark applications honored. The Chinese trademark approvals that she was granted take 90 day to be finalized and are valid until 2028. Wouldn't it be amazing if the president's trade negotiation issues are all resolved around mid April 2019?
As per a January 21, 2019 Fortune report, in January 2019, she was awarded 5 more Chinese trademarks, while her Dad, the US president is knee deep into tense trade negotiations with China.
What also interests me, is the fact that while Ivanka Trump has shuttered her business, as of June/ July 2018, she still retains its name where she could start it back up as soon as she leaves the White House.
Now, I have concerns as to whether the president's trade war/ negotiations with China could be influenced by his financial ties to China where the US interests are secondary. 
Another puzzle has to do with the president having accused China of tampering with the 2018 US voting infrastructure around September 2018. Many of us including US Intelligence Community officials wondered where on earth, the president came up with this idea. I'm wondering if this thinking had anything to do with Ivanka Trump acquiring the Chinese trademark for voting machines.
Here's a sampling of research that I uncovered…
On November 6, 2018, Reuters published the following report, "China grants more trademark approvals for Ivanka Trump firm – including voting machines"
Excerpts:
"China last month granted initial approval for 16 new trademarks for the fashion brand of U.S. President Donald Trump's daughter and adviser Ivanka, including voting machines, a search of official records on Tuesday showed."
"Since Trump's surprise November 2016 election, his family has faced criticism that its portfolio of real estate and consumer goods businesses, which lean heavily on the Trump name, conflicts with its Washington roles."
"The group Citizens for Responsibility and Ethics in Washington made the findings about the new China trademarks in a Monday statement, and said it was the largest number of new Chinese trademarks her company has received in a single month since her father took office."
"The latest China trademarks cover things like shoes and jewelry, but also more offbeat items like voting machines and nursing homes, according to a search of records on the Chinese State Administration for Industry and Commerce's Trademark office."
The trademarks were applied for in 2016."
As per a 11/6/19 Skynews report, "US government watchdog, the Citizens for Responsibility and Ethics in Washington (CREW), said the revelation raises "ethics questions".
"The approvals, which bring her total number of Chinese trademarks to 34, come three months after she dissolved the brand to focus on her government activities."
"In a statement CREW said: "Ivanka receives preliminary approval for these new Chinese trademarks while her father continues to wage a trade war with China."
"Since she has retained her foreign trademarks, the public will continue to have to ask whether President Trump has made foreign policy decisions in the interest of his and his family's businesses."
According to Associated Press, many companies file patent request defensively, particularly in China, where "trademark squatting" is common.
Some lawyers advise clients to register trademarks for merchandise made in China even if it is not sold there.
As per a 11/6/18 CNBC news, "(US government watchdog, the Citizens for Responsibility and Ethics in Washington) CREW, in its report, pointed out two coincidences when China approved past Ivanka Trump trademarks."
"In May 2018, Ivanka Trump's business received approval for several new Chinese trademarks a week before President Trump announced that he wanted to lift the ban on the Chinese company ZTE, for violating US sanctions," CREW said."
"In 2017, the business received three new Chinese trademarks on the same day she dined with Chinese President Xi Jinping," CREW said."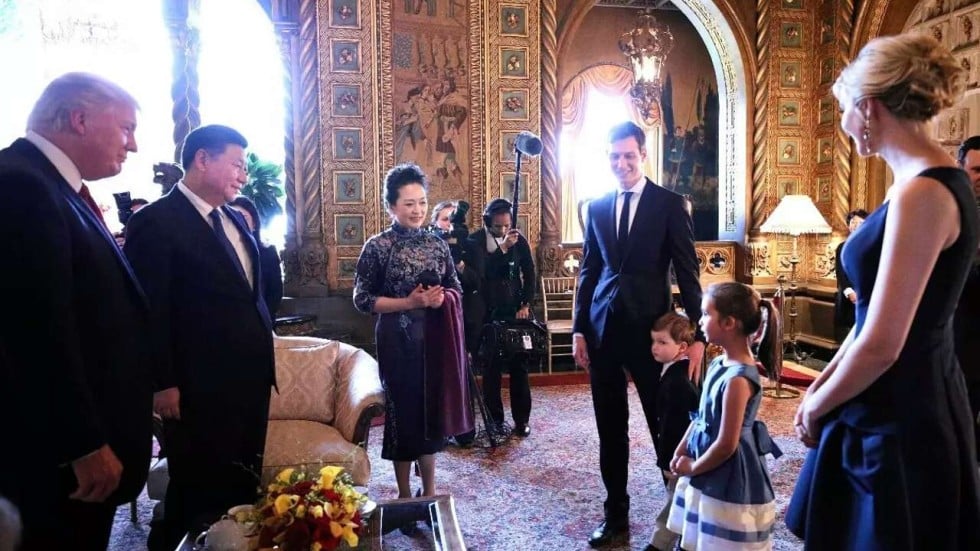 As per 11/6/18 Washington Post report, "China greenlights large batch of Ivanka Trump trademark applications" by Gerry Shih and Jonathan O'Connell:
"All told, China has approved more than 30 of her trademark applications."
"Jordan Libowitz of CREW, the ethics watchdog, said the group's data showed that some Ivanka Trump applications have taken even longer to process."
"We obviously do not know the reason behind the timing, although some others have suspiciously lined up with events involving the Trump administration," Libowitz said."
In May, China awarded Ivanka Trump 7 trademarks around the same time that President Trump worked to save a Chinese state-owned telecom equipment maker when it was on the verge of going bust from U.S. sanctions. Last year, Ivanka Trump's clothing line received 3 trademarks on the same day she dined with Chinese President Xi Jinping at the president's Mar-a-Lago estate.
"And in a rare move, China reversed its decision to reject 9 Donald Trump trademarks last year, the AP found."
"When Ivanka Trump shut down her brand in July, a person familiar with the situation told The Washington Post that company lawyers intended to continue seeking trademarks in China to protect her name from exploitation."
"Ethics experts argued that the moves would lay the groundwork for Ivanka Trump to pursue lucrative business opportunities in China after her father leaves office. They said this poses conflicts of interest for the White House regardless of whether she is stepping away from her company."
"Whatever Ivanka Trump's motives, Charles Feng, a lawyer at East & Concord Partners in Beijing, said the practice of "trademark squatting" — firms applying for valuable trademarks with tenuous or nonexistent connections to the name — is real in China, and highly widespread."
"It's impossible to rule out political factors because the approval period indeed took quite long, and the timing of it came just right," Hao said, referring to the premise that Beijing made a conciliatory gesture after trade frictions took a marked turn for the worse in September.
"On the other hand," Hao added, "there's no evidence of anything unusual. '
"Peter Mirijanian, a spokesman for Abbe Lowell, Ivanka Trump's ethics attorney, said the applications were filed well before her father's election victory."
"These trademarks were sought to broadly protect Ms. Trump's name, and to prevent others from stealing her name and using it to sell their products," he said. "This is a common trademark practice, which is why the trademark applications were granted."
"A government database shows that more than 500 trademark applications have been made with either Ivanka Trump's name in Roman letters or Chinese characters. The real Ivanka Trump submitted 53 of the applications, records show, while Chinese companies and individuals lodged the rest."
"Most of those poured in during the early months of President Trump's term, when the unorthodox president and his family became the subject of fascination on Chinese social media."
As per an 11/5/18 ThinkProgress report, "In an ironic twist, news of Ivanka Trump's business winning Chinese trademarks for voting machines comes just weeks after her father's administration accused China of meddling in the upcoming U.S. midterm elections.
"There can be no doubt: China is meddling in America's democracy," Vice President Mike Pence said last month. Pence further described the Chinese government's actions as "an unprecedented effort to influence American public opinion, the 2018 elections, and the environment leading into the 2020 presidential elections."
In September, President Donald Trump told a meeting of United Nations Security Council that "China has been attempting to interfere in our upcoming 2018 election."
According to the president at the time, "they do not want me or us to win because I am the first president ever to challenge China on trade, and we are winning on trade."
"Facebook and Twitter have found no evidence of Chinese meddling. Four Democratic senators asked Dan Coats, director of national intelligence, multiple times for evidence to support Trump's claim of Chinese election interference and, as of late October, had heard nothing back."
"Despite — or perhaps because of — her high-profile presence in the White House on the matters of trade with China, Ivanka Trump has been the beneficiary of some curiously-timed trademarks from the country."
"As ThinkProgress has previously reported, in June,the first daughter's company won approval for three Chinese trademarks on the same day her father agreed to lift sanctions on ZTE, a Chinese telecommunications company described as a national security threat by a Trump adviser. A month earlier, days before President Trump promised on Twitter to help save ZTE, Ivanka Trump's business secured five valuable trademarks from China."