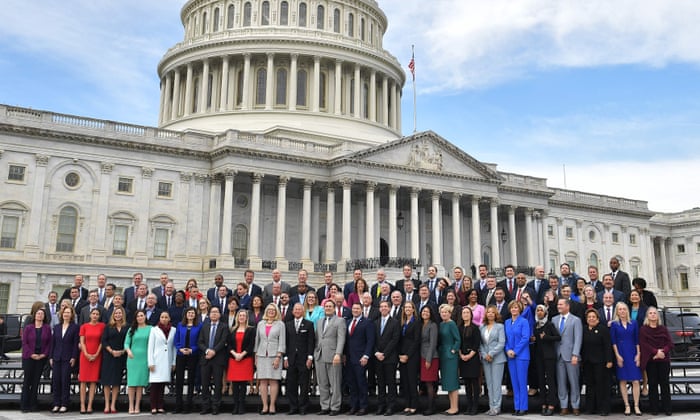 Dear Dems, Provide correction when necessary but please also protect your freshmen rising stars in the US Congress. Do not let GOP lawmakers get away with their relentless attacks on their character without returning fire. We don't need to witness a repeat of what they did to Hillary Clinton for over 4 decades. This needs to be called out for what it is, GOP hypocrisy at its worst.
Let's be clear, President Trump's major focus of his 2016 campaign was to inflame the anti-immigration impulses by many Americans, enough to help him win the US presidency. This was no accident.
The problem with this tactic is the reality that those who are staunchly anti-immigration advocates are also highly likely to exhibit the traits of being racists and anti-Semitics.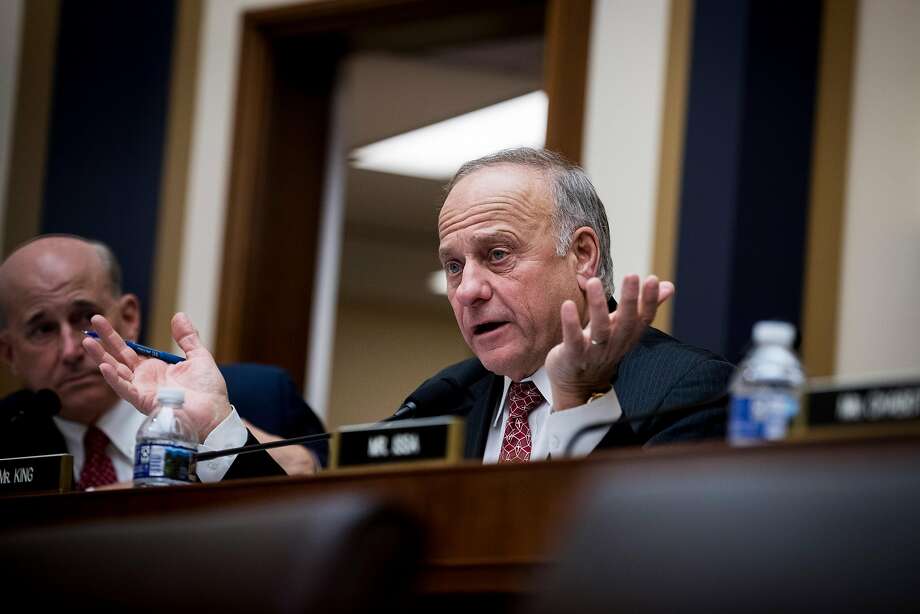 Think about this saying:
First they came for the socialists, and I did not speak out—
Because I was not a socialist.
Then they came for the trade unionists, and I did not speak out—
Because I was not a trade unionist.
Then they came for the Jews, and I did not speak out—
Because I was not a Jew.
Then they came for me—and there was no one left to speak for me.
Remember that August 2017 Unite the Right Rally In Charlottesville, VA. This rally was ostensibly about protecting a statue of Robert E. Lee and  about asserting the legitimacy of "white culture" and white supremacy, and defending the legacy of the Confederacy in the South. So why did the rally participants keep chanting anti-Semitic lines like "Jews will not replace us?"  It's because the members of the White Nationalists and the neo-Nazis present are almost always guilty of Antisemitism. The two go together. If GOP members condone/ tolerate the one, then they are condoning the other.
The point is that today's GOP members have gone out of their way to inflame anti-immigration sentiment which translates into them condoning White Nationalists, neo-Nazis who are almost always, anti-Semitics. Our GOP lawmakers are the ones who have stoked these worst impulses in many of their followers, where hate crimes across the board are rising. They need to take a long hard look at themselves in the mirror before the point their fingers, elsewhere.
I've been warily puzzled as to why the Republican Party today, under the auspices of its standard bearer President Donald J. Trump have directed much of their venomous rhetoric and talking points towards the Democratic Party freshman US Congressional Representative Ilhan Omar of Minnesota. She's a Muslim from Somalia who has become a bogeyman for the right.
I'm in the middle of researching just what she has done to warrant these attacks and I'll be posting a blog on my analysis in the near future. With this disclaimer, I'm aware that the Democratic leadership members in the US Congress are considering whether to draft a resolution condemning her for allegedly having resorted to anti-Semitic tropes on 3-4 occasions. The problem that I have with all of this, is that she has been equally judgmental about the policies of Saudi Arabia.
There's definitely a divide within the older Democratic Party members and the younger progressives as to how they view this controversy. It is my personal view point that there needs to be a constructive dialog regarding US-Israeli relations and Israel's  treatment of its Palestinian neighbors.
However, having a Democratic Party US Congressional member pepper his/ her discussions about Israel-Palestinian issues with Antisemitic tropes makes any real conversation regarding these subjects, 'Mission Impossible." It brings dishonor to democratic colleagues and it blesses the right with a gift to use against democrats.
As per a 3/6/19 VOX report, "The Ilhan Omar anti-Semitism controversy, explained" by Zach Beauchamp, "The long-simmering controversy over Rep. Ilhan Omar (D-MN)'s heated language on Israel has reached a boiling point — with House Democrats weighing a plan to vote on a resolution designed to punish one of their own rising stars."
"Omar had already stirred controversy with comments last month attributing pro-Israel sentiment to the financial clout of the pro-Israel lobby. Then last week, she spoke about the Israeli-Palestinian conflict on a panel with Rep. Rashida Tlaib (D-MI), who, like Omar, is a first-term member of Congress and a Muslim."
"I want to talk about the political influence in this country that says it is okay to push for allegiance to a foreign country," Omar said as part of a discussion about past anti-Semitism allegations lobbed at her."
In full context, Omar doesn't explicitly identify who or what this "political influence" is coming from. But given her previous comments, the latest remarks struck many observers as playing into well-worn anti-Semitic tropes about Jewish attachments to Israel making them disloyal to the United States. Some were no longer inclined to give her the benefit of the doubt. On Monday (3/5/19), House Democrats unveiled plans to vote on a resolution condemning anti-Semitism that reads as a clear rebuke of Omar personally, criticizing the "insidious, bigoted history" of "accusations of dual loyalty."
"Yet Omar also has vocal defenders in both the Democratic Party and the broader left-progressive community, including some prominent Jewish leftists. Her defenders argue she is being attacked in bad faith as a Muslim woman of color who dares to criticize Israel, pointing out that anti-Semitism on the right doesn't get nearly this much attention."
"Nor, they argue, does Islamophobia get taken as seriously: Just this week, Republicans in the West Virginia Legislature put up a viciously Islamophobic poster connecting Omar to the 9/11 hijackers, without nearly as much fanfare as Omar's comparatively tame comments. This backlash, particularly from progressive members of Congress, appears to have caused Democrats to delay the vote on the anti-Semitism resolution — and potentially rewrite its text entirely."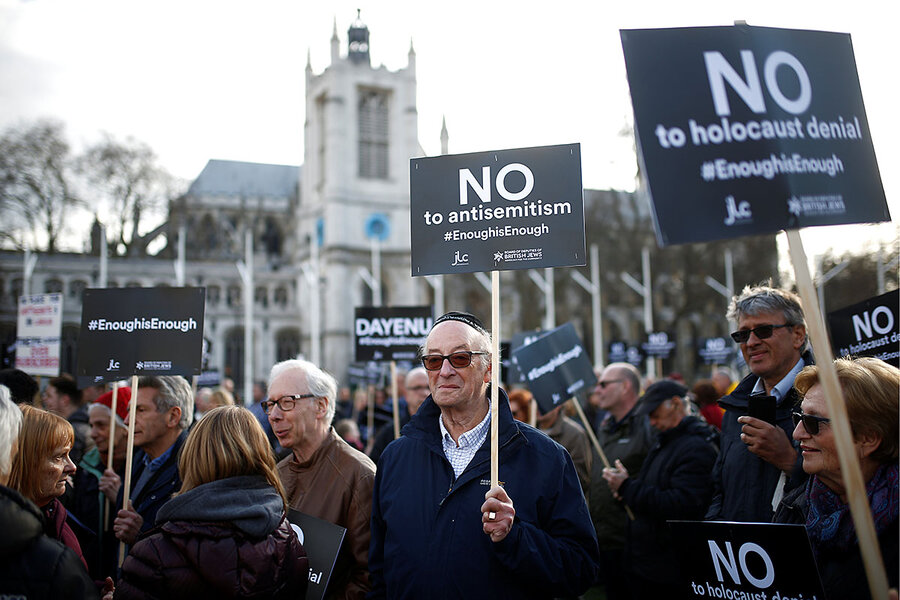 The push to raise the anti-immigration sentiment which translates to a corresponding increase in racism and Antisemitism in Europe and the USA has been years in the making…
As per a 6/1/2002 Brookings.edu report, "The Anti-Immigrant Parties are Racist, Xenophobic and Intolerant and Could Undermine the European Union" by Iva Daalder,  "There have been two disturbing developments in Europe in the last couple of months that conjure up images not seen there since the 1930s. First, across the continent there has been an upsurge of anti-Jewish violence—the burning of synagogues, the firebombing of kosher delis, the desecration of grave sites, attacks on Hasidic Jews, swastikas painted on Jewish schools and even anti-Semitic cartoons in mainstream European newspapers. In Berlin, this trend has led police to advise its Jewish population not to adorn themselves with Jewish symbols, such as wearing a Star of David or donning a yarmulke."
"These developments have left the European political and intellectual elite, as well as much of the public, in profound shock. Le Pen and his European ilk represent the ugly side of Europe—a side many thought or hoped had passed with the defeat of the Nazis and fascists two generations ago."
"Their anti-immigrant message is deeply racist, xenophobic and fundamentally intolerant of diversity. They openly advocate sending foreigners—especially those of color—back to where they came from. Much of the ire is directed against Muslims, though many also have engaged in anti-Semitic rhetoric."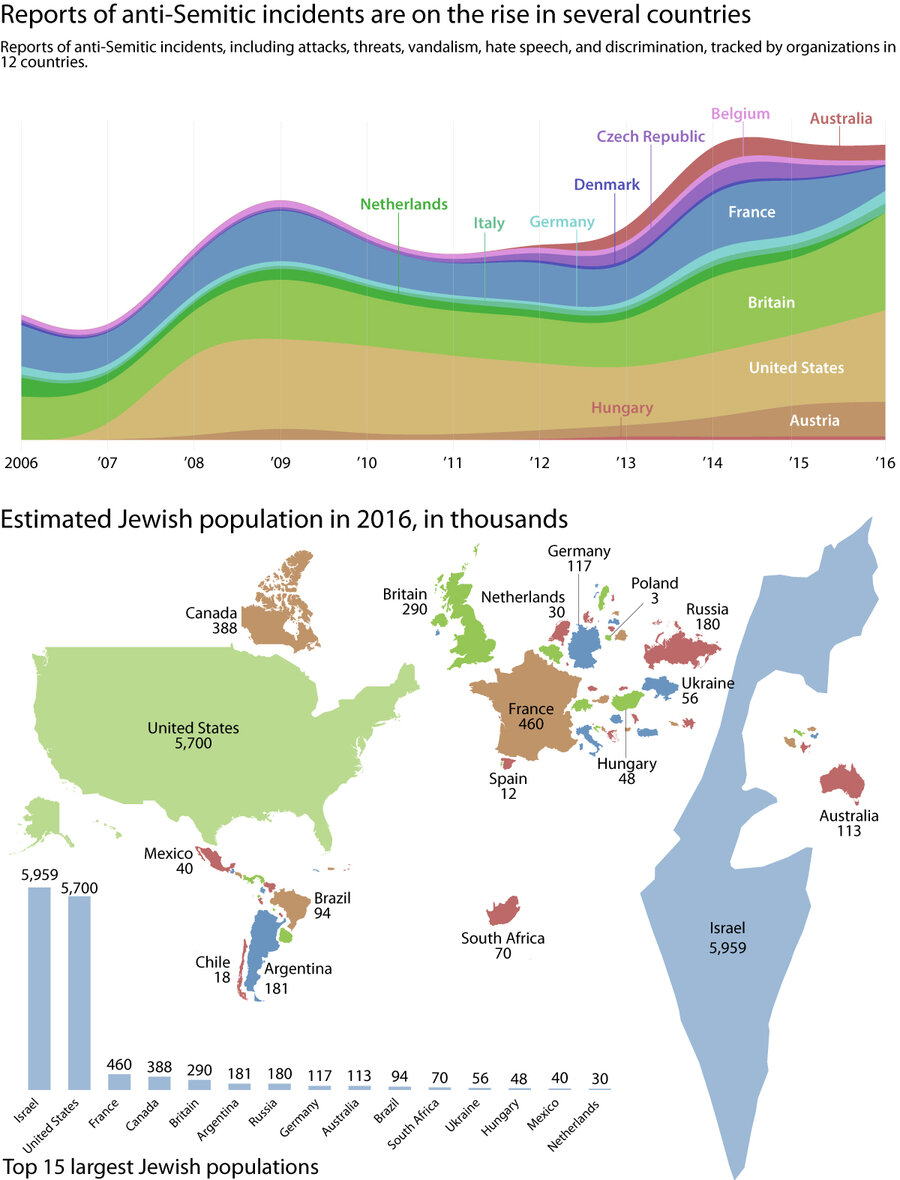 On January 31, 2009, Heidi Beirich, Intelligence Project Director of the Southern Poverty Law Center, penned the following lengthy analysis,  "The Nativist Lobby: Three Faces of Intolerance."
Excerpts:
"Three Washington D.C. based immigration-restriction organizations stand at the nexus of the American nativist movement: the Federation for American Immigration Reform (FAIR), the Center for Immigration Studies (CIS), and NumbersUSA. Although on the surface they appear quite different — the first, the country's best-known anti-immigrant lobbying group; the second, an "independent" think tank; and the third, a powerful grassroots organizer — they are fruits of the same poisonous tree."
"FAIR, CIS and NumbersUSA are all part of a network of restrictionist organizations conceived and created by John Tanton, the "puppeteer" of the nativist movement and a man with deep racist roots. As the first article in this report shows, Tanton has for decades been at the heart of the white nationalist scene. He has met with leading white supremacists, promoted anti-Semitic ideas, and associated closely with the leaders of a eugenicist foundation once described by a leading newspaper as a "neo-Nazi organization." He has made a series of racist statements about Latinos and worried that they were outbreeding whites."
"FAIR, which Tanton founded and where he remains on the board, has been listed as a hate group by the Southern Poverty Law Center. Among the reasons are its acceptance of $1.2 million from the Pioneer Fund, a group founded to promote the genes of white colonials that funds studies of race, intelligence and genetics. FAIR has also hired as key officials men who also joined white supremacist groups. It has board members who regularly write for hate publications. It promotes racist conspiracy theories about Latinos. And it has produced television programming featuring white nationalists."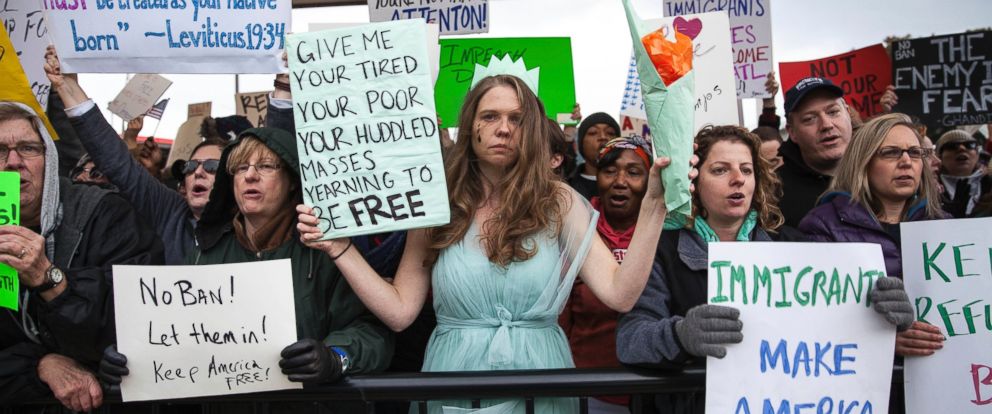 "CIS was conceived by Tanton and began life as a program of FAIR. CIS presents itself as a scholarly think tank that produces serious immigration studies meant to serve "the broad national interest." But the reality is that CIS has never found any aspect of immigration that it liked, and it has frequently manipulated data to achieve the results it seeks. Its executive director last fall posted an item on the conservative National Review Online website about Washington Mutual, a bank that had earlier issued a press release about its inclusion on a list of "Business Diversity Elites" compiled by Hispanic Business magazine. Over a copy of the bank's press release, the CIS leader posted a headline — "Cause and Effect?" — that suggested a link between the bank's opening its ranks to Latinos and its subsequent collapse."
"Like CIS, NumbersUSA bills itself as an organization that operates on its own and rejects racism completely. In fact, NumbersUSA was for the first five years of its existence a program of U.S. Inc., a foundation run by Tanton to fund numerous nativist groups, and its leader was an employee of that foundation for a decade. He helped edit Tanton's racist journal, The Social Contract, and was personally introduced by Tanton to a leader of the Pioneer Fund. He also edited a book by Tanton and another Tanton employee that was banned by the Canadian border officials as hate literature, and on one occasion spoke to the Council of Conservative Citizens, a hate group which has called blacks "a retrograde species of humanity."
"Together, FAIR, CIS and NumbersUSA form the core of the nativist lobby in America. In 2007, they were key players in derailing bipartisan, comprehensive immigration reform that had been expected by many observers to pass. Today, these organizations are frequently treated as if they were legitimate, mainstream commentators on immigration. But the truth is that they were all conceived and birthed by a man who sees America under threat by non-white immigrants. And they've never strayed far from their roots. – Mark Potok"
The Puppeteer: John Tanton and the Nativist Movement
"ANN ARBOR, Mich. — The Bentley Historical Library at the University of Michigan is an unassuming place, more like a small-town library than a research institute. But hidden away in 17 cardboard boxes deep inside the simple facility are the papers of John Tanton, the retired Michigan ophthalmologist who has been the most important figure in the modern American anti-immigration movement for 3 decades. The papers, which include more than 20 years of letters from the founder of the Federation for American Immigration Reform (FAIR) and a batch of other nativist groups, contain explosive material about Tanton's beliefs. They also show that FAIR, on whose board of directors Tanton still sits, has been well aware of Tanton's views and activities for years."
"Tanton has long claimed that he is no racist — that, in fact, he came to his immigration restrictionism through progressive concerns for population control and the environment, not disdain for the foreign born. He characterizes himself as a "fair person," and on his website he condemns the "unsavory characters whose views can easily be characterized as anti-American, anti-Semitic and outright racist."
"Fair enough. But what do Tanton's letters have to say?"
"As it turns out, quite a lot. Although Tanton has been linked to racist ideas in the past — fretting about the "educability" of Latinos, warning of whites being out-bred by others, and publishing a number of white nationalist authors — the papers in the Bentley Library show that Tanton has for decades been at the heart of the white nationalist scene. He has corresponded with Holocaust deniers, former Klan lawyers and the leading white nationalist thinkers of the era. He introduced key FAIR leaders to the president of the Pioneer Fund, a white supremacist group set up to encourage "race betterment" at a 1997 meeting at a private club. He wrote a major funder to encourage her to read the work of a radical anti-Semitic professor — to "give you a new understanding of the Jewish outlook on life" — and suggested that the entire FAIR board discuss the professor's theories on the Jews. He practically worshipped a principal architect of the Immigration Act of 1924 (instituting a national origin quota system and barring Asian immigration), a rabid anti-Semite whose pro-Nazi American Coalition of Patriotic Societies was indicted for sedition in 1942."
"As early as 1969, Tanton showed a sharp interest in eugenics, the "science" of breeding a better human race that was utterly discredited by the Nazis, trying to find out if Michigan had laws allowing forced sterilization. His interest stemmed, he wrote in a letter of inquiry that year, from "a local pair of sisters who have 9 illegitimate children between them."
Blood and Soil
"In the world view of John Tanton, successful societies aren't based on a mere sharing of territory, values and political systems. Nations and their cultures, he has suggested on numerous occasions, are largely determined by biology — race."
"In a Nov. 13, 1994, letter to white nationalist columnist Lawrence Auster, a regular correspondent, Tanton suggested that the Declaration of Independence was actually a document based on the "bond of blood and ethnicity — nationhood." Almost a year earlier, in a Dec. 10, 1993, letter to Garrett Hardin, a controversial ecology professor, he said: "I've come to the point of view that for European-American society and culture to persist requires a European-American majority, and a clear one at that." On Jan. 26, 1996, he wrote Roy Beck, head of the immigration restrictionist group NumbersUSA (and then an employee of Tanton's foundation U.S. Inc.), questioning whether Latinos were capable of governing California."
Link: (2009 Southern Poverty Law publication, "The Nativist Lobby: Three Faces of Intolerance") Read this in PDF form..