The republican President Donald Trump is very aware of the need to keep his base of supporters in tact. While he doesn't keep all his promises especially when it comes to hard working average Americans like those who work in the coal mines, manufacturing plants or the dairy and soybean farms, he caters bigly to the anti-immigration faction; the White Evangelical Christians; White Supremacists/ Neo-Nazis group members and sympathizers; NRA 2nd Amendment gun rights' zealots; those whose only interests are tax cuts and deregulation measures; those associated with the fossil fuel and the Wall Street industries; and the dark money donors who foster and support the above described coalition of folks.
The president's desire to erase Barack Obama's legacy, his instinctive embrace of autocrats, and the furtherance of his financial interests plus his penchant for vengeance have all been analysed as driving forces behind the administration's foreign policy.
But President Trump is also motivated to maintain his hold on power via his cult like supporters/ voters. This makes him feel obligated to please his largest faction, the end times rapture believing Evangelical Christians who comprise about 35% of his base. They have proven to be steadfastly loyal to him. Eighty per cent of white evangelicals voted for him in 2016 and their continued approval of him rates over 70%.
The influence of evangelical Christianity on the president's formation of policies is likely to become an important issue, as Trump finds himself becoming even more dependent on them for his political survival.
In general, this group supports President Trump's push to build his wall, his denial of climate change science, his authoritarian style of leadership, his disdain for the United Nations, NATO as part of their conspiratorial antipathy towards the 'new world' order; his lack of trust in the establishment media, and his sense of victimization.
To talk with any of them, will lead anyone to the realization of of their firmly held conviction that God has chosen President Trump to be their leader.
The president's Secretary of State Mike Pompeo is one of these rapture believing Evangelicals who's genuinely convinced that he is propping up a leader chosen by God. His thinking this makes me fearful of his helping the president in the implementation of his foreign and domestic policies based on his faith. An example of how Evangelicals influence domestic policies would include the president's military transgender ban. They had been strongly favoring and advocating in support of the president's foreign policy decision to move the US embassy in Israel from Tel Aviv to Jerusalem.
The one foreign policy that concerns me, that could be impacted by Evangelicals' influence,has to do with their faith based hatred of Iran.
Here is the rest of the story…
As per 10/ 2018 Guardian report, "Brought to Jesus': the evangelical grip on the Trump administration" by Julian Borger, "In setting out the Trump administration's Middle East policy, one of the first things Mike Pompeo made clear to his audience in Cairo is that he had come to the region as "as an evangelical Christian".
"In his speech at the American University in Cairo, Pompeo said that in his state department office: "I keep a Bible open on my desk to remind me of God and his word, and the truth."
"The secretary of state's primary message in Cairo was that the US was ready once more to embrace conservative Middle Eastern regimes, no matter how repressive, if they made common cause against Iran."
"His second message was religious. In his visit to Egypt, he came across as much as a preacher as a diplomat. He talked about "America's innate goodness" and marveled at a newly built cathedral as "a stunning testament to the Lord's hand".
"The gravitational pull of white evangelicals has been less visible. But it could have far-reaching policy consequences. Vice President Mike Pence and Pompeo both cite evangelical theology as a powerful motivating force."
"Just as he did in Cairo, Pompeo called on the congregation of a Kansan megachurch three years ago to join a fight of good against evil."
"We will continue to fight these battles," the then congressman said at the Summit  church in Wichita. "It is a never-ending struggle … until the rapture. Be part of it. Be in the fight."
For Pompeo's audience, the rapture invoked an apocalyptical Christian vision of the future, a final battle between good and evil, and the second coming of Jesus Christ, when the faithful will ascend to heaven and the rest will go to hell.
"For many US evangelical Christians, one of the key preconditions for such a moment is the gathering of the world's Jews in a greater Israel between the Mediterranean and the Jordan River. It is a belief, known as premillenial dispensationalism or Christian Zionism – and it has very real potential consequences for US foreign policy."
"It directly colours views on the Israeli-Palestinian conflict, and indirectly, attitudes towards Iran, broader Middle East geopolitics and the primacy of protecting Christian minorities. In his Cairo visit, Pompeo heaped praise on Abdel Fattah al-Sisi, for building the new cathedral, but made no reference to the 60,000 political prisoners the regime is thought to be holding, or its routine use of torture."
"Pompeo is an evangelical Presbyterian, who says he was "brought to Jesus" by other cadets at the West Point military academy in the 1980s."
"As Donald Trump finds himself ever more dependent on them for his political survival, the influence of Pence, Pompeo and the ultra-conservative white Evangelicals who stand behind them is likely to grow."
"Many of them relish the second coming because for them it means eternal life in heaven," Andrew Chesnut, professor of religious studies at Virginia Commonwealth University said. "There is a palpable danger that people in high position who subscribe to these beliefs will be readier to take us into a conflict that brings on Armageddon."
"Chesnut argues that Christian Zionism has become the "majority theology" among white US Evangelicals, who represent about a quarter of the adult population. In a 2015 poll, 73% of evangelical Christians said events in Israel are prophesied in the Book of Revelation. Respondents were not asked specifically whether their believed developments in Israel would actually bring forth the apocalypse."
"Some leading evangelicals see Trump as a latterday King Cyrus, the sixth-century BC Persian emperor who liberated the Jews from Babylonian captivity."
The comparison is made explicitly in The Trump Prophecy, a religious film screened in 1,200 cinemas around the country in October, depicting a retired firefighter who claims to have heard God's voice, saying: "I've chosen this man, Donald Trump, for such a time as this."
"Lance Wallnau, a self-proclaimed prophet who features in the film, has called Trump "God's Chaos Candidate" and a "modern Cyrus".
"Cyrus is the model for a nonbeliever appointed by God as a vessel for the purposes of the faithful," said Katherine Stewart, who writes extensively about the Christian right."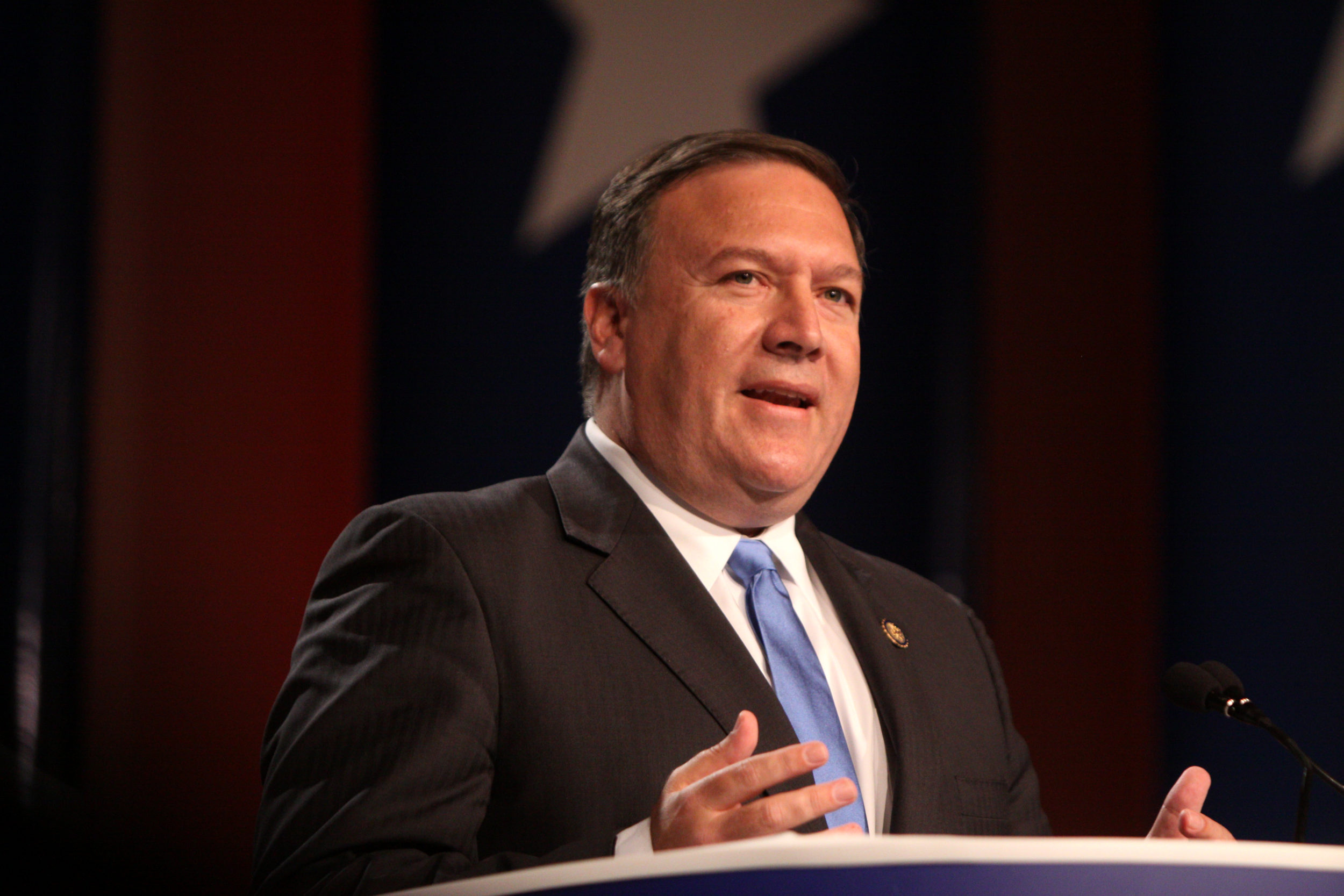 "She added that they welcome his readiness to break democratic norms to combat perceived threats to their values and way of life."
"The Christian nationalist movement is characterized by feelings of persecution and, to some degree, paranoia – a clear example is the idea that there is somehow a 'war on Christmas'," Stewart said. "People in those positions will often go for authoritarian leaders who will do whatever is necessary to fight for their cause."
Trump's choice of Pence as a running mate was a gesture of his commitment, and four of the six preachers at his inauguration were evangelicals, including White and Franklin Graham, the eldest son of the preacher Billy Graham, who defended Trump through his many sex scandals, pointing out: "We are all sinners."
"Almost alone among major demographic groups, white evangelicals are overwhelmingly in favour of Trump's border wall, which some preachers equate with fortifications in the Bible."
"Evangelical links have also helped shape US alliances in the Trump presidency. As secretary of state, Pompeo has been instrumental in forging link with other evangelical leaders in the hemisphere, including Guatemala's Jimmy Morales and the new Brazilian president, Jair Bolsonaro. Both have undertaken to follow the US lead in moving their embassies in Israel to Jerusalem."
"Trump's order to move the US embassy from Tel Aviv – over the objections of his foreign policy and national security team – is a striking example of evangelical clout."
"The move was also pushed by Las Vegas billionaire and Republican mega-donor, Sheldon Adelson, but the orchestration of the embassy opening ceremony last May, reflected the audience Trump was trying hardest to appease."
"The tightening of the evangelical grip on the administration has also been reflected in a growing hostility to the UN, often portrayed as a sinister and godless organisation."
"Since the US ambassador, Nikki Haley's departure in October, and Pompeo (having) direct control, the US mission has become increasingly combative, blocking references to gender and reproductive health in UN documents."
"Some theologians also see an increasingly evangelical tinge to the administration's broader Middle East policies, in particular its fierce embrace of Binyamin Netanyahu's government, the lack of balancing sympathy for the Palestinians – and the insistent demonstration of the Iranian government."
In a speech at the end of a regional tour on Thursday, Pompeo reprised the theme,  describing Iran as a "cancerous influence".
In conversations with European leaders such as Emmanuel Macron and Theresa May, Trump has reportedly insisted he has no intention of going to war with Iran. His desire to extricate US troops from Syria marks a break with hawks, religious and secular, who want to contain Iranian influence there.
But the logic of his policy of ever-increasing pressure, coupled with unstinting support for Israel and Saudi Arabia, makes confrontation with Iran ever more likely.
Link to entire report: theguardian.com/
On March 30, 2019, Edward Wong of the New York Times penned the following analysis, "The Rapture and the Real World: Mike Pompeo Blends Beliefs and Policy"
Excerpts:
"When Secretary of State Mike Pompeo sat down for an interview with the Christian Broadcasting Network in a hotel in Jerusalem earlier this month, he made a remark that was perhaps the most revelatory of any in his nearly one year in office."
"An evangelical Christian, Mr. Pompeo had just returned from tours of the Church of the Holy Sepulcher, built on the ground where Jesus is said to have been crucified and buried, and of tunnels beneath the Western Wall, by the holiest site in Judaism. The interviewer  posed a question around a biblical tale about a queen who saved Jews from slaughter by a Persian official: Did Mr. Pompeo think President Trump had been "raised for such a time as this, just like Queen Esther, to help save the Jewish people from the Iranian menace?"
"As a Christian, I certainly believe that's possible," Mr. Pompeo said. "It was remarkable — so we were down in the tunnels where we could see 3,000 years ago, and 2,000 years ago, if I have the history just right — to see the remarkable history of the faith in this place, and the work that our administration's done, to make sure that this democracy in the Middle East, that this Jewish state, remains. I am confident that the Lord is at work here."
"But no secretary of state in recent decades has been as open and fervent as Mr. Pompeo about discussing Christianity and foreign policy in the same breath. That has increasingly raised questions about the extent to which evangelical beliefs are influencing American diplomacy."
Link to entire article: nytimes.com