For a disclaimer, as a person of faith, I'm in agreement with almost nothing of the US White Evangelicals' religious teachings. I'm not an expert of this subject, however, I'm curious as to how the Evangelical thinking is influencing the politics of today. I've had to rely on a myriad of sources including my daughter, an ex-Evangelical, to be able to write about this subject.
Also, not all Evangelical Churches fit the below descriptions. There are Evangelical ministries which take in significant amounts of monies but their outreach to the poor, the prisoner, the sick are huge. These pastors do not live in mega- mansions and they are transparent with their accounting, by, for example, publishing an annual report. One tell is that these pastors will exhibit the traits of humility, to where they readily admit to mistakes. They don't resort to making excuses when they mess up.
The Prosperity Gospel
A significant number of Evangelical pastors have been attributed with preaching, what's called, the prosperity gospel. They are easy to recognize as their sermons will be inundated with teachings along the lines, that if the believers give in abundance to the church, they will be rewarded by God, tenfold.  Then there is this inference that if someone is financially strapped or is beset with illness, that he/she must have done something to upset God. There is little compassion for those who aren't prosperous, for clearly they must have done something to incur God's wrath.
These are the same preachers who'll declare for example, that Hurricane Harvey or any other extreme weather event was caused because of the LGBTQ community. That Gay community must have done something to anger God. They would say this despite overwhelming evidence that climate change is a major factor in the increased severity and number of crushing storms flooding incidents, fires and tornadoes. As a community of climate change deniers, these same Evangelicals are party to contributing to the devastation resulting from a increase in the number and severity of extreme weather events, as they resist any governmental plans to mitigate for these natural disasters.
As per a 5/14/ 2018 NYT report:
Hagee: Hurricane Katrina punished New Orleans for its sins
After Hurricane Katrina struck New Orleans in August 2005, killing more than 1,200 people, Mr. Hagee said that the storm was God's punishment for its sinful ways, a common trope among conservative evangelists. Those sins included a gay pride parade that was scheduled for the same day that Katrina made landfall.
"New Orleans had a level of sin that was offensive to God, and they were recipients of the judgment of God for that," Mr. Hagee said in an interview on NPR in 2006. "Hurricane Katrina was, in fact, the judgment of God against the City of New Orleans."
Luke 17:2 (KJV)- It were better for him that a millstone were hanged about his neck, and he cast into the sea, than that he should offend one of these little ones.
Many years ago, while I was employed by Continental Airlines, I had decided to attend a church service because it was conveniently located across the street. I soon discovered that this was an Evangelical ministry. The current spiritual adviser to President Trump, Paula White was its pastor along with her husband. I recall her husband announcing that he was believing that God would be providing him with his own plane. Its members were required to sign a contract that they would pay 10% of their wages in donations (tithes) to their church. Needless to say, I was not interested.
My daughter mentioned that these ministries frequently refer to the Old Testament rule, where peoples were expected to pay (tithe) 10% of their earnings to the church. But the New Testament is supposed to do away with these old laws and the Jesus of the New Testament does not re-enforce this belief. But He does give notice to the widow's donation of 2 mites to the church's treasury where he describes how she was giving much more than all the rich attendees because it was all she had, whereas, others were giving out of their abundance.
Luke 21:1-4 New King James Version (NKJV):
The Widow's Two Mites
21 And He looked up and saw the rich putting their gifts into the treasury,  and He saw also a certain poor widow putting in two mites. So He said, "Truly I say to you that this poor widow has put in more than all;  for all these out of their abundance have put in offerings for God, but she out of her poverty put in all the livelihood that she had.
Then there's examples of like the Houston, TX Lakewood mega church's like the one with Pastor Joel Osteen at the helm. During July 2017. when Hurricane Harvey hit around the 25th on a Friday, his famous megachurch, "Lakewood" doors were closed on Saturday,  Sunday and Monday to those who were in desperate need for solace and shelter. Personally, I have a thing about those who say they'll pray for others, when the others are drowning and crying out for help.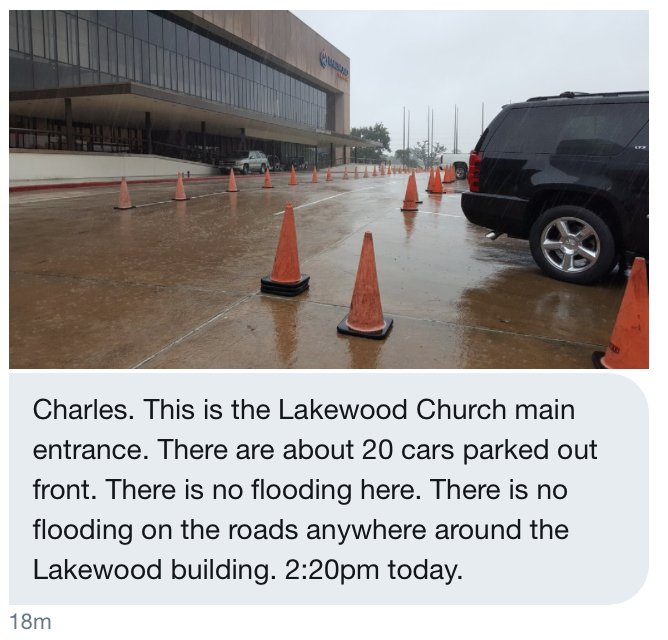 The church finally opened their doors on Tuesday (8/29/17) morning after an avalanche of negative news hit the blogo-sphere. He tried excuses like his church had been effected by the floods, but neighbors tweeted photos that proved otherwise. There had been very minor flooding but nothing that would have prevented him from opening his facility up which has a capacity of almost 17,000.
As per a 8/29/17 Heavy.com report by Effie Orfanides, "Since that time, several photos and videos of the church has been posted on social media. Some people claim that the church did not suffer any flooding and that the areas around the outside of the church prove that the water levels didn't get very high and that the church managed to stay dry inside despite the severe weather."
Here's a report on how these churches who preach this prosperity gospel are doing harm to Christianity in America…
As per a 1/28/2018 BoingBoing report, "Baptist News: Evangelicals have killed Christianity in America" by Cory Doctorow, "Writing in the Baptist News, Miguel De La Torre — a progressive professor at Denver's Iliff School of Theology — denounces evangelicals who "forgive" Trump for his myriad sins and support child-molesters like Roy Moore, saying that they embrace a faith that "fuses and confuses white supremacy with salvation."
"De La Torre says that the "Prosperity Gospel" is incompatible with the teachings of Christ: "Christianity at a profit is an abomination before all that is Holy." He goes on to condemn homophobia, racism, xenophobia, as un-Christian, saying "the Evangelicals' Jesus is satanic."
"Evangelicalism's unholy marriage to the Prosperity Gospel justifies multi-millionaire bilkers wearing holy vestments made of sheep's clothing who discovered being profiteers rather than prophets delivers an earthly security never promised by the One in whose name they slaughter those who are hungry, thirsty and naked, and the alien among them. Christianity at a profit is an abomination before all that is Holy. From their gilded pedestals erected in white centers of wealth and power, they gaslight all to believe they are the ones being persecuted because of their faith."

"Evangelicalism's embrace of a new age of ignorance, blames homosexuality for Harvey's rage rather than considering the scientific consequences climate change has on the number of increasing storms of greater and greater ferocity. To ignore the damage caused to God's creation so the few can profit in raping Mother Earth causes celebrations in the fiery pits of Gehenna."

"Evangelicalism forsakes holding a sexual predator, an adulterer, a liar and a racist accountable, instead serving as a shield against those who question POTUS' immorality because of some warped reincarnation of Cyrus. Laying holy hands upon the incarnation of the very vices Jesus condemned to advance a political agenda — instead of rebuking and chastising in loving prayer — has prostituted the gospel in exchange for the victory of a Supreme Court pick."
As per a 7/18/2018 LA Times published AP report, "Vatican-approved journal strikes out at U.S. evangelicals and spread of 'prosperity gospel'
"A Vatican-approved journal has dismissed "prosperity gospel" as a pseudo-theology dangerously tied up with the American dream and President Trump's politics, launching its second major critique of U.S. evangelicals in as many years."
"Two of Pope Francis' top communications advisors — an Italian Jesuit and an Argentine Protestant pastor — penned "The Prosperity Gospel: Dangerous and Different" for the current issue of the Jesuit journal La Civilta Cattolica, published Wednesday."
"In the article, the authors note that the "prosperity gospel" and its belief that God wants his followers to be wealthy and healthy has spread throughout the world, particularly in Latin America and Asia, thanks to its charismatic proponents' effective use of TV and media."
"But they point to its origins in the U.S. and its underpinning of the American dream, and say its vision of faith is in direct contrast to true Christian teaching and Francis' emphasis on the poor, social justice and salvation."
"In truth, one of the serious problems that the prosperity gospel brings is its perverse effects on the poor," wrote the authors, the Rev. Antonio Spadaro and Marcelo Figueroa."
"In fact, it not only exasperates individualism and knocks down the sense of solidarity, but it pushes people to adopt a miracle-centered outlook because faith alone — not social or political commitment — can procure prosperity."
"Although "popularity gospel" is widely popular, many Christians consider it heretical. Ministers in the tradition often hold up their own wealth as evidence that their teachings work."
"Trump campaigned in part on his record as a wealthy real estate developer and businessman, and preacher Paula White is a key Trump advisor. She and another prosperity preacher, Bishop Wayne T. Jackson, were among the religious leaders selected to offer prayers at Trump's swearing-in."
"The Civilta Cattolica article said "prosperity gospel" clearly serves the U.S. economic-political model, especially under Trump, and the idea of "American exceptionalism" and that the United States "has grown as a nation under the blessing of the providential God of the Evangelical movement."
"It cited Trump's inaugural speech and the militancy associated with prosperity preachers, in which in a few short sentences Trump mixed in the idea of "God, the army and the American dream."
"The article named several prominent U.S. and international televangelists and megachurch pastors, including Oral Roberts, Pat Robertson and Joel Osteen — and denounced how they have increased their own wealth and popularity thanks to a "pseudo-gospel" that subverts the Bible."
Most problematic, the authors said, was the preaching that if the faithful give money to the preachers, they will reap the rewards exponentially because of their faith that God will provide them riches.
"This is why there can be a lack of empathy and solidarity in these cases from [prosperity gospel] followers," the article said, referring to migrant crises and natural disasters. "There can be no compassion for those who are not prosperous, for clearly they have not followed the rules and thus live in failure and are not loved by God."