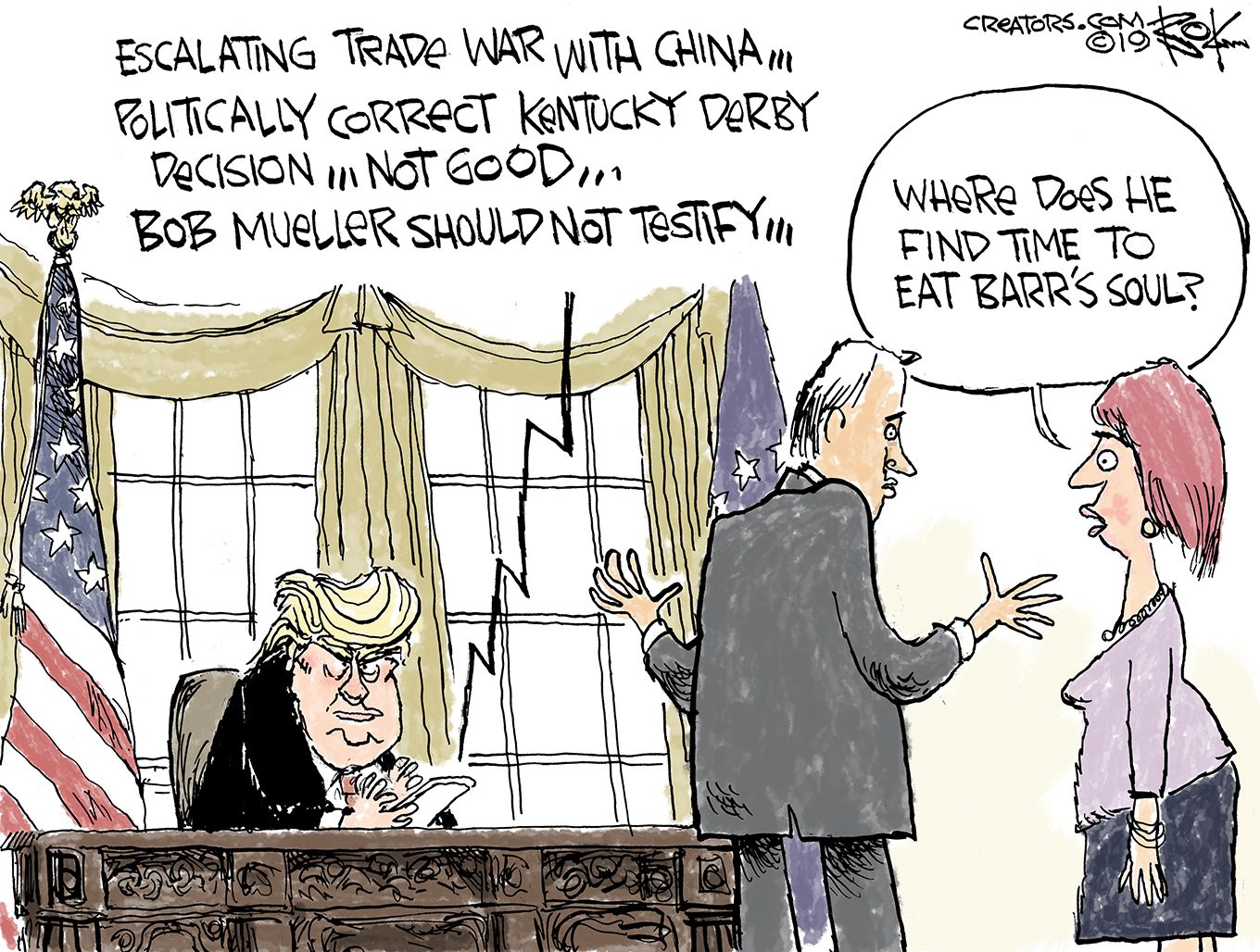 During the week of May 22, 2019, the republican President Donald Trump has demonstrated for the world that he's lost his marbles with his obvious mental meltdown, live on TV as he responded to the US Congressional House Democratic Speaker Nancy Pelosi daring to say out loud that he's been orchestrating a cover up by blocking institutions from delivering documents and key witnesses from testifying in a cooperative way with the House oversight committees.
In a pique, President Trump not only has responded in an unhinged manner as when he went on a lengthy tirade about what Nancy Pelosi said about him at an event scheduled to honor the farming community which has been hard hit by his tariff war with China and to where he was supposed to announce a multi-billion dollar aid package to assist them through these tough times, but he also displayed his vindictive streak in stark colors.
His less than presidential reaction isn't because the Speaker accused President Trump of implementing a cover-up but because he's facing the reality that House legislators are about to be granted by the courts access to a lot of his financial records as part of their oversight investigations based in part, on the FBI's 3/22/2019 final report regarding its 22 months long Trump-Russia probe led by the Special Counsel Robert Mueller III, where the FBI findings detail how President Trump has committed numerous felonious acts. To date over 900 federal prosecutors from both parties have gone on the record to state that If Mr. Trump were not the US president, he would have been criminally indicted.
The fuming president reacted to his critics as he lobbied his biggest bombshell among others by granting his lackey and sycophant, the Attorney General William Barr, head of the powerful US Department of Justice (DOJ) "full and complete authority" to declassify government secrets, issuing a memorandum late Thursday (5/23/2019) that orders U.S. intelligence agencies to cooperate promptly with his attorney General's audit of the investigation into Russia's election interference in 2016. Needless to say, the Intelligence Community is up in arms over this directive as it could compromise crucial classified data and even the identity of foreign sources.
Here is the rest of the story…
As per May 24, 2019 New York Times report, "Potential Clash Over Secrets Looms Between Justice Dept. and C.I.A." by Julian E. Barnes and David E. Sanger,  "President Trump's order allowing Attorney General William P. Barr to declassify any intelligence that led to the Russia investigation sets up a potential confrontation with the C.I.A. It effectively strips the agency of its most critical power: choosing which secrets it shares and which ones remain hidden."
"Mr. Trump said on Friday (5/24/2019) that he wanted Mr. Barr to "get to the bottom" of what the intelligence agencies knew about the investigation into his campaign. He promised, "We're exposing everything."
"The president raised questions about C.I.A. involvement in the origins of the Russia investigation, and other officials said Mr. Barr wanted to learn more about sources in Russia, including a key informant who helped the C.I.A. conclude that President Vladimir V. Putin ordered the intrusion on the 2016 election. Mr. Trump also invoked two close allies, Australia and Britain, telling reporters he wanted the attorney general to examine their roles in sharing intelligence about Russia's interference."
"The declassification order served as Mr. Trump's counterpunch to the special counsel's investigation. Since the release of the Mueller report, the president has been trying to focus attention on his accusations that the F.B.I. and intelligence agencies spied on his campaign. The new order, former officials said, could be intended to give more ammunition to that effort."
"The intelligence agencies signaled on Friday that they would not easily give up their secrets. Dan Coats, the director of national intelligence, pledged to cooperate with the review but also warned that the secrets of the intelligence community, or I.C., must be protected."
"I am confident that the attorney general will work with the I.C. in accordance with the long-established standards to protect highly sensitive classified information that, if publicly released, would put our national security at risk," Mr. Coats said in a statement.
"Though the ultimate power to declassify documents rests with the president, Mr. Trump's delegation of that power to Mr. Barr effectively stripped Mr. Coats and the C.I.A. of control of their secrets. The move could endanger the agencies' ability to keep the identities of their sources secret, former intelligence officials said."
"Mr. Coats and Gina Haspel, the C.I.A. director, will fight hard to ensure that their most valuable secrets — the identities of sources — are protected, former officials have said. Ms. Haspel has been described as a fierce political infighter, but she has also been careful to cultivate a strong working relationship with Mr. Barr, former officials said."
"Traditionally, the C.I.A. has been effective at intramural governmental fights, in large measure because its power comes from its information and its closely guarded secrets. By taking that power from the intelligence agencies, Mr. Trump and Mr. Barr may have weakened the C.I.A."
"The intelligence agencies already have a degree of unease over the Justice Department's ability to keep the identity of sources secret. The name of the F.B.I. informant involved in the initial investigation of the Trump campaign's contacts with Russia was
inadvertently made public
.
"If you compromise agents, lives can be lost. That is why this is so sensitive," Senator Angus King, the Maine independent who is a member of the Senate Intelligence Committee, said in an interview. "It is important to be exceedingly careful in this area. That is my only concern, and I hope Mr. Barr realizes that."
"Mr. Barr asked Mr. Trump for the declassification authority, a Justice Department official said on Thursday. He has not detailed the information he is seeking, but some officials have said he is interested in how the C.I.A. concluded Mr. Putin ordered the interference campaign in 2016."
"The most prominent of the C.I.A.'s sources of intelligence on Russia's election interference was a person close to Mr. Putin who provided information about his involvement, former officials have said. The source turned over evidence for one of the last major intelligence conclusions that President Barack Obama made public before leaving office: that Mr. Putin himself was behind the Russia hack."
"Long nurtured by the C.I.A., the source rose to a position that enabled the informant to provide key information in 2016 about the Russian leadership's role in the interference campaign, the officials said."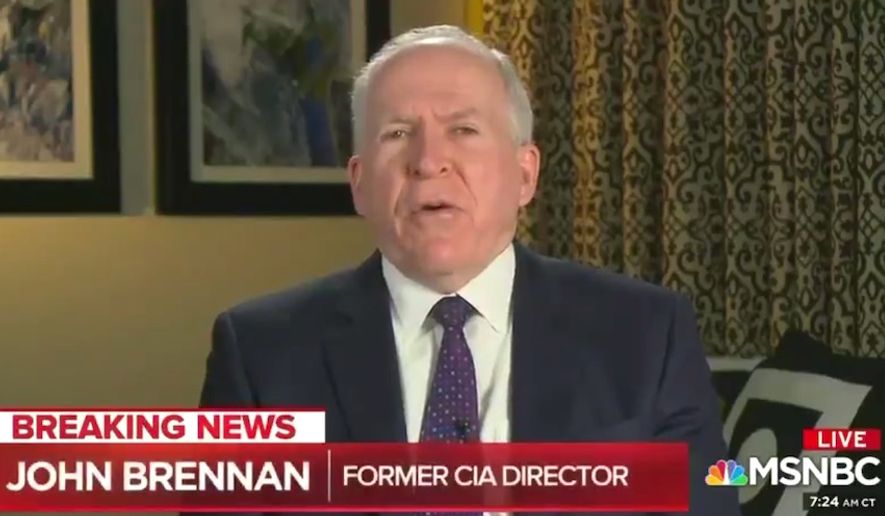 "John O. Brennan, the C.I.A. director under Mr. Obama, would bring reports from the source directly to the White House, keeping them out of the president's daily intelligence briefing for fear that the briefing document was too widely disseminated, according to the officials. Instead, he would place them in an envelope for Mr. Obama and a tiny circle of aides to read."
"But Mr. Trump's promise to declassify a broad swath of documents suggests that Mr. Barr's mandate is more extensive than investigating any single source. Mr. Trump's comments mentioning Britain and Australia appeared to be a reference to the F.B.I.'s investigation of George Papadopoulos, a former Trump campaign aide."
Link to the report:Potential Clash Over Secrets Looms Between Justice Dept. and CIA