Sometime in the near future, the GOP in the White House and in the US Congress will have to explain to the republican President Donald Trump that China is not Mexico. The president has decided to orchestrate another White House reality show where he can threaten additional tariffs on China to motivate its officials to cut a trade deal with the USA at the upcoming G20 Osaka summit in Japan.
As per 6/10/2019 CNBC's report, "Trump: If President Xi does not attend G-20, more China tariffs will go into effect immediately" by Michael Sheetz, "President Donald Trump confirmed on Monday (6/10/2019) that additional tariffs on Chinese goods will be levied if Chinese President Xi Jinping does not attend this month's G-20 meeting."
When asked during a telephone interview if that means the new tariffs would go into effect immediately, Trump told CNBC's Becky Quick, "Yes, it would."
The president previously threatened to put levies on
another $300 billion in Chinese goods
 if a trade agreement is not reached soon. The Trump administration increased tariffs last month on $200 billion worth of goods the U.S. imports from China.
Trump is supposed to meet with Xi at the G-20 summit, which is scheduled for June 28-29 in Osaka, Japan. The leaders of 19 nations and the European Union are expected to attend.
In the telephone interview on "Squawk Box, " the president said he'd be surprised if Xi did not attend. Trump said he has "a great relationship" with Xi, adding that "he's actually an incredible guy."
As per the 6/10/2019 Hill report, "Trump: New China tariffs will take effect immediately if Xi skips G-20" by Jordan Fabian, "President Trump on Monday threatened to immediately impose tariffs on $300 billion in Chinese goods if Chinese President Xi Jinping does not appear at this month's Group of 20 (G-20) summit."
"Trump has threatened to slap tariffs on an additional $300 billion in Chinese imports if the two countries do not reach a deal soon to end their long-running trade dispute."
"The president raised tariffs on roughly $200 billion in Chinese goods last month after trade talks collapsed, prompting Beijing to increase tariffs on around $60 billion in U.S. imports."
"The tit-for-tat has rattled financial markets worried about the trade dispute between the world's two largest economies spiraling out of control. The additional tariffs, if Trump imposes them, would cover nearly all Chinese imports and could dramatically raise consumer prices."
"Trump expressed confidence China wants to make a deal but also said he would be fine leaving the tariffs in place, saying the "best deal we could have" is the revenue from the import duties."
"Business groups have urged Trump to broker a deal to lift the tariffs, pointing out they are paid for by U.S. importers — not Chinese companies — and the cost is often passed on to the consumer."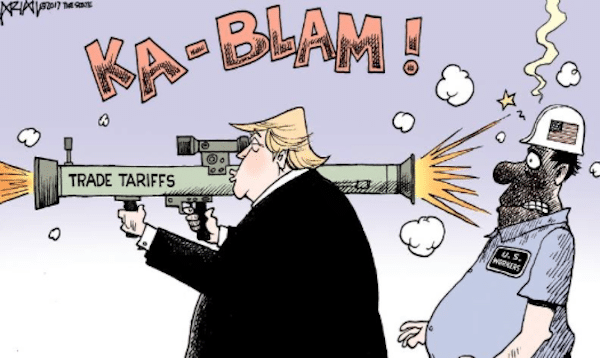 But guess which country has taken full advantage of the current on-going US trade war with China? The answer is Russia. According to the 2/21/2019 WSJ article, "A Surprise Winner From the U.S.-China Trade Spat: Russian Soybean Farmers, by Thomas Grove and Anatoly Kurmanaev, "Commercial conflict has choked American soy exports to the bean's biggest market, China, providing Russian farmers an opportunity."
"The Partizan collective farm in this Siberian village should have been swept into the dustbin of history like thousands of others like it that collapsed after the Soviet Union's fall. Instead it just raked in the biggest harvest of its 90-year history, bought new machines and paid out record bonuses."
"It's secret-soybeans and the Chinese market only 13 miles away."
Remember that the February 2019 US-China talks regarding a trade deal fell apart. It's June 2019 and now President Trump is resorting to threats of tariffs to push China to the bargaining table. Why am I worried that the White House has totally bungled any possibility of the US and China arriving at a mutually beneficial trade agreement? Meanwhile the president's buddy, Russia has stepped into the breach by selling farm products to China as the American consumers pay more for goods as it isn't China paying for these tariffs. It's the American manufacturing companies, retailers who are paying the tab and passing on their increased costs to the American taxpayers who are now also burdened with the billions of dollars being paid out to American farmers to subsidize them for their revenue losses.
Here is the rest of the story regarding president's past lies about progress on a US-China trade deal…
As per a 2/24/2019 Farm Policy News report, Wall Street Journal writers Thomas Grove and Anatoly Kurmanaev reported Thursday that, "Russia's overall trade with China, its biggest individual trading partner, rose more than 27% to over $100 billion last year, according to Chinese trade data. The trade has mostly involved oil, gas and metals. But Russian agricultural exports also are growing, especially soybeans, which have risen more than 10-fold in four years to nearly 1 million tons."
"With respect to future U.S. export market share, Reuters writer Humeyra Pamuk reported last week that, "The United States will be able to quickly recover lost markets for U.S. farm products to China once Washington and Beijing clinch a trade deal, U.S. Agriculture Secretary Sonny Perdue said on Thursday."
But since those markets are currently constrained, Ms. Pamuk reported on Friday that, "U.S. Department of Agriculture has paid out $7.7 billion so far to farmers, William Northey, Undersecretary for Farm Production and Conservation, said on Friday, in aid designed to offset the negative impact of tariff imposition."
"As trade talks continued, Reuters writer Rajesh Kumar Singh reported Saturday that, "U.S. and Chinese negotiators met for over seven hours on Saturday to resolve their trade dispute and avoid an escalation of the tit-for-tat tariffs that have already disrupted global commerce, slowed the world economy and roiled financial markets."
"After noting that "the two sides will meet again on Sunday morning," the article stated that, "Saturday marked the fifth straight day of the negotiations between the world's two biggest economies."
"The Chinese delegation is scheduled to leave for Beijing on Monday, according to a person familiar with their itinerary," the article said.
Very productive talks yesterday with China on Trade. Will continue today! I will be leaving for Hanoi, Vietnam, early tomorrow for a Summit with Kim Jong Un of North Korea, where we both expect a continuation of the progress made at first Summit in Singapore. Denuclearization?
"I am pleased to report that the U.S. has made substantial progress in our trade talks with China on important structural issues including intellectual property protection, technology transfer, agriculture, services, currency, and many other issues. As a result of these very……"
…".productive talks, I will be delaying the U.S. increase in tariffs now scheduled for March 1. Assuming both sides make additional progress, we will be planning a Summit for President Xi and myself, at Mar-a-Lago, to conclude an agreement. A very good weekend for U.S. & China!"
"Pleased to see this step taken by the President. Tariffs have hurt our farmers in central Illinois and it's important the dialogue between us and the Chinese continue without escalated tensions so an agreement can be reached and trade markets opened."

"Trump says will delay additional China tariffs originally scheduled to start on March 1 https://cnb.cx/2TedxYs "