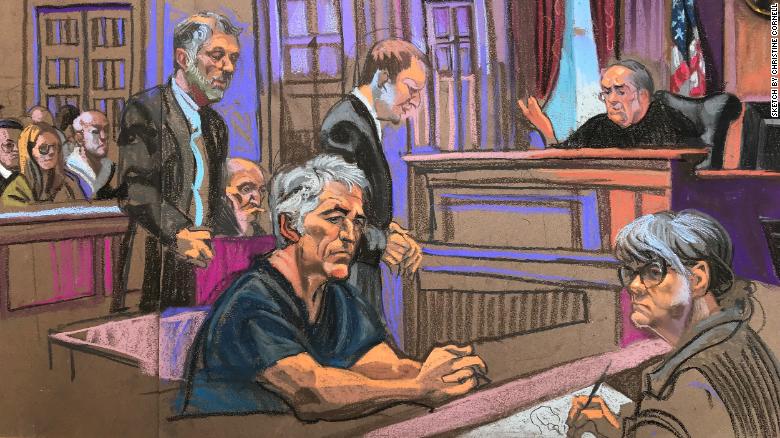 It's finally happening. With the Southern District US Courts of New York taking on the Jeffrey Epstein case in 2019, the billionaire pedophile who managed to obtain a sweetheart plea deal in 2008 while he was living in the Palm Beach, Florida area, he's finally facing real legal consequences for his crimes in the State of New York, as he also has a home in New York City where he became well known for throwing orgy type parties with under age girls present.
There's this story about a woman who claimed that she was raped when she was 13 years old at one of Jeffrey Epstein's parties by Donald J. Trump. She had filed a lawsuit against him in 2016 but she had it dismissed, claiming that her life had been threatened. Her name is Katie Johnson and it looks like she's finally coming forward.
Note: Most of the following material is from a blog that I posted over a year ago.
In keeping with the "Me, Too" movement and with the recent news stories describing how women have been threatened or somehow made to keep quiet, as they dared to seek redress for past sexual assaults against the republican President Donald Trump, here is a woman's story which deserves a second look. I can't help but wonder if there isn't some information about her included in all the evidence collected in the FBI raid conducted on 4/9/18 at the office, home, hotel room of the president's attorney, Michael Cohen.
This narrative regarding President Trump never gained traction during the 2016 presidential campaign season. It was just roadkill after the "Access Hollywood Tapes" where the president cavalierly described how he lewdly treats women which seemed to have little effect in hindering his progress towards the big prize.
For review, the president used to hang around with a guy who loved to throw wild parties at his Palm Beach mansion and his NYC apartment where very young women were present. This billionaire's plane was dubbed the "Lolita Express." His Caribbean Island was called Orgy Island."
James Patterson, the famous author lived within a mile in Palm Beach, FL from this billionaire Jeffrey Epstein's home. He wrote a book along with a couple of other authors "Filthy Rich: A Powerful Billionaire, the Sex Scandal That Undid Him, and All the Justice That Money Can Buy" which is a true story based on Mr. Epstein's life style.
According to a 10/9/2016 NY Post article, "Epstein was also a regular visitor to Donald Trump's Mar-a-Lago, and the two were friends. According to the Daily Mail, Trump was a frequent dinner guest at Epstein's home, which was often full of barely dressed models."
"Last year, The Guardian reported that Epstein's "little black book" contained contact numbers for A-listers including Tony Blair, Naomi Campbell, Dustin Hoffman, Michael Bloomberg and Richard Branson."
"In a 2006 court filing, Palm Beach police noted that a search of Epstein's home uncovered two hidden cameras. The Mirror reported that in 2015, a 6-year-old civil lawsuit filed by "Jane Doe No. 3," believed to be the now-married Giuffre, alleged that Epstein wired his mansion with hidden cameras, secretly recording orgies involving his prominent friends and underage girls. The ultimate purpose: blackmail, according to court papers."
It was around October 2017,  when Larry Flynt's  took out a full page advertisement in the Washington Post where he offered a 10 million dollar reward for information that could lead to the president's impeachment when I came across this story about a woman who never had a chance to have her nightmare heard. The  young lady who filed the below described law suit, ended up dropping it. She claimed that she was threatened to where she feared for her life. Her story no longer seems so far-fetched.
Here's the rest of the story…
On November 4, 2016 David Mikkelson of Snopes.com updated his 6/23/16 post, titled,  "Lawsuit Charges Donald Trump with Raping a 13-Year-Old Girl."
"In late April 2016, rumors began to circulate online holding that Republican presidential Donald Trump had either been sued over, or arrested for, raping a teenaged girl. One of the earliest versions of the rumor was published on 2 May 2016 by the Winning Democrats web site, which reported that woman using the name Katie Johnson had named Trump and billionaire Jeffrey Epstein in a $100 million lawsuit, accusing them of having solicited sex acts from her at sex parties held at the Manhattan homes of Epstein and Trump back in 1994 (when Johnson was just 13 years old):"
"The first major scandal to hit the Trump campaign besides the typical "what a racist, such a sexist, yada yada yada," came from a lawsuit stemming from the infamous sex parties held by billionaire and known pedophile Jeffrey Epstein. The woman named in the suit is Katie Johnson, who says Trump took her virginity in 1994 when she was only 13 and being held by Epstein as a slave."

"Johnson says in the complaint that Trump and Epstein threatened her and her family with bodily harm if she didn't comply with all of their disgusting demands. The Trump campaign has been on this immediately, calling it absolute nonsense and not even remotely true."

TRUMP/ EPSTEIN
Many aggregated reports cited a 28 April 2016 article that described the circumstances under which the lawsuit had been filed:
Presidential frontrunner Donald Trump is fighting what could be the biggest election season bombshell yet — explosive court claims that he raped a woman when she was a teen.

The woman — identified as Katie Johnson — filed documents in a California court on April 26, accusing Trump and billionaire pedophile Jeffrey Epstein of "sexual abuse under threat of harm" and "conspiracy to deprive civil rights," RadarOnline.com has exclusively learned.

She filed the lawsuit herself — without legal representation — and is suing for $100 million.
"A copy of the California lawsuit (filed on 26 April 2016) shared via the Scribd web site outlined the allegations, which included the accusation that Trump and Epstein had (over 20 years earlier) "sexually and physically" abused the then 13-year-old plaintiff and forced her "to engage in various perverted and depraved sex acts" — including being "forced to manually stimulate Defendant Trump with the use of her hand upon Defendant Trump's erect penis until he reached sexual orgasm," and being "forced to engage in an unnatural lesbian sex act with her fellow minor and sex slave, Maria Doe, age 12, for the sexual enjoyment of Defendant Trump" — after luring her to a "series of underage sex parties" by promising her "money and a modeling career":
 "According to RadarOnline's initial reporting, the lawsuit filed in California on 26 April 2016 was 
dismissed 
over technical filing errors."
A judge recommended on April 29 that "Katie Johnson" should have to pay her own attorneys' fees and court costs related to the $100 million lawsuit she brought against Trump and billionaire pedophile Jeffrey Epstein over alleged sexual assault charges. Then on May 2, a U.S. District judge ordered the entire lawsuit thrown out.

JEFFREY EPSTEIN

"Johnson" had previously filed forms asking to be let off the hook for the costs of the lawsuit, claiming she had only $300 to her name … such an allowance — known as in forma paupers — is only given in civil rights cases in California, and the judge ruled that she "failed to state a claim for relief" on a civil rights basis, even though she "utilized the form provided by the Central District of California for civil actions."

"Even construing the … pleading liberally, Plaintiff has not alleged any race-based or class-based animus against her, and consequently, her … allegations fail to state a claim upon which relief may be granted," the judge wrote … the address listed on the paperwork leads to an abandoned property, and the phone number goes straight to voicemail."
"For his part, Trump asserted that the charges were "not only categorically false, but disgusting at the highest level and clearly framed to solicit media attention or, perhaps, are simply politically motivated."
"On 20 June 2016, NY City-based blog Gothamist reported that the plaintiff had refiled a similar complaint in a New York State federal court:"
"A federal lawsuit filed in New York accuses Republican presidential candidate Donald Trump of repeatedly raping a 13-year-old girl more than 20 years ago, at several Upper East Side parties hosted by convicted sex offender and notorious billionaire investor Jeffrey Epstein."

"The suit, first reported by the Real Deal, accuses Trump and Epstein of luring the anonymous plaintiff and other young women to four parties at Epstein's so-called Wexner Mansion at 9 East 71st Street. Epstein allegedly lured the plaintiff, identified in the suit only as Jane Doe, with promises of a modeling career and cash."

EPSTEIN'S PLANE

"Another anonymous woman, identified in additional testimony as Tiffany Doe, corroborates Jane's allegations, testifying that she met Epstein at Port Authority, where he hired her to recruit other young girls for his parties. Trump had known Epstein for seven years in 1994 when he attended the parties at Wexner, according to the suit. He also allegedly knew that the plaintiff was 13 years old."

"Jane Doe filed a similar suit in California in April, under the name Katie Johnson, also accusing Trump and Epstein of rape. That suit was dismissed on the grounds of improper paperwork — the address affiliated with her name was found to be abandoned. Today's suit confirms that the plaintiffs are one and the same."
"The online outlet that first reported the second filing in New York explained that the lawsuit might be allowed to proceed even though the statute of limitations for bringing suit has expired, because (according to plaintiff's lawyer) the plaintiff lacked the "freedom of will to institute suit earlier in time" due to her having been threatened by Trump:"
"It should be noted that anyone can file a civil complaint in federal court. The statute of limitations in New York for civil rape cases is five years, but [the] complaint argues that the time limit should be waived, noting that the plaintiff was too frightened to report the abuse because Trump had threatened that if she did "her family would be physically harmed if not killed."

"Both defendants let plaintiff know that each was a very wealthy, powerful man and indicated that they had the power, ability and means to carry out their threats," the complaint claims."
"A copy of the New York-based suit was also uploaded to Scribd, and in the second filing (which asked for no specific amount of monetary damages) the plaintiff was represented by Thomas Francis Meagher, a New Jersey patent lawyer who learned of her allegations via an article published on the GossipExtra web site advertising that she was "shopping for an attorney." In a statement attached to her filing, the plaintiff (aka "Jane Doe") asserted:"
"I traveled by bus to New York City in June 1994 in the hope of starting a modeling career. I went to several modeling agencies but was told that I needed to put together a modeling portfolio before I would be considered. I then went to the Port Authority in New York City to start to make my way back home. There I met a woman who introduced herself to me as Tiffany. She told me about the parties and said that, if I would join her at the parties, I would be introduced to people who could get me into the modeling profession. Tiffany also told me I would be paid for attending."

"The parties were held at a New York City residence that was being used by Defendant Jeffrey Epstein. Each of the parties had other minor females and a number of guests of Mr. Epstein, including Defendant Donald Trump at four of the parties I attended. I understood that both Mr. Trump and Mr. Epstein knew I was 13 years old."

A picture of Jeffrey Epstein's apartment in New York

"Defendant Trump had sexual contact with me at four different parties in the summer of 1994. On the fourth and final sexual encounter with Defendant Trump, Defendant Trump tied me to a bed, exposed himself to me, and then proceeded to forcibly rape me. During the course of this savage sexual attack, I loudly pleaded with Defendant Trump to stop but he did not. Defendant Trump responded to my pleas by violently striking me in the face with his open hand and screaming that he would do whatever he wanted,"

"Immediately following this rape, Defendant Trump threatened me that, were I ever to reveal any of the details of Defendant Trump's sexual and physical abuse of me, my family and I wold be physically harmed if not killed."
"The filing also included a statement from "Tiffany Doe" (i.e., the woman referenced in plaintiff's statement above who brought her to the parties) attesting that:"
"I personally witnessed four sexual encounters that the Plaintiff was forced to have with Mr. Trump during this period, including the fourth of these encounters where Mr. Trump forcibly raped her despite her pleas to stop."

"I personally witnessed the one occasion where Mr. Trump forced the Plaintiff and a 12-year-old female named Maria [to] perform oral sex on Mr. Trump and witnessed his physical abuse of both minors when they finished the act."

"It was my job to personally witness and supervise encounters between the underage girls that Mr. Epstein hired and his guests."
"Here's a video reportedly featuring "Katie Johnson" (her identity hidden through the use of facial pixillation, a long blonde wig, and an electronic voice distorter) appeared online, in which she graphically described giving Donald Trump a hand job and being raped by him:"
"There is little doubt that Donald Trump knows Jeffrey Epstein, as Trump acknowledged in a 2002 
New York
magazine 
profile
 of Epstein:"
"Epstein likes to tell people that he's a loner, a man who's never touched alcohol or drugs, and one whose nightlife is far from energetic. And yet if you talk to Donald Trump, a different Epstein emerges. "I've known Jeff for fifteen years. Terrific guy," Trump booms from a speakerphone. "He's a lot of fun to be with. It is even said that he likes beautiful women as much as I do, and many of them are on the younger side. (He knew enough to part company) No doubt about it — Jeffrey enjoys his social life."
Epstein has been named in multiple similar lawsuits over the last several years, served 13 months in jail, and is registered as a sex offender for life:
Billionaire sex offender Jeffrey Epstein has paid another accuser.

The 56-year-old money manager has settled with Jane Doe 102, an unnamed woman who alleged in federal court in Florida that Epstein had induced her to "serve his every sexual whim" from the time she was 15 until she was 19. The woman also claimed Epstein had flown her around the world, paying her "to be sexually exploited by [his friends] … including royalty, politicians, academicians [and] businessmen."

"Epstein flatly denied those charges. But a source close to the financier confirms "the matter has been resolved to the satisfaction of both parties." The woman's lawyer, Robert Josefsberg, wouldn't say how much she's getting. Epstein had in the past offered accusers a minimum of $150,000."
"As of now, all of the information about this lawsuit comes solely from the complaint filed by "Katie Johnson," and no one has as yet located, identified, or interviewed her. She was scheduled to appear at a press conference on 2 November 2016 but didn't show up, claiming that threats to her life kept her away. She reportedly dropped the lawsuit again on 4 November 2016 for the same reason."