There was just one case on Jan 21, 2020 to where it's over 1600 on March 12, 2020 and this is with very limited testing having been done in the USA.
US coronavirus cases over the last week via @CNN:
"3/5 – 227 cases
3/6 – 331 cases
3/7 – 444 cases
3/8 – 564 cases
3/9 – 728 cases
3/10 – 1,000 cases
3/11 – 1,267 cases
3/12 – 1,645 cases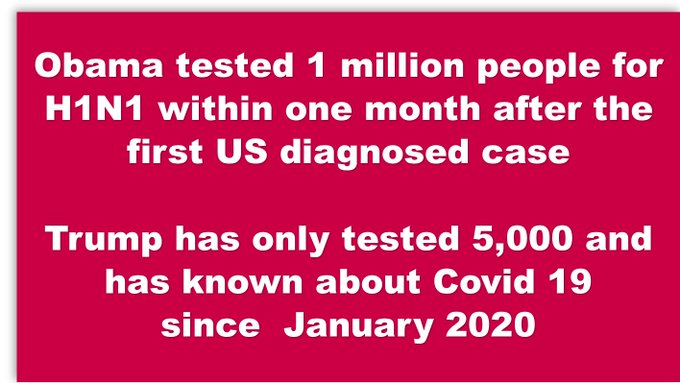 Questions have been raised as to why the republican President Donald Trump had turned down ready made testing kits in February 2020 to check patients for the coronavirus COV-19 infection from the World Health Organization which had already delivered these kits to 60 other countries. For some reason, the White House insisted on the US developing its own testing kits which inexplicably continued to experience delays by the US government's bureaucracy in getting them in the hands of those who need to do the testing.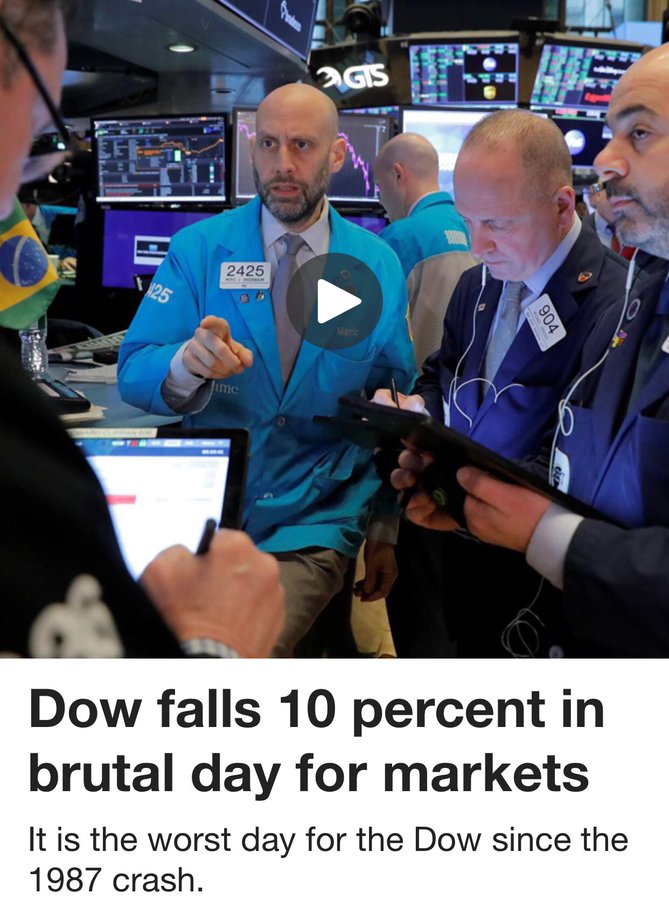 As per the 3/12/2020 New York Times report by Farah Stockman, "Sick People Across the U.S. Say They Are Being Denied the Coronavirus Test" (In a U.S. health care system that is already difficult to navigate, some patients describe Kafkaesque quests for tests.)
"Many who fear they have the virus have faced one roadblock after another as they try to get tested, according to interviews with dozens of people across the country."
"Some have been rejected because they had no symptoms, even though they had been in proximity to someone who tested positive. Others were told no because they had not traveled to a hot spot abroad, even though they had fevers and hacking coughs and lived in cities with growing outbreaks. Still others were told a bitter truth: There simply were not enough tests to go around."
States like Washington have moved to manufacture its own kits to test for the coronavirus COV-19 infection. As per a 3/6/2020 Buzz Feed report:
Washington
"In the state hardest hit by the outbreak so far, "when testing first began, there was a problem with the supplies we received," a spokesperson said. "But we have been running tests in our lab since Feb. 28 with the corrected tests."
"As of March 4, 209 tests were run in the state, representing 91 people. The spokesperson said that Washington's state public health lab can run up to 200 tests (100 people) per day. The University of Washington Virology Lab, which came online this week, is expecting to run 1,500 tests (750 people) per day."
As per 3/12/2020 Tweet by UW Virology Lab: This week of 3/9/2020, The University of Washington has conducted 1,300 tests to where over 100 turned out to be positive for COV-19 infection.

UW Virology  @UWVirology
@UWVirology 
@UWMedicine 
, about 9% positive. Many tests were for patients in other parts of the US lacking access to testing. We have capacity for more. Order info here
testguide.labmed.uw.edu/public/view/NC
.
#WhereAreTheTests
See: Washington deals with 'staggering' lag in coronavirus testing
It turns out NPR is sharing a news item, that yes, the White House has been deliberately slowing down any testing operations because the president fears that high numbers could cost him the possibility of being reelected to the presidency in November 2020.
NPR: "Trump did not push to do aggressive testing because more testing might have led to more cases being discovered of the Coronavirus outbreak, and Trump made it clear the lower the numbers on Coronavirus, the better for the president and his re-election this fall."

A previous tweet of this quote did not make it adequately clear that it is Trump who did not push for adequate testing, not Secretary of Health and Human Services Azar. Here is the whole quote for context.
@ddiamond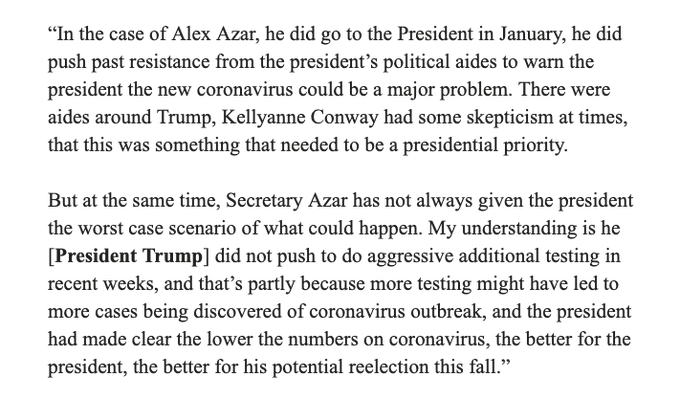 But here's one piece of good news regarding Americans access to corinavirus COV-19 testing:

Rep. Katie Porter
@RepKatiePorter
·
"I did the math: a full battery of coronavirus testing costs at minimum $1,331. I also did the legal research: the Administration has the authority to make testing free for every American TODAY. I secured a commitment from a high-level Trump official that they'd actually do it."
(Rep. Porter was talking to CDC Director Dr. Robert R. Redfield.)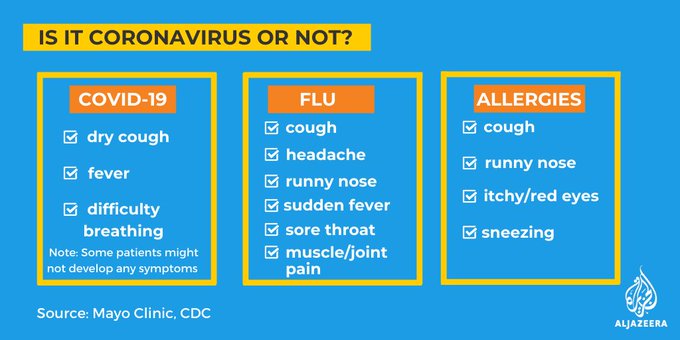 As per 3/12/2020 Forbes report by Katrina Stefanova, "2020 Bear Market Demystified in Bullet Points:"
"The 2020 Bear Market is the largest since 2008. Today (3/12/2020) stocks plunged even as Central Banks stepped in. The S&P 500 shed 10% falling into a Bear Market and bringing the total decline to 26% since January. The cause of the crash is twofold: market panic due to the COVID-19 pandemic and Russia-Saudi Arabia oil price war. Energy is the worst performing S&P 500 sector posting losses above 50%. The decline is not over yet."
Other factors that have likely contributed to the US stock market's recent push into a steep decline include the manufacturing sector being in recession along with an economy that's been built on debt — both household debt and corporate debt.
On 3/10/2020, Richard Hall of the Independent penned the following report, ""Analyst who predicted 2008 global financial crash warns another one is on the way — and not just because of coronavirus"
Excerpts:
"Economic forecaster says global recovery has been fuelled by bubbles in markets around the world"
"An analyst who predicted the 2008 global financial crisis has warned that another crash is on the way, and this time it will be much worse."
"Jesse Colombo, an economic forecaster and columnist who identified a housing and credit bubble in the US prior to the 2008 crash, says a number of new bubbles in markets around the world are set to burst."
"We are already very late in the cycle, and coronavirus is basically the one-two punch. But we were already hurtling towards recession before anyone ever heard of coronavirus," he told The Independent." 
"Global markets tanked on Monday (3/9/2020), with the US and UK stocks suffering their worst day since 2008 as investors sought to unload stocks over fears of instability caused by the coronavirus and an oil price war between Russia and Saudi Arabia."
Donald Trump has in recent days sought to blame the downturn squarely on those two factors. But the underlying problem, according to Mr Colombo, is much deeper."
As early as June (2019), he said he had identified bubbles in more than 20 markets, among them European real estate, US stocks, US household wealth, corporate debt, leveraged loans, US student loans, US auto loans, tech startups and shale energy.  
"These bubbles have fuelled much of the global recovery over the past 12 years, he argued. One of the largest is a Chinese credit bubble driven largely by infrastructure spending."
"It's an illusion of an economic recovery driven by the inflation of economic bubbles. Now I believe that's beginning to burst," he said."
"I've come up for a term for this, it's called Bubblecovery — a bubble-driven economic recovery."
In 2004, when he was an undergraduate, Mr Colombo started the website www.stock-market-crash.net, which warned of an impending crash. In the years since, he has frequently predicted another crash, and that the next one will be bigger than the 2008 crisis.
"As bad as 2008 was, what's coming is going to be worse because there is so much more debt now — nearly $100 trillion worth of new debt."
"The US housing bubble formed over five years. We've had 11 years of record low interest rates and stimulus — we've had much more time for those bubbles to form and there are far more of them," he said.