Question:
What's the main reason President Donald J Trump along with his GOP cronies in the US Senate decided to back away from participating in the latest coronavirus relief negotiations, as of 10/6/2020, when this would be political malpractice, when almost 75% of Americans favor enacting a significant COVID-19 relief bill?  Even the Federal Reserve has gone on the record with advice that the US economy requires this infusion of monies to remain viable.
Answer:
The latest $2 plus trillion COVID-19 bill in progress by the US House that looked promising included some funding to be diverted to state and local economies to help them with dwindling budgets due to a major reduction in tax revenues resulting from the 2020 coronavirus pandemic.
But as detailed in the below 5/5/2020 Business Insider article, GOP leaders backed by ALEC/ Koch Network dark money donors hate the concept of any relief monies being allotted to blue  (Democratic Party led ) states/ public unions about as much as they despise the ACA Obamacare. 
Since 1973, these GOP dark money donors have literally invested billions to bust corporate unions/ pension funds with considerable success but they have yet to achieve these goals with public unions/ pensions for state employees like teachers, police officers, firefighters, etc.; and to end the 2010 ACA Obamacare bill. These objectives are still of primary importance to ALEC members.
For years, I've suspected that ALEC's true motives for pushing for school choice/ voucher programs/ privatization of schools was to diminish the power of the public schools' teachers' unions. 
Koch backed ALEC with its numerous political offshoots have been able to operate on steroids following the 2010 Supreme Court ruling on Citizens United which eliminated restraints on the amount of secret / dark monies they could donate to political campaigns.
As per 5/5/2020 Business Insider report, "Trump said that bailing out cash-strapped blue states would be unfair to Republicans — and that they shouldn't expect federal help" by Joseph Zeballos-Roig:
Excerpts:
"President Donald Trump threw cold water on the idea of an emergency federal lifeline to states weathering plummeting tax revenues during the coronavirus pandemic. Instead, he argued that Democratic-led states had brought it on themselves."
"It's not fair to the Republicans because all the states that need help — they're run by Democrats in every case. Florida is doing phenomenal, Texas is doing phenomenal, the Midwest is, you know, fantastic — very little debt," Trump told the New York Post in an interview."
"The president singled out Illinois, New York, and California as states that had "tremendous debt," referring to their pension obligations."
"I don't think the Republicans want to be in a position where they bail out states that are, that have been mismanaged over a long period of time," Trump said."
"The president also said he believed there wouldn't be a significant appetite for a massive infusion of cash to states, though that's a significant Democratic priority for a "phase four" economic rescue package."
"I think Congress is inclined to do a lot of things but I don't think they're inclined to do bailouts," he said. "A bailout is different than, you know, reimbursing for the plague."
"Trump's comments echoed the opposition from Senate Majority Leader Mitch McConnell, who said (in April, 2020) that states should be allowed to declare bankruptcy, though he softened his tone after significant backlash."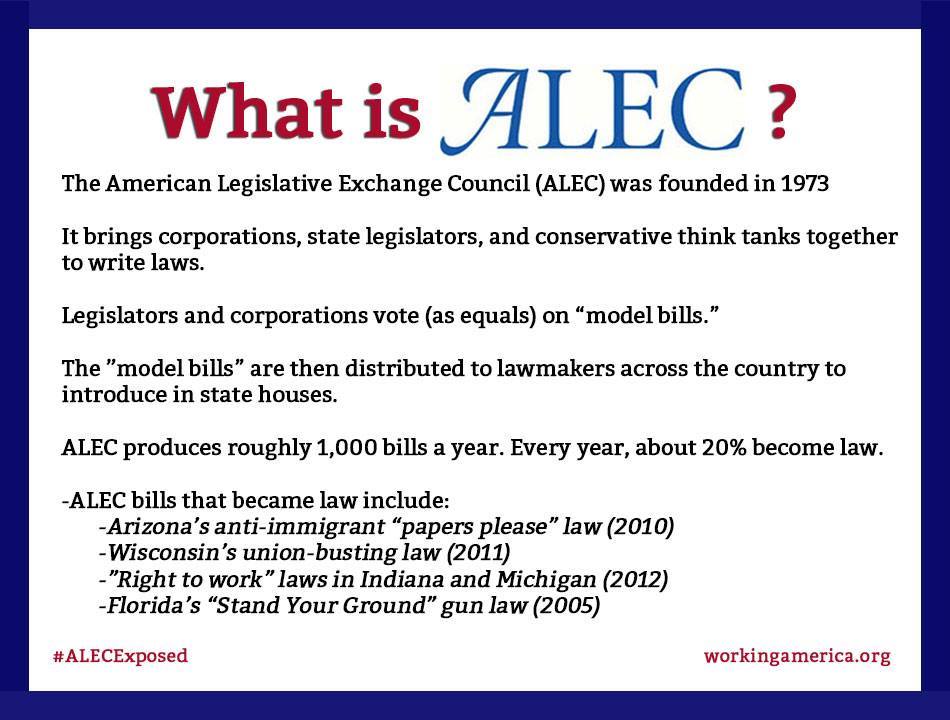 Review of ALEC:
For most of few past blogs, I've been decrying the influence on GOP legislators by GOP ALEC (American Legislative Exchange Council ) members. It was formed in 1973 by fossil fuel titans, NRA leaders, other conservative corporate executives and cultural conservative thinkers to assist GOP in implementing template/ model legislation for lawmakers that favored the interests of big business, both at the federal and state levels.
Once ALEC's secret activities became public knowledge around 2012, many corporations withdrew their memberships. But the same movers and shakers who helped fund ALEC like the Koch brothers, simply established numerous political off shoots as listed below.
What happened is that some of ALEC's practices earned widespread public notoriety. This included the promotion of gun rights policies like the "Stand Your Ground" law at the center of the 2012 Trayvon Martin shooting case in Florida, as well as bills to weaken labor unions and tighten voter identification rules.
Institute for Humane Studies
Prominent groups the Koch Brothers have funded include:
Americans for Prosperity.
American Encore.
Freedom Partners.
Koch Family Foundations.
Cato Institute.
Heritage Foundation.
Mercatus Center at George Mason University.
Institute for Humane Studies.
The above list should include the Federalist Society. As per the 1/2019 Washington Post Magazine, "the Federalist Society had  "unprecedented power and influence." Of the current eight members of the , five (Brett Kavanaugh, Neil Gorsuch, Clarence Thomas, John Roberts, Samuel Alito), along with nominee Amy Coney Barrett, are current or former members of the organization."
ALEC's years of prominence seem to be catching up to it, as it has pursued its mission to, in the words of the New York Times: "Bring together corporations and state legislators to draft profit-driven, anti-public-interest legislation."
As per CMD ( Center for Media and Democracy):
What is ALEC?
"ALEC is not a lobby; it is not a front group. It is much more powerful than that. Through the secretive meetings of the American Legislative Exchange Council, corporate lobbyists and state legislators vote as equals on 'model bills' to change our rights that often benefit the corporations' bottom line at public expense. ALEC is a pay-to-play operation where corporations buy a seat and a vote on 'task forces' to advance their legislative wish lists and can get a tax break for donations, effectively passing these lobbying costs on to taxpayers."
"Along with legislators, corporations have membership in ALEC. Corporations sit on ALEC task forces and vote with legislators to approve "model" bills. They have their own corporate governing board which meets jointly with the legislative board. (ALEC says that corporations do not vote on the board.) Corporations fund almost all of ALEC's operations."
"Participating legislators, overwhelmingly conservative Republicans, then bring those proposals home and introduce them in statehouses across the land as their own ideas and important public policy innovations—without disclosing that corporations crafted and voted on the bills."
"ALEC boasts that it has over 1,000 of these bills introduced by legislative members every year, with 1 in every 5 of them enacted into law."
Who funds ALEC?
"More than 98% of ALEC's revenues come from sources other than legislative dues, such as corporations, corporate trade groups, and corporate foundations. Each corporate member pays an annual fee of between $7,000 and $25,000 a year, and if a corporation participates in any of the 9 task forces, additional fees apply, from $2,500 to $10,000 each year. ALEC also receives direct grants from corporations, such as $1.4 million from ExxonMobil from 1998-2009. It has also received grants from some of the biggest foundations funded by corporate CEOs, such as: the Koch family Charles G. Koch Foundation, the Koch-managed Claude R. Lambe Foundation, the Scaife family  Allegheny Foundation, the Coors family Castle Rock Foundation, to name a few. Less than 2% of ALEC's funding comes from "Membership Dues" of $50 per year paid by state legislators, a discounted price that may run afoul of state gift bans."
See CMD's special report on ALEC funding and spending here."
Examples of ALEC's "Model Bills"