This time, when Breitbart News published a wildly inaccurate article chalking climate change up as a hoax, The Weather Channel decided to teach the hyper-conservative news outlet (Trafficker of a lot of fake news) a thing or two about scientific fact. This is the perfect example of how a fake news story can influence U.S. policy making, if not checked.
The rest of this story can be located on the Weather Channel website, dated 12/6/16.
"In a post to its website, TWC called the Breitbart piece, which relied heavily on a story published in the Daily Mail, a prime example of cherry picking, or pulling a single item out of context to build a misleading case."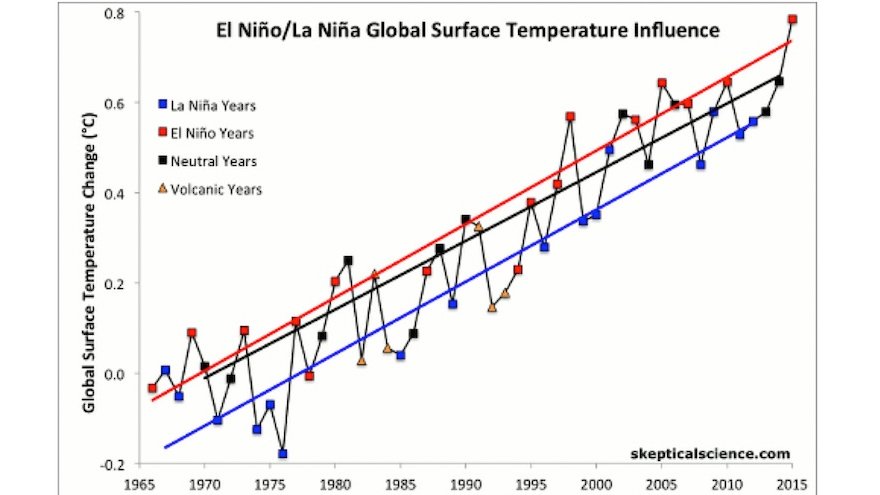 "TWC's scathing response features a video post in which atmospheric scientist Kait Parker  breaks down each of Breitbart's claims, including that "global land temperatures have plummeted." "Here's the thing: Science doesn't care about your opinion," Parker says in the video."
 "Cherry picking and changing the facts will not change the future, not the fact ― note: fact, not opinion ― that the earth is warming." 
"In fact, thousands of researchers and scientific societies are in agreement that greenhouse gases produced by human activity are warming the planet's climate and will keep doing so."
"Along with its presence on the high-profile Breitbart site, the article drew even more attention after a link to it was retweeted by the (republican led) U.S. House Committee on Science, Space, and technology." 
Kait Parker of the Weather Channel commented, "What's worse" than the Breibart story itself, is the fact that the (republican led) House Committee on Science, Space and Technology "posted the story to Twitter."
"That's ridiculous but shouldn't be surprising. The committee is chaired by Rep. Lamar Smith (R-Texas), who has a long history of denying climate change, attacking those who accept the scientific consensus and defending the fossil fuel industry. (Also unsurprisingly, the congressman has received  more than $693,000 from the oil and gas industry over the course of his career.)"
The Breitbart article heavily references a piece that first appeared on U.K. Daily Mail's site.
Here's where both articles went wrong:
CLAIM: "Global land temperatures have plummeted by one degree Celsius since the middle of this year – the biggest and steepest fall on record."
TRUTH: This number comes from one satellite-based estimate of temperatures above land areas in the lower atmosphere. Data from the other two groups that regularly publish satellite-based temperature estimates show smaller drops, more typical of the decline one would expect after a strong El Niño event.
Temperatures over land give an incomplete picture of global-scale temperature. Most of the planet – about 70 percent – is covered by water, and the land surface warms and cools more quickly than the ocean. Land-plus-ocean data from the other two satellite groups, released after the Breitbart article, show that Earth's lower atmosphere actually set a record high in November 2016.
CLAIM: "It can be argued that without the El Niño (and the so-called "Pacific Blob") 2014-2016 would not have been record warm years." (David Whitehouse, Global Warming Policy Foundation, quoted by Breitbart)
TRUTH: NOAA data show that the 2014-16 El Niño did not even begin until October 2014. It was a borderline event until mid-2015, barely above the El Niño threshold. El Niño clearly added to the strength of the record global warmth observed since late 2015. However, if the El Niño spike is removed, 2016 is still the warmest year on record and 2015 the second warmest, according to climate scientist Zeke Hausfather (Berkeley Earth).
CLAIM: "Many think that 2017 will be cooler than previous years. Myles Allen of Oxford University says that by the time of the next big United Nations climate conference, global temperatures are likely to be no warmer than the Paris COP in 2015. This would be a strange thing to happen if, as some climate scientists have claimed, recent years would have been a record even without the El Niño." (David Rose, U.K. Daily Mail, quoted by Breitbart)
TRUTH: "There is nothing unusual about a drop in global surface temperatures when going from El Niño to La Nina. These ups and downs occur on top of the long-term warming trend that remains when the El Niño and La Niña signals are removed. If there were no long-term trend, then we would see global record lows occurring during the strongest La Niña events. However, the last year to see global temperatures hit a record low was 1911, and the most recent year that fell below the 20th-century average was 1976."
"For an even deeper dive on the science, we recommend the blog by our experts."
"Finally, to our friends at Breitbart: The next time you write a climate change article and need fact checking help, please call. We're here for you. I'm sure we both agree this topic is too important to get wrong."
Bernie Sanders Retweeted Sci,Space,&Tech Cmte
Where'd you get your PhD? Trump University?
Bernie Sanders added,