On 2/1/17, The Guardian reported on the current escalation of tensions between Russia and Ukraine which most Americans were unaware of, as the US State Department had been mostly mum on the subject. But what a difference a day makes.
Last night (2/2/17), there was an United Nations emergency meeting about the recent increase in violence in Crimea, where the new US UN ambassador, Nikki Haley issued a harsh condemnation calling on Moscow to de-escalate violence in eastern Ukraine and saying that US sanctions against Moscow would remain in place until it withdraws from Crimea.
The following are excerpts from the article, "Ukraine clashes leave several dead and test Trump's Russia stance," by Shaun Walker:
"Parts of east Ukraine are on the brink of a humanitarian crisis as the worst violence for a year in the conflict between Kiev and Russia-backed separatists has left up to 19 dead and thousands of people without water and heating in freezing temperatures."
"The violence is an early test of (President) Donald Trump's stated desire for better US relations with Russia. Kiev has watched nervously as Trump has repeatedly praised Vladimir Putin and floated the idea of lifting sanctions."
"The conflict in Ukraine has raged for nearly three years and cost more than 10,000 lives. A ceasefire was agreed in Minsk two years ago, and although little progress has been made since on a political solution, large-scale clashes have been rare over the past year."
"However, in the last few days both sides have accused the other of using Grad systems, imprecise weapons that rain down multiple rockets over a wide area."
"On Wednesday the Ukrainian military said three soldiers had died overnight, and separatist authorities claimed four civilians had been killed."
"In a clear sign that US policy towards Russia could indeed be heading for a sharp change of course under Trump, the state department made no criticism of Russia or the separatist side, in contrast to most of its statements in response to similar spikes in violence in the past."
"The acting state department spokesman Mark Toner said the US was "deeply concerned" by the violence and called for "an immediate, sustained ceasefire". However, the statement stopped short of apportioning blame."
"Russia's state newspaper Rossiiskaya Gazeta excitedly noted the change in tone. "Washington is not blaming the unrecognized republics for breaking the ceasefire, is not stating any support for Kiev, (Ukraine) is not saying a single word about the role of Russia … Different variations of these elements were, as a rule, a key part of all statements of Ukraine under Barack Obama's administration."
"The state department statement was markedly different in tone to comments from the US mission to the Organisation for Security and Cooperation in Europe (OSCE), which is staffed by career diplomats and may be out of step with the new mood in Washington."
"Russia and the separatists initiated the violence in Avdiivka," said the US chargé d'affaires to the OSCE, Kate Byrnes. "We call on Russia to stop the violence, honour the ceasefire, withdraw heavy weapons and end attempts to seize new territory beyond the line of contact."
"There are several rounds of US and EU sanctions on Russia over its annexation of Crimea and actions in east Ukraine. Trump has suggested it could be time to lift them, and has spoken of the potential for a grand deal with Putin. "
"Ukraine's president, Petro Poroshenko, said during a meeting with security officials on Tuesday: "The shelling is massive. Who would dare to talk about lifting the sanctions in such circumstances?"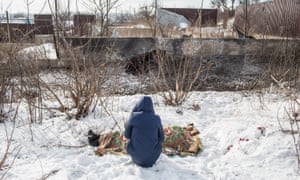 "Fighting has centred on the town of Avdiivka, which lies a few miles from the separatist capital, Donetsk, but is controlled by Ukrainian authorities. The violence has come during a cold snap, with temperatures falling as low as minus 18C."
"Giovanna Barberis, Unicef's representative in Ukraine, said: "Not only are the lives of thousands of children in Avdiivka, and on all sides of the conflict, at risk, but to make matters worse the lack of water and electricity means that homes are becoming dangerously cold and health conditions deteriorating as we speak."
Also on Wednesday (2/1/17), Ukraine's defense minister, Stepan Poltorak, claimed a Ukrainian military cargo plane had been shot at from a Russian-held gas rig on the Black Sea. "The shot damaged the plane. The crew were not hurt," he wrote on Facebook.
"So far there has been no comment on the increased violence in Ukraine from Trump's inner circle. The new US president has repeatedly made favorable statements about Russia and Putin and signaled a very different approach towards Moscow."
"Diplomats who served during the Obama administration have cautioned against making deals with Russia. "For almost three years the United States has worked closely with our European partners to support a peaceful resolution to the conflict through full implementation of the Minsk agreements, including by using sanctions to encourage Putin to comply," said Dan Baer, formerly the US ambassador to the OSCE. "This should continue to be US policy going forward; anything else would be irresponsible."
For additional background, BBC News has published on 11/13/14, a timeline of events surrounding the March 2014 Russian invasion into Crimea, Ukraine.
BBC timeline:
November 2014
November 12: Nato commander Gen Philip Breedlove says Russian military equipment and Russian combat troops have been seen entering Ukraine in columns over several days.
November 11: Dutch efforts to salvage wreckage from the Malaysia Airlines crash site stall  over disagreements with local rebel groups.
MH17 Dutch memorial day: Air disaster that touched a nation.
November 2-3: Separatists in eastern Ukraine elect new leaders in polls backed by Russia and denounced by the West. President Poroshenko accuses the rebels of jeopardising "the entire peace process" and says Ukrainian forces should prepare defences against separatist attack.
Summary justice in Ukraine's rebel east
October 2014
October 31: Russia agrees to resume gas supplies to Ukraine over the winter in a deal brokered by the EU. 
Russia's gas fight with Ukraine
October 26: Pro-Western parties win Ukraine's parliamentary elections. 
October 21: Human Rights Watch says it has strong evidence Ukraine attacked populated areas of Donetsk with cluster bombs, banned by many other states.
October 12: President Putin orders thousands of troops stationed near the Ukrainian border to return to their bases. 
September 2014
September 24: Nato reports a "significant" withdrawal of Russian troops from eastern Ukraine.
September 9: Dutch experts find that Malaysia Airlines flight MH17 broke up in mid-air after being hit by "objects" that "pierced the plane at high velocity" in July.
September 5: Ukraine and pro-Russian rebels sign a truce in Minsk.
September 1: Ukraine says 700 of its men have been taken prisoner as pro-Russian rebels advance in the east.
August 2014
August 27-28: Rebel leader Alexander Zakharchenko says there are 3-4,000 Russian civilians in rebel ranks as the separatists open up a front on the Sea of Azov and capture Novoazovsk.
August 26: Ukraine releases videos of captured Russian paratroopers. They are later exchanged for Ukrainian soldiers.
August 22: A huge Russian convoy delivers humanitarian aid to the government-besieged city of Luhansk without Ukrainian permission.
July 2014
July 30: The EU and US announce new sanctions against Russia.
July 17: Malaysia Airlines flight MH17 from Amsterdam is shot down near the village of Grabove in rebel-held territory, with the loss of 298 lives. 
July 5: Rebels abandon their command center at Sloviansk in the face of a government offensive.
June 2014
June 27: The EU signs a landmark association agreement with Ukraine.
June 25: Russia's parliament cancels a parliamentary resolution authorizing the use of Russian forces in Ukraine. 
June 14: Pro-Russia separatists shoot down a military plane in the east, killing 49 people.
May 2014