I started wondering about the status of the US public school education as the debate over Betsy DeVos becoming the next US education secretary became so heated on both sides of the aisle in the months of January and February, 2017.
I took time to follow a recent commentary debate on a WSJ publication about Betsy DeVos where it became obvious that conservatives consistently blamed the NEA and teachers' unions for being at fault for all the ills of the public school system. These republicans firmly believe that dismantling the NEA, teacher's unions while increasing charter schools and/ or school vouchers would turn around the failing US public education schools, for the better. Thus, conservatives strongly supported Mrs. DeVos to become our next education secretary because she reflects their thinking.
It is important for us, as part of the resistance against our president's actions which are counter productive, and contrary to his promise to improve the lives of average Americans, to be armed with facts. 
And the nominee, Betsy Devos has indeed become our US education secretary, despite being ethically challenged. As per the 2/6/16 Hill report by Norman Eisen and Richard Painter, "As former ethics counsels to Presidents Obama and George W. Bush, we've reviewed more than our share of ethics filings for cabinet nominees. Seldom have we seen a worse cabinet-level ethics mess than that presented by Betsy DeVos, President Trump's choice for education secretary."
"Her extensive financial holdings present significant—and unresolved—conflict of interest issues. She also failed to provide the Senate with accurate information about her involvement with outside organizations. We have regretfully come to the conclusion that these concerns disqualify DeVos for that cabinet position."
"DeVos' failure to meet even minimum standards leaves us with no choice but to speak out. For example, DeVos intends to maintain the $5 million to $25 million she and her husband have invested in Neurocore, a biotech company that claims to have "helped thousands of children" with attention deficit hyperactivity disorder. Neurocore is listed with its logo and a link to its website along with several other investments on a website operated by Windquest Group, an investment company owned by DeVos and her husband."
Then there are those facts and scientific data which can be such a troubling annoyance. The school system in Michigan where Mrs. DeVos has incurred a successful history of dramatically expanding school choice for over a 20 plus years has failed to show demonstrable improvement.
Whereas, the State of Massachusetts, a liberal bastion, has been rated #1 out of all the states for several years, despite the NEA and teachers' unions. Massachusetts does have charter schools with accountability and it relies on objective collected data to make changes and improvements, but the opposite is true for Michigan.
While Betsy DeVos has been focused on growing charter schools (mostly for profit) in Michigan while barring any oversight and the collection of objective data, the State of Massachusetts' primary focus has been  on addressing the issue of children in poverty, requiring extra attention, along with embracing the collection of data and accountability for its school's performance metrics.
Mrs. DeVos, a billionnaire from Michigan, claims to be a strong advocate for charter schools and voucher programs, so that poor children can have more choices towards obtaining a top notch education to where she has donated millions of dollars to republican legislators to encourage their support for her ideology.
Republicans are looking for the quick fix with great soundbites like "school choice" without facing the real elephant in the room, the issue of poverty.
But worse, is Mrs. DeVos' 20 year failing record showing no improvement the Michigan school systems. In contrast, the MA. public school system has been rated number one for years, due to a 1993 change in the funding of its public schools, designed to funnel more monies to poorer neighborhood schools. Today, the issue of poverty is still a top concern. 
What most conservatives do not want to deal with, is that in the USA, one out of four children live in poverty, in comparison with other countries with better education results, having an average of 1 out of 10 children living in poverty. In addition, the better performing countries pay teachers on a par with other college graduates but the US compensates them at a rate of about 30% less than their counterparts with similar educational levels.
Is it just happenstance that the inadequacy in education is a prevalent problem around poor kids? Paul Reville, the former education secretary for Massachusetts states, "That's one of the problems with our current delivery system: It dismisses or marginalizes or avoids coping with the impact of poverty on the lives of children."
It should not be the case that if students attend a public school in Massachusetts, that their chances for success are much better than if they attended schools in Alabama, Mississippi or even Michigan.
Here is the rest of the story…
On 12/ 12/16, Katie Zernike of the NY Times penned the article: "How Trump's Education Nominee Bent Detroit to Her Will on Charter Schools."
Excerpts:
"Few disagreed that schools in Detroit were a mess: a chaotic mix of charters and traditional public schools, the worst-performing in the nation."
"So city leaders across the political spectrum agreed on a fix, with legislation to provide oversight and set standards on how to open schools and close bad ones."
"But the bill died without even getting a final vote. And the person most influential in killing it is now President Trump's nominee to oversee the nation's public schools, Betsy DeVos."
"Detroit Public Schools, she argued, should simply be shut down and the system turned over to charters, or the tax dollars given to parents in the form of vouchers to attend private schools."
"The misinformation campaign was horrendous," said Thomas Stallworth III, a former state legislator who lobbied on behalf of the coalition. And the sway of her contributions was too much to overcome." 
"Ms. DeVos and her husband had lobbied hard for the state law that established charter schools in 1994. It allowed an unusually large number of organizations to start charter schools, which are publicly funded but privately run. But it created little oversight."
"Even charter school supporters now criticize Detroit as one of the most unregulated markets in the country. About 80 percent of the state's charters are operated for profit, far higher than anywhere else."
On 12/10/16 Stephen Henderson of the Detroit Free Press posted the article,  "Betsy DeVos' trouble with data."
Excerpts:
"There's a division of the Department of Education called the Institute of Education Sciences, the arm that conducts research and evaluations and compiles statistics. It's essentially responsible for the volumes of data the government uses to frame policy decisions. But the tools provided by IES only work if the Department of Education takes data seriously, insists on truth, and avoids special-interest favoritism."
"The Free Press investigation of charter schools, for instance, revealed that even taking poverty into account, charter schools essentially perform the same as traditional public schools, and in some cases, a little worse."
"Charter advocates don't talk about wrinkles, which cry out for the tighter oversight that their lobby, funded lavishly by DeVos and her family, fights against."
"Lou Glazer, a charter supporter and head of Michigan Future, a think tank that studies policy issues in the state, recently compared ACT scores for charter and traditional public schools in Detroit."
"The average for Detroit Public Schools is a 16.5 — equivalent to 8th-grade competency."
"The average for charters is 15.6, with 14 of the 16 charter high schools below the DPS average."
"For 20 years, DeVos and her family have funded a charter school lobby that protects the industry from reasonable oversight and accountability, in part, through gross exaggeration and fibs of omission about school research."
On 12/9/16, Caitlin Emma, Benjamin Wermund, and Kimberly Hefling of Politico wrote this report, "DeVos' Michigan schools experiment gets poor grades."
Excerpts:
"Despite two decades of charter-school growth, the state's overall academic progress has failed to keep pace with other states."
"Michigan ranks near the bottom for fourth- and eighth-grade math and fourth-grade reading on a nationally representative test, "Nation's Report Card." Notably, the state's charter schools scored worse on that test than their traditional public-school counterparts, according to federal data."
"Critics say Michigan's laissez-faire attitude about charter-school regulation has led to marginal and, in some cases, terrible schools in the state's poorest communities as part of a system dominated by for-profit operators. Charter-school growth has also weakened the finances and enrollment of traditional public-school districts like Detroit's, at a time when many communities are still recovering from the economic downturn."
"The bottom line should be, 'Are kids achieving better or worse because of this expansion of choice?'" said Michigan State Board of Education President John Austin, a DeVos critic who also describes himself as a strong charter-school supporter. "It's destroying learning outcomes … and the DeVoses were a principal agent of that."
On 1/16/15, Lyndsey Layton of the Washington Post wrote this piece, "Majority of U.S. public school students are in poverty."
Excerpts:
"For the first time in at least 50 years, a majority of U.S. public school students come from low-income families, according to a new analysis of 2013 federal data, a statistic that has profound implications for the nation."
"The Southern Education Foundation reports that 51 percent of students in pre-kindergarten through 12th grade in the 2012-2013 school year were eligible for the federal program that provides free and reduced-price lunches. The lunch program is a rough proxy for poverty, but the explosion in the number of needy children in the nation's public classrooms is a recent phenomenon that has been gaining attention among educators, public officials and researchers."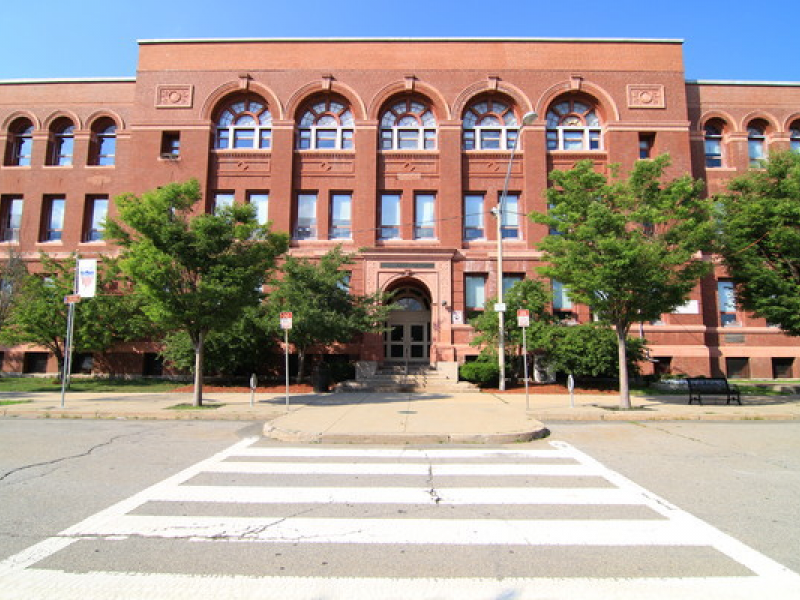 "We've all known this was the trend, but it's here sooner rather than later," said Michael A. Rebell of the Campaign for Educational Equity at Teachers College at Columbia University, noting that the poverty rate has been increasing even as the economy has improved. "A lot of people at the top are doing much better, but the people at the bottom are not doing better at all. Those are the people who have the most children and send their children to public school."
"The shift to a majority-poor student population means that in public schools, a growing number of children start kindergarten already trailing their more privileged peers and rarely, if ever, catch up. They are less likely to have support at home, are less frequently exposed to enriching activities outside of school, and are more likely to drop out and never attend college."
"It also means that education policy, funding decisions and classroom instruction must adapt to the needy children who arrive at school each day."
On 4/26/16 Kirk Carapezza of NPR penned this article, "How Massachusetts Became The Best State In Education."
Excerpts:
"It was 1993 when Massachusetts Gov. William Weld declared: "A good education in a safe environment is the magic wand that brings opportunity." The Republican was signing into law a landmark overhaul of the state's school funding system. "It's up to us to make sure that wand is waved over every cradle," he added."
"With that, Massachusetts poured state money into districts that educated lots of low-income kids, many of which also struggled to raise funds through local property taxes."
"We noticed the difference right away," says Dianne Kelly, the current superintendent of Revere Public Schools, north of Boston, where nearly 80 percent of students come from low-income families. There, much of the new money was spent on people: to hire and keep good teachers and give them better training."
On 5/23/16 Alia Wong of The Atlantic penned the following report, "What Are Massachusetts Public Schools Doing Right?"
Excerpts:
"When it comes to the story of Massachusetts's public schools, the takeaway, according to the state's former education secretary, Paul Reville, is that "doing well isn't good enough."
"Massachusetts is widely seen as having the best school system in the country: Just 2 percent of its high-schoolers drop out, for example, and its students' math and reading scores rank No. 1 nationally. It even performs toward the top on international education indices.
"But as (Paul) Reville and others intimately familiar with the Bay State's school-improvement efforts emphasized in a panel at the Education Writers Association National Seminar earlier this month, the "Massachusetts story" is complicated. The Bay State's famous successes are juxtaposed with stubborn achievement gaps and concentrations of poverty that have made across-the-board strides all but impossible. Income-based disparities in academic performance have actually grown over the last decade."
"On the one hand, these first-place finishes and so forth—which are all based on averages—are great, we're proud of it, but it should be a pretty short celebration in light of the deep, persistent achievement gaps that look a lot like they did when we set out on this," said Reville, now a professor at the Harvard Graduate School of Education."
"The Massachusetts experiment with transforming public education traces back to 1993, when state leaders decided to set high standards, establish a stringent accountability system aimed at ensuring that students from all backgrounds were making progress, and open its doors to charter schools. And despite some hiccups, it was able to do so largely without all the partisan wrangling and interagency tensions that have notoriously confounded such efforts on a national scale. The goal wasn't just to boost performance in some pockets, but to "get everybody there," Reville said."
"By 2000, the state also had doubled its funding of public education, when compared with 1993. Still, as Hardin Coleman, the dean of Boston University's School of Education, stressed to the EWA audience, the reason the state has struggled to achieve wholesale improvement has to do with phenomena that exist outside the classroom." 
"I think there's going to be a change away from a significant primary focus on academic-skill acquisition to those other aspects of what children need in terms of their social-emotional learning … being engaged in school, learning more about themselves, having access."
"Tommy Chang, the superintendent of Boston Public Schools, said at the EWA event that he sees the conversation shifting, too, pointing to the district's recent appointment of an assistant superintendent of social-emotional learning and wellness."
"Echoing national trends, the school system is homing in on how childhood trauma can undermine achievement and developing means for helping kids cope with it. In fact, the district recently received a $1.6 million federal grant to address the early symptoms of trauma in students."
"So are things like a lack of access among many low-income families to jobs that pay a living wage and quality health care. Dental disease, for instance, is one of the most common reasons kids miss school. Chang and others are now thinking of achievement gaps as "opportunity gaps."
"The high-quality "common school" envisioned by the 19th-century educational leader Horace Mann, isn't "enough to rectify the massive inequalities in financial and social capital that exist outside of school."
UPDATE ON 2/15/17: The source for state rankings regarding public school education is Wallethub. Incidentally the states with the highest infant mortality rates are Oklahoma, Mississippi and Alabama.