It is CRUCIAL for the American public to have verification that President Trump, no longer has any investments tied to either Energy Transfer Partners or Phillips 66 which could be influencing his decision to move forward with the Dakota Access Pipeline instead of finding an alternate routing, satisfactory to the local community, including the Standing Rock Sioux Indians. "We the People" have a right to be assured that the republican President Donald Trump's policies are not being driven by his personal business interests.
This is my third post about this issue, that there exists no proof that our president no longer has these investments. There is no transparency. And no, I am not willing to take the president's word on anything without verification.
As per a 11/23/16 Washington Post piece by Steven Mufson, "President-elect Donald Trump sold off his shares of Energy Transfer Partners, the owner of the $3.7 billion Dakota Access pipeline that has become the focus of protests by Native American and environmental groups, according to his spokeswoman Hope Hicks."
Trump's share, which in May 2015 financial disclosure forms was listed at between $500,000 and $1 million, had fallen to less than $50,000 by the time he sold it in the summer of 2016, according to a disclosure earlier this year.
The sale would eliminate one possible conflict of interest for Trump, who has vowed to speed up permits for oil and gas pipelines in order to spur more oil and gas development in the United States. The Dakota Access pipeline, which is largely finished, would carry as many as 570,000 barrels a day of shale oil 1,170 miles from western North Dakota to pipeline connections in Illinois.
But according to what Mark Zandi, the chief economist for Moody's Analytics, told ABC News, there's no way to check if Trump actually sold his stock investments."
On Dec. 2, 2016, Trump's spokeswoman Hope Hicks told The Associated Press that it was "her understanding that Trump recently sold his Energy Transfer stock but provided no details." Energy Transfer is one of the companies involved in the construction of the controversial Dakota Access Pipeline."
"On Tuesday (12/6/16), another Trump spokesman, Jason Miller, told reporters that Trump had sold all of his stocks in June, and Trump himself reiterated that claim."
Here's the rub. Both the republican President Donald Trump and his spokespeople, have this penchant for fake news.
Without access to the president's tax returns, "we the people" will not be able to confirm that he did the right thing, by divesting from his financial holdings, these specific investments.
On 2/14/17 Matt Orfalea of Medium posted an article which reflects my skepticism, "No proof Trump ever sold his investments in Dakota Access Pipeline."
Excerpts:
"The Washington Post was the first news outlet to report (without any proof or verification) that Donald Trump sold his shares in Energy Transfer Partners (ETP), the parent company of the Dakota Access Pipeline (DAPL). The Post simply parroted Trump's spokeswoman, Hope Hicks, despite the absence of any evidence to back up her claim."
"Even if Hope Hicks's statement that Trump sold his ETP investment were true, Trump still has $100,000 to $250,000 in Phillips 66, which has a one-quarter share of Dakota Access Pipeline. Trump spokeswoman Hick's has NOT denied this."
Hope Hicks has a LONG history with Alt-facts
"Hope Hicks has already been caught in a " blatant attempt to manipulate the press," trying to deny any ties between the Trump campaign and racist Facebook poster, Aaron Border."
"On another occasion Spokeswoman Hicks told Hollywood Reporter that the scandalous Fox News chief Roger Ailes, "had no formal or informal role in the campaign." However, Ailes was not only involved with preparations but "led" a "debate-prep camp" with Trump."
"Again, Hicks was caught lying to The New York Times when she denied that Trump encouraged British politician, Nigel Farage, to oppose wind farms."
With no evidence given to prove the contrary, it is only prudent to assume President Donald Trump is still financially invested in DAPL, while on 1/27/17, the president signed executive orders pressuring federal agencies to support construction of the Dakota Access and Keystone XL pipelines. Each of these projects were put on hold by President Obama's administration because of local  citizens' legitimate legal due process and environmental concerns.
Now, congressional republicans are selling this move as one that would create good paying jobs which is a lie. Any jobs associated with the pipeline are temporary (short term) only during the construction phase.
CNBC, the business TV channel, has noted: "Pipelines do not require much labor to operate in the long term" – they will further delay the inevitable transition to clean, renewable energy our economy needs and the American people demand. "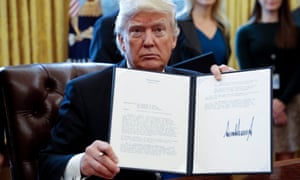 Plus, there will be truckers and railroad personnel who will lose out because they will no longer be needed to transport the crude oil products. If there is an oil spill or leak with a truck or a railroad car, the damage is limited to a smaller area and it is easier to clean up; whereas, with a leak from a pipeline, the damage is not so easily contained.
As per The 1/25/17 Guardian report by Raul M. Grijalva, "the Standing Rock Sioux and other tribes that will suffer the consequences should a pipeline rupture–as one did in December (2016) just 150 miles from the Standing Rock reservation, spilling 176,000 gallons of crude oil–are asking nothing more than to be treated fairly and for federal agencies to follow our environmental planning laws."

On 12/2/2016, Oliver Milman of The Guardian wrote, "Trump supports Dakota pipeline – but claims it's not due to his investment in it."
Excerpts:
"A briefing from Trump's transition team said that the real estate magnate supports the construction of the Dakota Access pipeline and that his backing "has nothing to do with his personal investments and everything to do with promoting policies that benefit all Americans".
"Financial disclosure forms released earlier this year show that Trump has a stake in Energy Transfer Partners, the Texas-based firm behind the pipeline, and Phillips 66, which will hold a share of the project once completed."
"Trump's investment in Energy Transfer Partners dropped from between $500,000 and $1m in 2015 to between $1,500 and $50,000 this year. His stake in Phillips 66, (which will equal a 25% stake in the Dakota Access project upon completion) however, rose from between $50,000 and $100,000 last year to between $250,000 and $500,000 this year, according to the forms." (This data was disclosed in Trump's monthly filings to the Federal Election Commission, which requires candidates to disclose their campaign finance information on a regular basis.)
"The financial relationship has run both ways. Kelcy Warren, chief executive of Energy Transfer Partners, gave $103,000 to elect Trump and handed over a further $66,800 to the Republican National Committee after the property developer secured the GOP's presidential nomination."
"However, Trump's transition team dismissed any conflict of interest. "Those making such a claim are attempting to distract from the fact that president-elect Trump has put forth serious policy proposals he plans to set in motion on day one."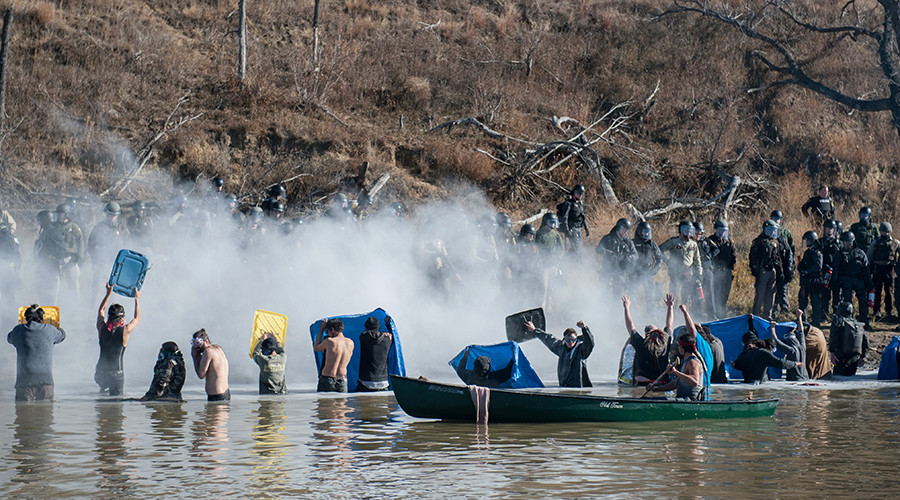 "A protest camp (now dismantled) has grown in ND amid fears that the $3.8bn Dakota Access pipeline threatens the water and cultural artifacts of the Standing Rock Sioux tribe. The 1,170-mile pipeline will take oil from North Dakota's Bakken fields to a refinery in Illinois and will cross the Missouri river – the main source of water for the tribe."
"Barack Obama has suggested that the pipeline be rerouted to allay the fears of tribes but Energy Transfer Partners has vowed to push ahead and has accused the federal government of imposing costly delays upon the project."
"President Trump has promised an "America first" energy policy that will attempt to boost domestic oil, coal and gas production. He wants to "lift the Obama-Clinton roadblocks and allow vital energy infrastructure projects to move forward", including the Keystone pipeline, another controversial fossil fuel project."
According to recent news, it is full speed ahead to complete the construction of DAPL, according to already established plans.