A Millennial is running for the position that the new HHS Secretary, Tom Price has vacated, that of the US House representative for Georgia's sixth district. The sixth district encompasses many of Atlanta's wealthy and mostly white northern suburbs, and has been considered to be a republican bastion. In this district, Mitt Romney beat Barack Obama in 2012 by twenty-four points. But the landscape has changed since 2012 as evidenced by the most recent election where Donald Trump edged Hillary Clinton by just a single point. Jon Ossoff could be the first congressional win to counter Trump on the G.O.P.'s own turf.
Update on 3/5/17: Montana is more of a long shot for winning a US democratic rep seat but it is a possibility with a quality candidate. Montana does have one US Democratic Senator Jon Testor and a democratic Governor Steve Bullock. Montana's republican US House Representative Ryan Zinke resigned 3/1/17, to become the US Secretary of the Interior. A special election is scheduled for 5/25/17.
The following is from a press release found on Jon Ossoff's website created in January 2017:
"Democrat Jon Ossoff announced today (1/5/2017) that he will seek election to the U.S. House of Representatives in the expected Sixth Congressional District Special Election this spring (April 18, 2017)."
"Ossoff has been endorsed by U.S. Reps. John Lewis and Hank Johnson and has lined up more than $250,000 in financial commitments from supporters."
"A Georgia native who grew up in the Sixth District, Ossoff served Georgia as a national security staffer in Congress for five years before leaving government for the private sector."
"Since 2013, he has been managing partner and CEO of a small business that produces investigations targeting corrupt officials and organized crime for international news organizations."
"Ossoff has been active in Georgia politics since his youth and has managed or advised six winning Congressional campaigns in Georgia since 2006. His mother, Heather Fenton, is co-founder of NewPower PAC, an organization that works to elect women to local office across Georgia."
"Over more than five years as a Congressional aide, Ossoff drafted and managed legislative initiatives that passed the House and Senate and helped to craft major defense and consumer protection legislation."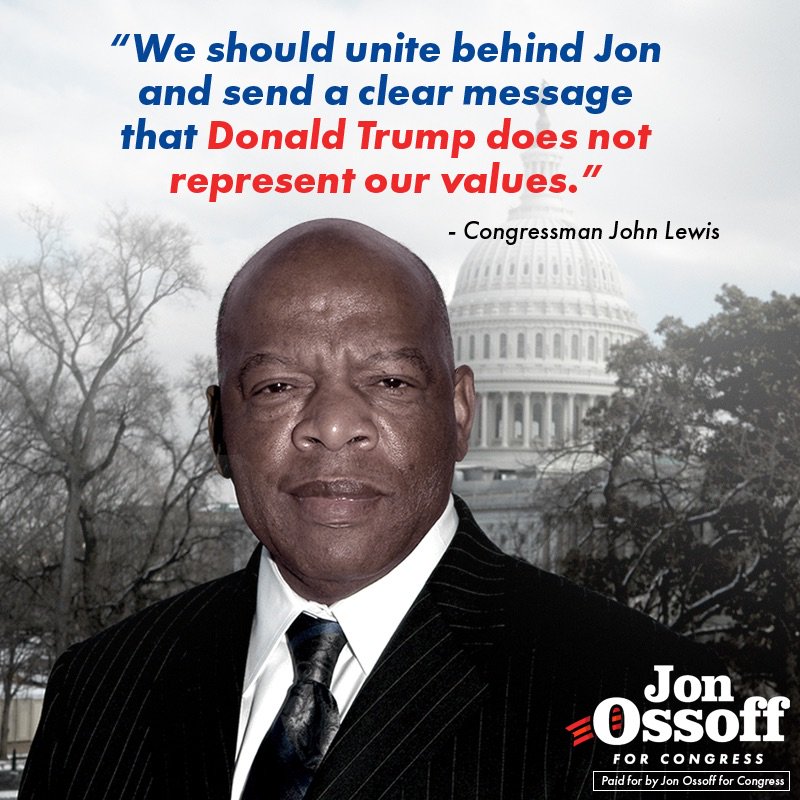 "Ossoff participated six times in the Congressional appropriations process, helping deliver millions of dollars of education and transportation resources to Georgia, and he conducted Congressional oversight of the Pentagon and the U.S. Department of Justice."
"In 2015, after entering the private sector, Ossoff led a team that secretly filmed and exposed more than 30 corrupt judges taking bribes in Ghana. This year, producing a documentary for the BBC, he led a team that exposed atrocities committed by ISIS in Iraq."
"I have known and worked with Jon for many years. Jon is committed to progress and justice and he knows how to fight the good fight," said Congressman Lewis. "We should unite behind Jon and send a clear message that Donald Trump doesn't represent our values."
"Jon is tireless and effective. When Jon was on my staff he delivered millions in education and transportation funding for Georgia, investigated malfeasance in government contracting, and worked on highly classified national security policy. Jon has the skills and experience to win this election and hold Trump to account," said Congressman Johnson."
As per a 11/15/16 New Republic report by Eric Sasson,  "FiveThirtyEight's Nate Silver (has) punctured the myth of the "working class" being Trump's voter base: In exit polls of 23 states from the primaries, all showed a higher median income for Trump supporters than the national average, usually around $70,000. Exit polls last week, while not definitive, reveal that both college-educated white men and college educated white women voted for Trump by much higher than expected margins."
The following data would be pertinent to the White college educated voters which is the predominant segment in the sixth district:
The 2/23/17 National  McClatchy-Marist poll found that a 58% majority of Americans say they're "embarrassed" by Trump." 
A 2/24/17 National  McClatchy-Marist poll indicates, "Nearly half of Americans think there is something suspicious about Trump and Putin's interactions.  19% of U.S. residents believe that Trump has done something illegal in his dealings with Putin.  An additional 30% think the president has done something unethical but not illegal.  Only 40% of Americans think President Trump has done nothing wrong.  12% are unsure."
According to a 2/28/17 McClatchy-Marist poll,  Nearly six in ten independents, 59%, doubt the veracity of the information disseminated by the Trump administration.  The public's distrust of the communication coming from the Trump White House spans race, age, and gender.  At least a majority in each group says they have little, if any, trust in its factual accuracy.
Politico's take on Jon Ossoff
According to the 3/4/17, the Politico article by Steven Shepard reported the following:

"Trump's Cabinet choices have created a number of vacancies in Congress – but none gives Democrats hope, or worries Republicans, like the race to replace Health and Human Services Secretary Tom Price in his suburban Atlanta House seat."
"Both parties officially joined the fray this week. Democrat Jon Ossoff launched his first TV ads this week and is set to spend at least $475,000 through March 13."
"But the Congressional Leadership Fund, a group linked to House GOP leadership, is already attacking Ossoff as part of what it bills as a $1.1-million buy between now and the April 18 primary. That includes $206,000 between now and March 13."
"One Republican candidate, Dan Moody, is spending $301,000 over that time in TV ads."
"Price's district has long been safe Republican territory, and Price was reelected last November with 62 percent of the vote. But the presidential race was far closer, with Trump defeating Hillary Clinton only narrowly."
"Democrats are hoping that skepticism of Trump will allow the party to make an argument voters used to sending Price to Washington should instead pick a more forceful Trump critic."
On 3/3/17, April R of DailyKos penned the following article, "Jon Ossoff fires back with three smart ads. Republicans, you may want to watch your mouths." 
Don't get get cocky. That's a lesson the GOP just learned in the race to fill the seat vacated by Tom Price in Georgia's Sixth District.
"Republicans spent $1.1 million on a one-minute TV ad attacking Democrat Jon Ossoff for dressing up as Han Solo in college."
"As Daily Kos users, Risen Tree and Steve Hatton, commented on the above linked article, that was an ill-conceived plan considering the TV ad runs in Atlanta and its suburbs. Atlanta hosts Dragon Con, a yearly, four-day pop culture convention where thousands don their best science fiction and fantasy costumes in celebration."
"Sure enough, Atlanta viewers found Ossoff's college antics endearing. The online YouTube comments were so pro-Ossoff that the GOP decided to remove them and turn off the comment function."
"Another thing Republicans sorely failed to think through—they ran a juvenile TV ad against Ossoff, an investigative filmmaker."
"And sure enough, Ossoff struck back with three 30-second ads with crisp clear messages, and a style and tone that bring political advertising into the 21st century. Much millennial appeal have they."
"But most importantly, the spots show a genuine Ossoff ready to fight corruption, bring high tech jobs, and protect us from the threat, Donald Trump."
"Republicans, I personally thank you for inspiring Ossoff to quickly produce these smart ads."
To learn more, watch all three ads, visit Greg Bluestein's AJC.com article.
Daily Kos is asking for donations: Give $3 to Jon Ossoff so that he can take down the Empire. And may the Force be with you!