The following is the tale of two news outlets. Both outlets are writing about the same topic, "Boris Epshteyn suddenly reigning from his job at the White House. The first example is the Palmer Report where the author Bill Palmer makes assumptions not always backed by facts but on his analysis of what he believes has happened based on his years of experience working within the Washington DC beltway.  The other source is the Washington Post which published similar narratives as the NY Times and CNN, etc.
It might behoove our republican President Donald Trump and his surrogates to acknowledge the difference instead of calling the establishment media "Fake News."
Incidentally, after reading the Palmer Report, I have determined that it compares favorably to the right wing biased news reporting by Fox news with the rare exceptions of Chris Wallace and Shep Smith; Breibart; InfoWars, etc., but it still falls under the category of "Fake News." In short, this means that one should read his writings with some skeptism.
According to the 2/3/17 Atlantic report by Robinson Meyer, "Bill Palmer used to run the Daily News Bin, and it was basically a pro-Hillary Clinton "news site." It was out there to counter misinformation. Which, okay, fair enough. But then he started to reinvent it as a news site, more and more, and he changed the name to the Palmer Report. The stuff that he puts out there, it's nominally true."
On 3/25/17, Bill Palmer of the Palmer Report posted the following report, "Donald Trump's Russia scandal explodes: Boris Epshteyn abruptly resigns from White House post:"
"Boris Epshteyn, the Russian immigrant who played a prominent role in Donald Trump's 2016 campaign and then went on to take a high ranking job in Donald Trump's White House, has abruptly resigned today without giving a reason. Epshteyn has had deep financial and business connections to his native Russia in recent years, and his sudden resignation today – as reported by CNN – comes as the Trump Russia scandal is exploding in real time."
"Epshteyn was best known to the public as the comically inept Trump campaign surrogate who made a series of bumbling appearances on cable news networks. But behind the scenes, Boris – who was born in the Soviet Union and then immigrated to the United States in 1993 – was deeply involved with Russian financial interests. In 2013 he moderated a conference panel in New York City called "Invest in Moscow" (source: Huffington Post) which created such controversy for the city that Mayor Michael Bloomberg ultimately disavowed its sponsorship of it. In the same timeframe, Boris appeared in a YouTube video (link) in which he offered the Russian government tips on how it could win over more American money."
"Boris was yet another instance of Trump loading up his campaign with people who had obvious ties to Russia. That list also included Paul Manafort, Roger Stone, Carter Page, and Michael Flynn. When it was later revealed that the FBI is investigating those four men in connection to the Trump-Russia election rigging conspiracy, Epshteyn's name was nowhere to be found in those reports – leading some to posit that perhaps his Russian ties may have merely been incidental rather than criminal. But the timing of his abrupt resignation today changes everything."
Yesterday, pieces fell into place to strongly suggest that Michael Flynn may have cut a deal with the FBI against Donald Trump. And now that it suddenly appears Flynn may imminently reveal everything about the Trump-Russia scandal, the Donald Trump White House has suddenly pushed Boris Epshteyn into resigning (link: CNN). That's not coincidence; Boris was likely a major player in the scandal. Look for another shoe to drop on this imminently.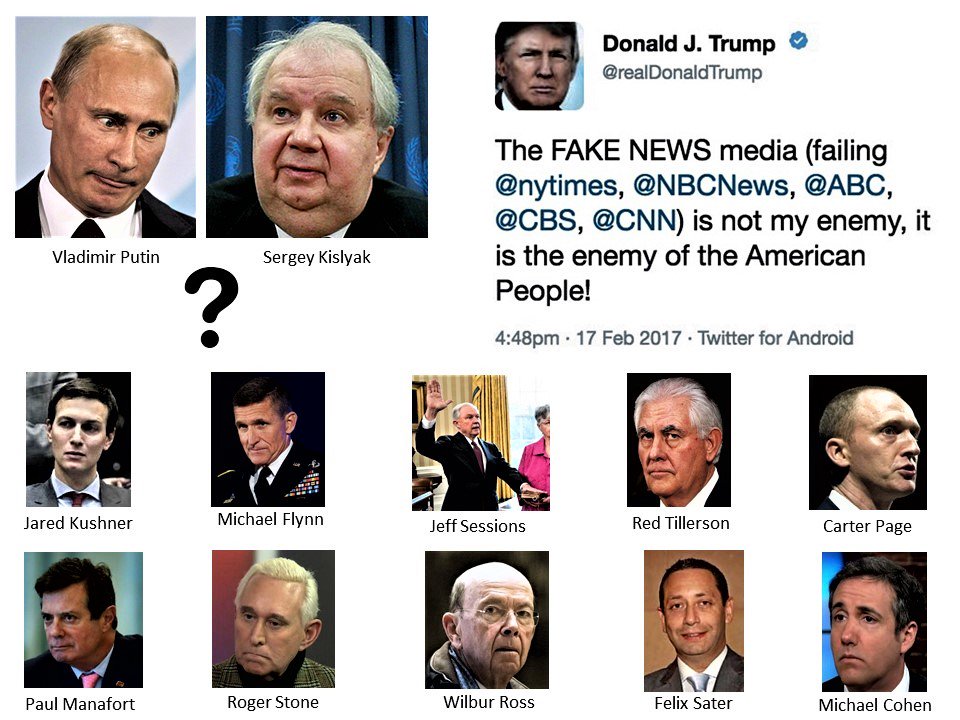 On 3/25/17 Abby Phillip of the Washington Post penned the following news item, "White House aide Boris Epshteyn expected to leave communications post."
Excerpts:
Boris Epshteyn, a onetime surrogate for President Trump who became a White House aide, is expected to depart from his post.
Epshteyn, who regularly appeared on television to boost Trump during the presidential campaign, had served as a special assistant to the president and assistant communications director for surrogate operations."
"A senior administration official said that the White House is "exploring opportunities within the administration" for Epshteyn. The move was first reported by Politico."
"In his official post, Epshteyn was responsible for overseeing the appearances of White House officials on television. A recent report in Politico noted that Epshteyn had rankled television producers and had irritated other guests in green rooms."
"Epshteyn also served as a spokesman for the Presidential Inaugural Committee and had befriended Trump's son Eric at Georgetown University."