The legislators need to hear from all their constituents and not just the ones who agree with them. A lot of what most of Americans want crosses party lines. What "we the people" need is a government that is competently and efficiently managed with accountability to meet our essential needs while placing our interests as a priority over special interests.
We who are employed in the real world have to deal with peoples all the time who do not agree with us and vice versa but we are still expected to get things done. We are required to base business plans based on facts, studied projections and reality. We would be fired if we acted on the basis of favoritism versus what is best for the employer's best interests. Why should we expect less from our lawmakers?
What is frustrating to the voters, is that too often, what is in our best interests is secondary to the demands of special interests. For example, most of us would agree that mentally ill individuals should not be able to purchase a gun but a recent bill was passed permitting this at the behest of a special interest group, the NRA (National Rifle Association). The cost for Medicare could sensibly be reduced if its administrators could negotiate on drug prices but this low hanging fruit of a solution hasn't been addressed because of the pharmaceutical special interest groups. The vast majority of Americans believe that climate change is for real but progress to mitigate for its consequences is being impeded because of the fossil fuel industry as a special interest entity. We have been sold alt facts like the climate change issue is a Chinese hoax.
Let's not forget recent alt-facts that we were the recipients of, like we have to repeal Obamacare and replace it with an inferior product because it is on a death spiral and it needs to be salvaged.
Dear Legislators, When do our needs become a priority and when are you going to stand up for us? You need to face us to become aware as to how frustrated we are with those who are living off of our tax dollars while producing very little to benefit and to make our lives better.
Here is the rest of the story… 
On 4/16/17 Kyle Cheney and Rachel Bade of Politico penned the following report, "4 takeaways from the town halls dogging the GOP.
Excerpts:
Liberal constituents aren't letting up on Republicans even after their Obamacare repeal bill stalled
POLITICO reporters traveled to nearly a dozen town halls to document the tumultuous homecoming Republicans faced. Here are four takeaways from Congress' first week on the road, with reporting from Colorado, Florida, Ohio, Oregon, New Jersey, New York and Texas.
1) Republican AHCA critics sharpened their skepticism of the bill
As Republican leaders eye an attempt to salvage their plan to repeal and replace Obamacare, they now are likely to have even more difficulty winning over wayward members."
"Republicans who opposed the bill, which was abruptly pulled from the floor last month, soaked up some support from their left-leaning constituents. They also vowed to protect Obamacare provisions that cover people with preexisting conditions."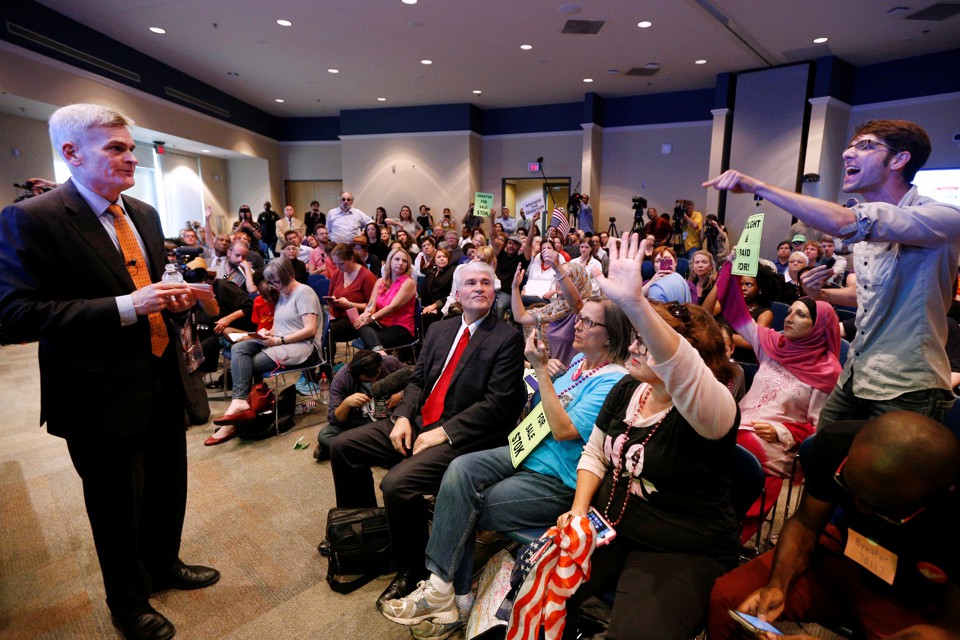 "But across all factions of the divided Republican Conference, lawmakers found one common way to generate applause from a hostile crowd: criticize the AHCA."
"Mainstream GOP Rep. David Young of Iowa found friends in his crowd who appreciated his decision to stake out opposition to the measure. Rep. Ted Yoho of Florida, a member of the conservative Freedom Caucus, earned grudging support for suggesting he'd even prefer single-payer health care — which he hates — to Speaker Paul Ryan's bill."
"Centrist Rep. Leonard Lance of New Jersey, who faced scorn for his initial support of the measure, earned some rare applause when he promised to reject any health care legislation that undermines coverage guarantees for people with preexisting conditions."
"Lance's experience illustrates the danger for any moderate Republicans who flirt with gutting Obamacare. He backed the measure when it traveled through the House Energy and Commerce Committee — and his constituents made sure he didn't forget it. Though Lance ultimately pledged to reject the AHCA, he still found himself fending off attacks."
"I want you, and all of the Republicans, to sit down with the Democrats and fix the Affordable Care Act," said Janet Katz of Chester, New Jersey, summing up the crowd's sentiment. "I want this repeal crap to stop."
"Constituents grilled Colorado centrist Republican Rep. Mike Coffman for supporting the Ryan bill at a frequently chaotic town hall on the outskirts of Denver. Even a man who called himself a "life-long registered Republican" stood up to shame Coffman for backing a measure he felt was too conservative for their district, which leans slightly Democratic."
"The room exploded with cheers when one person asked: "Will you commit to limiting premiums for people with pre-existing conditions so that they can actually afford health insurance?"
"Coffman tried to reassure the skeptical audience that people with histories of medical problems would be OK under the GOP plan, but it was largely in vain."
"Rep. Joe Barton (R-Texas), one of the few hard-line conservatives to ultimately endorse the AHCA, also got shouted down in his Texas district."
"No, not true!" constituents yelled when he said the federal government had failed at administering the health care law."
2) The House GOP's civil war is getting noticed beyond the Beltway
"Americans have long watched from afar as feuding Republican factions have battled each other. But after the pivotal role played by the far-right House Freedom Caucus in sidelining the GOP health care bill, constituents are taking note of the schisms that drive the House Republican Conference."
"Coffman's town hall, more than 1,600 miles from Washington, D.C., a young woman stood up to ask the Colorado Republican whether he was part of the Freedom Caucus — which doesn't post its full membership list — or the Tuesday Group, a 50-member band of moderate Republicans."
"She also asked whether it was appropriate for lawmakers to join these "secret societies."
"Coffman appeared caught off guard by the question."
"Secret societies? Whoa!" he exclaimed."
"Coffman acknowledged being part of the Tuesday Group but quickly noted he was also a member of the bipartisan "No Labels" caucus."
"That constituents are asking about the various factions in the House GOP Conference demonstrates just how ugly the intraparty fighting has gotten."
"Trump may also be driving the Freedom Caucus' newfound notoriety. After Ryan was forced to pull his Obamacare alternative due to opposition from the caucus as well as a number of moderates, Trump began tweet-shaming the conservative group. He told his millions of followers that the hard-liners were blocking his agenda, and at least one White House aide even called for primary challengers to boot some of the group's members from office."
3) Republicans have gotten better at handling hostile crowds
"Lawmakers were startled by the ferocity of the protests that greeted them at home in February."
"Raucous town halls led to viral moments like California Rep. Tom McClintock fleeing under heavy guard and Arkansas Sen. Tom Cotton getting dressed down by an attendee who supports Obamacare."
"This time, they were ready. They phoned in local police, imposed new security measures and tightened attendance availability, and it worked, to an extent."
"Republicans across the country appeared much more comfortable and better prepared to deal with noisy town hall crowds. Yoho didn't fire back when he was overwhelmed by angry constituents and protesters. Rather, he'd get down on one knee and gaze directly at his questioner, absorbing any heckling until he could finish his answer. Others defused tension with jokes, waiting out hecklers or pivoting to safe talking points."
"Let's do some more!" Coffman said when the moderator called for one last question, at an event that had already gone 45 minutes late. It was a stark contrast from a few months ago, when Coffman escaped out the back door of a town hall event that had been overrun by protesters."
"Part of that newfound confidence is due to increased vetting of town hall attendees."
"Coffman's constituents, for instance, had to register and show their IDs at the door to prove they were actually constituents. Policemen also stood by and watched from the top of the auditorium. In one instance, they even escorted out a woman who make a ruckus about Coffman's views on climate change."
"At Lance's event, a large security contingent confiscated signs from attendees. A ticketing system also appeared to limit the number of attendees, though Lance said he thought the somewhat smaller crowd size was because people were celebrating Passover."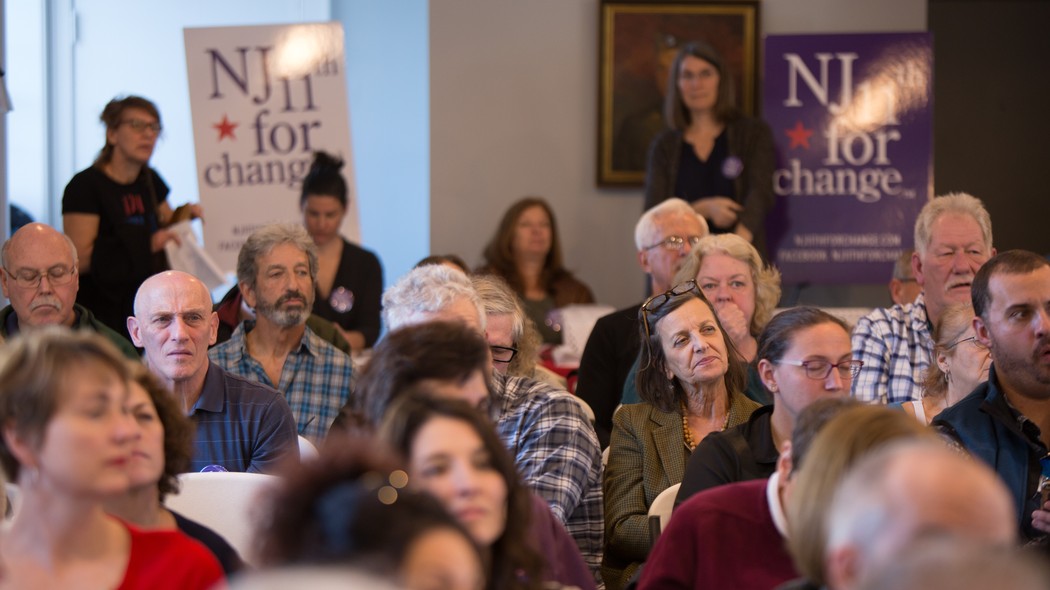 "Rep. John Faso, who helped secure the bill's much-maligned "Buffalo Bribe" to force the state of New York to pay more in Medicaid spending, opted for a television studio that could fit only about 70 constituents."
"When the New York Republican took heat for not holding a conventional town hall-style meeting, he argued his televised gathering was "a much more effective means of communicating" that would ensure "a civil discourse back and forth."
"And in tiny Troy, Ohio, the local conservative group that hosted GOP Rep. Warren Davidson's event fought to maintain order amid protesters and hecklers."
"But unlike in many of the events across the country, Davidson's crowd was largely supportive of the freshman Freedom Caucus member. About two-thirds of the audience remained after Davidson's critics walked out en masse after he criticized Obamacare."
"Rep. Joe Wilson — who famously shouted "You lie!" at President Barack Obama during an address to Congress — was greeted with the same chant from his constituents. Oklahoma Rep. Markwayne Mullin took flak when he said it was "bullcrap" that taxpayers pay his salary."
4) Taking on Trump is a winner for Republicans
"If Republicans were ever in need of a lifeline, challenging the president worked wonders in just about every town hall."
"Yoho, for example, said he now supports a measure that would compel presidential candidates, including Trump, to release their tax returns — and said he was convinced to do so by a liberal activist who urged him to ensure the president isn't participating in any "funny business."
"She changed my opinion," Yoho said to applause."
"It was one of several breaks from the Trump administration that were crowd-pleasers for the left-leaning attendees."