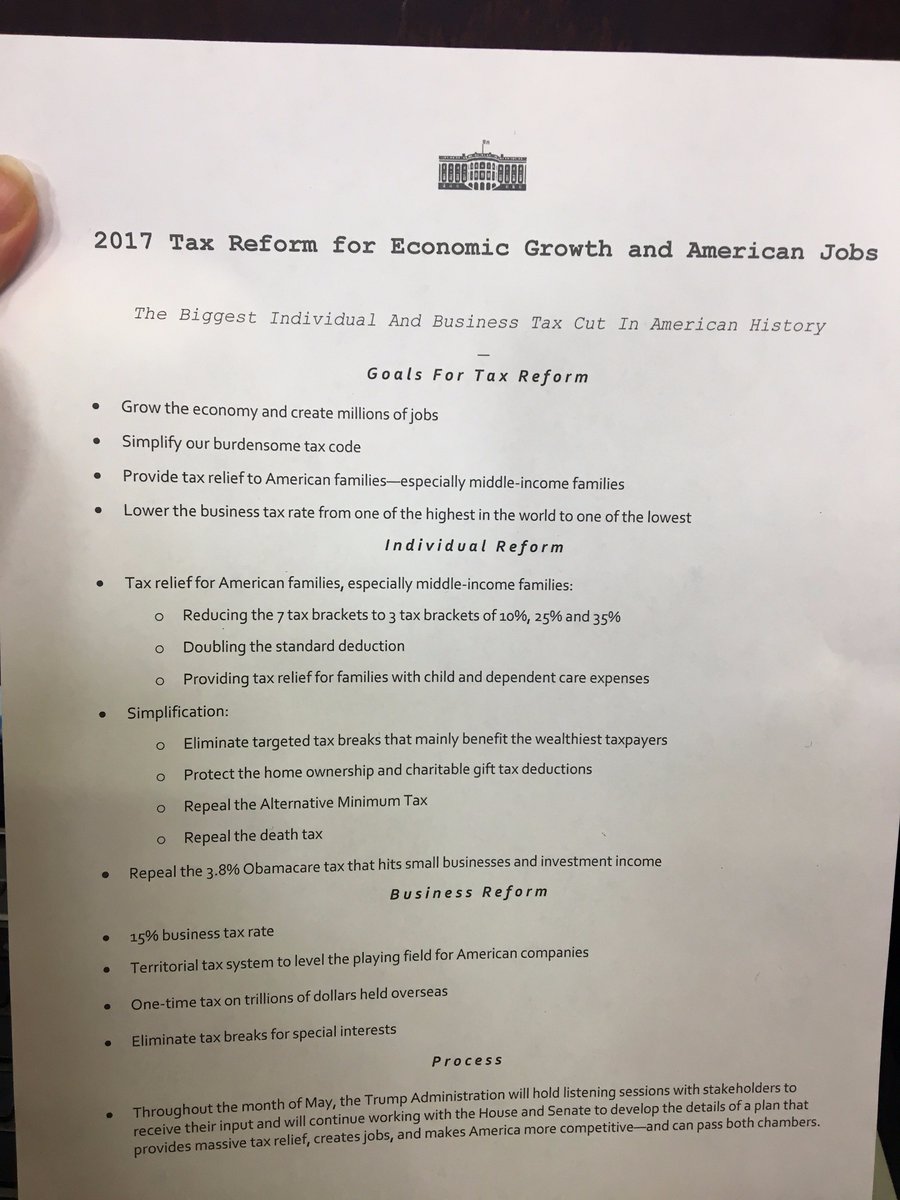 Trump's tax reform:
–individual rates 10, 25 and 35%
–childcare tax credit
–15% business rate
-repeal death tax
-repeal AMT
-repatriation
The reason for why the republicans have been covering for their standard bearer, President Donald Trump is so that they can have a real chance to pass the biggest corporate tax cut that would be considered a once in a lifetime opportunity.
The tax plan introduced today (4/26/17) by the republican President Donald Trump takes the corporate tax rate down to 15% from about 35%. The average corporate tax rate around the world is about 27-29%.
As per the 11/3/2016 WalletHub annual Corporate Tax Report,  "Based on the detailed information assembled by its data analysts, John Kiernan tells us "The overall tax rate that S&P 100 companies pay, is around 27-28 percent, and is basically unchanged when compared to 2014 figures.
It is my opinion that a corporate US corporate tax reduction down to 27% would place US businesses in line with competitors around the world without the real possibility of exploding the U.S. deficit to where the tax breaks become counter productive by significantly slowing down the U.S. economy.
On 4/26/17, Damien Paletta of the Washington Post penned the following report, White House unveils dramatic plan to overhaul tax code in major test for Trump."
Excerpts:
"President Trump on Wednesday (4/26/17) proposed a dramatic overhaul of the tax code, calling for sharply lower rates for individuals and businesses but also eliminating key tax breaks."
"The proposal is an outline – key details are left unfinished – but it presents an initial offer to begin negotiations with lawmakers, as White House officials believe reworking the tax code is one of their biggest priorities to boost economic growth."
"White House officials are ambitious, but the path to overhauling the tax code is riddled with political landmines. Many budget experts believe the White House's plan would reduce federal revenues by so much that it would grow the debt by trillions of dollars in the next decade, growing interest costs and slowing the economy."
"And Trump's advisers are looking to axe some tax breaks that are very popular in certain states, including the deduction Americans take for the state and local taxes they pay separately each year. Eliminating this deduction could save more than $1 trillion over 10 years, but inflame lawmakers and governors in states that have high income tax rates."
"For businesses, Trump's proposal would lower the corporate tax rate from 35 percent to 15 percent, and it would also allow smaller businesses, structured in such a way that they are affected by the individual tax rate, to also use the 15 percent threshold. There are millions of these businesses, known as "S Corporations," and they are often small, family-owned firms."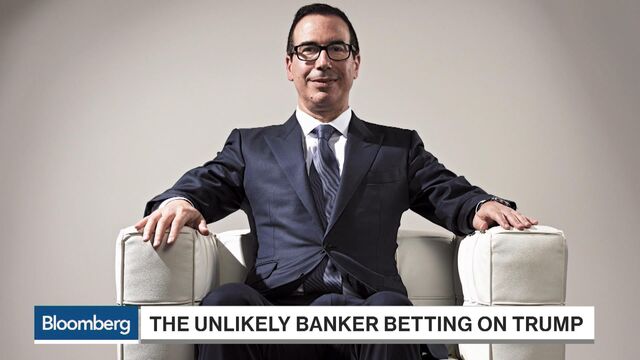 "But they can also include large law firms and lobbying shops. Mnuchin said special protections would be put in place to ensure that the 15 percent rate isn't taken advantage of by the wealthiest earners, though he didn't say how the White House would do this."
"The White House is also proposing a one-time tax "holiday" to incentivize companies to bring several trillion dollars currently being held in other countries back into the United States. They didn't specify what that tax rate would be, saying its currently part of negotiations on Capitol Hill, but they believed providing this incentive would bring money back for investment and hiring."
"We expect that trillions of dollars will come back on shore and will be reinvested here in the United States, for capital goods and job creation," Mnuchin said."
"This process is called "repatriation." It's controversial, because critics allege the money is brought back and then paid out in dividends to shareholders, not used for hiring. But Democrats and Republicans have both been open to the idea of a tax holiday. The Obama administration proposed using one to bring money back into the United States that could be used for new infrastructure projects, for example."
Overall Plan
"It would eliminate the seven existing income tax brackets and replace them with three brackets, containing new rates of 10 percent, 25 percent, and 35 percent, based on someone's income. White House officials haven't specified which income levels would hit the higher tax brackets, as they see that as part of ongoing discussions with Capitol Hill."
"It would also roughly double the standard deduction that Americans can use to reduce their taxable income. The deduction for married couples would move from $12,600 to $24,000. This would incentivize people not to itemize their tax returns and instead use the standard deduction, simplifying the process and potentially saving taxpayers thousands of dollars each year."
On 8/18/16, Kyle Pomerleau and Emily Potosky of the Tax Foundation published the report, "Corporate Income Tax Rates Around The World, 2016."
Excerpts:
Key Findings:
The United States has the third highest general top marginal corporate income tax rate in the world, at 38.92 percent. Due to the recent reduction in Chad's corporate tax rate, the U.S. rate is exceeded only by the United Arab Emirates and Puerto Rico.
The worldwide average top corporate income tax rate, across 188 countries and tax jurisdictions, is 22.5 percent. After weighting by each jurisdiction's GDP, the average rate is 29.5 percent.
By region, Europe has the lowest average corporate tax rate, at 18.88 percent (26.22 percent, weighted by GDP). The G7 has the highest simple average, at 30.21 percent.
Larger, more industrialized countries tend to have higher corporate income tax rates than developing countries.
The worldwide average corporate tax rate has declined since 2003 from 30 percent to 22.5 percent.
Every region in the world has seen a decline in its average corporate tax rate in the past thirteen years.Introduction
"It is well known that the United States has the highest corporate income tax rate among the 35 industrialized nations of the Organisation for Economic Co-operation and Development (OECD). However, it is less well known how the United States stacks up against countries throughout the entire world. Expanding the sample of countries and tax jurisdictions to 188, the U.S.'s corporate tax rate of almost 39 percent is the third highest in the world, lower only than the United Arab Emirates' rate of 55 percent and Puerto Rico's rate of 39 percent. The U.S. tax rate is 16.4 percentage points higher than the worldwide average of 22.5 percent and a little more than 9 percentage points higher than the worldwide GDP-weighted average of 29.5 percent. Over the past ten years, the average worldwide tax rate has been declining, pushing the United States farther from the norm."
The US Has the Third Highest Corporate Tax Rate among 188 Nations
"The top marginal corporate tax rate among the 188 countries surveyed was the United Arab Emirates, which has a top rate of 55 percent (Table 1). The United States, with a combined top marginal tax rate of 38.9 percent (consisting of the federal tax rate of 35 percent plus the average tax rate among the states), has the third highest corporate income tax rate in the world, slightly behind Puerto Rico. In contrast, the average across all 188 countries is 22.5 percent, or 29.5 percent weighted by gross domestic product (GDP)."
"Every region in the world except for Oceania is represented in the top twenty countries. Six of the top twenty countries are in Africa, two of the top twenty countries are in Asia, and four are in Europe. The eight remaining countries are in South and North America."
"Other large nations in the top twenty besides the United States are France (34.4 percent), Brazil (34 percent), and India (34.6 percent)."
Table 1. Twenty Highest Top Marginal Corporate Tax Rates in the World

| Country | Top Rate | Region |
| --- | --- | --- |
| United Arab Emirates | 55.0% | Asia |
| Puerto Rico | 39.0% | North America |
| United States | 38.9% | North America |
| Argentina | 35.0% | South America |
| Chad | 35.0% | Africa |
| Congo, Democratic Republic Of The | 35.0% | Africa |
| Equatorial Guinea | 35.0% | Africa |
| Guinea | 35.0% | Africa |
| Malta | 35.0% | Europe |
| Virgin Islands, U.S. | 35.0% | North America |
| Zambia | 35.0% | Africa |
| India | 34.6% | Asia |
| Sint Maarten | 34.5% | North America |
| France | 34.4% | Europe |
| Brazil | 34.0% | South America |
| Venezuela | 34.0% | South America |
| Belgium | 34.0% | Europe |
| Monaco | 33.3% | Europe |
| Saint Lucia | 33.3% | North America |
| Cameroon | 33.0% | Africa |
| Worldwide Average | 22.5% | N/A |
| Worldwide Weighted Average (by GDP) | 29.5% | N/A |
"Among countries with corporate income taxes, Turkmenistan and Uzbekistan have the lowest top marginal rate at 8 percent and 7.5 percent respectively (Table 2). Nine countries have top rates of 10 percent, most of them small nations in Europe (Bosnia and Herzegovina, Macedonia, Gibraltar, Andorra, Bulgaria). The only major industrialized nation among the bottom 20 countries is Ireland, which is known for its low 12.5 percent rate."