Since the Secretary of State, Rex Tillerson's was sworn in, his attitude regarding the U.S. State Department has puzzled me. He is not standing up for the institution without a fight as exemplified by his compliance with the tax cuts imposed by the republican President Donald Trump, his avoidance of expected public appearances; his refusal to travel with the press.
At first, one might think that maybe he didn't really want this job which he has hinted at with off the cuff remarks like "his wife talked him into taking this position."
But could there be a more sinister explanation regarding "conflict of interest" issues having to do with his former status as Exxon's CEO and for example, a 2010 major regulation requiring oil companies to be transparent as to monies transferred to foreign governments which just happened to have been eliminated right after he became the U.S. Secretary of State?
Below is a synopsis of the regulation; the cliff notes version of the $75 billion dollar fine imposed on Exxon by the African country, Chad; and notes with a reference of the hardships Exxon imposed on the residents of Chad, who were already steeped in poverty.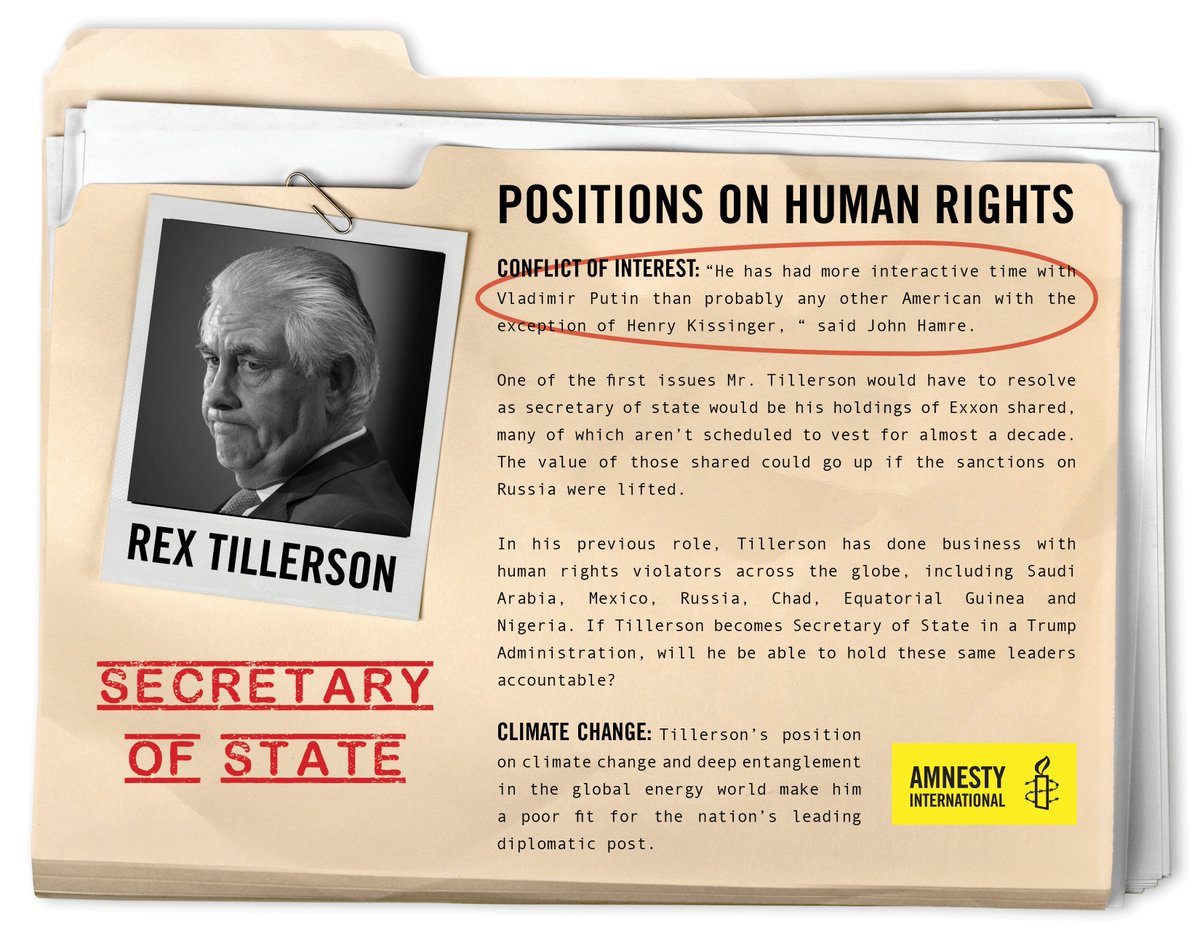 If Exxon has to pull out of Chad, it stands to lose lots of monies but this may be the only option if a settlement cannot be reached.
This and other political mine fields that Exxon has encountered over the years in order to conduct business in other countries, may very well have shaped the ex Exxon CEO's thinking about the value of the U.S. State Department from the limited lens of a business executive.
The rest of the story paints a very ugly picture for the oil giant, ExxonMobil Corporation…
"FEBRUARY 03, 2017 (From Mining Awareness Blog)
Cardin Statement on Senate Repeal of Key Anti-Corruption Rule for Oil, Gas Industry
WASHINGTON – "U.S. Senator Ben Cardin (D-Md.), Ranking Member of the Senate Foreign Relations Committee, released the following statement Friday after the Senate voted to repeal the Securities and Exchange Commission rule implementing Section 1504 of the Dodd Frank Wall Street Reform and Consumer Protection Act. The House repealed the rule Wednesday. Section 1504 was written by Cardin and former Senator Richard Lugar (R-Ind.) to promote transparency and accountability by requiring domestic and foreign oil, gas and mineral companies traded on U.S. stock exchanges to publish the payments they make to foreign governments:"
"It should be lost on no one that in less than 48 hours the Republican-controlled Senate has confirmed the former head of ExxonMobil to serve as our Secretary of State, and repealed a key anti-corruption rule that ExxonMobil and the American Petroleum Institute have erroneously fought for years. Big Oil might have won the battle today, but I'm not done fighting the war against entrenched corruption that harms the American people's interests and leaves the world's poor trapped in a vicious cycle of poverty while their leaders prosper." https://www.cardin.senate.gov/newsroom/press/release/cardin-statement-on-senate-repeal-of-key-anti-corruption-rule-for-oil-gas-industry. (Emphasis our own).
On 10/6/16. Daniel N'Doh Nadjitan, Paul Burkhardt and Joe Carroll of Bloomberg penned the following report, "Exxon Is Hit With Fine From Chad Five Times Country's GDP."
$74 Billion Penalty Exceeds BP Liabilities in Macondo blowout
It will never be collected,' international law expert says
"Exxon Mobil Corp. was ordered to pay a record $74 billion fine in Chad for underpaying royalties in the central African nation where the company has been drilling for 15 years, according to a court document."
"The fine is about five times more than Chad's gross domestic product, which the World Bank estimates at $13 billion. The High Court in the capital, N'Djamena, announced its ruling Oct. 5 in response to a complaint from the Finance Ministry that a consortium led by Exxon hadn't met its tax obligations. The court also demanded the Texas-based oil explorer pay $819 million in overdue royalties, according to the document."
"The penalty exceeds the $61.6 billion financial blow BP Plc incurred after the Deepwater Horizon disaster in 2010 killed 11 rig workers and fouled the Gulf of Mexico with crude for months, and is more than 70 times larger than the $977.5 million Exxon was ordered to pay fishermen and other victims of the 1989 Valdez oil spill in Alaska. Chad is unlikely to collect most of the fine, said Jeffery Atik, who teaches international law at Loyola Law School in Los Angeles."
"Nobody is going to cooperate outside of Chad in enforcing this judgment," Atik said in a telephone interview. "This leaves Exxon exposed to possibly losing everything it has inside Chad but that's such an extraordinary number, I can't imagine the assets they have there are worth that much."
"Exxon, the world's biggest oil producer by market value, began exploring Chad for crude in 2001 and has been pumping oil there since 2003. The company also operates a pipeline that hauls Chadian oil to a marine terminal in Cameroon for export. The two other companies named in the case are Chevron Corp. and Malaysia's state-owned Petroliam Nasional Bhd. Chevron sold its stake in Chad in 2014 and spokeswoman Isabel Ordonez declined to comment."
"We disagree with the Chadian court's ruling and are evaluating next steps," Exxon spokesman Todd Spitler said by e-mail Thursday. "This dispute relates to disagreement over commitments made by the government to the consortium, not the government's ability to impose taxes," he said in a later e-mail, declining to comment on the $74 billion figure."
"The president of the court, Brahim Abbo Abakar, confirmed the ruling by phone on Thursday."
"It's correct, however, the provisional enforcement is lower than the amount demanded by the tribunal," he said, referring to the sum of $669 million also cited in the document. He didn't elaborate."
Budget Cuts
"Chad's Finance Minister Ngabo Seli Mbogo said the court ruling was clear and he didn't want to comment further."
"It's not a realistic thing and it will never be collected," said Robert Amsterdam, a lawyer at Amsterdam & Partners LLP who has represented international corporations and sovereign governments. "This is much more about signaling that a renegotiation is in order than something that should trouble shareholders in any way."
"President Idriss Deby in 2006 gave Chevron and Petronas 24 hours to leave the country, accusing them of not having paid taxes. They denied the allegations and the case was later settled."
"The government of the central African nation is struggling with an economic crisis due to a drop in oil revenue and the spillover of violence from the Nigerian Islamist militant group Boko Haram, which has hindered trade with Nigeria and Cameroon. Budget cuts have prompted several strikes and student protests this year."
"Contract sanctity and respect for the rule of law are core principles used to manage our business over the long term," Exxon's Spitler said. "It is vital for all parties to honor the terms of a contract and abide by applicable law in order to achieve the desired long-term benefits envisioned when projects begin."
On 12/1/2009, Brendan Schwartz and Valery Nodem of Alternet, penned the following report," A Humanitarian Disaster in the Making Along the Chad-Cameroon Oil Pipeline — Who's Watching?"
Excerpts: (The complete report is footnoted below)
"The discovery of oil in Chad was supposed to alleviate poverty and human suffering, but it's only enriched Western Oil companies and the local dictators."
Chad?
"If you've heard of Chad — no, not the Bengals' Ochocinco — you probably haven't heard anything good about it. Almost continuous war since independence and its involvement the Darfur conflict have gotten Chad nothing but bad press. One author called it "a neglected tragedy of a nation." Chad is in fact a strikingly beautiful country and its people are as vibrant and diverse as any. But without a doubt, there is great human suffering. And as many people have noted, the discovery of black gold isn't helping."
"The Chad-Cameroon Oil Pipeline Project, although relatively little-known to the general public, was for a time the source of fierce debate and high rhetoric in international development circles. The World Bank-financed project in the heart of war-torn Central Africa pumps 170,000 barrels/day of crude from Chad's Doba basin to Cameroon's Atlantic port city of Kribi, 1,080 kilometers away. Led by such corporations as Exxon and Chevron, the pipeline received plaudits from the World Bank as "an unprecedented framework to transform oil wealth into direct benefits for the poor, the vulnerable and the environment." Nine years after the World Bank agreed to finance the pipeline, six years after oil went online, and just one year after the World Bank quit the project, Chad-Cameroon is slowly fading from the development spotlight. The World Bank quietly released their own evaluationof the project last week admitting that the project failed to achieve its two main goals of reducing poverty and improving governance. One hopes this is not the World Bank's final evaluation of the project since oil is scheduled to flow for another twenty years and the worst of the project's impacts are just beginning to be felt. This is an update from the field."
National Mourning and Broken Promises
"For Chadian President Idriss Deby, oil revenues are a means to prolong abusive and undemocratic rule. He changed the constitution to become president for life, used over 30% of Chad's oil revenues on war, and used money destined for development in "priority sectors" to grant opaque, no-bid public contracts to god knows whom — all things he promised not to do. It is little wonder that Chadian civil society declared the pipeline's inauguration a day of national mourning. The World Bank's public sector lending arms (the IDA and IBRD) announced their withdrawal from the project in 2008 stating "Chad failed to comply with key requirements" of their participation, though the World Bank's private sector lending arm (the IFC) had no problem staying on board to reap the benefits of its $200 million commercial loan. Many promises were also made to people living in the oil-producing zone in the southwest of Chad. Villagers were promised fair compensation for the loss of land expropriated by Exxon, employment with the oil companies for the life of the project, and 5% of oil revenues to be invested in their villages. According to local residents, these promises were empty."
The Displaced
"A woman in the Bero village of the oil producing zone explained that Exxon had displaced her whole family and promised to build them new houses equipped with furniture and find them new land. Although new houses were built, the construction was so shoddy that Exxon was forced to return just two years later and rebuild them to avoid a major PR embarrassment. There is no furniture to be found. In theory, everyone displaced by the project received some form of compensation, but rarely has it been sufficient to restore their standard of living. This is because Chad's oil happens to be located a few meters below Chad's most fertile agricultural land. The farming problem is especially serious since the zone is Chad's only breadbasket and feeds most of the country. Exxon and the project planners claimed that compensations would be paid to displaced people, but that "self resettlement" would take place naturally whereby villagers would find/purchase new land for farming from a "village land pool." A recent Chadian report notes that this has not happened; many farmers have not found land or enough land. Agricultural production is continually declining and will ultimately penalize the entire country."
The Local Government of Exxon
"Hoping to avoid paying too much compensation, Exxon has allowed many villagers to stay in the oil producing zone. Villagers often live precariously close to oil wells which turn round the clock. Increased banditry in the zone led the former governor of the Logone Oriental Province to instruct local police to "arrest or shoot on sight" anyone circulating through the zone after 6 pm. Now people living in the zone are literally surrounded by oil infrastructure and prisoners in their own homes. Almost every facet of their lives is governed by Exxon, the de facto local government."
"Take the case of Namarde Keiro. His family lives within 500 meters of Exxon's Operations Center and within twenty meters of an active oil well. As high voltage power lines tower over his home, Keiro's family lives in what the World Bank calls "extreme poverty" with no access to clean water or electricity. On October 11 of this year, Keiro discovered an oil spill while returning home from his farm. He alerted Exxon employees who immediately cordoned off the area and "cleaned" it up before any outside observers could see the damage. The oil spill ruined Keiro's fallow land, and so they decided to compensate him with a special gift: an empty Esso (Exxon's operator) backpack."
"This was allegedly the fifth oil spill related to the project, yet was not reported by a single media outlet in or outside of Chad. If a journalist from the Associated Press made just one phone call to Exxon in Houston, Keiro likely would receive thousands of dollars of compensation within a week."
"Employees of the oil consortium returned to Keiro's home on November 6th with surveying equipment. Apparently they want to build a road which will pass two meters from the family's mud hut. According to local NGOs, Exxon's strategy is to make life so unbearable for local residents that they leave on their own accord with no compensation. It's working."
America's Responsibility
As America's search for oil and gas intensifies on the African continent (soon to comprise 25% of all US oil imports), Americans should be aware of the human/environmental costs of their continuing lust for black gold and the actions of their corporations. Bluntly put, oil in Nigeria, Equatorial Guinea, Gabon, Congo-Brazzaville, Cameroon, Chad, Angola, and Sudan has further impoverished people at best and caused inestimable human suffering in many cases. Ghana, Mauritania, Uganda, Sao Tome and others have nascent industries which could become strategic in the search for the world's least renewable resource.
The ultimate goal of international campaigning is to "leave African oil in the soil" and build stronger governance beforehand since the extractive industries almost never contribute to development. However, powerful interests are making that objective difficult."
Related References:
Cardin Statement on Senate Repeal of Key Anti-Corruption Rule for …https://miningawareness.wordpress.com/…/cardin-statement-on-senate-repeal-of-key-…2/5/17
S.1700 – 111th Congress (2009-2010): Energy Security Through ...https://www.congress.gov/bill/111th-congress/senate-bill/1700 S.1700 – Energy Security Through Transparency Act of 2009111th Congress (2009-2010)
A Humanitarian Disaster in the Making Along the Chad-Cameroon Oil …http://www.alternet.org/…/a_humanitarian_disaster_in_the_making_along_the_chad-camer…Dec 1, 2009