We here in the USA, are devastated and grieving for our neighbors from across the pond, over the inexplicable news of the May 22, 2017 act of terrorism on what should have been an evening of joy and merriment, as young people attended a concert to cheer on their teen idol,  Ariana Grande, at the Manchester Arena in the UK.
Many of us have been in those parents shoes, where we drop off a group of young ladies to attend a concert with the full expectation that they are going to have a grand time, screaming, clapping and singing their hearts out, only to exit later in giggling high spirits, to be swooped up into cars driven by their loving, doting guardians.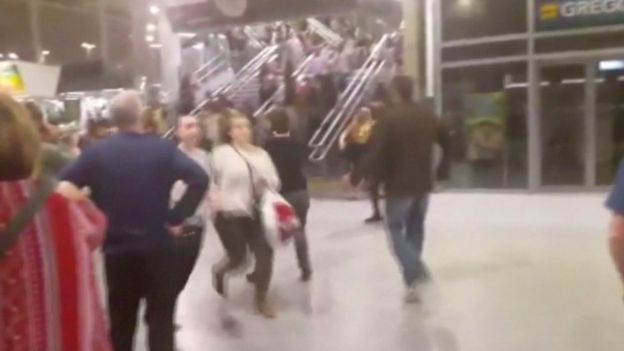 Instead this fun event was transformed into every parents' worst nightmare where the children were observed fleeing the concert hall screaming and in fear for their lives. Parents were crying when they managed to connect with their loved ones. Some lives have been unalterably changed forever as those waiting learned that 22 attendees including one eight year old child  will never be returning and 59 others were injured. As of the next day, May 23, I heard that parents were still seeking their children.
This should not be a way of life…This could have been anyone of us, anywhere in the world…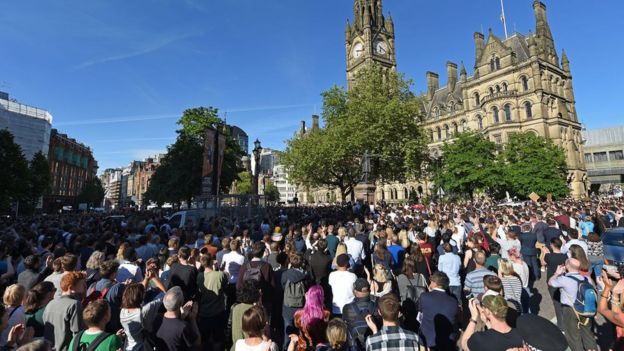 As per a May 23, 2017 BBC News report, "Salman Abedi has been named by police as the suspected suicide bomber who killed 22 people and injured 59 at Manchester Arena on Monday night."
"The 22-year-old was Manchester born and from a family of Libyan origin, the BBC understands."
"So far three victims have been named – Saffie Rose Roussos, eight, Georgina Callander and John Atkinson, 28."
"Greater Manchester Police said the priority was to establish whether Abedi had worked alone or not."
"Abedi is thought to have blown himself up in the arena's foyer shortly after 22:30 BST on Monday, as fans were beginning to leave a concert by US singer Ariana Grande."
"Greater Manchester Police Chief Constable Ian Hopkins passed on "heartfelt sympathies to all the innocent people caught up in last night's despicable act", adding that specially-trained family liaison officers were supporting families."
More About the 3 Victims
Eight-year-old Saffie Rose Roussos was a pupil at Tarleton Primary School, in Lancashire.
Her head teacher, Chris Upton, said she had been "simply a beautiful little girl in every aspect of the word" and was "loved by everyone".
"John Atkinson was from Bury in Greater Manchester."
"Student Georgina Callander, believed to have been 18, has also been named as among the dead."
"She had been studying health and social care at Runshaw College in Leyland, Lancashire."
"The wounded are being treated at eight hospitals around the city, with 12 children under the age of 16 among them."
"Several people are still missing, including teenagers Laura MacIntyre and Eilidh MacLeod, from Barra in the Outer Hebrides, 15-year-old Olivia Campbell, Chloe Rutherford, 17, and Liam Curry, 19."
LINKS TO MORE INFORMATION:
What happened? (BBC NEWS)
"Police say a lone male suicide bomber detonated a home-made bomb in the foyer of Manchester Arena as crowds were leaving the concert.
"Officers were called at 22:33 BST on Monday (May 22, 2017) and streets surrounding the arena and Victoria station were sealed off."
"Twenty-two people were killed in the explosion, including an eight-year-old girl."
"A further 59 people, including 12 under the age of 16, were injured and taken to hospital."
"The attacker died at the scene."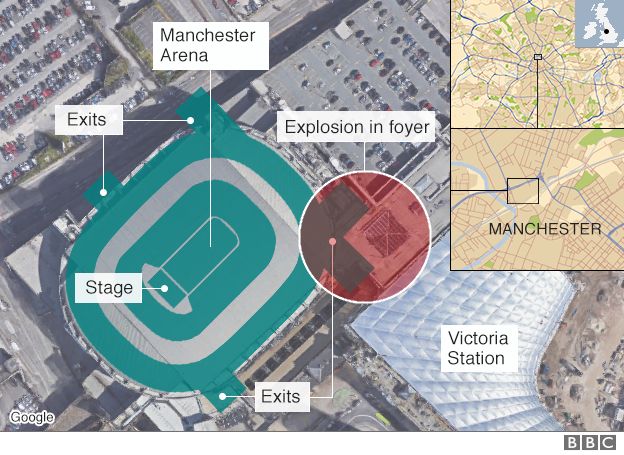 "Eye witnesses said the noise of the explosion was followed by a flash of fire."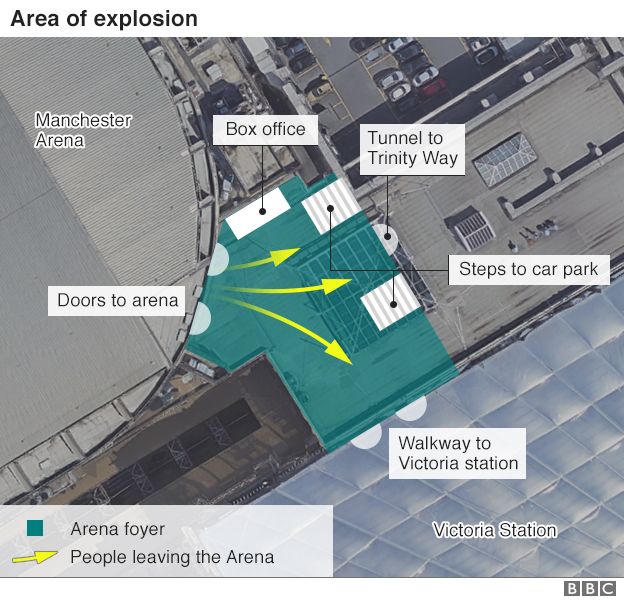 "Metal nuts and bolts were strewn around the floor among bodies and the smell of explosives was in the air, witnesses said."
"They also spoke about the fear and confusion that gripped the concert-goers, as they rushed for the exits."
"More than 240 emergency calls were made; 60 ambulances and 400 police officers attended."
"After the attack hundreds of people in Manchester took to social media to offer spare beds and rooms for those stranded in the city."
"Ariana Grande, who had just left the stage when the blast happened, has expressed her sorrow at the deaths."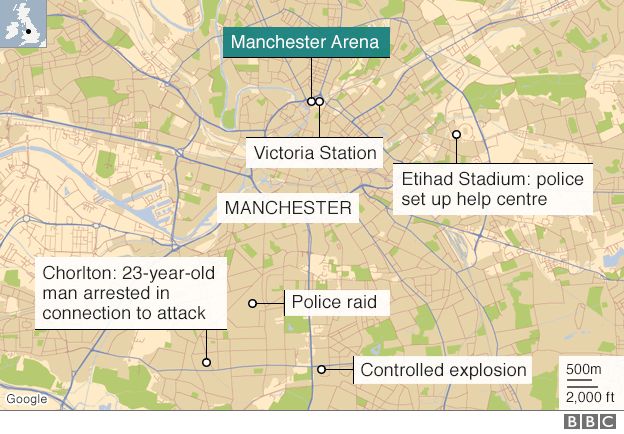 Who carried out the attack?
"Salman Abedi, 22, has been named by police as the suspected suicide bomber."
"The priority remains to establish whether he was acting alone or as part of a network," Greater Manchester Chief Constable Ian Hopkins said."
"Daniel Sandford, BBC home affairs correspondent, said Salman Abedi was born in Manchester on New Year's Eve 1994."
"The BBC understands that he has at least three siblings: an elder brother who was born in London, and a younger brother and sister who were born in Manchester."
"The family, believed to be of Libyan origin, has lived at several addresses in Manchester, including at a property at Elsmore Road in the Fallowfield area, that was raided by police on Tuesday."
"Earlier, Mr Hopkins had said the force would treat the incident as a terror attack "until we have further information".
"The so-called Islamic State group has claimed responsibility, but this has not been verified."
NOTE: On May 23. 2017, the British Prime Minister Theresa May has raised the threat level for another terrorist act from Severe to Critical. The Critical title means that the terrorism threat is of an imminent nature.