On June 16, 2017, the republican President Donald Trump announced that he has submitted the requires financial disclosure forms ahead of time which would include a time frame when he was in campaign mode and subsequent to him being ensconced in the White House.
I will be taking time to review these disclosure forms submitted by the president to check if he ever listed as assets his holdings with Energy Transfer Partners (ETP) and Phillips 66 (PSX), both associated with the DAPL construction project.
I am certain that others will also be scouring these forms as well to ascertain any discrepancies of significance as well as other pertinent data.
As per a 11/23/16 Washington Post piece by Steven Mufson, "President-elect Donald Trump sold off his shares of Energy Transfer Partners, the owner of the $3.7 billion Dakota Access pipeline that has become the focus of protests by Native American and environmental groups, according to his spokeswoman Hope Hicks."
"Trump's share, which in May 2015 financial disclosure forms was listed at between $500,000 and $1 million, had fallen to less than $50,000 by the time he sold it in the summer of 2016, according to a disclosure earlier this year."
"The sale would eliminate one possible conflict of interest for Trump, who has vowed to speed up permits for oil and gas pipelines in order to spur more oil and gas development in the United States. The Dakota Access pipeline, which is largely finished, would carry as many as 570,000 barrels a day of shale oil 1,170 miles from western North Dakota to pipeline connections in Illinois."
But according to what Mark Zandi, the chief economist for Moody's Analytics, told ABC News, there's no way to check if Trump actually sold his stock investments.
About the prior 2016 financial disclosure document…
As per a 5/19/16 Washington Post article detailing the president's financial disclosure form submitted before he became president, "To gauge the effect of the campaign on Trump's companies, The Washington Post compared his two disclosure forms, which were released by the Federal Election Commission."
"Last year's form reported that Trump's holdings brought in revenue of $362 million in 2014 and the first half of 2015, the campaign said in a statement."
"The form released Wednesday (May 2016)— which the campaign said shows revenue spiking to $557 million — covers a shorter period of time but encompasses the life of his presidential campaign, from July 2015 until Monday.
"The new disclosure (May 2016) comes amid swirling questions about Trump's income and net worth. This week, he reiterated his past claim that he was worth more than $10 billion, although he has not provided independent evidence to back up the claim."
 "His refusal to release his tax returns, which would provide detailed information about his income, has drawn fire from some Republican critics and likely Democratic nominee Hillary Clinton."
"Wednesday's (May 2016) disclosure did little to shed light on his actual income."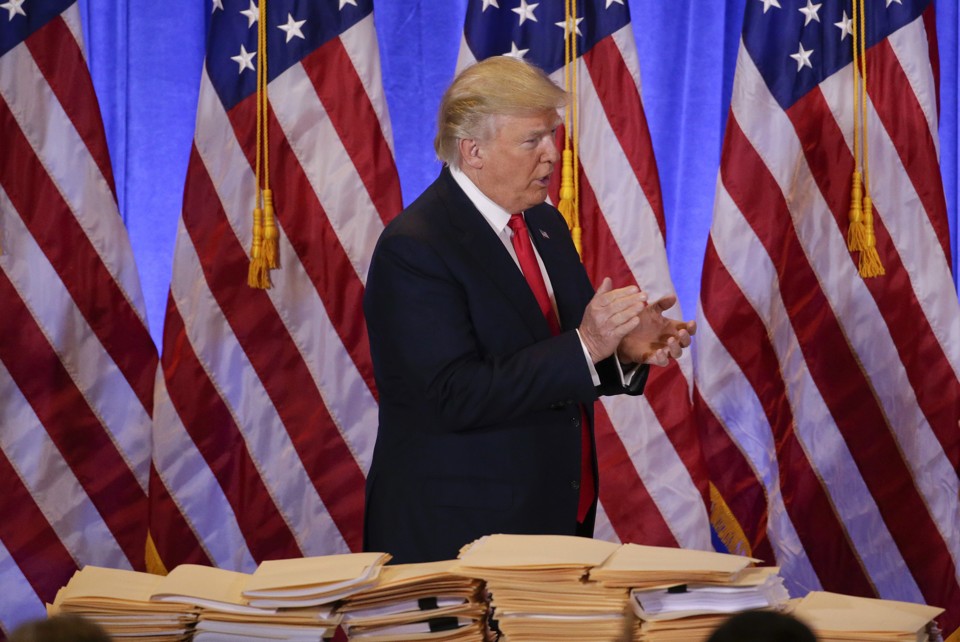 Here is the rest of the story pertaining to the president's most current financial disclosure data on June 16, 2017…
On June 16, 2017, Matea Gold, Drew Harwell and Rosalind S. Heldermen of the Washington Post, penned the following report, "Trump retains assets worth at least $1.4 billion, new disclosure shows.
Excerpts:
"President Trump reported on a new financial disclosure that his far-flung real estate and hotel assets are worth at least $1.4 billion, a stark illustration of the complex financial interests he has maintained in the White House."
"The report, which the president voluntarily filed with the Office of Government Ethics, shows that he collected an influx of new revenue from recent foreign deals and a surge of business at his signature Mar-a-Lago property in Florida."
"Trump has made his wealth a key element of his political brand, and his refusal to relinquish ownership of his company has spurred ethics complaints and legal challenges."
"As a candidate, he claimed he was worth more than $10 billion, although his net worth is impossible to determine from his financial disclosures, and he has not provided independent evidence to back that up. The White House did not make any statements about his net worth when his filing was posted 6/16/17 by the ethics office."
""The report does not require officials to report their exact income, tax rate or charitable giving — unlike a tax return, which the president has refused to release, breaking with past tradition."
"Trump's 98-page disclosure shows he held onto the vast majority of his assets since his last disclosure in May 2016, when he reported his holdings were worth at least $1.5 billion."
"However, he did sell dozens of stocks he held in brokerage accounts, including shares in Amazon, Exxon Mobil, Goldman Sachs, Microsoft, Toyota and other companies. The stocks earned him millions of dollars in capital gains and dividends."
"The disclosure does not reveal when the investments were sold. However, a spokesman said in December that Trump had liquidated his entire stock portfolio in June 2016, around the time he began pouring millions into his presidential campaign."
"
Since January, all of Trump's business assets have been in a trust managed and controlled by his sons Donald Jr. and Eric, as well as longtime Trump Organization executive Allen Weisselberg. Documents released in April show that Trump is the beneficiary of the trust and is allowed to draw money from it at any time."
"Because the new disclosure includes a four-and-a-half-month period covered by his last report, it is difficult to precisely gauge whether revenue at Trump's businesses has gone up or down. But the new report shows that his holdings generated nearly $600 million in gross revenue between January 2016 and mid-April of this year, with substantial sums coming from properties outside the United States and hotels that he has spotlighted as president." For the first time, Trump reported income from the Trump Tower in Kolkata, India, where he holds a licensing agreement with local developers. He said he received more than $100,001 from the deal."
" Likewise, his new hotel-and-condominium tower in Vancouver, British Columbia, which opened in February, was a new source of cash: Trump reported that he earned more than $5 million from the project, which was developed by the son of one Malaysia's richest men.'
"Trump's luxury hotel near the White House, which held its grand opening in October, reported $19.6 million in hotel-related income."
"And revenue at Trump's Palm Beach club, Mar-a-Lago, climbed to $37.2 million during the 15½ month period covered by the report. In July 2015, he reported earning $15.6 million from the property in the previous 18½ months."
"The president was not required to file a new financial disclosure with the Office of Government Ethics until next spring, but Trump decided to voluntarily submit an updated report in his first year in office, following the tradition of past presidents including Barack Obama and George W. Bush.The new filing shows that Trump had at least $310 million in liabilities spread across 16 loans as of May 31, most of them mortgages, an amount similar to what he reported in his prior financial disclosure."
"The liabilities probably are much larger because five of the debts were worth more than $50 million. Documents for those individual loans suggest Trump actually has a minimum of $500 million in debt."
"Trump's refusal to divest his holdings before taking office have triggered a cascade of complaints related to the use of government resources to promote properties such as Mar-a-Lago, allegations that he is violating the Constitution's foreign emoluments clause and questions about how he is being used to promote the Trump Organization's projects abroad."
"Earlier this week, the Democratic attorneys general in Maryland and the District as well as nearly 200 Democratic members of Congress filed separate lawsuits alleging that payments to Trump businesses violated the Constitution's anti-corruption clauses. Trump's tax attorney, Sheri Dillon, told reporters in January that by setting up a trust he was taking "all steps realistically possible to make it clear that he is not exploiting the office of the presidency for his personal benefit."