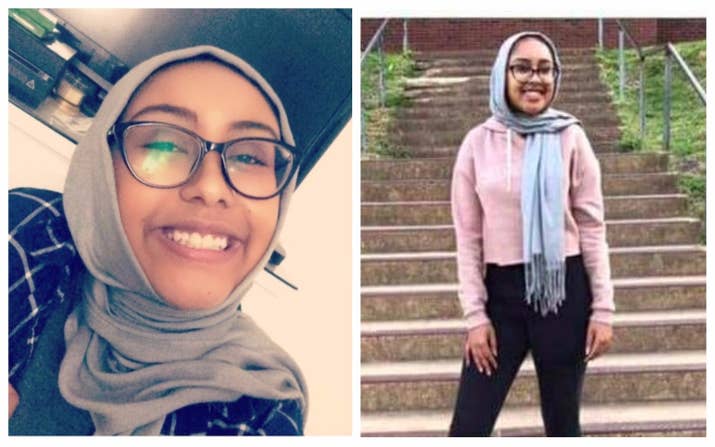 The first incident of hate occurred this past weekend of June 17, 2017, when young Muslim girls were celebrating together during their holy days of Ramadan. In between activities, the girls went to a local breakfast establishment where their merriment was turned into every parent's nightmare A man with a bat approached them. All of them were able to run back to a place of safety but one of them didn't. Later the body of what was once a vibrant a young girl, Nabra Hassanen, was found dumped in a Sterling, VA pond with obvious fatal injuries.
The local police HAVE STATED FROM THE START, that they are not investigating this case as a hate crime. And the Muslim community will most likely be deprived of true justice with the top US justice official being of an alt-right frame of mind, US Attorney Jeff Sessions.
And no matter how the police frame this case, this most likely was a hate crime as the perpetrator could very well have singled out the young women for an attack because of their dress, which would identify them as being of the Muslim faith. Why else would he have approached them with a bat?
As per the 6/19/17 Independent report by Emily Shugerman, "Juvenile court officials, however, told The Independent that (Darwin Martinez Torres) Martinez had not been charged with a hate crime. He appeared in court on Monday (6/19/17) to face one count of second-degree murder."
"The Fairfax County Police department spokesperson Don Gotthardt told The Independent there was "no indication" that the crime was connected to Ms Hassanen's religion, dress, or proximity to the mosque. There was also no indication that the two knew each other before the incident."
After starting their search at 4 a.m. on Sunday, officers found the remains of a female in a pond in Sterling, (VA.) around 3 p.m. Police said they believe the body they found is Hassanen."
"WRC-TV reported that a baseball bat was recovered in the area, but police officials would not confirm that statement."
Gov. Terry McAuliffes aid n a tweet Monday, "Dorothy & I are heartbroken over this senseless act of violence. We are praying for Nabra's family & ADAMS Community."
"In a statement, Lieutenant Governor Ralph Northam, said, "At this time, Fairfax officials do not have evidence to confirm that this crime was racially or religiously motivated. I urge Fairfax County Police to conduct this investigation both thoroughly and urgently as our Islamic brothers and sisters and all Virginians deserve answers."
And we cannot expect the republican President Donald Trump to step up to the plate to publicly condemn hate crimes in all its forms especially when it is an act of hate or of terrorism against victims of the Muslim faith, either here in the USA or abroad as in the second 6/19/17 early morning attack near a mosque in London which is being handled by police from the start as an act of terrorism against Muslims, amid fears of retaliation for several recent assaults in the country attributed to Islamist extremists. 
As per the 6/19/17 New York Times post by Dan Bilesky,  "Shortly after midnight, a van rammed into a group of pedestrians near the Finsbury Park Mosque, in North London, and the imam of a nearby community center was credited with preventing an angry mob from attacking the driver after worshipers subdued him."
"One person died at the scene and at least 10 were wounded, but the authorities said it was not immediately clear if the death was caused by the attack. The assailant was identified by the authorities as Darren Osborne, a 47-year-old man from Cardiff, Wales."
In past blogs, I have expressed concern that in the US, the terrorist group of choice is the White Supremacist. Yet, in the USA, President Trump refuses to treat the White Supremacists as a terrorist group even though its members have been guilty of numerous hate crimes/ acts of terrorism.
What I have found out is that the White Supremacists have been trending towards using the same social media outlets as what ISIS followers have been chatting on to recruit, spread the hate and plant ideas of how to do "acts of terrorism" or hate crimes.
The terrorists' choice for messaging on the internet is with a version of twitter, "telegram," a Russian company based in Germany. And for a Facebook version, there is the Russian based entity, VK (originally called VKontakte). Both companies rarely kick users off these sites.
The following write up is based on a 2013 Techcrunch.com article:
"Created by the founders of Russia's biggest social networking platform, Telegram is a new messaging app that offers speed, security and features such as secret chats with end-to-end encryption and self-destructing messages."
"Brothers Nikolai and Pavel Durov, who launched VK (originally called VKontakte) in 2006, began working on Telegram 18 months ago as a research project because they wanted to create something that was "really secure and fun at the same time." The importance of Telegram was underscored when Edward Snowden's revelations about NSA and PRISM were first made public in June."