Recently, the former top US spy and Director of National Intelligence, James Clapper (June 2017) delivered a speech to the National Security College of the Australia National University, with the press in attendance. This talk reassured the audience of the decades old strong US -Australian alliance and friendship. Then Mr. Clapper went on to discuss US politics, the republican President Donald Trump, Russia's full court press to interfere with the 2016 US presidential elections and more.
On June 7, 2017, nsc.anu.edu.au (Australian National University) published the transcript of the speech presented by the former US top spy, James Clapper.
EXCERPTS:
"Thanks very much for having me today. It is an honour indeed for me to have this privilege. I have some prepared remarks I would like to deliver, but they will be shorter, I think, than you are used to.I have read some transcripts of events here at the Press Club, so am very much looking forward to the famous "frank and fearless" Q&A session."
"I am here under the auspices of the National Security College of the Australia National University, as a Distinguished Professor. I will try hard to live up to such an impressive title."
"It is very fortuitous that I am able to speak here so soon after Dennis Richardson, the now retired Defense Secretary, did on May 12th. I want to pay tribute to Dennis, and then key off some things he said, which I strongly resonate with."
"My heartfelt support for the relationship between our two countries is, in fact, the major reason I am here, after leaving government service as Director of National Intelligence on January 20th."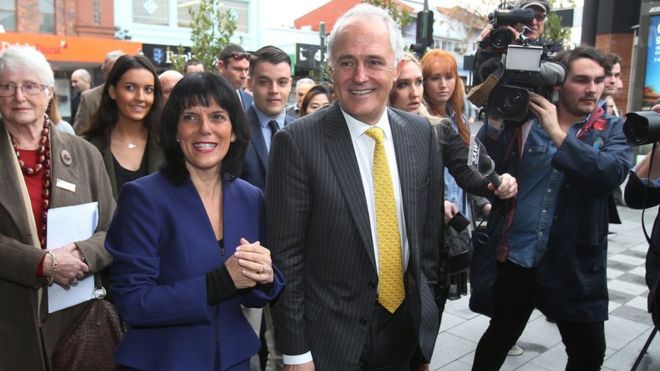 "I received many, many mementoes when I left, but none more meaningful to me than a statuette given me by Prime Minister Turnbull, replicating the iconic picture from WWII depicting an Australian soldier carrying a wounded American soldier over his shoulder. I treasure this symbol of our binational bond, and Prime Minister's personal recognition of my long commitment to, and staunch belief in, our alliance."
"But, lest you think I'm completely consumed with intelligence, I do recognize that it is but one pillar, of many, which underpin the deep and pervasive foundation of our binational bond. Jim Carouso, our superb charge d'affaires now leading the US Mission here, recently made this point in an excellent article in the Inquirer section of the Weekend Australian. Despite what you may hear, the United States is Australia's leading economic partner, with our bilateral economic engagement at $1.9 trillion and growing. A similar point was made recently by my colleagues at the National Security College. They point out that the United States remains Australia's largest source of foreign investment and the number one destination for Australian investment overseas. I could go on about the other pillars, such as our defense relationship, but you get the idea."
"But I know you all want to hear about the current state of US politics, so let me delve into that."
"There is well-founded concern here about our current administration and its emerging foreign policy generally, toward this region, and specifically toward Australia. And that is one reason I wanted to come here, and one reason why I want to speak publicly. It is, in fact, quite liberating to be free of the government "harness".
"Some truth in advertising at this point is appropriate: I have toiled in the trenches of US intelligence for every President since and including John F. Kennedy; 34 years of that were in the US military, and, in a variety of civilian capacities since I left the military some 21 plus years ago. My professional instincts have always included loyalty to the President, particularly in his capacity as Commander-In-Chief, whoever it has been, above all else. I have served as a political appointee in both Republican and Democratic administrations. So, it is not easy for me to be critical of a president, but as I said in a CNN interview a couple of weeks ago, now as a private citizen I am very concerned about the assaults on our institutions, coming from both an external source (read Russia), and an internal source (read the President himself)."
"So let me speak briefly first about the source of the external assault:"
"Russia embarked on a campaign to interfere with our presidential election, which was unprecedented in its directness and aggressiveness. The Russians have a long history of interfering in elections — theirs and others. They have tried to interfere in ours going back to the sixties, but let me stress, never like this. Apart from the infamous hacking of the Democratic National Committee, their campaign had many other dimensions: social media trolls planting false information; orchestrated "fake news" which many other news outlets picked up (either wittingly or unwittingly); and a very sophisticated campaign by the regime funded propaganda arm RT, against Hillary Clinton, and for Donald Trump."
"Their first objective, though, was to sow doubt, discontent, and discord about our political system. They achieved, I am sure, beyond their wildest expectations. Given their success, they have only been emboldened to be even more aggressive in the future. This is not, let me emphasize, "fake news." The Russians are not our friends; they (Putin specifically) are avowedly opposed to our democracy and values, and see us as the cause of all their frustrations."
"I would also point out some things about Russia that many in the United States have not kept in perspective. The Russians are embarked on a very aggressive and disturbing program to modernize their strategic forces — notably their submarine and land-based nuclear forces. They have also made big investments in their counter-space capabilities. They do all this — despite their economic challenges — with only one adversary in mind: the United States. And, just for good measure, they are also in active violation of the Intermediate-Range Nuclear Forces treaty."
"Interestingly, every one of the non-acting Prime Ministers of Russia since 1992 has come from one of two domains:"
the oil and gas sector, or
the security services.
"To put this in perspective, and as I have pointed out to US audiences, suppose the last ten presidents of the US were either CIA officers, or the Chairman of Exxon-Mobile. I think this gives you some insight into the dominant mind-set of the Russian government."
As a consequence of all this, I have had a very hard time reconciling the threat the Russians pose to the United States—and, for that matter, western democracies in general—with the inexplicably solicitous stance the Trump administration (or at least, he himself as opposed to others in his administration) has taken with respect to Russia."
"Let me move to the internal assault on our institutions I will share two examples, among many."
"Then President-elect Trump disparaged the Intelligence Community's high-confidence assessment of the magnitude and diversity of the Russian interference by characterizing us as "Nazis". This was prompted by his and his team's extreme paranoia about, and resentment of, any doubt cast on the legitimacy of his election. When he made this absurd allegation, I felt an obligation to defend the men and women of the United States intelligence community, so I called him on 11 January. Surprisingly, he took my call. I tried, naively it turned out, to appeal to his "higher instincts" — by pointing out that the intelligence community he was about to inherit is a national treasure, and that the people in it were committed to supporting him and making him successful. Ever transactional, he simply asked me to publicly refute the infamous "dossier", which I could not and would not do."
"When I later learned that the first place he was going to visit after the Inauguration was CIA, I thought — again, naively — that perhaps I had gotten through to him. For the intelligence community (not just the CIA) the wall in the front lobby at CIA Headquarters is hallowed, with over 120 stars commemorating CIA officers who have paid the ultimate price. He chose to use that as a prop for railing about the size of the inauguration crowd on the Mall, and his battle with the "fake news" media. His subsequent actions — sharing sensitive intelligence with the Russians, and, compromising its source reflect ignorance or disrespect — are likewise very problematic."
"Similarly, the whole episode with the firing of Jim Comey a distinguished public servant. Apart from the egregious, inexcusable manner in which it was conducted, this episode reflected complete disregard for the independence and autonomy of the FBI, our premier law enforcement organization. (Again truth in advertising, Jim is a personal friend and personal hero of mine.)
So, as I said, I worry about these assaults on our institutions."
"Finally, as long as I am into controversial things, I do want to say a word about China, since I realize it is much more of a pre-occupation here than Russia is, but I see some striking parallels between what our two countries are experiencing at the hand of these two countries."
"I have seen just this week compelling evidence of potentially nefarious foreign interference in your democratic institutions, and from where that interference apparently originates."

"For America, though, I consider China more benignly than I do Russia. Their economy is inextricably bound with ours, as well as with yours. With all the challenges that poses, I do think that fact serves to moderate China's behavior. But we, and you, I think, need to be very wary. A few factoids on the growth of China's economic power, some of them lesser known, are illustrative:"
"In 2004, 7 of the 10 largest companies in the world were American. There were no Chinese companies on the top ten list until 2010."
"In 2016, it was 4 Chinese, 5 American, 1 Japanese."
"And, 12 of the 15 largest Chinese companies are state-owned — and, are, accordingly, potential intelligence platforms."
"In telecommunications The 7 largest Chinese smartphone companies control 1/3 of the market world-wide, more than twice the market share of Apple."
"This is not just about market share, this is about intelligence-gathering, since Chinese law allows and implicitly encourages their intelligence services to use any and all communications and IT equipment for intelligence collection."
"In the summer of 2016, the United States was surpassed by China as number one in the world for super-computing. Even more startling was the suddenness of China's jump, with FIVE times the manufacturing of supercomputers compared to just one year earlier. This has huge implications, for many reasons."
"And regarding foreign investment, since 2014 Chinese companies have acquired US companies in 39 of our 50 states. Chinese investment tripled in 2016, compared to 2015 (Total: almost $46B)."
"I cite this litany not to sermonize, but to share, since China poses somewhat similar challenges for both our nations. The issue for both of us is how China employs this economic muscle, and how we conduct ourselves accordingly."
"As Dennis Richardson forthrightly acknowledged — and as your news media has exposed this week — it is no secret that China is very active in intelligence activities directed against Australia, just as they are against us, and that China is increasingly aggressive in attempting to gain influence in your political processes, as Russia is in ours."
"In light of all this, Australia, in my humble view, and I acknowledge here that I am delving into your internal affairs but I care deeply about Australia too, should engage with China with both caution and confidence, eyes wide open, weighing its strategic and economic interests, never forgetting the importance of its democratic institutions and values that you share with us."
"Dennis summed it all up very succinctly and accurately: Australia's relationship with China and the United States will continue to be "friends with both, allies with one." I think in many ways, that applies equally well to how the United States approaches its relationships with China, on the one hand, and its historic security partners in the Asia-Pacific on the other."
"Attorney General Brandis recently sounded a profoundly important warning, which, I think also applies equally to both our countries: "The threat of political interference by foreign intelligence services is a problem of the highest order, and it is getting worse…. It can cause immense harm to our national sovereignty, to the safety of our people our economic prosperity, and to the very integrity of our democracy."
"I think it says it all."
"I know I have talked about Dennis a lot, but I know how much you all love him. I want to conclude with another very important statement he made that I resonate with, when he acknowledged the role of journalists. There is an inherent tension in my country between the media and the intelligence community. I have certainly had my own personal ups and downs with our media: but, never has the media's role been more important in the United States than it is now."
Here is a link to the entire transcript: Address to the National Press Club by Professor James Clapper AO …nsc.anu.edu.au/news-events/news-20170607.php