Anyone who has been following my blogs knows that I am not a big fan of the Secretary of State Rex Tillerson because of his past ties to Russia and the human rights' abuses that as per current law suits, are still pending against his former company Exxon when he was its CEO.
While Mr. Tillerson's thinking about Russia has been colored by the deal he made between the company he represented, Exxon with the Russian oil company, Rosneft to conduct oil exploration in the Arctic, valued up to $500 billion dollars, but it is on hold because of the 2014 sanctions placed against Russia. Still, he has a sober realistic attitude towards Russia. In addition, Mr. Tillerson did recuse himself from any dealings having to do with Exxon.
But as to the description of Mr. Tillerson blowing up at a White House aid, my only question is, what took him so long?
Mr. Tillerson has been a competent top executive of America's largest companies for many years, as CEO of Exxon-Mobil. Yet, the Washington DC scuttlebutt has it that both he and the Defense Secretary General James Mattis have experienced extreme difficulties with filling crucial positions with highly qualified people because the president's administration would rather place political appointees in some of these openings. This is despite the fact that both were promised that they would have a free hand to run their departments, as they saw fit. But too many of their requested highly qualified potential hires have been barred by the White House from being placed because for instance, they had said something negative about the president. No wonder, it is taking so long for important openings to be filled.
The other gossip making its way through the Washington DC grape vine is that the republican President Donald Trump is fixing things so that his son-in-law Jared Kushner will end up becoming the defacto secretary of state. Excuse me, but isn't he the same person whose actions are being investigated by the FBI?  And besides, the secretary of state job is not an apprenticeship.
HERE IS THE REST OF THE STORY:
On June 28, 2017, Josh Dawsey, Eliana Johnson and Alex Isenstadt of Politico penned the following report, "Tillerson blows up at top White House aide"
Excerpts:
"The secretary of state, frustrated by negative press coverage and delays in appointing staff, unleashed his anger in front of Reince Priebus, Jared Kushner and others."
Secretary of State Rex Tillerson's frustrations with the White House have been building for months. Last Friday, they exploded.
"The normally laconic Texan unloaded on Johnny DeStefano, the head of the presidential personnel office, for torpedoing proposed nominees to senior State Department posts and for questioning his judgment."
"Tillerson also complained that the White House was leaking damaging information about him to the news media, according to a person familiar with the meeting. Above all, he made clear that he did not want DeStefano's office to "have any role in staffing" and "expressed frustration that anybody would know better" than he about who should work in his department – particularly after the president had promised him autonomy to make his own decisions and hires, according to a White House aide familiar with the conversation."
"The episode stunned other White House officials gathered in chief of staff Reince Priebus's office, leaving them silent as Tillerson raised his voice. In the room with Tillerson and DeStefano were Priebus, top aide Jared Kushner and Margaret Peterlin, the Secretary of State's chief of staff."
"The encounter, described by four people familiar with what happened, was so explosive that Kushner approached Peterlin afterwards and told her that Tillerson's outburst was completely unprofessional, according to two of the people familiar with the exchange, and told her that they needed to work out a solution."
"Colleagues are capable of frank exchanges," said R.C. Hammond, a State Department spokesman, when asked about the disagreement. "Evaluating nominees did get off to a slow start, but it is now moving along at a pretty good clip."
"It was the loudest manifestation yet of how frustrated Tillerson is in his new role. He has complained about the White House's attempts to push personnel on him; about the president's tweets; and about the work conditions in a West Wing where he sometimes finds loyalty and competence hard to buy. Above all, the former Exxon Mobil CEO accustomed to being the final word on both personnel and policy in his corporate life, has balked at taking orders from political aides both younger and less experienced than he is."
"Other secretaries in Trump's Cabinet have also clashed with DeStefano, who has a difficult job of balancing White House requests, political considerations and headstrong Cabinet secretaries, many with executive experience."
"It's very common that there would be some tensions and some tussles between the White House and departments or agencies about senior personnel decisions," said Matthew Waxman, a senior official in the State Department and National Security Council under President George W. Bush. "It's just very abnormal that these issues wouldn't be worked out more quickly."
"Waxman, now a Columbia University professor, said the fights are likely harder for a cabinet secretary like Tillerson, who is accustomed to supreme control as a CEO. "But we have a system of government where political appointments run very, very deep," he said. "It's the way the system works. The White House has the final say."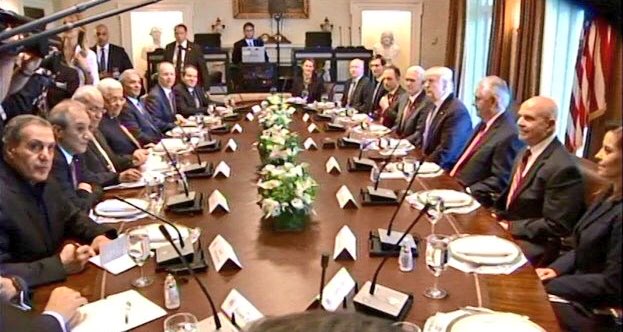 "Tillerson's frustration with the White House's meddling began early and has been a persistent issue. "He went into this with a very negative attitude towards the White House," said a former senior State Department official familiar with his thinking, who recounted that during the transition, Tillerson opposed a candidate proposed by Trump's team simply on the grounds that Trump's team was proposing him."
"He has sometimes conducted talks with potential job candidates without telling the White House, said one person familiar with his actions. Tillerson has told senior officials that Trump promised him autonomy, and that he wanted it, according to people who have spoken to him."
"Rex is a 65-year-old guy who worked his way up from the bottom at Exxon, and he chafes at the idea of taking orders from a 38-year-old political operative," said a former transition aide who worked closely with Tillerson.
"DeStefano worked for years as a senior adviser to former House Speaker John Boehner before he joined the Trump administration, where he has struggled to fill thousands of jobs across the government, though the pace has quickened in recent weeks."
"Where Tillerson is concerned, the frustration goes both ways. Many of his proposed nominees have been rejected by DeStefano's Office of Presidential Personnel either because they are Democrats or because they are Republicans who were critical of Trump during the campaign. Though Brian Hook, the director of policy planning, told associates several weeks ago that the department had several people in the pipeline, few have been announced since, and the White House continues to resist Tillerson's choices."
He's also faced resistance to leaning on civil servants. Tillerson has expressed his desire to nominate Susan Thornton, a career foreign service officer now serving as the acting assistant secretary in the Bureau of East Asian and Pacific Affairs, to take over the job in an official capacity – a move the White House has resisted, saying they want a political person in the role."
"If the secretary is putting forward a nominee such as Susan, he is doing it because he believes she's the most qualified and best fit for the position," said Tillerson spokesman Hammond. "In this particular case he has the experience of working with her since she has been on the job since February. That includes a trip to Beijing, a visit from the Chinese president to Mar a Lago, and the first of a series of four dialogues."
The secretary has additionally clashed with the White House over ambassadors, according to people familiar with the conversations, and some of the conversations are ongoing.