As you probably have heard, this week, the Republican President Donald Trump will have his first face-to-face tête–à-tête. with Russia's President Vladimir Putin. As of today, July 3, 2017, the president's administration is avoiding the subject of whether he plans to confront the Russian leader about Russia's extreme measures in meddling with the 2016 US presidential elections. President Trump's spokespeople have been speaking in general terms about what topics will be  raised, issues like Syria and Ukraine.
According to the latest tidbits from all the news pundits, the president's National Security Advisor General McMaster has told journalists the meeting would be unstructured. "There's no specific agenda. It's really going to be whatever the president wants to talk about." These comments are so surprising to where I'm thinking that General McMaster is placing the president in a very dis-advantageous vulnerable position, in a way that amounts to a dereliction of the general's duties.
Without any doubt, President Putin,  Sergey Lavrov and others will have planned for ages, about what they plan to say, cover, demand and ask for, down to all the commas and periods.
I am truly concerned about the president whom I have criticized ad nauseam. However, I have no desire to see him annihilated by Russia. But if what General McMaster is saying has any basis in truth. I believe that President Trump is being set up for the inevitable failure.
What might be covered…. 
On July 3, 2017, Susan Heavey of Reuters penned the following report, "Trump to speak with European officials ahead of G20."
"U.S. President Donald Trump plans to speak with German, French and Italian officials on Monday, he said ahead of a summit of the Group of 20 leading economies later this week that could expose his sharp differences with world powers on trade and other issues."
"Trump, who announced the talks on Twitter, is scheduled to attend the two-day G20 summit that starts in Hamburg on Friday (7/7/17)  and will hold separate meeting with various leaders, including host German Chancellor Angela Merkel."
"The gathering will take place just over a month after a G7 summit in Sicily showed deep divisions between Trump and other western countries on climate change, trade and migration."
"The White House said in a statement Trump's phone calls would be with Merkel and Italian Prime Minister Paolo Gentiloni, but did not mention French President Emmanuel Macron. Trump and Macron spoke last week when the U.S. president accepted an invitation to attend Bastille Day ceremonies in Paris on July 14."
"In remarks last week, Merkel raised the prospect of an open clash with Trump at the Hamburg summit, although some Trump administration officials have played down the discord."
"At the G20 meeting, Trump is also expected to meet with Russian President Vladimir Putin and Mexican President Enrique Pena Nieto."
"He is also expected to demand G20 action on steel to reduce excess capacity and other distortions in the global steel market, a White House official said last week."
On July 1, 2017, Julian Borger of The Guardian penned the following report, "First meeting for Trump and Putin: what will the power dynamics reveal?"
Excerpts:
"The Russian leader is also expected to push for Moscow's take on international relations – that of the interests of leading powers taking precedence over the existing order."
"For a man given to outbursts of temper and personal attacks Trump has always treated Putin with delicacy, and his admiration for his Russian counterpart has never been in question."
"Putin has been far more cautious. He has called Trump "colourful", which the American took for a compliment although the Russian word used was double-edged, with positive and negative connotations."
"You can rest assured that the Kremlin has prepared well in advance for this meeting, both with a complete analysis and dossier of Mr Trump himself as well as the goals that the Kremlin's wishes to advance," said Heather Conley, director of the Europe programme at the Centre for Strategic and International Studies in Washington DC."
"Putin goes into the meeting with other advantages. His control of foreign and national security policy is untrammelled, while Trump is hemmed in. Attempts to relax sanctions on Russia as a sweetener to rejuvenate the Washington-Moscow relationship have been blocked while Congress is in the process of not just intensifying the sanctions but wresting the power to lift them away from the White House."
"National security council (NSC) staff have also pushed back on demands for  "deliverables"   to use as bargaining chips with which Trump might strike a face-to-face deal of the kind he prided himself on in his real estate and reality TV years."
"Trump wants the meeting with Putin to be a formal affair, but his own advisers have resisted giving the Russian leader one of his principal goals – normalcy and acceptance following Russia's 2014 annexation of Crimea and military intervention in eastern Ukraine."
"Amid all that uncertainty, Trump's national security adviser, Herbert Raymond McMaster, told journalists last week that the meeting would be unstructured and free ranging. "There's no specific agenda. It's really going to be whatever the president wants to talk about," McMaster said, adding that the talks would not "be different from our discussions with any other country, really".
"The Kremlin does have an agenda, however, and despite remarks from a spokesman that the Russians would "try to fit" a Trump meeting into Putin's very tight schedule, it sees the meeting as critical for redrawing the bilateral relationship."
"Maxim Suchkov, a member of the Moscow-based Russian International Affairs Council, said foreign policy experts had been invited by the foreign ministry as early as March to "brainstorm" ideas about what Moscow should be offering and asking for."
"Suchkov said that Russian diplomats were thinking about the relationship in "four big baskets", including regional issues such as Ukraine and Syria, establishing military channels of communication, and economic relations. The biggest and vaguest of the four involved the contours of the international order, and in particular "what world would the US and Russia want to live in peacefully".
"The Russian foreign minister, Sergey Lavrov, set out in a speech on Friday what such a new order would look like: in place of the west seeking to impose "pseudo-liberal values" (code for human rights' issues) across the globe there would be a balancing of the national interests of major powers, he said."
"In an echo of one of Trump's campaign points, Lavrov described Nato as "unable to provide a proper response to the growing main threat of modern times, which is terrorism". Moscow's persistent theme is that NATO should be left to sink into redundancy while the US and Russia cooperate on counter-terrorism."
"I proceed from the premise that Mr Putin and Mr Trump understand their national interests," Lavrov told a Moscow audience. "They want to overcome the current abnormality and start negotiating specific issues that affect bilateral relations, including business interests and the resolution of international problems."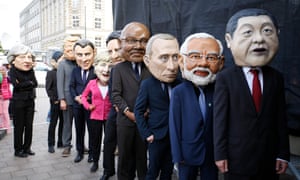 Whats Happening 
On July 3, 2017, Phillip Oltermann of The Guardian penned the following report, "Protesters plan to 'kettle' leaders at G20 summit in Hamburg."
Excerpts:
"Protesters plan to take advantage of the decision to hold this week's G20 summit in a crowded inner-city area of Hamburg and copy police crowd control tactics to "kettle Trump, Putin and Erdoğan".
"Authorities in Germany's second-largest city are preparing for the arrival of an unprecedented line-up of controversial world leaders, as well as protest groups eager to voice dissent on 7 and 8 July."
"Donald Trump and Vladimir Putin will meet at the summit, and Germany will try to push climate change and free trade to the top of the agenda."
"The chancellor, Angela Merkel, has argued that her birthplace, a wealthy port city and a "beacon of free trade", was "almost predestined" to host the gathering of the world's leading industrialized and developing economies."
"But the decision to hold it at a congress centre in a densely populated part of the inner city, bordering a district with a long-running history of anti-establishment protests and annual May Day riots, has put police services on high alert."
"Hamburg authorities have said the presence of divisive political figures such as Trump and his Turkish counterpart, Recep Tayyip Erdoğan, is likely to draw protesters from a wide range of political causes."
"A "G20 not welcome" march on Saturday is expected to attract between 50,000 and 100,000 members of anti-fascist, feminist and Kurdish groups, as well as climate activists. A separate protest march, "Hamburg Shows Attitude", has been organised by a range of cultural and social institutions in the city."
"Police have expressed particular concern about Thursday afternoon's "Welcome to Hell" march, expected to draw up to 8,000 anarchists and left-wing radicals."
"The congress centre borders the densely populated Schanzenviertel district on its western and southern edge, and rail tracks prohibit access from the north, meaning delegates will probably only be able to enter the venue from the west."
"Hamburg police have said they would not tolerate violent behaviour of the kind displayed by Erdoğan's bodyguards during his recent Washington visit. "On the streets of Hamburg we are the sole authority," said police president Ralf Martin Meyer. "We would certainly take action against something like this, including taking people into detention if they lash out against third parties."
"Protesters are used to being kettled (a police tactic used to contain crowds during demonstrations)," said Emily Laquer, a spokesperson for the march being held on Saturday. "At the G20, we're going to turn the tables on Trump, Putin and Erdoğan."
"Hamburg's interior senator, Andy Grote, a member of the Social Democratic party, has said protesters could risk their lives if they got in the way of a motorcade carrying a head of state. "Security forces will see every hold-up as a major emergency, even if it's just because of a harmless demonstration. They won't stop under any circumstances," he said."
"Organizers behind the Block G20 protests have dismissed such concerns as scaremongering.",
"Trump and co should be able to be helicoptered into the conference centre either way," said Nico Berg, a spokesperson for Block G20. "But we will make sure that the press entourage and the lunchtime catering won't be able to join them there."