As to what really happened today, on July 7, 2017 at the tête-à-tête between the Russian President Donald Trump and the U.S. President Vladimir Putin at the setting of the G20 conference being held in the German Chancellor Angela Merkel's hometown, Hamburg, no one will ever know with any degree of certainty. The only other officials present were the U.S. Secretary of State Rex Tillerson and the Russian Foreign Minister Sergey Lavrov along with two translators.
On the plus side, the U.S. Secretary Rex Tillerson has past experience in dealing with President Putin when he was Exxon's CEO and so this allowed for a conversation to occur between the two leaders where a personal connection had already been established. This could have allowed those in the room to be more blunt and less circumspect about what was said and thereby, they could make progress in areas of mutual interest.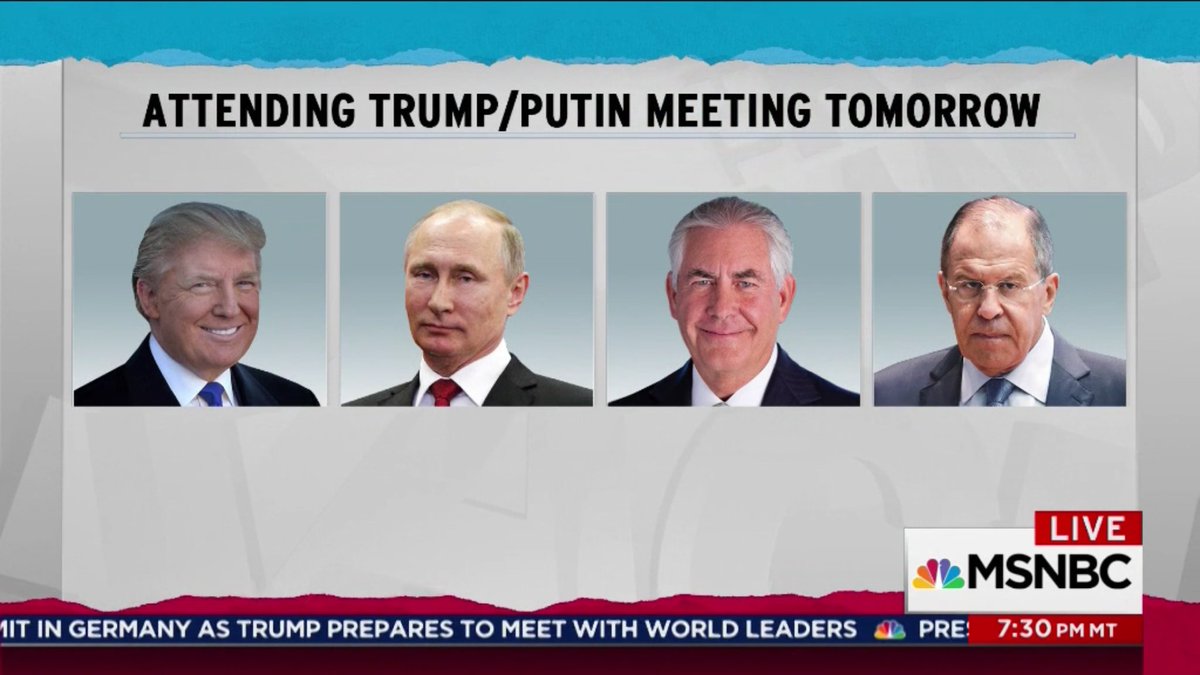 The negatives are glaring. The National Security Adviser was nor present when the topics being covered, all related to our national security interests. This is standard. And there was no one taking notes.
With the players in the room and with the US interests at stake, being represented by two neophytes, one who prefers to live in his alt-reality universe and the Russians in possession of a vast array of facts, admittedly formed by the Russian perspective, with decades of previous high stakes negotiations with other world leaders, I would have liked to have a greater certainty, that US national security interests were not compromised.
This is a moment in time, where appearances or looking like a tough guy is not sufficient for the task at hand. It is expected that the tough guy stance be backed up by a clear understanding of the facts with a strategic plan on how to advance US goals. In this room, it was not the US president who was the real tough guy. And President Putin got his day on the World Stage.
After the 2 hour 15 minute conference, the US Secretary of State Tillerson held a press conference where he confirmed that right at the start, President Trump did indeed bring up the subject of Russia's meddling in U.S. politics during the 2016 presidential elections, which of course President Putin and Minister Lavrov flatly and vehemently denied. After another attempt by the president which was again met by a wall of denial, the president decided to move on to other important topics.
WHAT MR. TILLERSON TOLD REPORTERS BASED ON MY MEMORY
The president pressed Putin on multiple occasions, but President Putin denied involvement, as I believe he has done in the past." They had a very robust and lengthy exchange on the subject."
Finally both presidents "agreed" the issue was a "substantial hindrance" to the ability to move the relationship between the U.S. and Russia forward.
"The president was rightly focused on how do we move forward from what may be simply an intractable disagreement at this point."
WHAT SERGEY LAVROV TOLD REPORTERS BASED ON AP REPORT
"President Trump heard President Putin stating clearly" that the interference allegations are "not true" and the "Russian government did not meddle."
An AP report is stating that the White House is pushing back on Mr. Lavrov's version of what was said between the two leaders.
Here is the rest of the story…
On July 7, 2017, Roberta Rampton and Jeff Mason of of Reuters penned the following report, "Trump and Putin find chemistry, draw criticism in first meeting."
Excerpts:
"In a meeting that ran longer than either side had planned, U.S. President Donald Trump and Russia's Vladimir Putin discussed alleged Russian meddling in the U.S. election on Friday but agreed to focus on better ties rather than litigating the past."
"Trump, a Republican who called it an "honor" to meet with the Russian president, drew swift criticism from Democrats at home, who accused him of dismissing U.S. intelligence and giving Putin's denial, reiterated on Friday, of Russian interference too much weight."
 "Secretary of State Rex Tillerson told reporters at a summit of leaders of the Group of 20 major economies in Hamburg that Trump had "positive chemistry" with Putin during the meeting, which lasted some two hours and 15 minutes."
"He opened their discussion by pressing Putin about "the concerns of the American people regarding Russian interference in the 2016 election" and had a robust exchange, Tillerson said."
"The Russian president has denied any meddling in the U.S. democratic process last year and Moscow has asked for proof that it took place. Foreign Minister Sergei Lavrov said Trump accepted Putin's assertions that the allegations, backed by U.S. intelligence agencies, were false."
"Tillerson said they both sought to move on."
"The presidents rightly focused on how do we move forward from what may be simply an intractable disagreement at this point," Tillerson said."
"That explanation did not sit well with Democrats."
"Working to compromise the integrity of our election process cannot and should not be an area where 'agree to disagree' is an acceptable conclusion," said U.S. Senate Democratic leader Chuck Schumer in a statement."
"
On Thursday in Poland Trump gave lukewarm support to the view that Moscow interfered in the 2016 U.S. political process."
"Trump promised a rapprochement with Moscow during his campaign but has been unable to deliver because his administration has been dogged by investigations into the allegations of Russian interference in the election and ties with his campaign."
"Tillerson said they agreed to work on commitments of "non-interference in the affairs of the United States and our democratic process as well as those in other countries."
"Andrew Weiss, a former National Security Council official responsible for Russia, said Trump had sent the wrong signal with upbeat body language and by not pushing Putin harder on alleged Russian interference in the U.S. presidential election."
"The atmospherics were chummy," said Weiss, who is now at Washington's Carnegie Endowment for International Peace think tank in Washington. "The clear push from Trump to normalize U.S.-Russian relations was on display in the meeting."
"GOING VERY WELL"
The two leaders spent a lot of time discussing Syria, and after their meeting an agreement between the United States, Russia and Jordan on a ceasefire in southwestern Syria was announced.
The face-to-face encounter was one of the most eagerly anticipated meetings between two leaders in years.
Trump and Putin spoke through translators with their respective foreign ministers present for six minutes before reporters were allowed into the room for their statements. Afterwards the reporters were ushered out and the meeting continued.
"President Putin and I have been discussing various things, and I think it's going very well," Trump told reporters, sitting alongside the Russian leader.
"We've had some very, very good talks. … We look forward to a lot of very positive things happening for Russia, for the United States and for everybody concerned. And it's an honor to be with you."
"Putin, through a translator, said: "We spoke over the phone with you several times," adding: "A phone conversation is never enough."
"I am delighted to be able to meet you personally, Mr. President," he said, noting that he hoped the meeting would yield results.
"The encounter went longer than expected, and first lady Melania Trump came in at one point to urge them to conclude, Tillerson said. The two men later joined other G20 leaders at a concert. Mrs. Trump sat next to Putin at dinner."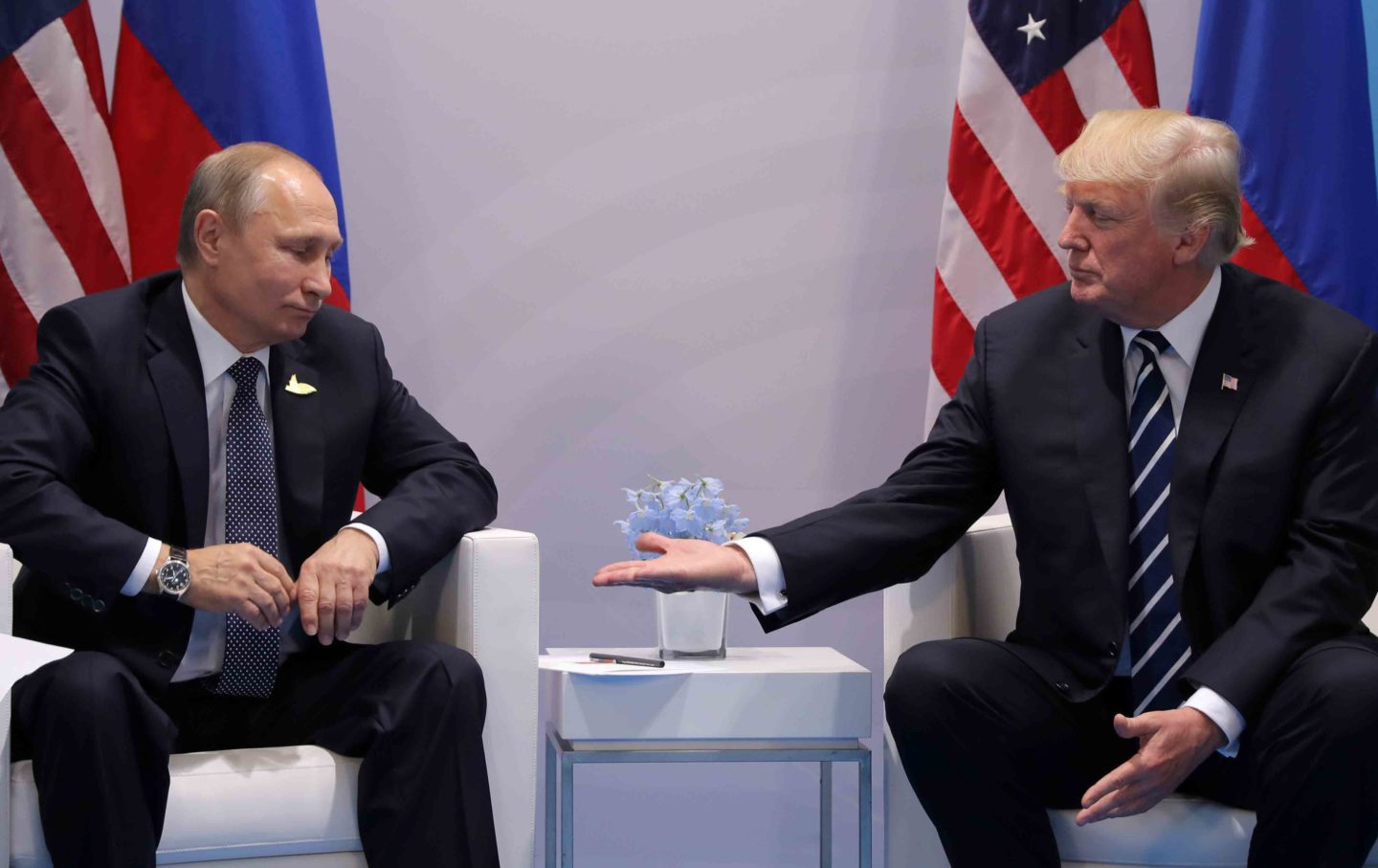 Before the get-together, some feared the U.S. president, a political novice whose team is still developing its Russia policy, would be less prepared for the talks than Putin, a former KGB agent who has dealt with previous U.S. presidents and scores of other world leaders."
"Amid criticism of Russia's actions in Ukraine and Syria and the investigations into its role in the U.S. campaign, Trump has come under growing pressure to take a hard line against the Kremlin."
"On Thursday, Trump delivered some of his sharpest remarks about Moscow since becoming president, urging Russia to stop its "destabilizing activities" and end its support for Syria and Iran."
"But Trump stopped short on Thursday of any personal criticism of Putin and declined to say definitively whether he believed U.S. intelligence officials' assertion that Russia had interfered in the 2016 U.S. election."
"I think it was Russia but I think it was probably other people and/or countries, and I see nothing wrong with that statement. Nobody really knows. Nobody really knows for sure," Trump said on a visit to Poland."
This blog was updated on 7/8/17.