On the evening of 7/8/17, I was watching a CNN News host when a breaking news item flashed on the screen. The audio report had the Secretary of the Treasurer, Steven Munchkin stating that the president is not disputing President Putin's version of the their meeting at the G20 summit.
What else is new? There are differing reports as to whether the republican President Trump did or did not agree with the Russian President Vladimir Putin when he purported that "there is no basis to think that Russia interfered in the election process."
I tend to side with President Putin's version instead of the US Secretary of State Rex Tillerson's more benign description of events, only because President Putin's portrayal reflects better, President Trump's previous comments  of doubt about Russia's meddling in US politics.
Here is the rest of the story:
On July 8, 2017, Miranda Green of CNN  penned the following report, "Putin: Trump appeared to agree Moscow did not interfere in election."
Excerpts:
"Russian President Vladimir Putin told reporters Saturday that US President Donald Trump appeared to agree with Moscow's position that it did not interfere in last year's election during their bilateral talks at the G20 meeting in Hamburg, Germany, on Friday (July 7, 2017).
"I repeat, he asked a lot of questions on this matter," Putin said at a Saturday press conference. "I answered as many as I could answer. I think he took it into consideration and agreed with it. But you should ask him what his opinion is on that."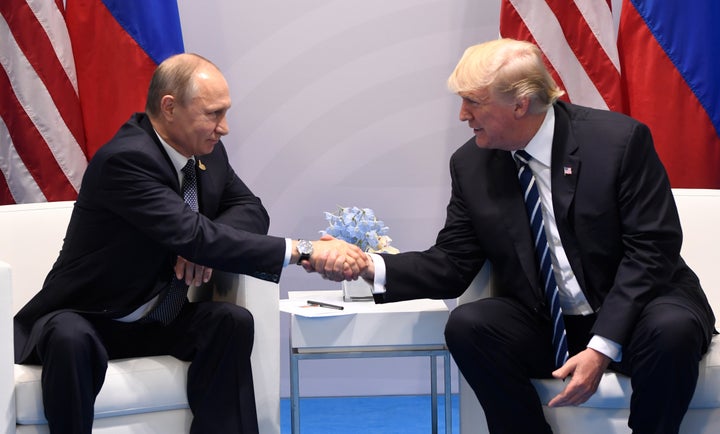 "Putin went on to say Trump raised the issue of election meddling and "devoted a lot of time to this issue. Our position is well-known, and I repeated it — there is no basis to think that Russia interfered in the election process. What's important is that we agreed that the uncertainty on these matters cannot exist, especially in the future."
"The Russian president also said the two leaders agreed to set up a joint working group of experts "to find a way to control the cyberspace security together, ensure strict compliance with the international law in this area, (and) prevent interference in the domestic affairs of foreign countries."
"Asked specifically how he views his relationship with Trump, Putin said, "and regarding personal relationship … I think it was established. I don't know how this will sound, but I'll tell you how I see it. TV Trump is very different from the real person, he is absolutely specific, absolutely adequate in his perception of the dialogue partner, he analyzes things quickly, replies to the raised questions or new elements of the conversation. So I think if our future relations will unfold the same way as our meeting yesterday, there is every reason to believe that we can restore, at least partially, the level of cooperation we need."
"Trump and Putin met for over two hours 
Friday
 (7/7/17 )afternoon, discussing interference in US elections and ending with an agreement on curbing violence in Syria."
"But a diplomatic dust-up immediately broke out after the session, when Russian Foreign Minister Sergey Lavrov said Trump accepted Putin's assurances there was no Russian involvement in the 2016 American election."
"A senior Trump administration official told CNN, however, that Trump did not accept Putin's claim of noninterference in the US election."
Rex Tillerson's Version:
(Before President Trump decided to move past the discussion about Russia's meddling in the US presidential elections.)
"Trump opened the meeting with Putin by "raising the concerns of the American people regarding Russian interference in the 2016 election," US Secretary of State Rex Tillerson said in an off-camera briefing after the session. Russia asked for "proof and evidence" it was involved, which the US did not produce in the meeting."
"They had a very robust and lengthy exchange on the subject," Tillerson said. "The President pressed President Putin on more than one occasion regarding Russian involvement. President Putin denied such involvement, as I think he has in the past."