Current Situation
This case reverberates even to current times because of the Trump-Russian saga. In July 2017, NY Times broke the story that in June 2016, Donald Trump Jr. along with Jared Kushner and Paul Manafort attended a meeting with the lawyer, Natalia Veselnitskaya, who is a well known Kremlin operative. It was her mission to eliminate the US 2012 law called the Magnitsky Act which was intended to punish Russian officials responsible for the death of the Russian lawyer, Sergei Magnitsky who had been imprisoned, tortured and killed (2008-2009) for exposing wide spread fraud that led to the Kremlin's door. The Kremlin has pushed hard to discredit this hero and she had been assigned the task.
President Putin was so furious over the US passage of the Magnitsky Act, that in 2013, he retaliated by banning any Russian children from being adopted by Americans.
And then President Putin ordered a posthumous trial to charge Mr. Magnitsky for criminal activity.
This case highlights the brutality of the Russian President Vladimir Putin's regime and it is a harsh reminder of the reality that folks doing business with Russians who have ties to the Kremlin, means getting their hands dirty. And if anyone dares to expose corruption, oh well…
What happened from 2009-2013
On July 2013 , Miriam Elder of The Guardian penned the following report, "Sergei Magnitsky verdict 'most shameful moment since Stalin.'
Excerpts:
"The courtroom cage in Moscow stood empty on Thursday as a judge found the late whistleblower Sergei Magnitsky and his London-based employer guilty of tax evasion in a move likened to Stalin-era justice."
"The case against the two defendants – Magnitsky, allowed to die an excruciating death in prison in 2009, and William Browder, banned from entering Russia since 2005 – has come to symbolise the brutality of Russia's system and the penalties incurred by those who uncovering official wrongdoing."
"Sergei Magnitsky, a lawyer hired by Browder's London-based Hermitage Capital Management fund, uncovered a $230m (£150m) tax fraud scheme run by a host of Russian interior ministry and tax officials using documents stolen in a raid on Hermitage Capital. Magnitsky and Browder were then charged with running the fraud themselves."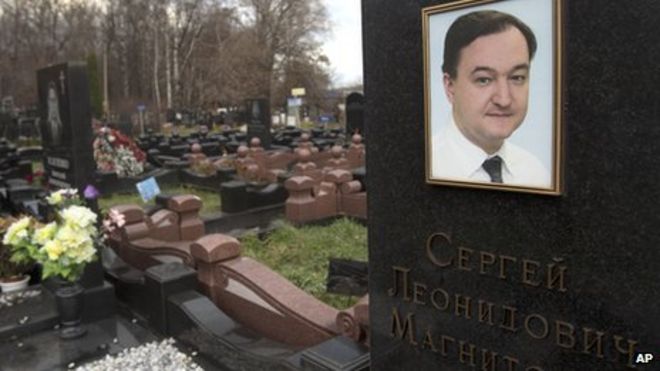 "Many of the officials involved in the alleged fraud the lawyer uncovered received promotions and awards."
(The July 2013) verdict was the culmination of a year-long effort to discredit Magnitsky, and Browder, who has waged a global campaign to punish top Kremlin officials for the former's death."
(Mr. Browder) successfully lobbied the US government to adopt a "Magnitsky list" that bans officials involved in the fraud from entering the US or keeping bank accounts there. Moscow retaliated by banning Americans from adopting Russian children."
"Magnitsky was spared a posthumous jail sentence after a Moscow judge acknowledged that he was already dead. Browder was sentenced to nine years in absentia, and banned from doing business in Russia for three years."
"Once Russia's largest portfolio investor, and one of President Vladimir Putin's biggest foreign fans, Browder appeared to have run afoul of the Kremlin after picking up stakes in some of the country's largest state-run companies."
"Doing business in Russia means either you've effectively become part of a criminal regime or a victim of a criminal regime," Browder said."
"There's no way to do business in Russia without seriously compromising yourself or putting yourself in grave danger."
"In an earlier statement, Browder said: "Today's verdict will go down in history as one of the most shameful moments for Russia since the days of Joseph Stalin."
"The Magnitsky verdict comes days after a Russian court convicted a dead woman in the first posthumous trial in Russia in decades. Olga Alexandrina was found guilty of causing the car accident that killed her despite widespread evidence that the other driver, a vice-president at Russian oil major Lukoil, likely caused the crash."
This is a more personal perspective of the Sergei Magnitsky tragedy
As per the 8/3/2013 Daily Mail report by Sarah Oliver, "The contents of the food parcel Natasha Magnitsky packed for husband Sergei were achingly spare: tea, sugar, biscuits and bread, a few carrots and turnips to bolster his prison diet, and some caramel as a treat. But when she attempted to hand them in at the little hatch in  Moscow's notorious Butyrka prison, a female official snapped: 'No, he's gone.'
"Terrified that Butyrka's squalid conditions – raw sewage running through the cells, a shift system for beds – had made him sick, Sergei's mother Nataliya dashed to Matrosskaya Tishina, a prison in northern Moscow where there was a medical unit, while Natasha went to work."
"At the prison, the official at the parcel desk was rather more specific: Sergei, an accountant who'd blown the whistle on a £150 million corruption scandal that stopped at the door of the Kremlin, was dead."
'We had been a fortress, we two,' says Natasha, who has since fled to London with the couple's 12-year-old son. 'Our marriage, our family was our life. In that moment my world and my belief system disintegrated around me. The fortress crumbled."
'The last thing he said to me the night he was arrested was, "Don't worry, I'll be home tomorrow." Right to the end he believed innocence could always be proved, but now I understand that nobody is safe. The unimaginable happened to my husband – why couldn't it also happen to me?'
"Traditionally, people are sent to prison because they've committed a crime. Sergei, 37, found himself locked away because he uncovered one, an extraordinary paper trail that led from an illegal Interior Ministry raid on the Moscow offices of a London investment company to law enforcers, judiciary, bankers and mobsters. "
"He was incarcerated for a year without trial and investigated by those with a vested interest in closing down his inquiries. A week before his family were expecting his release he died, officially of heart failure and toxic shock from untreated pancreatitis, but also from brutal beatings. America led world condemnation of the best-documented abuse of human rights to emerge from Russia in the past 25 years. It led to the Magnitsky Act, allowing the US to withhold visas and freeze the financial assets of the Russian officials involved."
Follow up:
A Russian lawyer Nikolai Gorokhov, 53, had represented the Magnitsky family since 2011. He had been hired by Sergei Magnitsky's mother to pursue a case against some of those who were part of the widespread fraud. He was due in court n a weekday in March 2017, but he never showed up.
The Russian newspaper, Novaya Gazeta quoted an unidentified Hermitage spokesperson who provided details that Mr. Gorokhov had fallen in a stairwell while attempting to lift a bath up to the fourth floor. Police did not believe there was criminal intent or anything suspicious about this fall.
Incidentally, he was also supposed to be a witness in a case due to be heard in New York in May (2017) which the UK government had brought against a Cyprus-based company charged with the laundering of proceeds from the fraud. And guess who was the hard-charging NY attorney assigned to this case? It was Preet Bharara. It's a small, small world.
Related Articles:
Controversial film on Sergei Magnitsky's death set for US screening …https://www.theguardian.com › World › Russia Jun 10, 2016
 Russian suspects in Sergei Magnitsky death barred from entry to UK …https://www.theguardian.com › World › Russia Jul 9, 2013 
Russia bans 18 Americans from country in answer to US list | World …https://www.theguardian.com › Apr 13, 2013 
Russia delays trial of dead lawyer Sergei Magnitsky | World news …https://www.theguardian.com › Mar 11, 2013 –