In the month of July 2017, the New York Times has been breaking news with the story surrounding the 6/9/16 Trump Towers meeting attended by Paul Manafort, Jared Kushner, Donald Trump Jr. and the Russian Government attorney who doesn't speak English and who requires a translator, Natalia Veselnitskaya. The meeting had to be scheduled around her having to attend a court case on the same day. What was this case that she had to be present?
Guess who was the attorney in charge of this case before the republican President Donald Trump summarily fired him (early 2017)? It was Preet Bharara.
This left the US Attorney General Jeff Sessions in charge.
Here is the rest of the story…
As per 7/12/17 DailyKos report, "Democrats on the House Judiciary Committee on Wednesday (7/12/17) questioned the decision by the Trump administration Justice Department to settle a money-laundering forfeiture case with a Russian real estate investment firm that has ties to the Russian lawyer who met last year with President Donald Trump's son."
"Natalia Veselnitskaya represented the owner of Russian firm Prevezon Holdings Ltd. The letter sent by House Judiciary ranking member John Conyers and other Democrats asked Attorney General Jeff Sessions whether Veselnitskaya had been involved in settlement negotiations between the Russian firm and the Justice Department."
"Prevezon agreed in May to pay $6 million to the government to avoid a civil trial on charges that the firm had laundered proceeds from an alleged $230 million Russian tax fraud scheme."
"Veselnitskaya represented Dennis Katsyv, Prevezon's owner. Katsyv backed a lobbying campaign in Congress and with federal officials last year that was aimed at scuttling the Magnitsky Act, a 2012 law that used sanctions to target officials and associates of Russian President Vladimir Putin and his government."
And here is an excerpt from the House Judiciary Committee Democrats' press release:
On May 12, 2017—just two days before the Prevezon trial was set to begin—the Department of Justice settled the case for less than $6 million and no admission of guilt.  Ms. Veselnitskaya told one Russian news outlet that the penalty was so light that it seemed "almost an apology from the government."

Full text of the letter to Attorney General Sessions can be found here."
democrats-judiciary.house.gov/…
"Who knows if this settlement was quid pro quo for help in rigging the election for Trump, but I bet the House Dems and/or Mueller will find out."
On July 11, 2017 Michael Kranish, Tom Hamburger, David Filipov and Rosalind S. Heldermen of the Washington Post penned the following report, "Russian lawyer who met with Trump Jr. has long history fighting sanctions."
Excerpts:
"The photograph is striking: There sits Natalia Veselnitskaya, the Russian lawyer who met with Donald Trump Jr. and others at Trump Tower in Manhattan on June 9, 2016, seated a few days later in the front row of a House Foreign Affairs Committee hearing at which witnesses discussed U.S. sanctions against her country."
The day before, Veselnitskaya was at Washington's Newseum, attending the screening of a film that criticized U.S. sanctions.
"In the course of a week — from New York to Washington — Veselnitskaya showed up at several events that go to the heart of the investigation of questions about whether Russia colluded with the Trump campaign to defeat Democrat Hillary Clinton."
Court Case
"It was one of her most high-profile cases that brought her to New York City in June 2016, as the U.S. presidential campaign was underway. At the time, Donald Trump had sealed the Republican nomination but was trailing far behind his Democratic rival, Clinton."
"Veselnitskaya, meanwhile, represented Prevezon, which had been sued by the U.S. attorney in New York's Southern District in a money-laundering case. It was while she was in that role that she also became an outspoken advocate for lifting economic sanctions imposed by Congress against Russia for human rights violations."
Magnitsky connection
"The sanctions stemmed from the death of a Russian lawyer named Sergei Magnitsky. He worked for a U.S.-born businessman, William Browder, who runs a company called Hermitage Capital Management. The company once was one of the largest foreign investors in Russia, but Browder became critical of corruption under Russian President Vladi­mir Putin and urged reforms. He was banned from entering Russia in 2005 on grounds that he was a threat to national security."
"Two years later, Browder said, his company's offices were raided, documents were seized and Hermitage companies were illegally taken over. Subsequently, those who arranged the takeover applied for a tax refund of $230 million, which was granted, Browder said. Browder hired Magnitsky to investigate. Magnitsky determined that fraud had occurred and testified against Russian officials in the matter, Browder said."
"Magnitsky was arrested by those he had testified against and was found dead in jail a year later. Russian officials said he died of a heart attack, but Magnitsky's family said he had injuries consistent with a severe beating."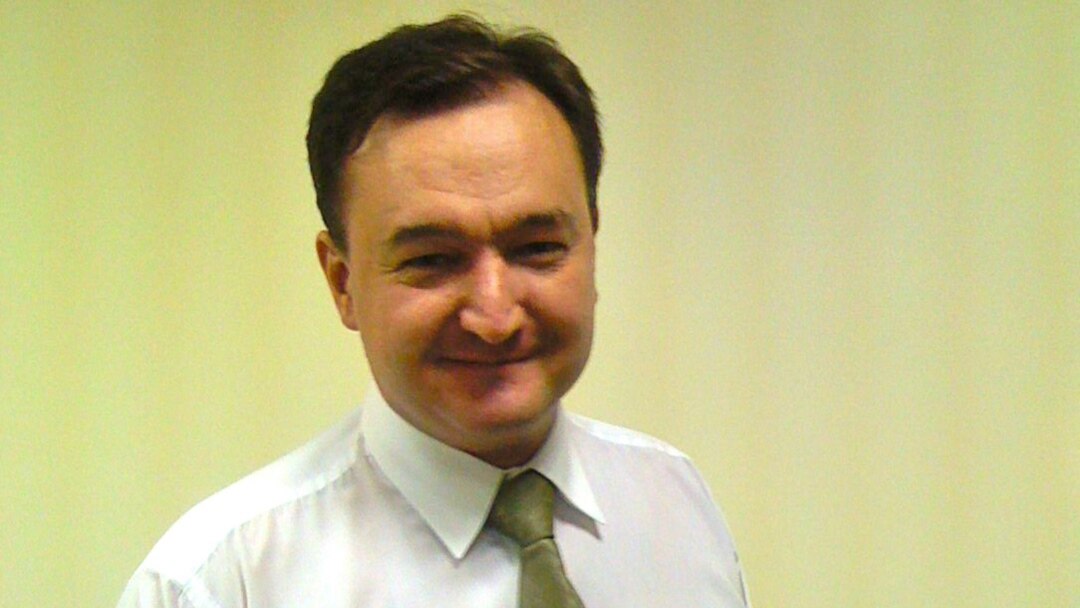 "Browder, who is now a British citizen, accused Russian officials of being culpable for Magnitsky's death, and he said Moscow was trying to cover up corruption. He launched an effort to impose U.S. economic sanctions against Russia, and Congress approved them in 2012 legislation named the Magnitsky Act. Russian officials, in turn, accused Browder of colluding with the CIA and fabricating key pieces of his story. The passage of the act infuriated Putin, leading the Russian leader to retaliate by halting American adoption of Russian children. The adoption issue is frequently used as a talking point by opponents of the Magnitsky Act."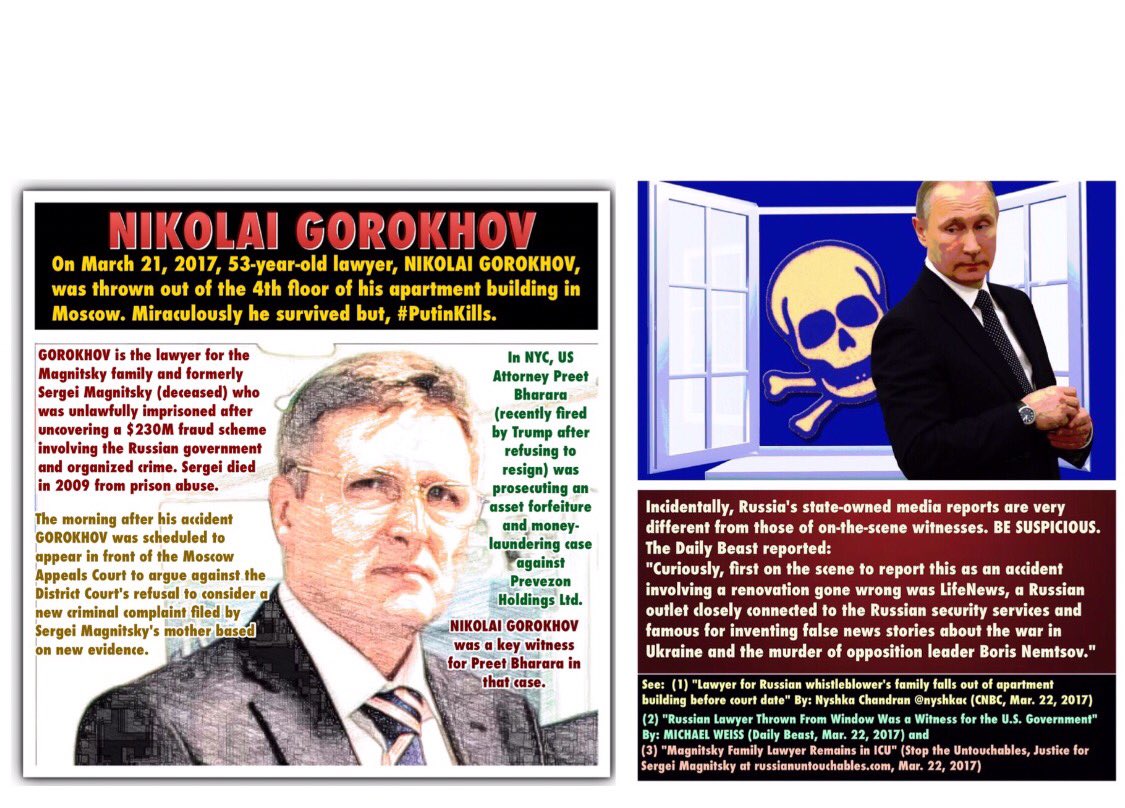 "As accusations flew and the Magnitsky Act took effect, Prevezon was accused by U.S. officials of buying real estate with laundered funds from some of the proceeds of the $230 million tax refund. Prevezon, owned by a Russian named Denis Katsyv, fought the charges in federal court in New York. The company, in addition to hiring American lawyers, brought on Veselnitskaya to help make its case."June 2016 meeting
"Veselnitskaya's visa for U.S. entry was denied, but she received special permission — in what is known as a "parole letter" — to come to New York specifically to defend Prevezon and Katsyv."
"That set the stage for Veselnitskaya to be in New York City in June 2016, where a hearing related to Prevezon case was being held in federal court. (Prevezon paid $6 million to settle the case in May; Reuters reported that Prevezon said it was a victory because no guilt was declared and the amount was far less than initially sought by the U.S. government.)" 
"The meeting was arranged by a publicist named Rob Goldstone, who wrote to Donald Trump Jr. that he could arrange a meeting with "the Russian government attorney" who could convey "information that incriminate Hillary and her dealings with Russia and would be very useful to your father." Trump Jr. responded that "if it's what you say I love it."
"Goldstone then wrote in a June 8 email to Donald Trump Jr. that Veselnitskaya "can't do today as she hasn't landed yet from Moscow." Goldstone then said it would need to be the following day, late in the afternoon, because Veselnitskaya "is in court until 3" p.m."
"Veselnitskaya, who has said she cannot read or write English, did not speak at the hearing. She then went to the Trump Tower meeting, bringing an interpreter with her. Trump Jr. has said that Veselnitskaya had no information to share about Clinton and that she talked about her opposition to the Magnitsky Act. The legislation preceded sanctions imposed against Russia for its annexation of Crimea and incursion into Ukraine; overturning the Magnitsky Act is seen in Russia as a first step to ending all sanctions."
"We sat and talked to each other for a few minutes, and it was clear we were talking about two different things," Veselnitskaya said in an interview with The Post in Moscow on Tuesday (7/12/17)."
"Veselnitskaya said that Goldstone's statement that she was a government attorney is wrong. She told The Post that she once worked in the prosecutor's office of the province that surrounds but does not include Moscow. "A regional prosecutor is not the Kremlin," she said. A Kremlin spokesman has said that she was not speaking to the Trump campaign on its behalf and that "we don't know who she is."
Sanctions focus
"Veselnitskaya's stay in the United States was only beginning. Four days after her meeting at Trump Tower, she attended the House Foreign Affairs Committee hearing, which focused on sanctions and overall U.S.-Russia relations. She secured a seat in the first row, directly behind the witness table. She was photographed by a committee staffer as she listened intently to a witness, former U.S. ambassador to Russia Michael McFaul, who testified that many Russians "quietly believe that Putin's current course of confrontation with the West" does not serve its interests."
"On Tuesday night (7/11/17), she was by turns tearful and angry about her sudden prominence. She defended her role, and stood steadfast in her belief that the Magnitsky Act is unfair and that her appearance at Trump Tower had nothing to do with the Russian government."