Recently, I have done several highly critical write-ups regarding the republican President Donald Trump's Secretary of State Rex Tillerson because he deserves it. Beyond his downplaying the state departments past historical promotion of human rights' improvements and greater democracy around the world, agreeing with the president to slash the department's budget without study and due diligent planning, turning down $80 million dollars which would prop up a division to counter Russian and terrorist propaganda; and then not pushing harder to fill numerous crucial open positions, he is developing a reputation for an unbelievable degree of micro-managing the department's employees. This helps to explain in part why diplomats are leaving the state department in droves.
Many of the political media pundits including me, have been speculating that Mr. Tillerson days as acting US secretary of state would be ending in the near future, but recently, he has gone on the record to end this rumor.
Here is the rest of the story… 
On August 6, 2017 Gardiner Harris of the New York Times penned the following report, "Diplomats Question Tactics of Tillerson, the Executive Turned Secretary of State."
"Several times a week the State Department sends a greeting to a foreign country on the occasion of its national day. By tradition, the salutations have been written by low-level diplomats and routinely approved by their superiors."
"But not anymore."
"Now the messages go through Secretary of State Rex W. Tillerson's office, where his top assistants insist on vetting them, and where they often sit for weeks before coming back with extensive editing changes, according to several department officials. To these officials, it is a classic case of micromanagement — and emblematic of the way Mr. Tillerson has approached running the State Department."
"Introduced by President Trump as a "world-class player" when he nominated him, Mr. Tillerson had never worked in government. But as the CEO of Exxon Mobil, he brought to the State Department the kind of managerial experience shared by predecessors like George P. Shultz, who had been president of Bechtel, the giant engineering company, and George Marshall, a five-star Army general once described by Winston Churchill as "the organizer of victory" in World War II."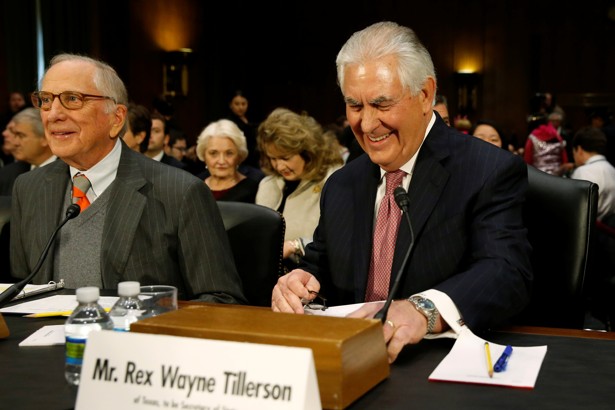 "Even skeptics of Mr. Tillerson's foreign policy credentials thought the State Department, an agency of 75,000 employees, could use some of the management skills he had picked up as the head of a major corporation. Mr. Tillerson was supposed to know that leaders of large organizations should quickly pick a trusted team, focus on big issues, delegate small ones and ask for help from staff members when needed."
"Instead, he has failed to nominate anyone to most of the department's 38 highest-ranking jobs, leaving many critical departments without direction, while working with a few personal aides, rather than developing a coherent foreign policy."
"The secretary of state has to focus on the president, his policies and the other heads of government that he deals with, which means he cannot possibly run the department operationally himself," said R. Nicholas Burns, a retired career diplomat.  "He has to delegate, and that's what's missing now."
R. C. Hammond, Mr. Tillerson's spokesman, said Mr. Tillerson was simply tackling the problems of an unwieldy bureaucracy that his predecessors had ignored. And the more he has learned about the department, according to Mr. Hammond, the more problems he has found.
"What we are discovering is that there are a series of problems that have been neglected and ignored," Mr. Hammond said. "And they are causing larger problems that can be fixed if things are vetted properly and installed."
"Mr. Tillerson, 65, has made clear his assessment of not only the State Department but the federal government in general."
"It's largely not a highly disciplined organization," he said in an interview last month while on a flight back from the Middle East, where he tried unsuccessfully to resolve a bitter feud between Qatar and four Arab nations. "Decision-making is fragmented, and sometimes people don't want to take decisions. Coordination is difficult through the interagency — has been for every administration."
"Almost from the time of his arrival, Mr. Tillerson has said the department needed to be reorganized, and he has embarked on a wholesale rethinking of its structure. He has hired two consulting companies, undertaken a department-wide survey and set up five committees to analyze different aspects of the department."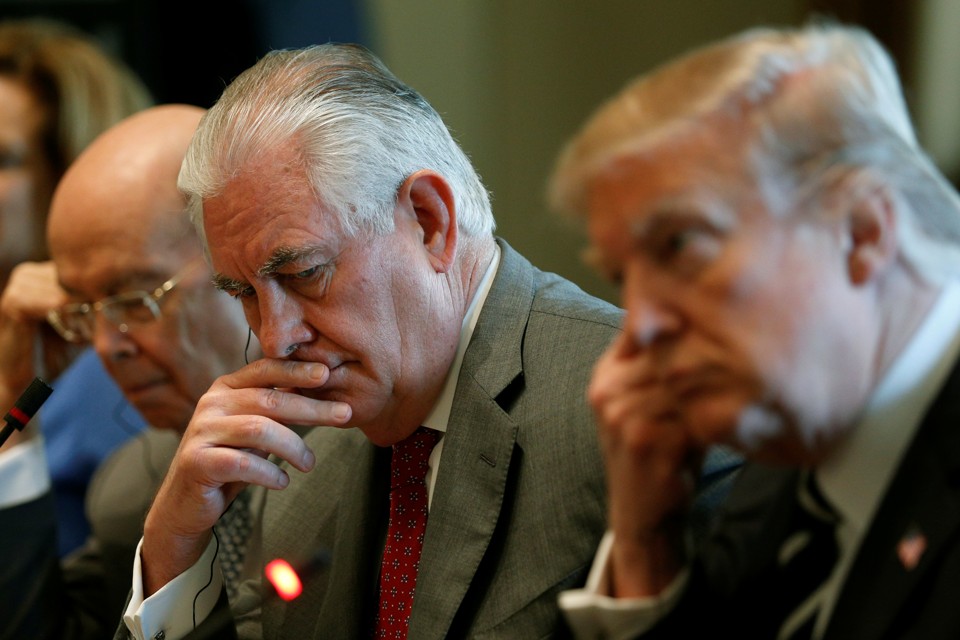 "'Mr. Tillerson has said the reorganization will be driven by suggestions from staff members, but before the survey process even began he proposed a 31 percent cut to the department's budget and an 8 percent staff cut — suggesting to many that his mind was already made up. He must give Congress a hint of his plans by Sept. 15 but does not expect to have them fully formed until the end of the year."
"Mr. Tillerson's diplomatic accomplishments have been mixed at best. His biggest achievement came Saturday (8/6/17) when the United Nations Security Council voted unanimously to impose sanctions on North Korea for its recent tests of intercontinental ballistic missiles, which required bringing along the Russians and the Chinese. But his effort to resolve the struggle between Saudi Arabia, along with other Sunni powers, and Qatar has made little progress; his department is considered dysfunctional by the Europeans; and policy is entrusted to a tiny group."
"Moreover, his reorganization effort has contributed to the paralysis. He has not wanted to appoint under secretaries and assistant secretaries until he understands the new structure. But the career officials sitting in those posts have little authority, and they fear making a career-ending move. His hiring freeze has meant few young people — those with a better sense of how to reach the younger populations around the world — are entering the department. Senior diplomats have left in droves, depleting the building of historical memory."
"Wendy Sherman, the under secretary of state for political affairs in the Obama administration, noted that the department's deep bench of talent meant the United States had "more ideas and more capabilities" than any other diplomatic player in the world."
"There is widespread agreement within the department that some kind of reorganization is needed. In just one example, the department has more than 60 special envoys and offices dealing with such issues as climate change and human trafficking. These envoys and offices operate outside the usual chain of command, and proposals to trim those back are widely popular and part of Mr. Tillerson's plan."
"The criticism is that Mr. Tillerson has neglected other priorities."
"There's a broad acceptance of the need for reorganization and a growing frustration at the need for decisions to deal with ongoing issues," said Ronald E. Neumann, president of the American Academy of Diplomacy. "The number of necessary but unmade decisions is steadily growing."
"The hope in Foggy Bottom was that once Mr. Tillerson began filling out his top cadre of leaders, the logjam of decisions would ease as his deputies relieved some of the strain. John Sullivan's confirmation in late May as deputy secretary of state was seen as a watershed, since Mr. Sullivan is well liked, works hard, has government experience and is focused on administration."
"But instead of improving matters, Mr. Sullivan's appointment seems to have only made them worse. On July 17, Mr. Tillerson revoked or put under review all of Mr. Sullivan's decision-making powers as well as those of all the other senior leaders in the department. Diplomats say the cause was a decision that Mr. Sullivan made that Mr. Tillerson disliked, but Mr. Hammond denied that Mr. Sullivan had done anything to trigger the move."
"What did, he said, was Mr. Tillerson's discovery that many of the hundreds of responsibilities traditionally assigned to high-level officials below the secretary had not been fully vetted or publicly disclosed. Among those responsibilities are the authority to approve hundreds of required reports to Congress, to accept the design of new embassies and to coordinate income tax issues between the United States Treasury and foreign governments."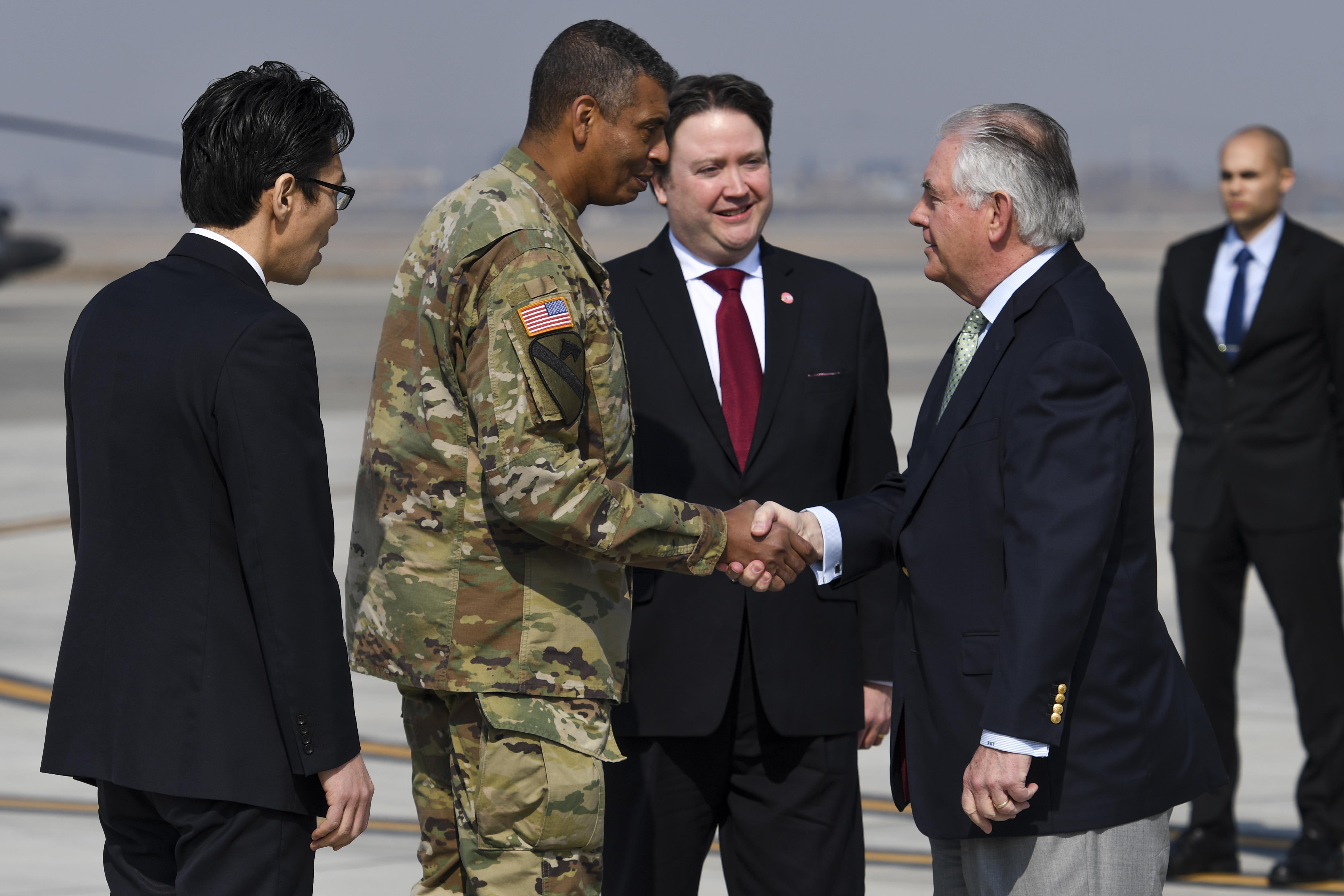 "So to ensure that there are a legitimate set of lines of authority, we have revoked them," Mr. Hammond said."
"After a thorough review and public accounting, the leaders' decision-making powers could be re-established, he said. For now, all decisions, no matter how trivial, must be sent to Mr. Tillerson or his top aides: Margaret Peterlin, his chief of staff, and Brian Hook, the director of policy planning."
"Patrick Kennedy, a former under secretary of state for management who was appointed by Mr. Bush in 2007 and served in that capacity until early this year, said Mr. Tillerson's decision to revoke or re-examine the authorities that were delegated only worsened a leadership crisis that had resulted from his failure to get his own leadership team in place."
"The department doesn't have horsepower to operate at prime capability, and the reported revocation of the delegation of authorities to other people only exacerbates the situation," Mr. Kennedy said."
"In another example of just how much Mr. Tillerson is sweating the details, he recently insisted that his staff members submit a memorandum justifying each proposed hiring of a diplomatic spouse in the embassies in Baghdad and Kabul, Afghanistan. Such spousal jobs are an important means of encouraging diplomats to take hardship posts and generally save the department the expense of sending and housing another American independently."
"Mr. Tillerson personally reviewed the necessity for every one of those jobs."
"But in the meantime, State Department officials must tend to the daily functions of the department — writing reports to Congress, issuing visas and interacting with 190 countries. His critics say Mr. Tillerson has stood in the way of getting much of it done."
"We support paring back the number of special envoys, especially when the function can be folded back into the bureaus, clarifying the lines of authority," said Barbara Stephenson, president of the American Foreign Service Association. "We also support streamlining cumbersome administrative processes that eat up precious hours of every workday. However, the ship of state can, and must, keep moving during this process."
"At a rare meeting with reporters in July, Mr. Tillerson acknowledged that the State Department suffered from poor morale but was generally dismissive of the criticism at its root. "It is to be expected that we will go through some morale issues early on," he said."