Dear Democrats, Developing a better message is not the only answer to winning more votes, but it helps. Overall, most Americans when polled about specific policies, the democrats carry the day.
WHAT DOESN'T WORK
Putting down voters who supported President Trump is definitely a losing tactic. It just shows that democrats have not heard how angry they are about how the direction of their lives that have been declining. Average workers have seen their wages remain stagnant for decades to where their purchasing power has declined; their retirement packages are not matching past pension plans; many experienced a serious set back during the 2008 financial meltdown; tuition for colleges have skyrocketed to where families are being squeezed financially and now, too many are facing devastation because of extreme weather conditions. They  have lost hope. (I do not include the alt-right/ White nationalists in this category.)
Being anti-Trump is not enough to cause a wave election in 2018.
Standing up to big business in general is not a winning strategy especially when the party may need its assistance to accomplish big things for the American peoples. Holding them accountable is acceptable when their interests, like those of the pharmaceutical industry, are counter to the public's welfare.
Here is the reality. The average American has lived with words for decades through both democratic and republican administrations, when the president in the White House had both majority and minority parties in the US Congress. No matter, who they have voted for, their lot in life has not benefited from measurable improvements.
Subsequent to the 2008 financial meltdown, while businesses have reaped record profits, with CEO level executives earning double digit pay increases with jack pot type bonuses, guess who has been excluded in the partaking/ sharing of the spoils. The answer..wait for it! It is the average American.
Now, how clueless can the party leaders be when they have no idea how their constituents truly feel. Yet every-time the registered voters are polled, they are screaming in the form of low favorability numbers for both the republican and democratic parties, which at times are even lower than President Trump's numbers.
There are lessons that the democrats should have learned from the 2016 presidential elections. The first being that voters don't want to hear from the typical politicians who are pre-programmed, overly managed robots when ever they interact with the public. Voters prefer to listen to a leaders who at least give the appearance of giving a damn about them.
In 2018, the election map according to the "Cook Political Report" does not favor the democratic party which is probably a realistic indicator that doing the same ole, same ole, even with better marketing and messaging plans will not win democrats the majority of seats in the US Congress.
It is time for democratic party leaders to move out of their comfort zone; to think outside of the box by demonstrating in concrete ways that the people's future will not be business as usual and that it is safe to hope again.
For example, if I had to pick a presidential candidate who is real, and who truly cares and acts in the best interest of his/ her constituents, I would pick the US Senator Al Franken (D-MN).  Another choice would be Senator Tammy Duckworth (D-IL.).
What would happen if the democratic party would select republicans to help them with their future elections if they should lose to a far-right opponent because they dared to do what is right just like what happened with Senator Lisa Murkowski (R-Alaska)? She lost to a right winger backed by the republican party,  but democrats, native Alaskans, independents and centrist republicans went around the party by voting for her as an Independent candidate even as they had to write her name on each and every ballot, correctly.
Here is the rest of the story…
On August 29, 2017, Sheryl Gay Stolberg of the New York Times penned the following report, "Trump Republicans Invigorate, and Complicate, Party's Fight for Senate."
Excerpts:
 An anti-immigration Republican who is a fervent supporter of President Trump announced on Tuesday (8/29/17) that he will challenge Senator Bob Casey, Democrat of Pennsylvania, a move that solidifies the president's stamp on the emerging electoral landscape for 2018.
The announcement by Representative Lou Barletta gives Republicans a relatively well-known challenger to Mr. Casey as the party tries to take advantage of an electoral map that heavily favors Republicans. But it also shows the political headwinds the Republicans face: The party's base voters remain loyal to the president and his agenda, even as the larger electorate drifts away.
"Mr. Trump had urged Mr. Barletta to run, and in jumping into a crowded primary field, the 61-year-old congressman buoyed Republicans from the president's wing of the party."
His entry into the race comes as national Republicans are working feverishly to recruit candidates. So-called Trump Republicans are emerging in states from Florida — where the Republican governor, Rick Scott, is toying with running against Senator Bill Nelson — to Michigan, where the rock musician Robert James Ritchie, better known as Kid Rock, has dropped hints that he will challenge Senator Debbie Stabenow. "
"But if Mr. Trump's backers are enthusiastic about the prospect of increasing their numbers in the Senate, mainstream Republicans are terrified that candidates who cast themselves in the mold of Mr. Trump will cost them seats. In two states — Arizona and Nevada — Trump Republicans are making life exceedingly difficult for Republican incumbents by waging primary challenges against them."
"Thirty-four senators — 25 aligned with the Democrats and 9 Republicans — are up for re-election next year. While Democrats are defending 10 seats in states won by Mr. Trump, only one Republican — Senator Dean Heller of Nevada — is seeking re-election in a state carried by the Democratic presidential nominee, Hillary Clinton."
"Mr. Heller has drawn a primary contest from Danny Tarkanian, a lawyer and the son of a well-known basketball coach; Mr. Tarkanian, a perennial candidate, has been described as a cheerleader for the Trump White House. In Arizona, Senator Jeff Flake, a Republican who has been harshly critical of Mr. Trump, is being challenged by Kelli Ward, a strongly conservative former state senator and osteopathic physician. Mr. Trump has made no secret that he favors Dr. Ward."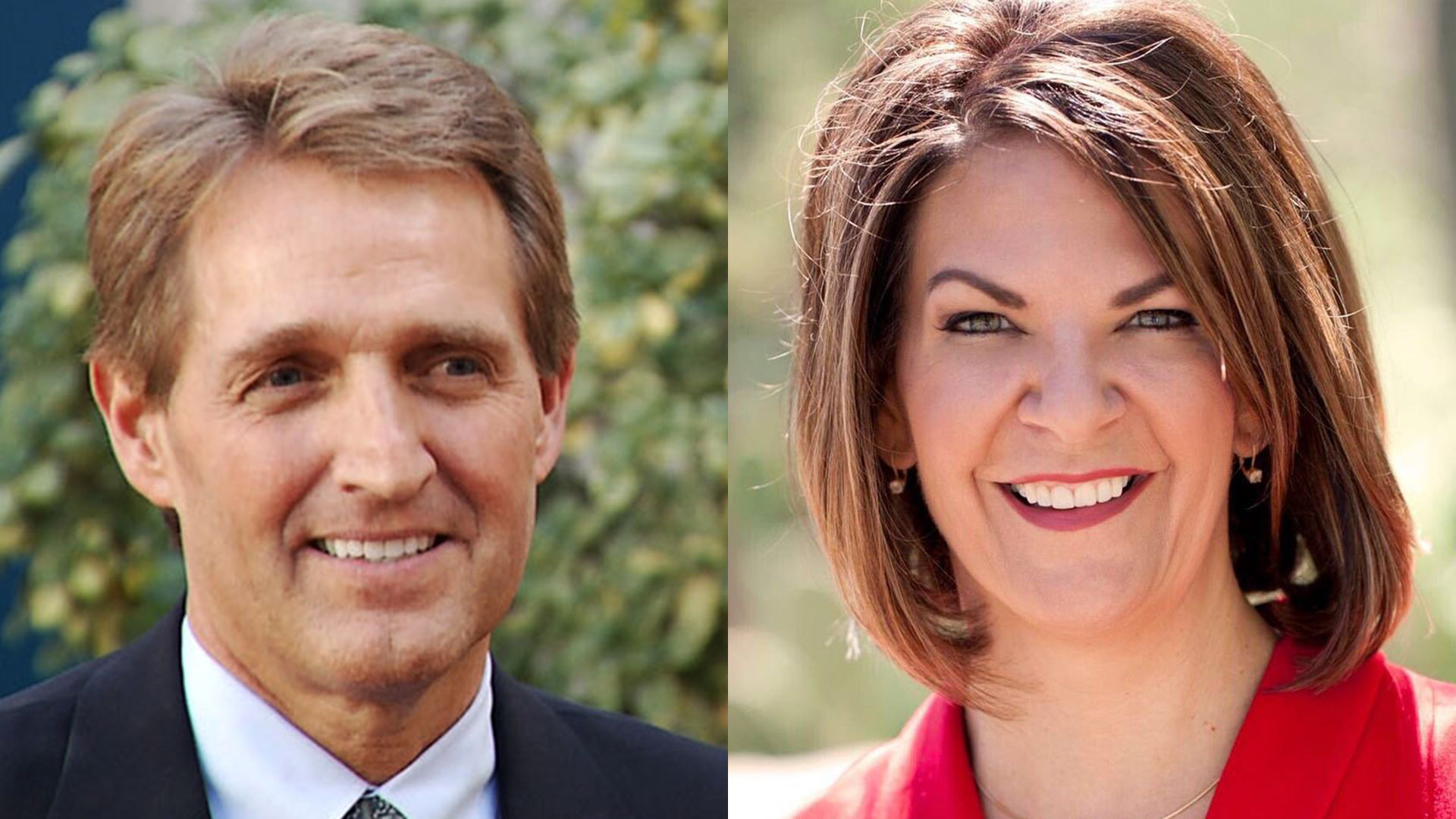 "In his first seven months as president, Mr. Trump has generally drawn high job approval ratings among Republicans. But a national survey made public Tuesday (8/29/17) by the Pew Research Center found that nearly a third of Republicans said they agreed with the president on only a few or no issues, and a majority expressed mixed or negative feelings about his conduct as president."
"At the same time, the party in power typically loses electoral seats during a midterm election. And while Republicans feel bullish about the prospect of unseating Democrats in red states like Missouri and Indiana, the rise of a divisive corps of Trump Republicans may complicate that task, said Jennifer Duffy, who analyzes Senate races for the nonpartisan Cook Political Report."
"The map is very favorable to Republicans, yet some of these Trump Republicans are putting Republicans' own seats at risk, and that shouldn't be," Ms. Duffy said.
"Ms. Duffy characterized Republican recruiting efforts for 2018 as "a mixed bag." In Indiana, where Senator Joe Donnelly is among the most vulnerable Democrats in the nation, Republicans have two strong candidates: Representatives Todd Rokita and Luke Messer. Mr. Rokita has strongly embraced Mr. Trump; Mr. Messer is running as more of an establishment candidate."
"But in Wisconsin, where Senator Tammy Baldwin, the Democratic incumbent, could be vulnerable, no credible challenger has emerged from a crowded Republican field. Perhaps the leading Republican is Kevin Nicholson, a Marine Corps veteran who must explain away his Democratic past."
"In Pennsylvania, Republicans think they have a strong candidate in Mr. Barletta, a onetime mayor of the small city of Hazleton. But both Ms. Duffy and G. Terry Madonna, a political scientist at Franklin & Marshall College who is a longtime observer of politics in Pennsylvania, say Mr. Casey will be tough to beat. While Pennsylvania helped deliver Mr. Trump the presidency, it remains a swing state. A recent NBC/Marist poll found that Pennsylvanians are divided on Mr. Trump, while Mr. Casey has positive approval ratings.
This blog was updated on 9/5/17.