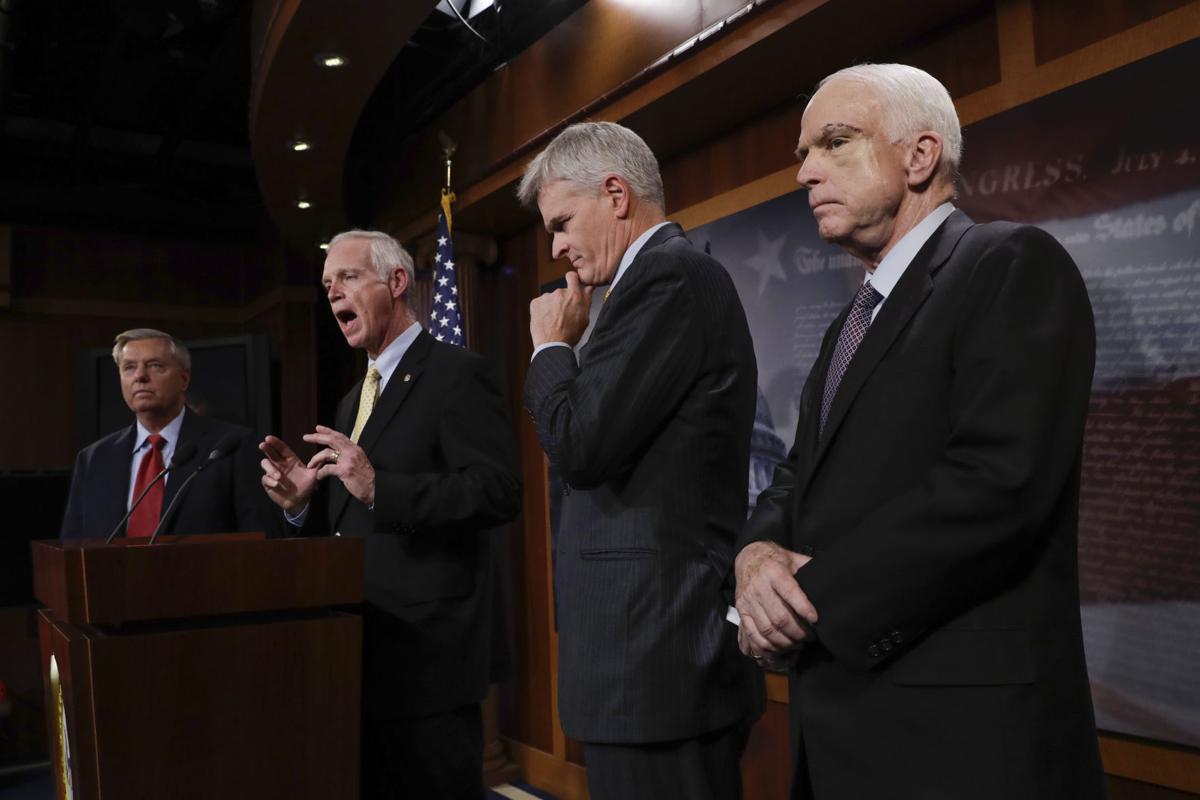 This is an update of an earlier post. Last evening (9/18/17), I was at a Democratic meeting where it was pointed out that the US Senate Majority Leader Mitch McConnell now has 48 votes towards the 50 he needs to pass the Graham-Cassidy bill, another of the US Senate's "skinny" version of a healthcare bill. So far, Senator Rand Paul (R-KY) is the only definite "no" vote.The Senators Susan Collins (R-ME) and Lisa Murkowski (R-AK) have not yet made a commitment. Senator John McCain (R-AZ) said he would base his vote on what his governor wanted, and the Arizona Governor Doug Ducey has given his approval of the Graham-Cassidy bill. In addition, Senator Lindsey Graham (R-SC) who is sponsoring this legislation happens to be Senator McCain's best friend.
However, Senator John McCain has been encouraging the US Congressional lawmakers to be more open and deliberate on its legislative procedures and this bill being rushed through, does not meet this test.
If the Senator McConnell thinks he has the 50 needed votes, he has no intention to wait for the (CBO) Congressional Budget Office numbers regarding this bill.
Sound the alarms! "We the people" have to man the phones again to let our legislators know that we want Obamacare fixed and not repealed. 
At the Democratic meeting, the following was suggested for a fax:
Resistbot will do it all for you. Text "RESIST" to 50409 or message Resistbot on Facebook and it will walk you through the steps to fax your Senator and will tell you when your fax has been delivered.
The main US Senate phone line 202-225-3121 (202-224-3121) or  YOU CAN FIND PHONE NUMBERS FOR EVERY SENATOR HERE. or U.S. Senate: Senators of the 115th Congress.
Here is an templet of a letter/ email by a fellow blogger of Musingsofanoldfart.com:

Senator, I read that there is yet another bill to repeal the ACA posed by
Senator Graham. As a retired benefits actuary, consultant and manager of a Fortune 500 benefit program, please do not consider this bill. Please consider instead the bipartisan bill from Senators Alexander and Murray to repair the ACA and make sure subsidies are there. The latter bill has been the direction we have needed all along. Many thanks for your consideration.
Senator Lindsey Graham (R-SC) has been pushing hard for republicans in the US Congress to make one last effort towards ending Obamacare with a deadline by September 30, 2017, saying that this is the republicans' last chance to pass his bill with only 50 republican senators' votes. His arguments have been gaining traction.
Here is the rest of the story…
On September 15, 2017, Dan Mangan of CNBC posted the following report, "Senator says Obamacare repeal bill close to enough votes to pass, but there's reason to be skeptical."
"The Dan Mangan would strip away $80 billion in federal funding support for health coverage."
"Prior bills that were likewise expected to lead to big increases in the number of uninsured Americans failed in the Senate."
"Obamacare defenders started rallying Thursday to defeat the latest bill."
"A leading Senate sponsor of another bill that seeks to repeal and replace key parts of Obamacare claimed Friday (9/15/17)  that it has almost enough votes from fellow Republicans to pass."
"But the so-called Graham-Cassidy bill continues to face the same kind of hurdles that doomed previous GOP efforts in the Senate to undo major provisions of the ACA."
"And there is a new hurdle: Republicans have just 15 days to pass the bill under the reconciliation process being used to grease the skids for repeal of the ACA."
"That is a very tight procedural timeline — but the chance that it can be done led Obamacare supporters to mobilize Thursday (9/14/17)."
"Sen. Bill Cassidy, R-La, told reporters that the bill now has the support of up to 48 or 49 Republicans. That is just one vote shy of the 50 senators that the bill needs to win passage, given that Vice President Mike Pence would break any tie in his fellow Republicans' favor."
"Talking to a few more," Cassidy said, according to Vox.com"
"Sen. John McCain, R-Ariz., in July dramatically voted no against a last-ditch, early morning effort by the GOP to pass a version of repeal."
"Sen. Rand Paul, R-Tenn., had voted for that prior bill. But the libertarian Paul on Friday (9/15/17) cast cold water on the Graham-Cassidy bill."
"And it would wipe out Obamacare funds that now subsidize the purchase of private health plans by millions of low- and middle-income people, and eliminate the expansion of Medicaid benefits to millions of poor adults."
"In its place, Graham-Cassidy would award individual states block grants of money to craft their own health insurance system. But net federal spending related to support of health coverage would drop by many billions of dollars."
"Previous CBO "scores" of the other Obamacare repeal bills found that they would lead to 20 million or more people lacking health insurance by 2026."
"Graham-Cassidy is likely to receive a similar, or perhaps even worse CBO score (than previous proposals) in terms of the number of newly uninsured, given its design."
"In an analysis posted (9/13/17), the Center on Budget and Policy Priorities wrote that the bill "would have the same harmful consequences as those prior bills."
"It would cause many millions of people to lose coverage, radically restructure and deeply cut Medicaid, and increase out-of-pocket costs for individual market consumers," said the liberal think tank."
"CBPP also noted that there would be an $80 billion reduction in the amount of federal money spent nationally on insurance support, and published a chart detailing the funding losses per state."
"Despite that, defenders of Obamacare were taking very seriously the chance that the bill could pass, and sought to remobilize public opposition."
"Among them was Andy Slavitt, who ran the federal Centers for Medicare and Medicaid Services under President Barack Obama."
"Given Republicans will have to ram this partisan repeal bill through the Senate in the next 2 weeks in order to meet this September 30 deadline there will be no time for a regular process for the public to fully understand the impacts on their health care — with no time for adequate hearings, consultations with experts, constituent input, and amendments," Woodhouse wrote."
"Sen. Ron Wyden, D-Ore., also took to Twitter to rally people to oppose the bill."
"That fact could add some momentum to the latest repeal effort."