On the aftermath of Hurricane Irma, the Caribbean Islands are now facing the wrath of Hurricane Maria. The island of Dominica has been hit hard. It is now time to pray for a miracle where the already battered Virgin Islands and Puerto Rico will be spared the brunt of this storm.
Here's the rest of the story…
On September 20, 2017, Danny Boyle and David Millward of the Telegraph posted the following news report, "Hurricane Maria: Puerto Ricans told to evacuate or die after Dominica 'devastated' and storm tears through Caribbean – latest news:"
Hurricane Maria makes landfall as maximum category five storm
'Merciless' 175 mph winds tear through Caribbean islands
Storm set to batter Puerto Rico and Virgin Islands next
Forecasters warn Maria poses 'potentially catastrophic' threat
Puerto Ricans told evacuate or die
Several airlines offer to cap fares for people fleeing the hurricane
"Thousands of Puerto Ricans have been told to "evacuate or die" as Category 5 Hurricane Maria bears down on the island."
"Having devastated the island of Dominica, Maria is cutting a deadly path west with Puerto Rico and the Virgin Islands most at risk."
"Winds have strengthened to 175 mph."
"You have to evacuate. Otherwise, you're going to die,"  Hector Pesquera, Puerto Rico's public safety commissioner said. "I don't know how to make this any clearer."
"His stark warning came as frantic preparations are being made across much of the Caribbean ahead of the arrival of the "potentially catastrophic" Category 5 hurricane."
"With winds of 160 mph Maria is threatening to inflict mudslides, flash floods, life-threatening winds and storm surges throughout the region."
" 
S
everal airlines have offered to cap fares for people fleeing the path of the hurricane."
"T
he storm is following a
 similar path to Hurricane Irma
 which ripped across the Caribbean earlier this month, claiming at least 84 deaths and reducing the island of Barbuda to rubble."
"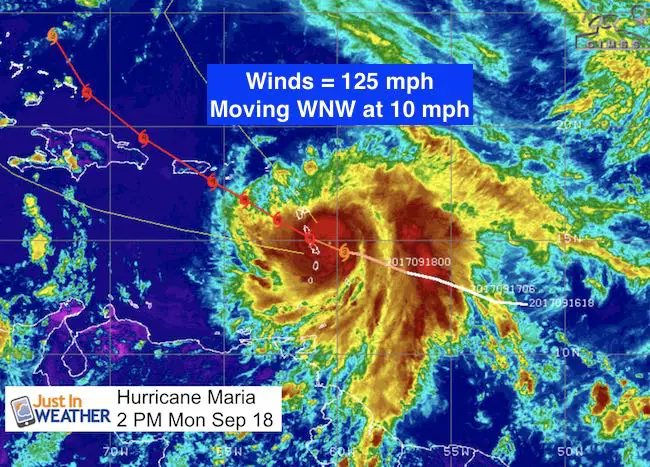 Maria is the fourth major hurricane – defined as Category 3 or higher – hit the region this year, making the season the worst in many years."
"Preparations to protect life and property should be rushed to completion," the National Hurricane Centre said."
"With Maria tracking northwest hurricane warnings have been issued for the US and British Virgin Islands, Puerto Rico, St Kitts, Nevis and Montserrat. "
"A tropical storm warning was in force for Martinique, Antigua and Barbuda, Saba, St Eustatius, St Maarten, St Lucia and Anguilla.
Maria claimed its first victim in the French territory of Guadeloupe, where two other people were missing."
"It was Dominica, a mountainous island nation of 72,000, which was the first to take a battering."
"We have lost all what money can buy", Roosevelt Skerrit, the prime minister wrote on Facebook."
"So far the winds have swept away the roofs of almost every person I have spoken to or otherwise made contact with. "
"The roof to my own official residence was among the first to go and this apparently triggered an avalanche of torn away roofs in the city and the countryside."
"Further west residents of the British and US Virgin Islands are battening down the hatches ahead of Maria's arrival."
"A curfew is in force on the British Virgin Islands, which has a population of just under 31,000."
Our islands are extremely vulnerable right now," said Orlando Smith, the prime minister.
"While Hurricane Maria may not be as strong as Hurricane Irma, our present reality is also very different.
"Effects such as potential flooding and high winds that can turn debris into dangerous projectiles can have a greater and more treacherous impact for us."
"Maria is expected to pass within 10 miles St Croix, the largest of the US Virgin Islands, which has a year-round population of 55,000."
"A curfew was in force with Kenneth Mapp, the governor, warning that most of the islanders will be without power for weeks – and in some cases months."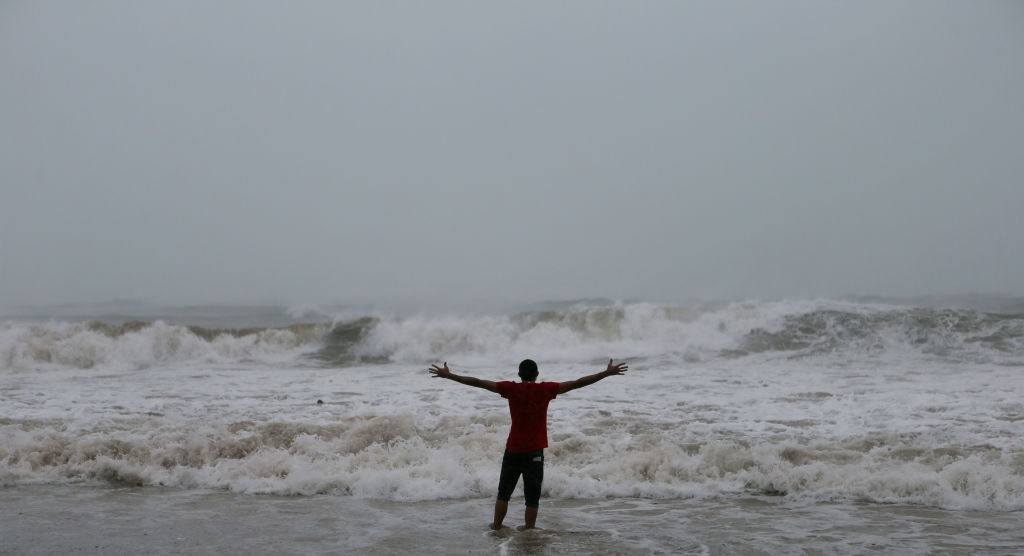 "Residents in vulnerable areas of Puerto Rico, which is just over 70 miles west of St Croix, were urged to seek shelter by the governor, Ricardo Rossello."
S
helves have been stripped bare as many of the 3.7 million inhabitants braced for the worst hurricane to hit Puerto Rico since 1932.
"In response, the territory's government, where a state of emergency was declared by Donald Trump, has imposed rationing of basic necessities including water and batteries."
"The extent of the damage suffered so far to French territories in the Caribbean remains unclear."
"Martinique early reports suggest that damage was minimal, nevertheless, 25,000 people have been left without electricity and two towns without drinking water."
"A communications blackout with Guadeloupe has made it impossible for the authorities to assess the damage."
"Aid continues to be sent to the region. The UK said 1,300 troops were staying put with a 42-strong military resilience team being deployed to the British Virgin Islands."
"France is sending 110 more soldiers to bolster 3,000 troops who are already in place, while the Dutch navy tweeted that soldiers were being sent to Saba and St Eustatius to prevent looting."
'Please don't forget us'
 "Carmen Yulín Cruz, the mayor of San Juan on Puerto Rico,  has made a heartfelt appeal to the rest of the United States."
"Remember you are part of us," she said. "Don't forget us, don't forget us."
"The city has already provided refuge for 720 people who have moved to safety. Eventually, it is expecting around 1,000."