By the evening of September 25, 2017, three republican Senators had declared that they would be a "NO" vote, effectively killing the latest republican lawmakers' attempt to repeal Obamacare with the Graham-Cassidy healthcare bill. They are Senators Paul Rand (R-KY), John McCain (R-AZ), Susan Collins (R-ME).
THE FOLLOWING ARE EXAMPLES OF HOW WE THE PEOPLE PREVAILED:
During September 2017, "we the people" were frequently contacting our US senators in opposition to the republicans' Graham-Cassidy Healthcare bill. There were regular protests held to fight this latest legislation, some right in front of the White House. The above video shows disabled folks being arrested at the US capitol building, as they voiced their objections to the bill with the words, "kill the bill, Don't kill us."
Then there was the popular late night TV show host Jimmy Kimmel who challenged the creators of the Graham-Cassidy as not being fully transparent about the loophole in the bill that could allow states to charge exorbitant rates to cover those with pre-existing conditions, and thus making healthcare coverage inaccessible for millions of peoples.
On the evening of September 25, 2017,  there was the CNN televised debate between the republican co-sponsors of the Graham-Cassidy bill and two opposing democratic senators.
Here's the rest of the story…
On September 25, 2017, Thomas Kaplan and Robert Pear of the New York Times penned the following report, "Health Bill Appears Dead as Pivotal G.O.P. Senator Declares Opposition."
Excerpts:
"A last-ditch attempt by President Trump and Senate Republicans to dismantle the Affordable Care Act appeared to collapse on Monday as a pivotal senator (Senator Susan Collins R-ME) announced her firm opposition to the latest repeal plan, virtually ensuring that Republicans would not have the votes they need for passage."
"Ms. Collins, one of three Republican senators who opposed the last repeal attempt in July, described the latest plan as "deeply flawed." She expressed concerns about cuts to Medicaid as well as the rolling back of protections for people with pre-existing medical conditions."
"The Senate majority leader, Mitch McConnell of Kentucky, now faces the unpalatable choice of admitting defeat or moving ahead with a vote that appears certain to fail."
"Republican leaders in the Senate can afford to lose only two of their members, and they now have three firm opponents within their ranks: Rand Paul of Kentucky, John McCain of Arizona and Ms. Collins. Additionally, Senator Ted Cruz, Republican of Texas, has withheld his support and requested changes to the bill."
"Time is not on their side: Republicans have only until the end of the month (9/30/17) to pass the bill through the Senate while being protected from a Democratic filibuster."
On September 26, 2017, Stephen Collinson of CNN penned the following report on the 9/25/17 televised debate, "Republicans vow to 'press on' with health care bill in CNN debate.
Excerpts:
"Two Republican senators leading the reeling, last ditch bid to replace Obamacare vowed to fight on Monday, even after another GOP defection dealt the potential killer blow to their bill."
"We are going to press on. It's OK to vote. It's OK to fall short, if you do, for an idea that you believe in," South Carolina Sen. Lindsey Graham told CNN's Jake Tapper and Dana Bash at town hall debate in Washington."
"
But Democratic Sen. Bernie Sanders blasted the Republican approach, which must pass by an end-of-the-month deadline or go down to defeat as a "disaster," and pushed for short-term fixes to Obamacare and his own long-term plan for a universal health care system."
"The debate, also involving Democrat Amy Klobuchar and Graham's partner in the health care drive, Bill Cassidy, came at a dramatic moment in the party's latest effort to follow through on a promise to repeal the Affordable Care Act, made at successive elections over the last seven years."
"Both Republicans on stage argued that their plan would return money to the states in block grants to bring health care choices closer to patients and said that Obamacare had failed.
"Everybody on this stage thinks the current system is broken," Cassidy said."
"But the two GOP lawmakers did not offer any new initiatives to try to reverse the ebbing of support for the bill."
"The Democrats warned that the Republican bill would throw millions of people off health insurance rolls and would leave patients with pre-existing conditions that are guaranteed coverage under Obamacare high and dry."
"Klobuchar said that the GOP plan "passes the buck to the states but doesn't give them the bucks to cover people," and urged her colleagues across the aisle to join in fixing the Affordable Care Act."
"During the debate, President Donald Trump weighed in, taking a shot at Sen. John McCain who has come out against the Graham-Cassidy bill, with the President tweeting a video of the many times that the Arizona lawmaker had vowed to repeal and replace Obamacare.
"A few of the many clips of John McCain talking about Repealing & Replacing O'Care. My oh my has he changed-complete turn from years of talk!" Trump wrote."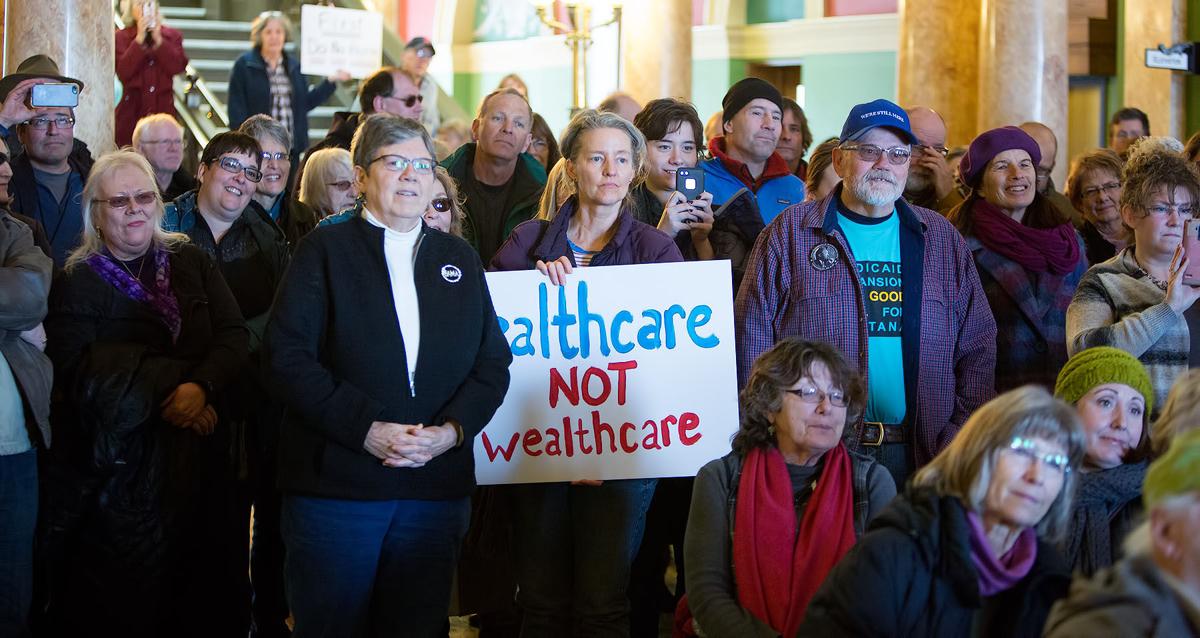 In a moving moment, Graham rose to defend his friend, his eyes brimming with tears as he did so, reflecting the former Vietnam War hero's 
recent diagnosis of brain cancer.
"John McCain can do whatever damn he wants to! He has earned that right," Graham said, while Sanders said he couldn't understand how Trump could attack McCain "one of the most decent people in the US Senate."
"In criticizing Republicans' plans for health care, in a largely good humored debate, Sanders said that he knew that "nobody up here wants to see anybody die."
"You tell me what happens when somebody who has cancer, somebody who has a serious heart condition, somebody who has a life-threatening disease suddenly loses the health insurance that they have," he said."
"Audience members at the debate raised questions about the positions of both sides, sometimes offering emotional testimony about their own conditions and experience.
Matt DeCample, from Arkansas, a Stage 4 cancer patient, asked Sanders why he and Republicans could not meet in the middle to create health care solutions that work without retreating to political extremes. The Vermont senator replied that he didn't think his proposal was extreme."
"Kevin Potter, from Ohio, whose young daughter is battling leukemia, asked Cassidy if he could guarantee that his family would not have to pay exorbitant premiums for her pre-existing condition."
Cassidy responded by citing a premium for a couple in his state of Louisiana that had reached $39,000 under the current system, and said the Republican plan would lower costs for everybody, by returning funds and power to the states."
"His colleague meanwhile fumed that Obamacare had resulted in a bonanza for insurance company stocks while narrowing options for patients."
"What I am not going to do is continue the same old crap and tell you everything is fine," Graham said, before warning that there were a "bunch" of people in his state of South Carolina who may as well not have insurance because the cost of premiums was so prohibitive."
"Klobuchar rejected Cassidy's claim that the debate highlighted a choice between a government system and one that is geared towards patients."
"It's not just between one or the other. There is a middle ground here of things we can do to fix it," she said, calling for an effort to tackle rising drugs prices."
"One of the key policy points Democrats highlighted is the issue of insurance for patients with pre-existing conditions, which was guaranteed under Obamacare."
"The Graham-Cassidy measure does maintain a requirement that insurers provide coverage to everyone, regardless of medical history. States however would be allowed to change the rules so those with pre-existing conditions could face much higher premiums and out-of-pocket costs. States could also allow insurers to offer less comprehensive plans that don't cover all treatments."
Cassidy and Graham countered Monday by suggesting that their bill is the only alternative to a Democratic push to build a single payer, government-run health care system. A plan along those lines was released by Sanders earlier this month, and garnered support from several 
potential 2020 Democratic presidential candidates
. Klobuchar, of Minnesota, has not yet expressed support for the plan."
"The Democrats argued that the Republicans are seeking to take health care away from millions of Americans, but there will be no definitive answer to the question, since the Congressional Budget Office will not have time to make a full analysis of the measure before a vote would need to take place."
"Just hours before the debate, the CBO (non-partisan Congressional Budget Office) released only a partial score of the GOP's plan, saying the Graham-Cassidy bill would reduce the budget deficit by at least $133 billion but millions of people would lose comprehensive health insurance."