On September 27, 2017, NPR's Robert Siegel posted the below report of an interview which included himself, another host Ailsa Chang and the guests Phillip Carter, director of the Military, Veterans and Society Program at the Center for a New American Security and Edwin Rivera who lives in Puerto Rico, about aid the U.S. military could provide to Puerto Rico in the wake of Hurricane Maria.
Mr. Carter is stating that at least 50,000 military service members are required to adequately address the crisis in Puerto Rico after it was razed by Hurricane Maria around September 20, 2017. But according to a Stars & Stripes report, only 7,500 military personnel will be heading to Puerto Rico where the infrastructure has been decimated and where a humanitarian crisis exists.
With the recent rhetoric from the republican President Donald Trump's administrating announcing the deployment of military troops to Puerto Rico and its waiving of the Jones Act (for only 10 days) which barred foreign ships from delivering aid, I had mistakenly concluded that the president and his team were finally (7-8 days late)  getting their act together, in order to what's right and decent for our American brothers and sisters who have been suffering.
I was wrong. What the president's administration is doing amounts to window dressing.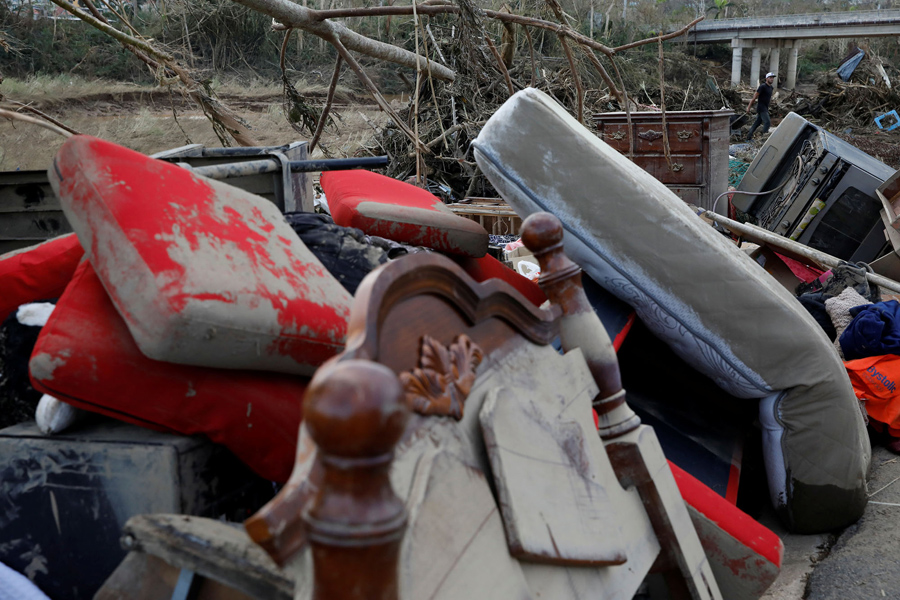 Here's the rest of the story…
NPR TRANSCRIPT EXCERPTS:
AILSA CHANG, HOST:
Power is still out. Drinking water is in short supply. And a week after Hurricane Maria, the people of Puerto Rico are wondering how long they will have to live like this. Edwin Rivera (ph) lost his home in the mountain town of Aibonito, and he is using the local river to bathe. He says people need a lot.
EDWIN RIVERA: Gas, food, medicine – waiting for everything – long lines.
ROBERT SIEGEL, HOST:
Yesterday FEMA administrator Brock Long said the federal government would send thousands more federal troops and 10 more barges and ships loaded with supplies, including the U.S. Navy's hospital ship the Comfort. The Defense Department is also deploying a brigadier general to manage the response. Phillip Carter, who served in the U.S. Army and is now with the Center for a New American Security, says an even larger military force should be deployed – as many as 50,000 servicemembers.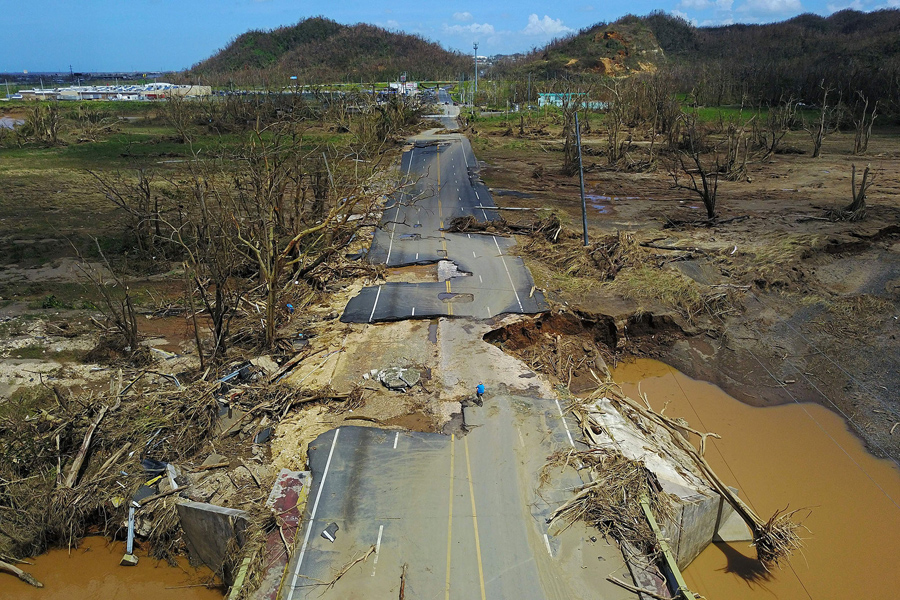 PHILLIP CARTER: These aren't combat troops. What Puerto Rico really needs right now are support troops who can build tent cities and run power generators and help augment the staffs of hospitals or run military hospitals like MASH units. That's what Puerto Rico needs. So those kinds of support units are on the way, but they're not fully there yet.
SIEGEL: And we have that kind of spare capacity in the armed services to do that right now.
CARTER: There is the spare capacity in the military. One challenge is that a lot of that capacity resides in the reserve components – the National Guard and the Army Reserve primarily. So you can't just snap your fingers and call those folks up. It takes at least a few days, if not a few weeks, to get those folks deployed.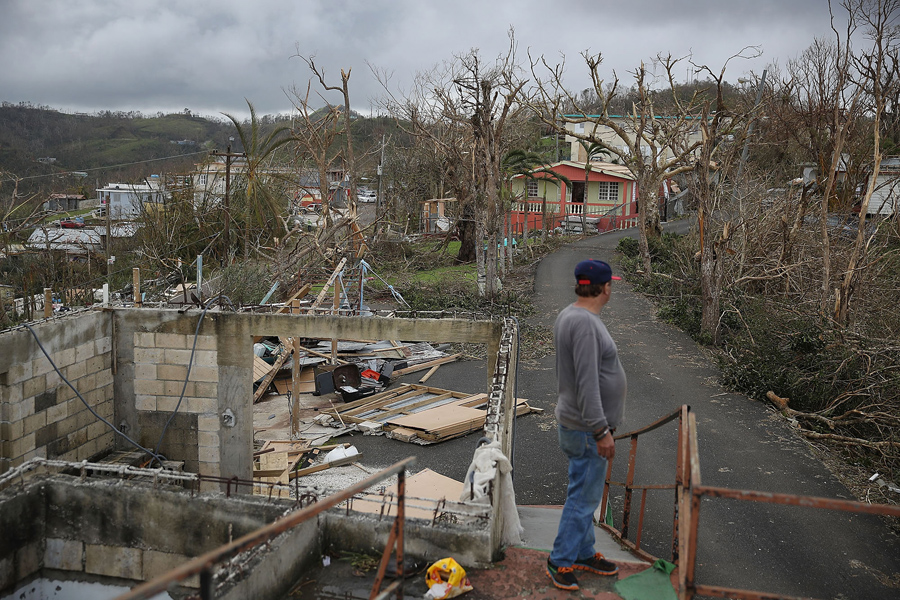 SIEGEL: "Earlier this week you were critical of the federal response, calling the FEMA mission anemic. President Trump has said they're doing a great job. Are things any more on track now than they were when you wrote what you did?"
CARTER: "So it's not clear President Trump has his eye on this ball. But setting that issue aside, the Defense Department is doing a lot more than it was even 48 hours ago. The commandant of the Coast Guard flew down there and got his eyes on. I think that's significant."
"The Pentagon does everything with great deliberation. And in this case, the Pentagon is running the same playbook, which is to measure twice and cut once. The drawback to that is that people are on the ground suffering now. They need help now, and the delay could cost lives."
SIEGEL: "After a terrible storm in Florida, Texas or Louisiana, people descend on the area in trucks. Puerto Rico is an island. How much is that determining what's happening."
CARTER: "Puerto Rico's geography is a huge factor here. The isolation of the country, the inability to lean over to your neighboring state or county and ask for mutual aid really makes this a unique emergency, and it really calls on the U.S. military which has this unique ability to deploy somewhere by air or sea with a ton of logistics capability."
SIEGEL: "As for the military, is there any legal difference between the responsibility to Puerto Rico as opposed to a U.S. state in the mainland?"
CARTER: "There's no legal difference. These are American citizens. But frankly if this were Haiti, as it was seven years ago, the U.S. government could choose to respond there, too. I think we have a duty to American citizens, but there's no legal distinction that matters for deploying U.S. military personnel to Puerto Rico versus Florida or Texas."
SIEGEL: "Here's a slightly bigger question. If in fact a warmer Caribbean is what has contributed to the terribly powerful storms that have come ashore this year and if that's going to be a more common feature of life in the Caribbean and the Gulf of Mexico, should there be some permanent military responsibility for looking out for where the next disaster is going to come in that part of the world?"
CARTER: "So that's a great question, and in fact the National Guard and a number of other parts of the Defense Department have begun doing exercises, begun to prepare for this contingency. What you suggest, though, is something they haven't done yet, which is actually prepare forces to be ready for these kinds of things and specially equipped for them, to have, for example, disaster response units as opposed to combat units that do this as a sort of secondary job. That's a kind of thinking that parts of the Pentagon have considered, but it hasn't become the sort of mainstream mission for the force yet."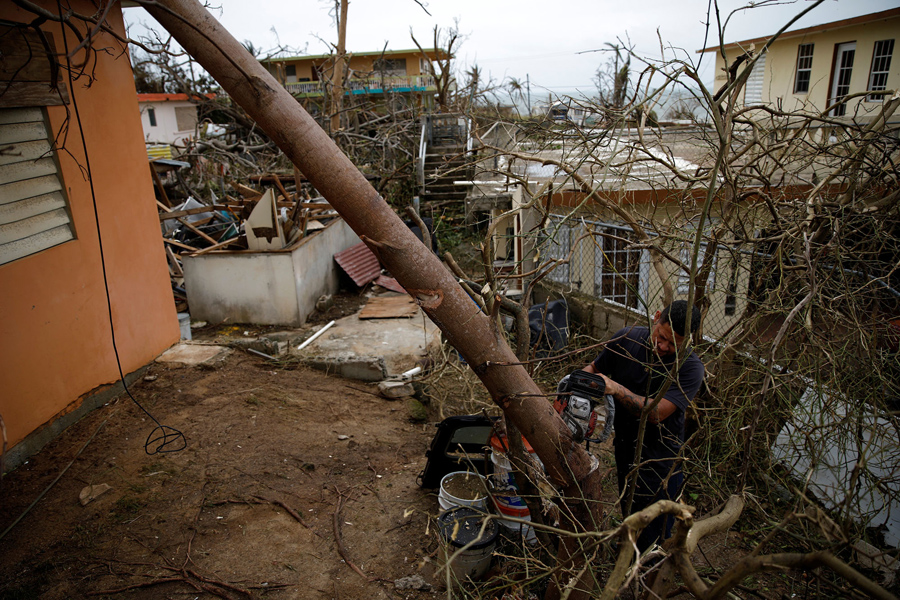 On September 27, 2017, Cory Dickstein of the Stars & Stripes penned the following report about the US Military deploying 7,500 to Puerto Rico, "Pentagon deploys Army general and more troops to lead hurricane response on Puerto Rico."
Excerpts:
"The Pentagon is shifting its response to Hurricane Maria-ravaged Puerto Rico to a land-based operation as it clears airfields and adds communications capabilities, allowing it to flow more troops onto the ailing U.S. island, defense officials said Wednesday (9/27/17)."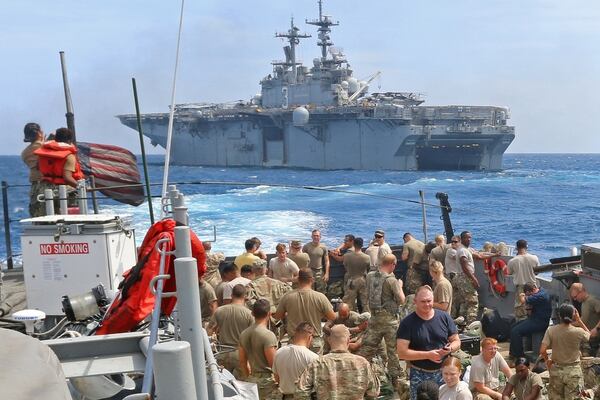 "U.S. Northern Command on Wednesday (9/27/17) sent 16 Army helicopters to Puerto Rico and was preparing to deploy a portion of a sustainment brigade — some 1,000 soldiers who specialize in distribution of goods in hostile environments — to the U.S. territory of 3.4 million people left devastated by the Category 4 storm that struck the island Sept. 20, Pentagon officials said."
"The military's top general (Joseph Dunford to the US Congress) on Tuesday (9/26/17) pledged the U.S. territories in the Caribbean would receive the full support of the Defense Department."
"That included tasking an Army brigadier general to take command of the nearly 5,000 active-duty forces operating on the island alongside some 2,500 National Guard members, said Army Lt. Col. Jamie Davis, a Pentagon spokesman. Brig. Gen. Rich Kim, Army North's deputy commander, arrived in Puerto Rico on Wednesday (9/27/17) to establish a land-based command structure, taking over for the USS Kearsarge-based commander who had been leading military response operations."