Around September 24, 2017, the republican President Donald Trump with the Department of Homeland Security (DHS) made the unilateral decision to add Chad to the US travel ban. There was no consultation with the US State Department and the Department of Defense both of which would have been against this action along with an array of foreign policy experts.
It turns out that the Chadian military is reputed to be the most proficient in this African region to where its soldiers were the ones keeping the Boko Haram at bay, in Niger. When most of the soldiers exited Niger after the Chad was added to the US travel ban, this exposed any military traveling in Niger at greater risk.
No sooner was the travel ban with Chad being listed, issued on 9/24/17, when the US Courts imposed a restraining order on the implementation of it, in its entirety. The question remains, how did adding Chad to the list of banned countries protect the US national security interests?
Here is the rest of the story…
On October 23, 2017, Diplopundit published the following report, "Avoidable Mess: U.S. to Help Chad After "Important Partner" Withdraws Troops From Niger Following Visa Sanctions."
Excerpts:
"On September 24, President Trump announced new security measures that establish minimum requirements for international cooperation to support U.S. visa and immigration vetting and new visa restrictions for eight countries, including Chad. See Trump Announces New Visa Restrictions For Chad, Iran, Libya, North Korea, Syria, Venezuela, Yemen, Somalia:."
"Chad – Although it is an important partner, especially in the fight against terrorists, the government in Chad does not adequately share public-safety and terrorism-related information, and several terrorist groups are active within Chad or in the surrounding region, including elements of Boko Haram, ISIS-West Africa, and al-Qa'ida in the Islamic Maghreb. Accordingly, the entry into the United States of nationals of Chad, as immigrants, and as non-immigrants on business (B-1), tourist (B-2), and business/tourist (B-1/B-2) visas, is suspended."
"Via BuzzFeed: Experts from the State Department to humanitarian organizations were stunned when the Chad was added to the travel ban in late September. The country is home to a US military facility and just hosted an annual 20-nation military exercise with the US military's Africa Command to strengthen local forces to fight extremist insurgents. Chad's capital, N'Djamena, is the headquarters of the five-country Multinational Joint Task Force battling Boko Haram."
"What kind of visa numbers do we have for Chad? For temporary nonimmigrant visas the last five fiscal years, see below via travel.state.gov:
FY2016: 1,355 | FY2015: 1,352 | FY2014: 1,294 |  FY2013: 731 |  FY2012: 624″
"So given Chad's counter-terrorism cooperation, and the carved out already given to Iraq in the September 24 order, why was Chad included in the visa restrictions?  FP (Foreign Policy) proposes this:"
"One possible explanation for this discrepancy, which would be preposterous in any administration, is that the architects of the ban, having repeatedly heard the phrases "Boko Haram" and "Lake Chad" in the same sentence, assumed that Chad must be the epicenter of Boko Haram. (Lake Chad in fact lies on the border of Chad and three other countries, and Boko Haram is mostly confined to northern Nigeria, northern Cameroon, and southeastern Niger.)"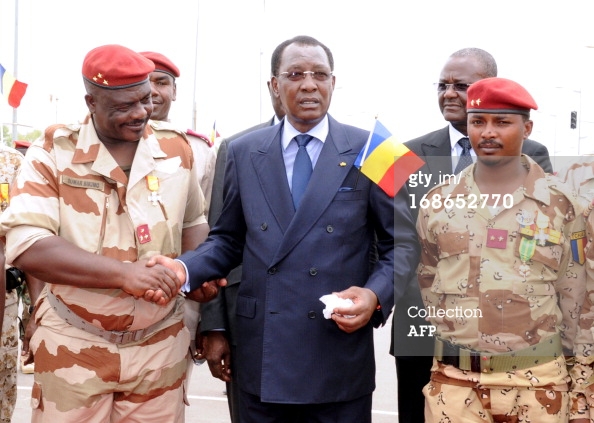 "In the wake of the new travel ban announcement on Sept. 24, Chad has withdrawn hundreds of troops from neighboring Niger, where up to 2,000 of its soldiers were part of a coalition battling Boko Haram. The Chadian government has not yet offered an official explanation for the pullout, but Communications Minister Madeleine Alingué condemned Chad's inclusion on the travel ban, saying that it "seriously undermines" the "good relations between the two countries, notably in the fight against terrorism."
"It turns out — Chad had simply run out of passport paper!"
"AP's Josh Lederman writes that Chad lacked the passport paper and offered to furnish the U.S. with a pre-existing sample of the same type of passport, but it was not enough to persuade DHS.  A congressional official told the AP that DHS working with the White House "pushed Chad onto the list without significant input from the State Department or the Defense Department." 
"Without significant input from agencies with people on the ground in Chad. If we were in Chad's shoes, wouldn't we do exactly the same? Obviously, being called an "important partner" does not make up for having your citizens banned from traveling to the other country."
The action telegraphed careless disregard of the relationship, and Chad most likely, will not forget this easily. "Remember that time when the U.S. put Chad on the visa sanctions list while we have 2,000 soldiers fighting in Niger?" Yep, they'll remember. We actually would like to know who among the local contacts showed up for the new embassy dedication, by the way (see @StateDept Dedicates New $225M U.S. Embassy in N'Djamena, Chad)."
#Chad willing to work w US on identity mgmt &info sharing toward goal of lifting visa restrictions. US assistance to Chad cont. in all areas
Office supply glitch? How Chad wound up on Trump's revised travel ban list –http://bit.ly/2gr3WMq 

Office supply glitch? How Chad wound up on travel ban list

WASHINGTON (AP) — This is the story of how an office supply glitch became a major irritant between the United States and one of its close security partners. When Pre

apnews.com
Post travel ban, Chad is already making life harder for U.S. troops in Africa. http://foreignpolicy.com/2017/10/18/america-should-beware-a-chadian-military-scorned-trump-travel-ban/ … Via @sahelblog

America Should Beware a Chadian Military Scorned

Stung by its inclusion on the latest travel ban, Chad is withdrawing its troops from the fight against Boko Haram.

foreignpolicy.com 
Chad is pulling hundreds of its troops out of Niger, where four US Green Berets died in a terrorist ambush last week https://www.buzzfeed.com/verabergengruen/trumps-travel-bans-first-casualty-may-be-the-terror-fight?

Trump's Travel Ban's First Casualty May Be The Terror Fight In Africa

The deadly ambush that killed four US soldiers in Niger, and Chad's decision to withdraw its troops from the country after the Trump administration included it in the travel ban, has been a "

buzzfeed.com
Chad Removes Hundreds of Soldiers From Nigerien Region Affected by Boko Haram http://on.cfr.org/2gqrscE  via @CFR_org

Chad Removes Hundreds of Soldiers From Nigerien Region Affected by Boko Haram

The Voice of America (VOA), citing "humanitarian sources and officials," reports that Chad has withdrawn "hundreds" of troops from Niger where they h…

cfr.org 
Federal court has now issued a TRO for the latest travel restrictions that includes Chad. So basically, a carefully constructed bilateral relationship ends up in a mess, and it was all for nothing.
Decision seems to rest quite a bit on the 9th Circuit ruling on travel ban 2.0 that could be vacated by the Supreme Court within days
STORY via @FedcourtJunkie: U.S. judge blocks latest Trump travel restrictions https://reut.rs/2iiQg70 

U.S. judge blocks latest Trump travel restrictions

A U.S. judge on Tuesday blocked President Donald Trump's latest bid to impose restrictions on citizens from eight countries entering the United States, which had been set to take effect this week.

reuters.com
Here is copy of the decision: https://www.documentcloud.org/documents/4111819-Hawaiitravelban.html …

Hawaiitravelban

Source document contributed to DocumentCloud by Lawrence Hurley (Thomson Reuters).

documentcloud.org