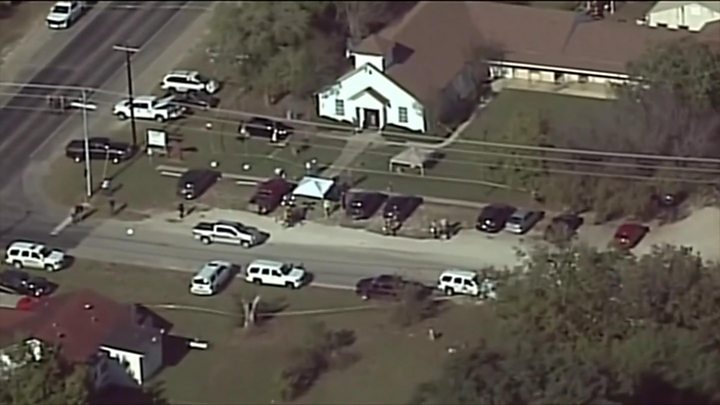 The set of circumstances surrounding the Sutherland Springs, TX shooting of several church attendees by a mass shooter this past Sunday, is beyond anger provoking and frustrating. Even though the gunman had a history for domestic assault against his significant others and children, and he couldn't obtain a license to carry a gun in Texas, he was able to purchase 4 guns in 2014, 2015, 2016, and 2017. Two were purchased in Texas and 2 guns in Colorado.
Victims ranged from 18 months old to 77 years old. Twenty-six were fatally wounded. Ten are in critical condition trying to survive. This community of 600- 700 peoples will be grieving for years to come. One family alone lost 8 loved ones. The pastor who was away had to learn that his own 14 year old daughter was among those who didn't make it.
The president was talking about how difficult it would be to prevent a mentally ill person from going on a shooting spree.
Yet he and his sycophant republicans were responsible for literally allowing mentally ill people to be able to purchase guns.
Here's the rest of the story…
On November 6, 2017, Tessa Berenson Of Time penned the following report,"President Trump Blamed the Texas Shooting on 'Mental Health.' But He Made It Easier for Mentally Ill People to Buy Guns."
Excerpts:
"President Trump said the Texas church shooting was largely a "mental health" problem, but at the beginning of his presidency he rolled back a regulation that would have made it harder for people with histories of mental illness to purchase guns."
"In February 2017, Trump signed a bill that undid a regulation from Barack Obama's presidency which said the Social Security Administration would have to report certain mentally ill recipients and people deemed unfit to handle their own financial affairs to the national background check database, NBC reports. The Obama Administration said the rule would have added 75,000 names to the database."
"The rule would only "impact a person if he or she has been determined to be so severely impaired by a mental condition that he or she is unable to manage his or her own benefits, in which case, he or she is already prohibited from purchasing or possessing guns," Lindsay Nichols, senior attorney at the Law Center to Prevent Gun Violence, said in congressional testimony in February. "The new rule will simply prevent this person from passing a gun purchaser background check only until after an evaluation of their specific capacity to take on the responsibilities of gun ownership."
"The National Rifle Association, on the other hand, cheered Trump rescinding the rule as a win for Second Amendment rights. Other supporters of Trump's action, like Republican Sen. Chuck Grassley of Iowa, argued that the regulation infringed upon civil liberties and took away gun rights without due process of law. "If a specific individual is likely to be violent due to the nature of their mental illness," Grassley said, "then the government should have to prove it," NPR reports."
"Responding to Sunday's mass shooting at a church in South Texas, which left at least 26 people dead and 20 others injured, Trump said, "I think that mental health is your problem here." He added, "We have a lot of mental health problems in our country, as do other countries. But this isn't a guns situation."
"According to data from the U.S. Department of Health and Human Services, only 3 to 5% of violent acts can be attributed to individuals living with a serious mental illness."