I can't help but be thrilled about this movement to out men who have a history of sexually harassing/ assaulting women in the work place.
This has been a favored topic among us more mature women as we reflect on our own workplace histories in the Mad Men era about 50 years ago. We have been shocked and disheartened to learn that these power plays on women by men in power taking advantage of underlings for sexual favors or inappropriate touching, interactions are still happening. We had foolishly believed that these workplace shenanigans were a thing of the past.
That this issue is finally being addressed with the alacrity of a speeding train knocking off protections that men have previously relied on to get away with these ugly behaviors because they have the upper hand, etc. and that women have less power to fight back, to take back their dignity, is welcome news. Hopefully the abusive workplace will be a thing of the past along with dinosaurs.
In connection with the upcoming December 12, 2017, republican voters in Alabama will be heading to the voting booths to select their US senator where the republican candidate Judge Roy Moore is an alleged pedophile with credible stories about how he approached teenage girls for sexual favors while he was the local district attorney in his early 30s, but 71% of republicans are discounting the women's assertions.
THEIR MOST COMMON RATIONALIZATION COMES IN THE FORM OF THE FOLLOWING QUESTION:
WHY WOMEN DON'T COME FORWARD UNTIL YEARS LATER?
It is not uncommon for doubters like in Alabama to ask questions like, Why didn't they ever go to the police about this? Why did it take them 40 years to speak up? It is important for everyone to know that just because women don't report an assault doesn't mean it never happened. There are a myriad of reasons as to why survivors decide not to disclose what happened to them.
Many survivors report feeling ashamed and embarrassed after being assaulted, and they may not want anyone to know what happened. They don't want people to look at them differently. They're afraid of how their parents/ boyfriend/ husband will react.
There's also the stigma. Some survivors believe that being assaulted makes them "damaged goods," and are afraid of being judged for something that is completely not their fault For example, Elizabeth Smart, who was abducted when she was 14 years old, and held captive for nine months, has shared with others that she felt being assaulted made her somehow less worthy. She has openly stated, "I was kidnapped and I was raped, and one of the first thoughts I had was, 'No one is ever going to want to marry me now. I'm worthless, I'm filthy, I'm dirty,…It was almost crippling."
Then there is the nightmare that if a young lady manages to drum up the courage to report a sexual assault to law enforcement, she will be most likely have to to repeat the details about her reign of terror over and over again to where she has to relive the most horrible event in her life.
Then these victims may may be worried that law enforcement can't "prove" anything  that happened to them, especially if there is no physical evidence available. They may worry about appearing "too calm" or "too hysterical" to not being taken seriously or even believed. If they choose to be subjected to a rape kit exam, that procedure can be traumatizing, too.
Then when these women do report what happened to officials not trained in this field of police work, many end up describing their experiences as being just another traumatic event. In 2017, there have been published numerous reports documented where police officers blamed survivors for what happened to them, and/ or refused to move forward with their complaints.
Finally, they don't report it because of how they are treated by peoples just like those in Alabama who choose not to believe the brave women coming forward despite very credible reporting.
On December 6, 2017, Lindsey Bever and Abby Ohlhelser of the Washington Post penned the following report, Time's Person of the Year: 'The Silence Breakers' for speaking out against sexual harassment
Excerpts:
Time magazine has named "The Silence Breakers" as its 2017 Person of the Year, recognizing the women (and some men) who came forward with stories of sexual harassment and assault and helped force a nationwide reckoning.
The magazine calls them "the voices that launched a movement."
"Among them are Ashley Judd and Rose McGowan, the actresses whose stunning accusations against movie mogul Harvey Weinstein helped lead to his downfall; and activist Tarana Burke, creator of the #MeToo movement, along with the Hollywood star who amplified it on social media, Alyssa Milano."
"The galvanizing actions of the women on our cover … along with those of hundreds of others, and of many men as well, have unleashed one of the highest-velocity shifts in our culture since the 1960s," Time's editor in chief, Edward Felsenthal, told NBC's "Today" show Wednesday."
"The media's endless stream of sexual misconduct investigations and the countless #MeToo accounts of harassment, abuse and worse have ensnared an ever-growing list of public figures — celebrities, executives, politicians, business leaders, whose lives and careers have come crashing down, or are dangerously close to doing so."
"Like Charlie Rose and Matt Lauer and Mark Halperin and former NPR news chief Michael Oreskes."
"Like Russell Simmons and Louis C.K. and Kevin Spacey and James Levine and Sen. Al Franken (D-Minn.)."
"Like John Conyers Jr. (D-Mich.), the erstwhile dean of the House who resigned Tuesday amid mounting allegations of sexual harassment."
"The barrage of sexual misconduct accusations, from Hollywood to Capitol Hill, came after the Weinstein scandal exploded in public view — with claims from numerous women who said he sexually harassed them and even raped them."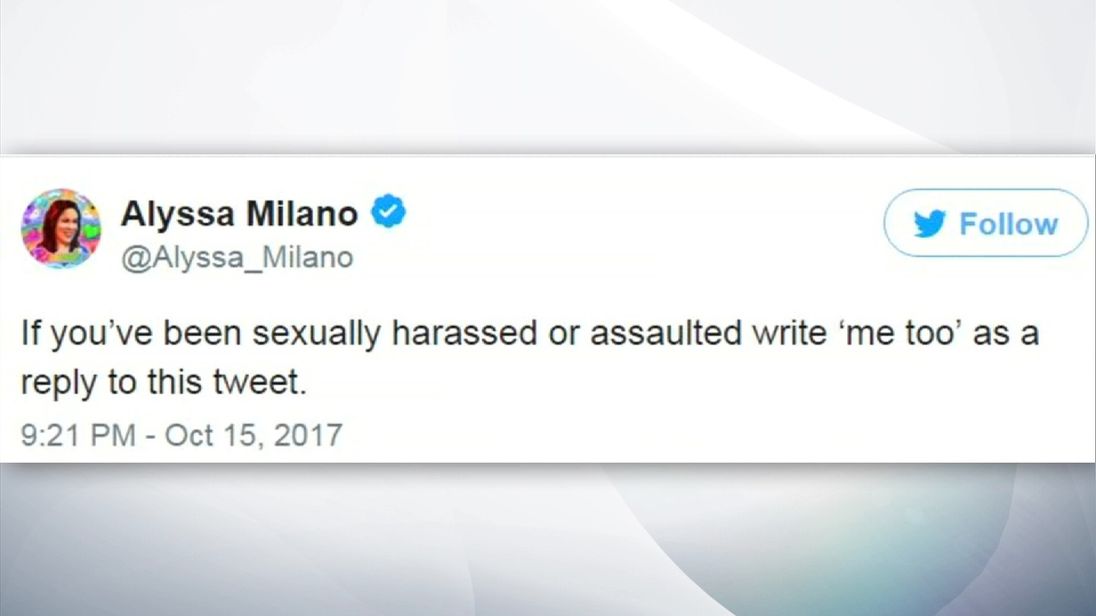 "And a social media movement emerged with the hashtag #MeToo, which has been used more than 3 million times on Twitter, according to company data. A wave of survivors came forward, some telling wrenching stories of abuse, harassment and rape in public for the first time."
"The hashtag succeeded in showing the world the volume of the problem. But as it grew, #MeToo showed something else, as well: the burden survivors of sexual and harassment and assault bear when asked to come forward."
"In its first viral days, the hashtag largely amplified the stories of white women, following the lead of actress Alyssa Milano. But "Me Too" had been the mantra of a decade-old fight against sexual abuse before it became a hashtag, and was originally conceived by a woman of color."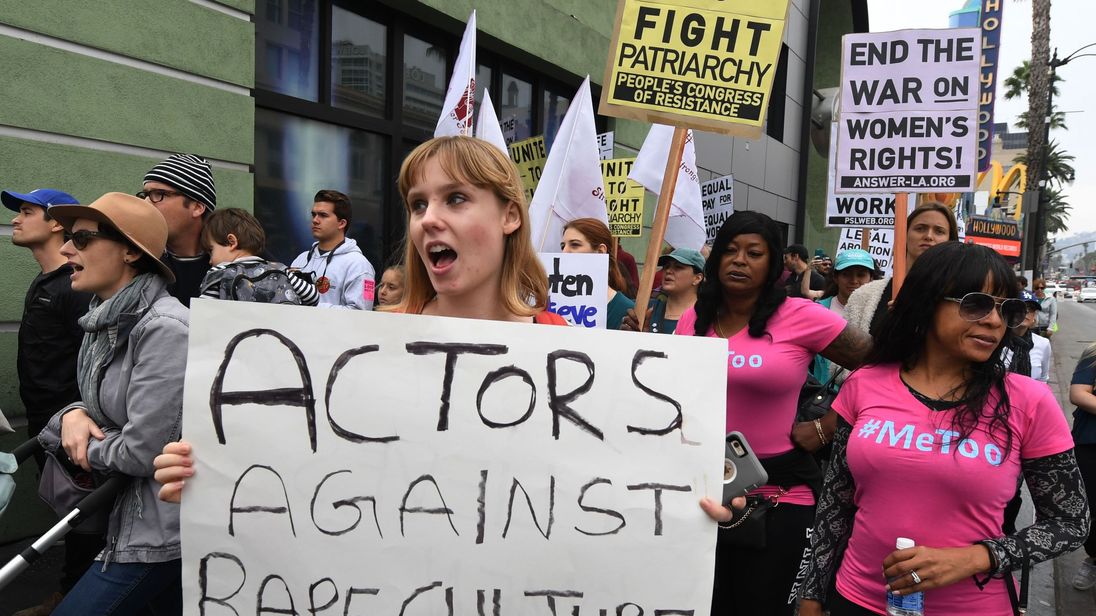 "Burke, a longtime activist and organizer, first identified the power "Me Too" could have to help women and girls who survived sexual abuse. In an October interview, she wondered what would follow in the weeks and years after the hashtag faded away."
"What the viral campaign did is, it creates hope. It creates inspiration," Burke said to the Washington Post, "People need hope and inspiration desperately. But hope and inspiration are only sustained by work."
"In its Person of the Year 2017 cover story, Time noted that "this moment is borne of a very real and potent sense of unrest. Yet it doesn't have a leader, or a single, unifying tenet. The hashtag #metoo (swiftly adapted into #BalanceTonPorc, #YoTambien, #Ana_kaman and many others), which to date has provided an umbrella of solidarity for millions of people to come forward with their stories, is part of the picture, but not all of it."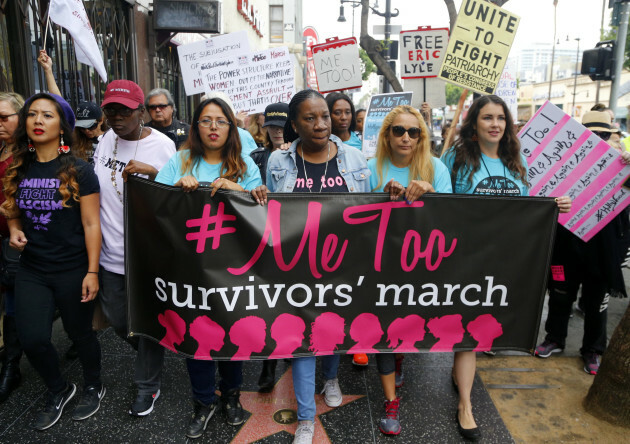 "This reckoning appears to have sprung up overnight. But it has actually been simmering for years, decades, centuries. Women have had it with bosses and co-workers who not only cross boundaries but don't even seem to know that boundaries exist. They've had it with the fear of retaliation, of being blackballed, of being fired from a job they can't afford to lose. They've had it with the code of going along to get along. They've had it with men who use their power to take what they want from women. These silence breakers have started a revolution of refusal, gathering strength by the day, and in the past two months alone, their collective anger has spurred immediate and shocking results: nearly every day, CEOs have been fired, moguls toppled, icons disgraced. In some cases, criminal charges have been brought."

"Emboldened by Judd, Rose McGowan and a host of other prominent accusers, women everywhere have begun to speak out about the inappropriate, abusive and in some cases illegal behavior they've faced. When multiple harassment claims bring down a charmer like former Today show host Matt Lauer, women who thought they had no recourse see a new, wide-open door. When a movie star says #metoo, it becomes easier to believe the cook who's been quietly enduring for years."
"In choosing its Person of the Year, Time has said it names the person or people who had the greatest influence over the past 12 months."
"The idea that influential, inspirational individuals shape the world could not be more apt this year," Felsenthal, the Time editor, said. "For giving voice to open secrets, for moving whisper networks onto social networks, for pushing us all to stop accepting the unacceptable, the Silence Breakers are the 2017 Person of the Year."
I am my person of the year. Are you yours? #BRAVE