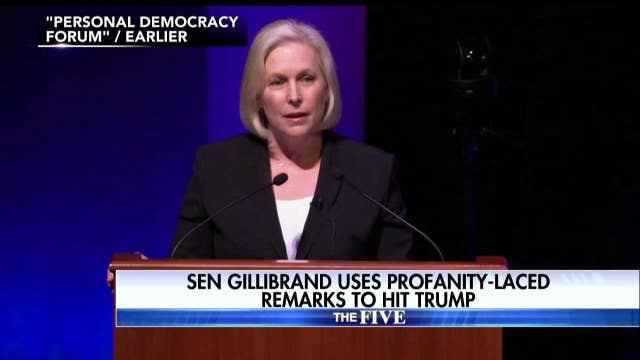 Senator Kirsten Gillibrand (D-NY) has turned up the heat temperature for her republican colleagues in the US Congress and the White House with her leading the charge for -0- tolerance for the republicans choosing to condone candidates with a history of sexual impropriety towards women as in the cases of the republicans Judge Roy Moore, an alleged pedophile running to fill the US Senate seat for Alabama on 12/12/17, and the of course, President Donald J. Trump whose own words on tape condemn him.
Of course, President Trump had to go on the attack to diminish the reputation of Senator Kirsten Gillibrand (D-NY) for her bold stance.
We the people who are part of the resistance have quit begging the question, how low can the republicans in the White House and the US Congress go?
Here is the rest of the story…
"On December 12, 2017, Janet Shan of Hinterlandgazette.com penned the following commentary, "Donald Trump Suggests Sen. Kirsten Gillibrand Would Have Sex for Campaign Donations."
"Donald Trump tweets Sen. Kirsten Gillibrand (D-NY) would do anything to get a campaign donation from him. In other words he's suggesting that she would have had sex with him to get campaign donations. This is vile and despicable on so many levels. It is beneath the office of the presidency."
"This is the man who bragged about grabbing women by the p*ssy and has belittled and attacked women for as far back as we can remembers."
"Trump tweeted:  "Lightweight Senator Kirsten Gillibrand, a total flunky for Chuck Schumer and someone who would come to my office "begging" for campaign contributions not so long ago (and would do anything for them), is now in the ring fighting against Trump. Very disloyal to Bill & Crooked-USED!"
"Sen. Gillibrand responded: "You cannot silence me or the millions of women who have gotten off the sidelines to speak out about the unfitness and shame you have brought to the Oval Office."
It is important to keep reminding ourselves of "the Resistance" that the republican President Donald  J. Trump is rated as the most unpopular president in our life times by the  vast majority of Americans. It is a minority of folks who are hard core supporters of President Trump but these voters are a significant part of the republican party to where republican leaders are fearful of angering them. So, despite their numbers, their power within the republican party is immense.
Latest Poll Numbers
On December 7, 2017,  Sophie Tatum of CNN penned the following report, "Trump's approval rating at 32%."
The poll also found that disapproval of his job performance is at 63%
Trump's approval rating has been fairly stagnant since October
"The poll also found that disapproval of the President's job performance is at 63%, and just 14% of those who disapprove of his presidential performance say they can think of some-thing he's done that they've been happy with."
"However, 37% of those who approve of his job performance say they can think of something Trump has done that they've been disappointed with or unhappy with."
Pew's report on the poll noted that Trump's approval rating has been fairly stagnant since October, when it was at 34%, but has decreased since February, when it was 39%.
Additionally, the poll found that the majority of Americans — 59% — think improper contact between senior Trump officials and Russia during the campaign "definitely or probably occurred."
"Thirty percent said they believed "senior Trump officials definitely had improper contacts with Russia during the campaign," while 30% also responded that they thought improper contact "definitely or probably did not happen."
"Thoughts regarding Trump campaign officials having improper contact with Russia were split along party lines, with 82% of Democrats and those who lean Democratic saying they thought there were improper contacts, and "49% saying they definitely took place."
However, only 26% of Republicans and Republican-leaning independents thought such contacts probably or definitely had occurred."
The poll was conducted between November 29 and December 4, and has  a margin of sampling error of 2.9 percentage points.