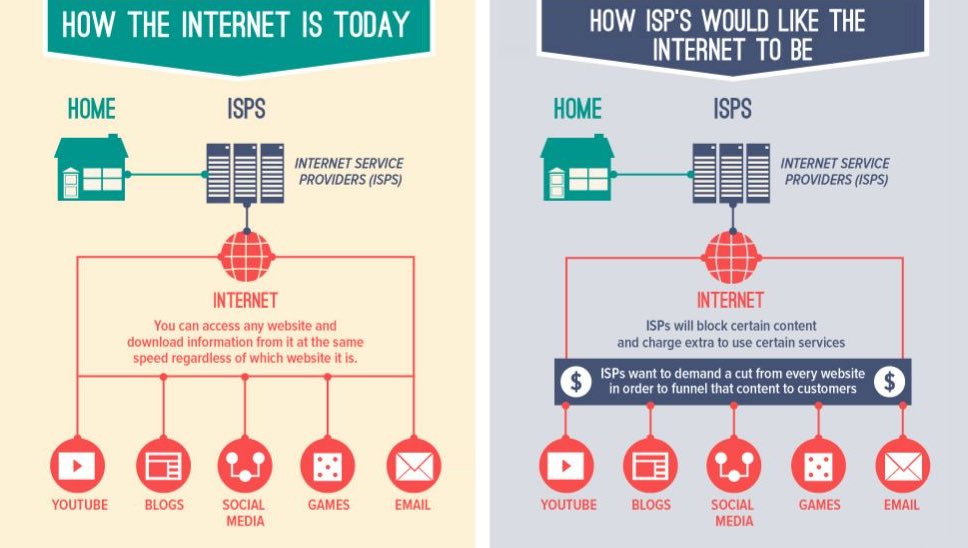 Why is the 5 member commission panel with 3 republicans of the FCC (Federal Communications Commission headed buy Ajit Pai, a former Verizon executive who is the champion advocate against net-neutrality, pushing / planning to do away with any and all protections to keep net neutrality as we know it on December 14, 2017, even-though the vast majority of Americans (both republicans and democrats) oppose this move?
"We the People" already know the answer. See: All 535 members of Congress, and how much money they got from ISPs 12/11/17 https://www.theverge.com/…/net-neutrality-fcc-(Headline News:CONGRESS TOOK $101 MILLION IN DONATIONS FROM THE ISP INDUSTRY)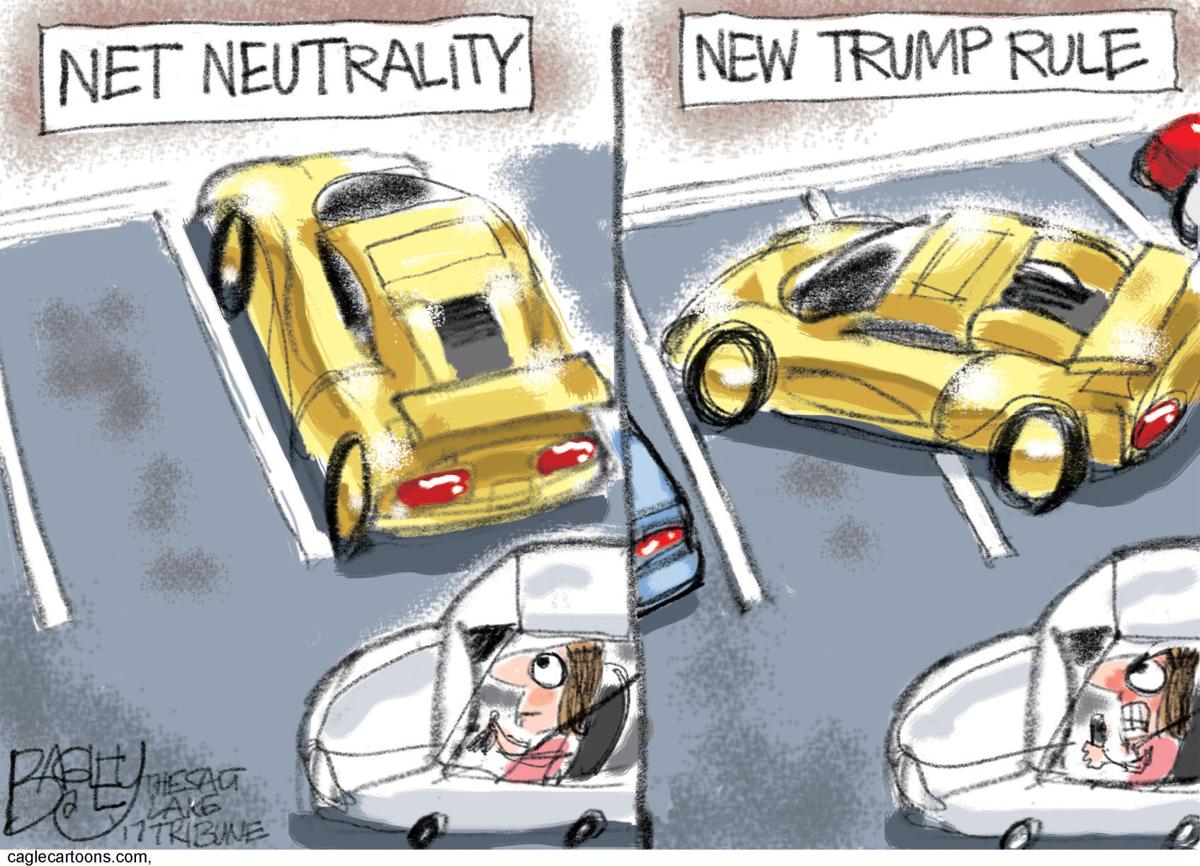 There is a required time period after there is an announcement (around November 21, 2017) for any FCC changes where the public can voice their opinions but even this was rigged . Thousands upon thousands of bots landed on the site drowning out the public's ability to state their preferences. The New York Attorney General Eric Schneideman has filed suit to obtain the data on the bots from the FCC but the FCC is not cooperating. 
(Over 1.3 million anti-net neutrality FCC comments are likely fakes
 Please call the FCC as per the following instructions to voice any objections:
Ajit Pai, FCC Chairman
202-418-1000
Why you're calling this office:
This organization is driving legislation related to the issue.
Your script:
Hi, my name is [NAME] and I'm a concerned customer from Tampa.
[IF FCC]: I'm calling to express my disapproval that the FCC is trying to kill net neutrality and the strong Title II oversight of Internet Service Providers. Preserving an open internet is crucial for fair and equal access to the resources and information available on it.
[IF CONGRESS]: I'm calling to express my support for Net Neutrality and a fair and open Internet. I ask that [Senator's or Rep's Name] contact FCC Chairman Ajit Pai and demand he abandon his plan to overturn Net Neutrality and Title II oversight. It is time for Congress to take a stand and urge Chairman Pai to cancel the vote in December.
Thank you for your time and attention.
To call your representatives regarding this issue:
Find Your Representative · House.gov – U.S. House of Representatives
TO FAX:  Resistbot will do it all for you. Text "RESIST" to 50409 or message Resistbot on Facebook and it will walk you through the steps to fax your Senator and will tell you when your fax has been delivered.
The main US Senate phone line 202-225-3121 (202-224-3121) or  YOU CAN FIND PHONE NUMBERS FOR EVERY SENATOR HERE. or U.S. Senate: Senators of the 115th Congress.
Here's the rest of the story….
On December 12, 2017, Brian Fung of the Washington Post penned the following report, "This poll gave Americans a detailed case for and against the FCC's net neutrality plan. The reaction among Republicans was striking."
Excerpts:
"On the eve of a pivotal vote that would deregulate the broadband industry, a fresh survey from the University of Maryland shows that large majorities of Americans — including 3 out of 4 Republicans — oppose the government's plan to repeal its net neutrality rules for Internet providers."
"The results paint the picture of an electorate that is largely at odds with the GOP-led Federal Communications Commission, whose chairman, Ajit Pai, plans to vote Thursday to lift key rules for corporations such as AT&T, Comcast and Verizon. The move would permit such companies to speed up some websites, and slow down or block others, as Internet providers seek new business models in a rapidly changing media and technology environment."
"The survey by the university's Program for Public Consultation and Voice of the People, a nonpartisan polling organization, concluded that 83 percent of Americans do not approve of the FCC proposal. Just 16 percent said they approved."
Americans in the survey were far less likely to find the FCC's arguments for repeal persuasive, and far more likely to agree with arguments for keeping the regulations. While 48 percent said they found the government's case convincing, 75 percent said they found the contrasting arguments of consumer groups and tech companies convincing."
"About one in five Republicans said they were in favor of the FCC's proposal."
"The PPC survey highlights a significant consensus between members of both political parties at a time when much of the country is divided on other social and economic issues. It also differs from previous polling on the subject of net neutrality in methodology and approach."
"Unlike polls that solicit respondents over the Internet on an opt-in basis — a tactic that polling experts say is problematic because the resulting sample can be unscientific — PPC relied on a panel of respondents that had been assembled randomly using traditional mail and telephone techniques by the market research firm Nielsen Scarborough."
"In addition, rather than asking survey-takers their opinion on net neutrality without much prior context, PPC prepared respondents ahead of time with a policy briefing laying out the case from both sides of the debate. The survey content was reviewed by experts in favor and against the net neutrality rules, including by a government official who represented the administration's position, according to Steven Kull, PPC's director."
"One question asked respondents to consider that the FCC plan could lead to higher broadband prices for consumers "and make it harder for websites to get the necessary traffic to be profitable." Large, wealthy businesses would have an advantage over small ones that could not afford to pay for faster download speeds, it said, and that Internet providers could block websites for any reason they liked, including to harm competitors."
"Americans in both parties found the latter arguments more convincing than the former — Democrats by a 42-point margin, Republicans by a 13-point margin."
The FCC cast doubt on the survey results in a statement Tuesday (12/12/17).
"This is a biased survey that, among other things, makes no mention of the role that the Federal Trade Commission will play in policing anti-competitive or unfair conduct by Internet service providers. Earlier polling by Democratic pollster Peter Hart showed that most Americans believe that utility-style regulation of the Internet is harmful, and this is the regulation that the Restoring Internet Freedom order will eliminate," the statement said."
"Public opinion on net neutrality is largely unstudied and can vary widely depending on how the questions are asked, Paul Brewer, director of the University of Delaware's Center for Political Communication, was quoted as saying in yet another survey of 901 U.S. adults in 2015 showing that a majority of Americans opposed using "government regulations" to defend net neutrality. The survey also showed that solid majorities — more than 70 percent — opposed letting Internet providers charge websites or streaming video services "extra for faster speeds ('fast lanes')."
"Questions surrounding the wording of polling questions is what drove PPC to equip survey-takers with fleshed-out arguments from supporters and opponents of the FCC rules."