The "Me Too" movement has spawned the advent of numerous sexual harassment stories endured by women which are finally coming to the forefront as in the case of Ford plants located in the Chicago area. Complaints along these lines have been SOP at these plants since at least the 1990's where Ford had to pay out  multi-millions of dollars to settle law suits.
Now it looks like Ford is finally serious about tackling this issue. But this transformation is occurring only after the New York Times published an expose' about Ford's culture being an environment where sexual harassment claims have been rampant. I have posted below, a link to the entire exceptionally well written NY Times report dated 12/19/17.
Here is the rest of the story...
On December 21, 2017, Susan Chira and Catrin Einhorn of the New York Tomes penned the following report "Ford Apologizes for Sexual Harassment at Chicago Factories."
Ford Motor Company apologized to its employees on Thursday for sexual harassment at two Chicago plants, addressing accusations that span more than a quarter-century.
Jim Hackett, Ford's president and chief executive, released an open letter, saying in part: "I am sorry for any instance where a colleague was subjected to harassment or discriminatory conduct. On behalf of myself and the employees of Ford Motor Company, who condemn such behavior and regret any harassment as much as I do, I apologize. More importantly, I promise that we will learn from this and we will do better."
"Mr. Hackett said he would travel to Chicago after the holidays to speak with employees there.
The letter followed the publication of a New York Times article based on interviews with more than 70 current and former workers detailing accounts of sexual harassment and retaliation at the two factories, Chicago Assembly and Chicago Stamping. "Candidly, it was gut wrenching to read the accounts of these women in The New York Times article," Mr. Hackett wrote, adding that "there is absolutely no room for harassment at Ford Motor Company."
"Harassment complaints had prompted several previous lawsuits and two settlements with the federal agency that combats workplace discrimination, the Equal Employment Opportunity Commission. In August, the agency reached a $10 million agreement with Ford over sexual and racial harassment at the plants. A separate lawsuit with about 30 plaintiffs is still making its way through the courts. In the 1990s, a string of lawsuits and an E.E.O.C. investigation resulted in a $22 million settlement and a commitment by Ford to crack down. As is customary, Ford did not admit liability in either settlement."
Suzette Wright, a former Ford worker who joined one of the suits, has long awaited this moment. After a settlement was announced in 1999, she barged into a news conference and demanded an apology from a Ford executive, who issued a carefully parsed statement that stopped short of the unreserved apology Mr. Hackett issued on Thursday.
When told of the letter, Ms. Wright began to cry. "I'm glad they did that," she said. "You can't make a change without acknowledging that you did something wrong." Ms. Wright said she left Ford after she was told it was a condition of her settlement; Ford lawyers said that was optional.
Gwajuana Gray, who has worked at Ford since 1991 and joined a lawsuit in the 1990s, said that after the Times article was published online Tuesday, she began experiencing retaliation from a supervisor. She said he docked her pay by recording fewer hours than she had actually worked. The supervisor did not respond to messages seeking comment.
"I am beside myself," she said. "I can't continue to function this way."
"She said that she welcomed the apology but that she is waiting to see if Ford acts against men in the plant she considers longtime harassers. "It has to be a different environment, a different culture," she said. "I hate for people to be fired, but if they won't change, or they think they are untouchable, they have to be fired."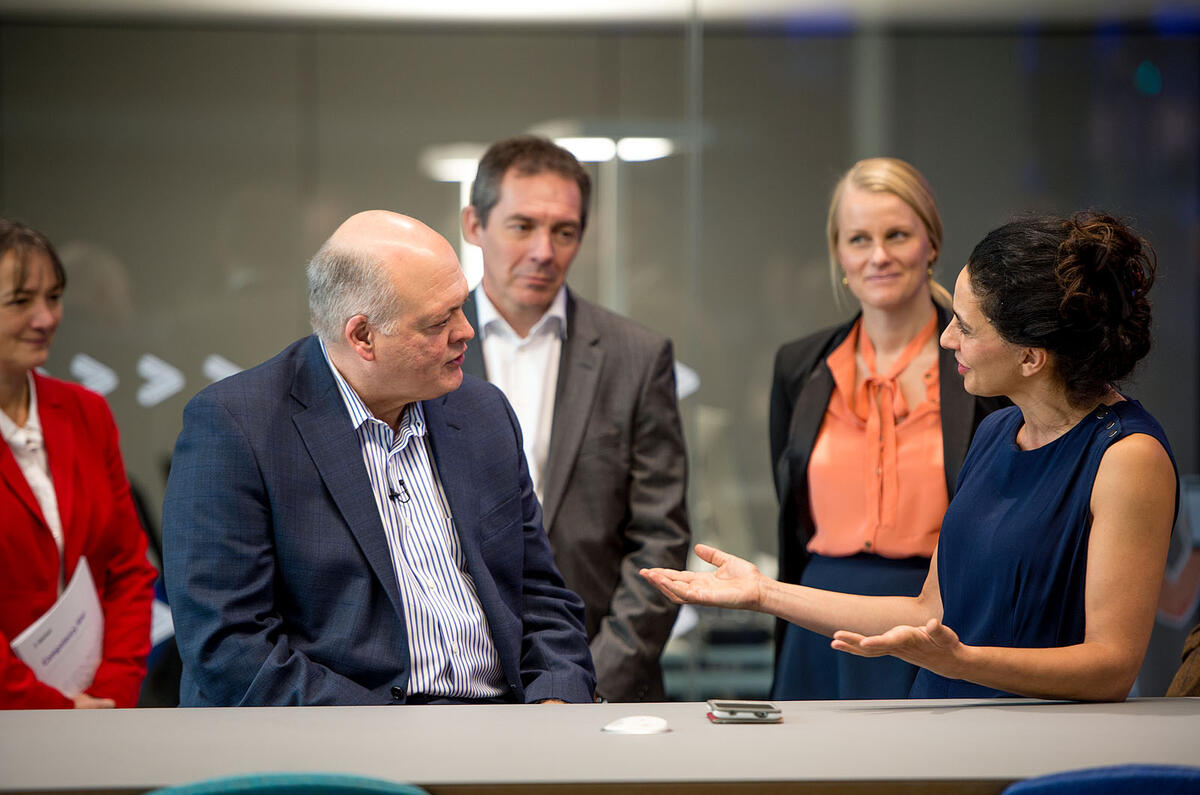 "When Mr. Hackett visits the plants, she said, she would like him to speak to workers individually, away from plant or union officials. She and many other workers interviewed said that some officials at the local United Automobile Workers union have harassed women themselves or discouraged them from filing complaints."
"Mr. Hackett outlined a number of measures that Ford had taken, including extensive training programs, increased staffing to investigate complaints, monetary awards that would be available through the settlement and independent monitors who would oversee compliance for up to five years."
But Mr. Hackett acknowledged in the letter that there was more to do."
On December 19, 2017, Susan Chira, Catrin Einhorn with photos by Alyssa Schukar of the New York Times penned the following report, "How Tough Is It to Change a Culture of Harassment? Ask Women at Ford." ("Decades after the company tried to tackle sexual misconduct at two Chicago plants, continued abuse raises questions about the possibility of change.")
Excerpts:
The jobs were the best they would ever have: collecting union wages while working at Ford, one of America's most storied companies. But inside two Chicago plants, the women found menace.
Bosses and fellow laborers treated them as property or prey. Men crudely commented on their breasts and buttocks; graffiti of penises was carved into tables, spray-painted onto floors and scribbled onto walls. They groped women, pressed against them, simulated sex acts or masturbated in front of them. Supervisors traded better assignments for sex and punished those who refused.
That was a quarter-century ago. Today, women at those plants say they have been subjected to many of the same abuses. And like those who complained before them, they say they were mocked, dismissed, threatened and ostracized. One described being called "snitch bitch," while another was accused of "raping the company." Many of the men who they say hounded them kept their jobs.
In August, the federal agency that combats workplace discrimination, the Equal Employment Opportunity Commission, reached a $10 million settlement with Ford for sexual and racial harassment at the two Chicago plants. A lawsuit is still making its way through the courts. This, too, happened before: In the 1990s, a string of lawsuits and an E.E.O.C. investigation resulted in a $22 million settlement and a commitment by Ford to crack down.
For Sharon Dunn, who sued Ford back then, the new lawsuit was a fresh blow. "For all the good that was supposed to come out of what happened to us, it seems like Ford did nothing," she said. "If I had that choice today, I wouldn't say a damn word."
In recent months, as women have spoken out about harassment — at media companies and technology start-ups, in the entertainment industry and on Capitol Hill — they have spurred quick action, with accused men toppling from lofty positions, corporations pledging change and lawmakers promising new protections.
But much less attention has been focused on the plight of blue-collar workers, like those on Ford's factory floors. After the #MeToo movement opened a global floodgate of accounts of mistreatment, a former Chicago worker proposed a new campaign: "#WhatAboutUs."
Link to entire NYT report: How Tough Is It to Change a Culture of Harassment? Ask Women at Ford