The republican President Donald Trump with his republican sycophants in the White House, the US Congress and the right wing media-outlets are convinced that a marketing campaign paid for by the Koch brothers, to move Americans towards developing a more positive attitude towards the recently passed tax-cuts bill, will be effective enough to save vulnerable republicans from being wiped out when they run for elections in 2018.
Unfortunately, they were too greedy. The tax bill does at least as much (if not more) to upend Obamacare, or the Affordable Care Act, than even all of the Trump administration's thousand cuts to the health law over the past year by repealing the individual mandate. What does its repeal mean for Americans? It means that many Americans will be notified of an increase in healthcare insurance policy rates before they see any tax cuts benefits for the year of 2018. The estimated premium increase of at least 10% as per credible tax analysis entities, will negate any tax cuts. As a matter of fact, it could be argued that these peoples will be burdened with a health care insurance tax increase.
We'll know when US Congressional republicans figure this out, as they hurriedly take steps to mitigate the 2018 advertised projected spike in healthcare insurance premiums for 2019.
Here's the rest of the story…
On December 21, 2017,  Tarini Parti of BuzzFeed penned the following report, "Koch Network To Launch Multimillion-Dollar Campaign To Try To Convince Americans To Support The New Tax Plan."
Excerpts:
"The network, which has already spent more than $20 million on the issue this year, will spend millions more next year on ads and grassroots events, as polling shows the plan to still be unpopular."
"The political network affiliated with billionaire industrialists Charles and David Koch will launch a multi-million-dollar campaign to sell the just-passed GOP tax plan to voters ahead of the 2018 midterm elections."
"The network, which is funded by hundreds of wealthy GOP donors, has already spent more than $20 million this year on pushing the bill — a top priority, which it worked on closely with the Trump administration. Network officials say they will continue to make significant investments early in the new year for a "a full-scale nationwide education campaign" on the tax plan, which will permanently reduce taxes for corporations while cutting taxes for many individuals until 2025."
"The campaign to sell the legislation, which polling shows is currently highly unpopular, will include TV, radio, and digital ads along with town hall events, seminars, workshops, phone banking, and door knocking."
"A recent CNN poll found that opposition to the tax plan had grown by 10 points since November. Based on the poll, 55% of those surveyed oppose it and only 33% favor it, despite the investments from the Koch network and other Republican groups including 45Committee, American Action Network, and America First Policies to boost support for the bill."
"James Davis, spokesman for the Koch network, said it's prepared to spend whatever it takes to move numbers on the issue, arguing that Americans right now know very little about the details of the legislation."
"It is hard to project a precise figure," Davis said of the network's upcoming spending. "It depends on what is needed to make a strong impact and connect Americans to it."
"Given that the tax reform bill was just finalized, there's a lot of work to be done educating Americans about its benefits," he said. "We will make a massive push to show how pro-growth policies can revitalize the economy and open the floodgates to new opportunity, innovation, and prosperity. There's no doubt this was an historic achievement, but it was only the first step."
"If Republicans aren't able to sell their plan, it could jeopardize their majorities in Congress next year. Asked about their efforts to effectively market the proposal to the public, Senate Majority Leader Mitch McConnell said Wednesday that if they failed to do so next year, they "ought to go into another line of work."
"Already this year, Koch network officials say they have hosted more than 100 events across 36 states on the new tax policy, knocked on more than 33,000 doors, reached nearly 2 million activists, and spent about $8 million on ad spending."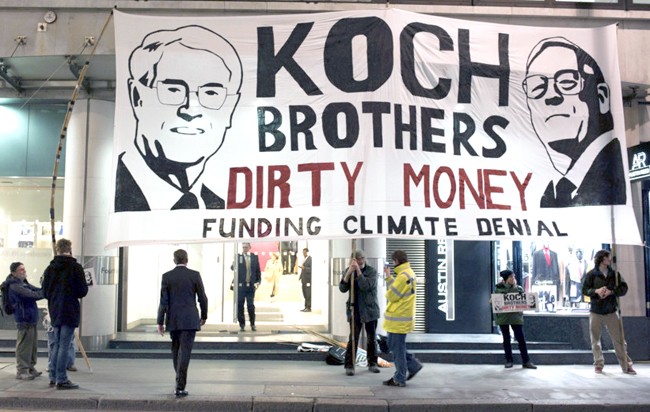 "Although Democrats, who opposed the tax plan, have argued that the legislation primarily boosts GOP donors like the Kochs, network officials say the policies they back are based on certain principles, irrespective of how they might affect the personal wealth of the Kochs or other donors to the network."
"Earlier this year, the network aggressively opposed the initial House GOP-led effort to implement a "border adjustment tax", even though Charles and David Koch would have financially gained from the legislation."
"This tax plan is big, bold, and pro-growth," said Tim Phillips, the president of Koch-backed Americans for Prosperity, in a statement.
"It's about to ignite a new era of growth, and we're going to make sure that Americans understand how they and their community stand to benefit. That means activating our grassroots infrastructure in 36 states to get the word out."