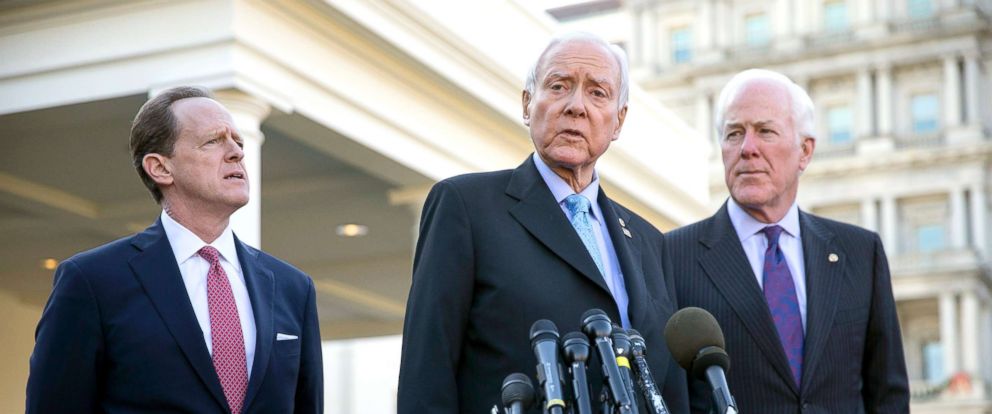 On December 25, 2017, The Salt Lake Tribune's staff penned the following unflattering commentary, "Tribune Editorial: Why Orrin Hatch is Utahn of the Year" –
The paper reported, "It has everything to do with recognizing:"
"Hatch's part in the dramatic dismantling of the Bears Ears and Grand Staircase-Escalante national monuments."
"His role as chairman of the Senate Finance Committee in passing a major overhaul of the nation's tax code."
"His utter lack of integrity that rises from his unquenchable thirst for power."
The vast majority of residents in Utah do not approve of the moral character of the republican President Donald Trump and of anyone currying favor with him and that includes Senator Orrin Hatch, who as chairman of Senate Finance Committee played a key role in the passage of the GOP tax cuts bill.
The president had asked the senator not to restire because a former republican presidential candidate Mitt Romney has announced his intent to run for this senate seat. It is well known that Mr. Romney is no fan of President Trump.
While the state is a republican led state, it has a majority Mormon population which voted 78% to 21% for Mitt Romney in 2012.
But in 2016, Donald Trump won the election in Utah with 45.5% of the vote. Hillary Clinton received 27.5% of the vote. Evan McMullin, an Independent candidate, received 21.5% of the vote.
Here's the rest of the story….
On January 2, 2017, the Washington Post staff published the following report, " Utah Republican Orrin Hatch announces he's retiring after 40 years in Senate."
Hatch, 83, is the most senior Republican in the Senate, and speculation about whether he would retire, clearing the way for Mitt Romney to run for his seat, has escalated in recent weeks.
As chairman of Senate Finance Committee, Hatch played a key role in passing the tax bill that President Trump signed into law late last month.
"When the President visited Utah last month, he said I was a fighter. I've always been a fighter. I was an amateur boxer in my youth, and I brought that fighting spirit with me to Washington. But every good fighter knows when to hang up the gloves. And for me, that time is soon approaching," Hatch said in a statement. That's why, after much prayer and discussion with family and friends, I've decided to retire at the end of this term. Although I will miss serving you in the Senate, I look forward to spending more time with family, especially my sweet wife Elaine, whose unwavering love and support made all of this possible."