Dear Republicans, the FBI Special Counsel Robert Mueller's Trump-Russian probe has not been primarily concentrating on the republicans' talking point of collusion between President Trump and Russian operatives as Russia meddled bigly in 2016 US presidential elections. But instead, they have been following the money trail regarding Russia's entanglements in the president's financial dealings going back decades, which could account for the president's hyper pro-Russian attitude which could lead to the president creating policies favorable to Russia, and counter to US national security interests.
The following story is a perfect example of how the republican President Donald Trump's bias in favor of Russia along with his denial, as late as December 2017, that Russia interfered in our 2016 election cycle despite overwhelming evidence that proves otherwise, could be influencing policy making in Washington DC.
Republicans, why are you enabling the president in his denial to where you are doing virtually nada regarding preventing a repeat in the 2018 mid-term elections of what happened when Russia meddled bigly in our presidential elections in 2016?
Lip service doesn't count, doing something to protect US democratic institutions, DOES.
I for one, would like to know in broad terms, exactly what steps the CIA has taken to prevent Russia or any other U.S. adversary from interfering in future US elections which would back up its Director Mike Pompeo's claims on the Sunday TV talk shows, that the CIA is working diligently to prevent Russia or any other U.S. adversary from interfering in future election.
Here's the rest of the story….
On January 10, 2018, Chad Day and Stephen Braun of the AP penned the following report, "Never before has a U.S. president so clearly ignored such a grave and growing threat to U.S. national security," the report warns."
Excerpts:
"No Republicans on the Senate Foreign Relations Committee signed on to the 200-plus page report released by Sen. Ben Cardin of Maryland, the committee's top Democrat. But even without GOP backing, the report's recounting of Russian operations in 19 European nations foreshadows the still-unpublished Senate Intelligence Committee's bipartisan inquiry into Russia's role during the 2016 U.S. presidential election."
Cardin said in a statement that he commissioned the report so Americans can see the "true scope and scale" of Russian President Vladimir Putin's efforts to undermine democracy.
"While President Trump stands practically idle, Mr. Putin continues to refine his asymmetric arsenal and look for future opportunities to disrupt governance and erode support for the democratic and international institutions that the United States and Europe have built over the last 70 years," Cardin said.
"Cardin's inquiry lays blame directly on Putin for a "relentless assault to undermine democracy and the rule of law in Europe and the United States." Concerned that Trump has failed to identify Russian aggression as a national rallying point, the report urges a "stronger congressional voice" in pro-democracy efforts and funding. The report calls for committee hearings and other bipartisan efforts to aid European nations in countering Russian aggression."
"Some policy changes suggested by the report have garnered GOP interest, including the aggressive use of financial sanctions aimed at Russia and pressuring social media companies to be more transparent about Russian political messaging."The report also pushes for the administration to fully fund and utilize the State Department's Global Engagement Center, which it says is hobbled by "a lack of urgency and self-imposed constraints" under Secretary of State Rex Tillerson.
"The center was created in 2016 to blunt terrorist propaganda. It duties have expanded to include countering Russian propaganda under legislation last year from Sens. Rob Portman, R-Ohio, and Chris Murphy, D-Conn."
"Cardin's report sketches a bleak portrait of European nations besieged by Russian encroachment. It also cites years of cyberattacks, disinformation, clandestine social media operations, financing of fringe political groups, corruption and in the extreme, assassination attempts and military operations that destabilized fledgling democratic governments in the Ukraine and Georgia. The report leans heavily on open source information as well as staff interviews with European diplomats and government officials."
"Labeling Russia's activities an "asymmetric assault on democracy," the report notes that even elections in countries such as Britain, France and Germany were reportedly targeted by Moscow-sponsored hacking, internet trolling and financing for extremist political groups. The report also credits those nations and smaller European countries, such as Finland and Estonia, for responding quickly and often with effect."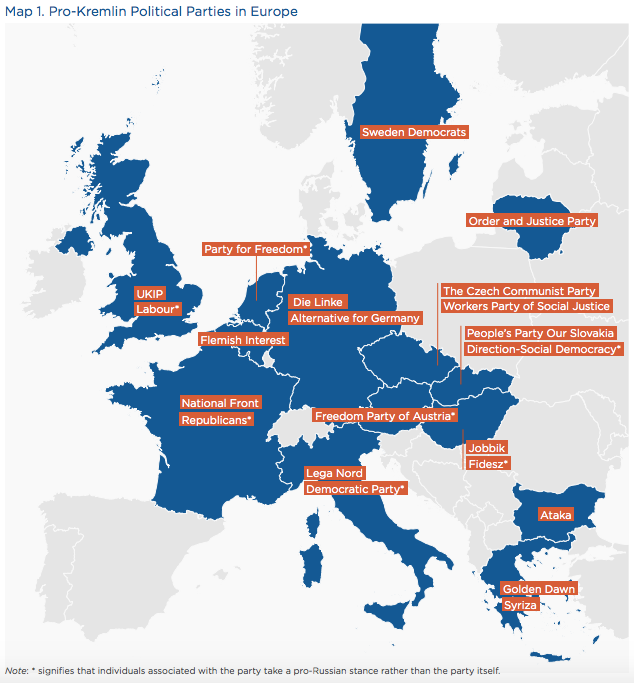 "Facebook officials told Cardin's investigators that Kremlin-backed trolls that stirred up political tensions on its American pages also "pursued a similar strategy in the lead up to the 2017 French political election, and likely before Germany's national election" last year."
"Similarly, Finnish officials told Cardin's investigators that Finland has ramped up anti-disinformation efforts after Russian-leaning Twitter accounts "began tweeting misinformation and fringe viewpoints" before that nation's 2015 parliamentary elections — foreshadowing the surge in Russian-sourced fake Twitter accounts that proliferated during the U.S. presidential election."
"Senate Intelligence Committee officials have questioned efforts of Facebook and Twitter to accurately determine the extent of Russian political messaging during the 2016 U.S. election. Cardin's team also noted alarming discrepancies between the extent of Russian troll activity found by independent researchers and far lower figures claimed by social media companies in European countries. The report advocates for social media companies to do a better job of auditing their platforms to determine the full extent of Russian disinformation flowing across them."
"Cardin's report urges Trump to set up an interagency "fusion cell" on Russian interference modeled on the National Counter-terrorism Center that was created after the 9/11 attacks. The report recommends that the president convene an annual global summit modeled after similar forums on combating the Islamic State group or homegrown extremists. Rapid response teams should be formed to defend ally countries after cyber-attacks, with an international treaty governing the use of cyber tools in peace time."
"It calls on the government to increase the amount of aid it provides to promote democracy in Europe and publicly to expose any organized crime and corruption links to Putin. It say social media companies should be required to publicize the sources of funding for political advertisements along the same lines as broadcast and print media."
"During a November trip to Asia, where he met with Putin, Trump said "he said he didn't meddle" and added: "I really believe that when he tells me that, he means it."
"Other administration officials have been more skeptical of Russian behavior. Defense Secretary James Mattis has said the U.S. is prepared to deter Russian aggression in Europe and the U.S. agreed late last year to allow sales of lethal anti-tank weapons to Ukraine."
"CIA Director Mike Pompeo said Sunday on CBS' "Face the Nation" that the CIA is working diligently to prevent Russia or any other U.S. adversary from interfering in future elections. "I continue to be concerned not only about the Russians but about others' efforts as well," Pompeo said."