By now, most followers of the news have figured out that it was the republican President Donald Trump's Chief of Staff General John Kelly who muddied up the waters this past week with regards the US Congress making progress towards passing a bipartisan fix on DACA (Deferred Action for Childhood Arrivals) in addition to plans to okay funds for additional border security. On January 9. 2018, the president with legislators in the same room, stated that he was ready to sign any bipartisan proposal. On January 11, the lawmakers who had scheduled a meeting with the president to share their ideas, arrived only to be greeted by a wall of opposition whereupon the president proceeded to refer to countries with peoples of color, as shxtholes.
The turn around on the president's attitude can be laid at the feet of General Kelly who does not have a good handle on this subject matter. and who is letting his anti-immigration feelings, cloud his judgment. Recent polls indicate that even most supporters of the president are in favor of not deporting young adults who came to the US as children with undocumented parents but have known no other country. Yet, the president was told that his base would not be happy with him if he okay-ed this bipartisan plan.
So today (1/17/18), General Kelly met with the US Congressional Spanish Caucus members where he took time to suggest that they should be working to back a bipartisan bill with the two strong anti-immigration Senators Tom Cotton and David Perdue. How does one explain that this is not how a compromise bill is developed? Then General Kelly proceeded to admit that a physical wall will never be constructed along the entire stretch of the U.S.-Mexico border and that some of President Trump's campaign promises on immigration were "uninformed."
Those present left more confused than ever and of course they shared the general's comments with the press, that won't land well with the president.
Here is the rest of the story…
On January 17. 2018, Ed O'Keefe of the Washington Post penned the following report, "Kelly calls some of Trump's campaign pledges on immigration, wall 'uninformed,' meeting attendees say"
Excerpts: 
"White House Chief of Staff John F. Kelly told Democratic lawmakers Wednesday that the United States will never construct a physical wall along the entire stretch of the U.S.-Mexico border and that some of President Trump's campaign promises on immigration were "uninformed."
The comments put Kelly at odds with Trump, who repeatedly said during his presidential campaign that he would build a border wall that Mexico would pay for, not U.S. taxpayers.
"Kelly met with members of the Congressional Hispanic Caucus, House Minority Whip Steny H. Hoyer (D-Md.) and Rep. Judy Chu (D-Calif.), who chairs the Congressional Asian Pacific American Caucus, at the U.S. Capitol in his fourth formal face-to-face encounter with Hispanic lawmakers, who have been deeply critical of Trump's position on immigration policy."
"During the meeting, Kelly repeatedly said that Trump supports enacting permanent legal protections for young immigrant "dreamers" and that he has helped the president evolve on immigration policy. But the meeting ended with no resolution to what exactly the administration wants in exchange for authorizing permanent legal protections for the at least 690,000 people enrolled in the program, according to several attendees."
"The president is committed to a permanent solution to DACA," Kelly told the meeting."
"This account of the meeting is based on notes taken by two lawmakers in the room that were confirmed by two more lawmakers in the room and one senior aide in attendance."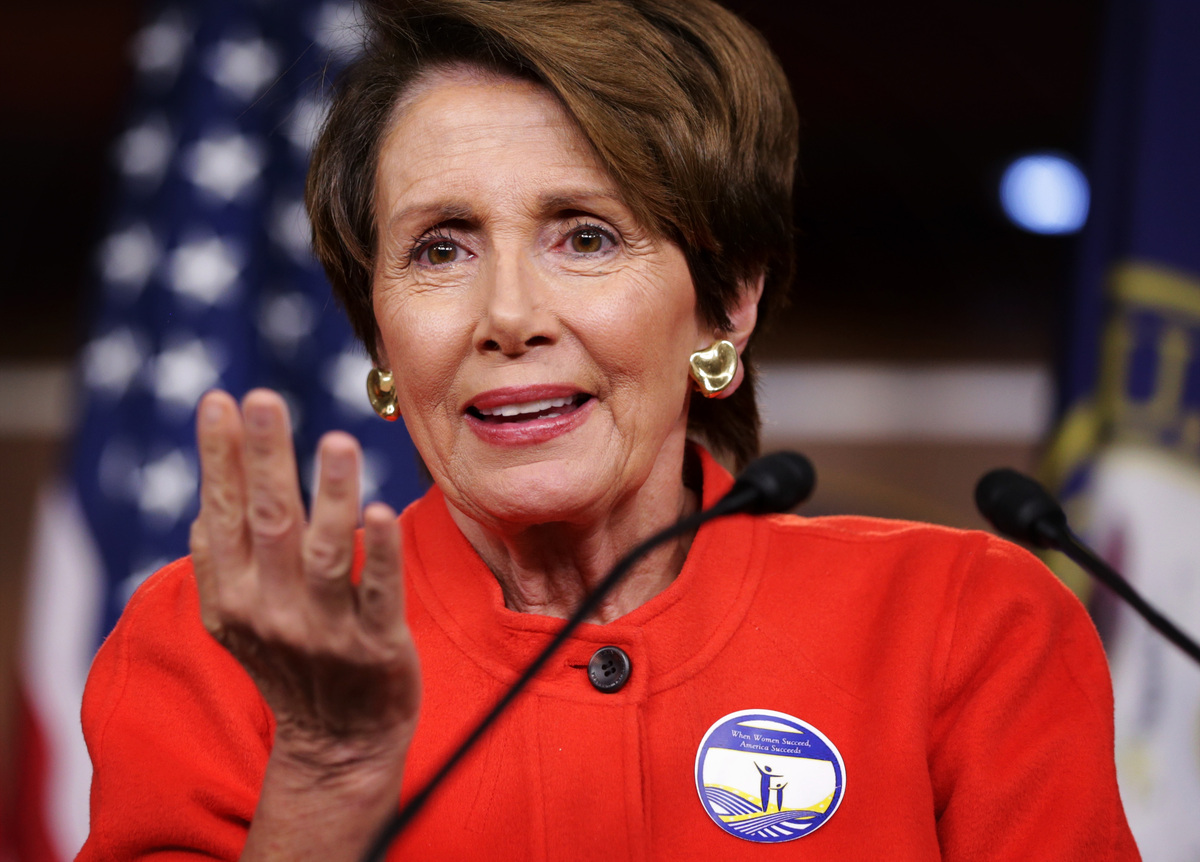 "Hoyer told Kelly later that the views expressed by lawmakers in the room represent "the will of the Democratic Caucus" — a reminder that House Democrats overwhelmingly support protecting dreamers and strongly oppose Trump's calls for stricter border protections."
"In a bid to assure the group that he understands their concerns, Kelly said that Hispanic Caucus members should be grateful that the Deferred Action for Childhood Arrivals Program wasn't ended immediately in September when Trump set a six-month expiration date for the program."
"I worked to get the six-month extension of DACA. I ordered that. I managed that. And everyone has thanked me for that," he told the group."
"Rep. Lucille Roybal-Allard (D-Calif.), the original sponsor of the Dream Act that would permanently legalize at least 690,000 dreamers, asked Kelly to clarify Trump's definition of a border wall."
"Certain things are said during the campaign that are uninformed," Kelly said.
"One thing is to campaign, another thing is to govern. It's really hard," he added later.
"A concrete wall from sea to shining sea" is not going to happen, Kelly said. Instead, "a physical barrier in many places" is what the administration is requesting. Kelly used the term "physical barrier" several times during the meeting, attendees said."
"Instead, "we need 700 more miles of barrier," Kelly said — a concession that a physical barrier does not need to stretch the entire length of the border."
"Concrete wall would be good in only certain places," he added, saying that manpower and drone technology should suffice in some parts."
"Kelly also said that there will be no wall "that Mexico will pay for."
"After serving as homeland security secretary and commander of U.S. military forces in Latin America, Kelly told lawmakers that he has helped Trump "evolve on issues of the wall."
"He campaigned against DACA," Kelly said of Trump, but since then, "he's lightened up."
"Kelly said that the Trump administration continues pushing for more border security in part because cartels are still successfully transporting illegal drugs across the Mexican border."
"Drug cartels will always find a way to get their drugs in so long as there's demand in the U.S.," Kelly said. He then added that leaders of drug cartels "are very smart and good businessmen."
"As the conversation continued, Hispanic Caucus members asked Kelly for his assessment of a bipartisan plan brokered by Sens. Richard J. Durbin (D-Ill.), Lindsey O. Graham (R-S.C.), Jeff Flake (R-Ariz.) and others. One Democrat in the room told Kelly that Graham has secured the support of at least 10 Republican senators — a sign that the plan might succeed."
"But Kelly seemed unimpressed by the deal, attendees said, telling the group that Graham and Durbin have always agreed on immigration matters. What would be more impressive, Kelly suggested, is if Hispanic Caucus members worked with conservatives like Sens. Tom Cotton (R-Ark.) and David Perdue (R-Ga.) and Rep. Bob Goodlatte (R-Va.), the chairman of the House Judiciary Committee who introduced a conservative proposal on immigration reform last week."
"Aides to Graham did not respond to requests for comment about how many GOP senators are co-sponsoring the immigration plan. But Durbin told reporters Wednesday that at least six Republicans will publicly co-sponsor their plan once it is formally introduced as legislation."
"Hispanic Caucus members asked Kelly what he thought of another bipartisan deal introduced Tuesday by Reps. Will Hurd (R-Tex.), Pete Aguilar (D-Calif.) and other members. The measure would provide legal protections for dreamers and authorize funding for border security that would be a mix of wall, fencing, security technology and more manpower."
"Kelly said he knew nothing about the bill — a comment that stunned attendees, because Hurd and Aguilar have spent weeks amassing 50 original co-sponsors from both parties."
"Emerging from the meeting, Sen. Robert Menendez (D-N.J.) described the exchange as "a regurgitation of both sides, but I didn't get a sense that the administration has a clear bottom line that gets us to where we need to be."
Rep. Adriano Espaillat (D-N.Y.) added that after weeks of believing that Congress must pass a stand-alone bill that legalizes the status of dreamers, the Hispanic Caucus now supports bipartisan plans to formalize their status and enact changes in border security. The new proposal by Hurd and Aguilar and the bipartisan deal brokered by senators "are the two pathways that we feel are probable to resolving these issues."
"Once the issue of dreamers and border security is resolved, Kelly said during the meeting, he expects the administration and Congress to work together on the future of people with temporary protected status. In recent weeks, the administration has announced the end of temporary protections for hundreds of thousands of people from El Salvador, Haiti and Nicaragua who are living in the United States after natural disasters or violence in those countries."
"But Kelly's comments signaled to members present in the room that Kelly doesn't fully comprehend how TPS works."
"We have to figure out who the heck is still here," Kelly said. "Where are the great Central Americans? How many of them are dead? How many of them went back?"
"People living in the United States with TPS must register with U.S. Citizenship and Immigration Services and provide basic information on their place of residence, and marital and employment status. But they are not required to check in regularly with the agency to update their status or if they are moving back to their home country."
"Rep. Luis Gutierrez (D-Ill.), a vocal opponent of Trump and outspoken proponent of comprehensive immigration reform, apologized directly to Kelly for comments he made in the fall."
[For Latino Democrats, fight for 'dreamers' underscores tense relationship with John Kelly]