How can Democrats in the US Congress deal with the republican leaders when they lie without a second thought and when there is a video proving their lie. I am a C-Span lover. Thanks to C-Span 2, a video has gone viral where the Democratic Senator Claire McCaskill can be seen to be  presenting an amendment to make sure our military troops continued to be paid without interruption but she was shut down faster than a speeding bullet by none other than the US Senate Majority Leader Mitch McConnell. She did this because this was what was done for our men and women serving in the Armed Forces at the last 2013 government shut down.
Yet, the lower House Speaker Paul Ryan went on the Sunday TV News shoe, "Face the Nation" to deliberately lie about this and to say that the Democratic President Barack Obama had deferred the pay for the military when he knew better. He was one of the republicans who voted in favor of a motion to make sure the military did not have their pay interrupted.
Vice President Mike Pence in front of troops on the front line in the Middle East, complained about how the democrats were responsible for the them missing any pay. Instead of talking to the troops to lift them up and letting them know that America appreciates their service, the Vice President was using this time to share a pre-planned talking point. Little did he know that every military media outlet including the "Stars and Stripes"had been reporting the entire story.  It is not possible to go much lower than this.
The public have not been fully informed that the Senate Leader Mitch McConnell shut down Democrat from Montana, Senator Jon Tester's efforts to offer an amendment to keep the government open for 3 days.
Then there are all the multiple attempts by folks from both sides of the aisle to negotiate a deal with the president on immigration issues including DACA (program to prevent deportation of young peoples who came to the US as children with undocumented parents and who know no other country) to where they thought there was an agreement only to be told later, that this was not the case.
It seems that a 32 year old staunch anti-immigrant advocate, Stephen Miller has been the one leading the president by the nose when it comes to any immigration issue.
See (below) how Iraq War veteran, Senator Tammy Duckworth (D-IL) addresses these issues.
Here's the rest of the story…
On January 21, 2018, Elena Schor of Politico penned the following article,  "Graham tees off on Stephen Miller over immigration"
Excerpts:
"Sen. Lindsey Graham (R-S.C.) on Sunday (1/21/18) renewed his criticism of White House aides' handling of immigration, portraying them as having undercut President Donald Trump's ability to cut a deal as the government shutdown entered its second day."
"Graham singled out White House senior policy adviser Stephen Miller, a pugnacious conservative who has a keen focus on restrictive immigration policy."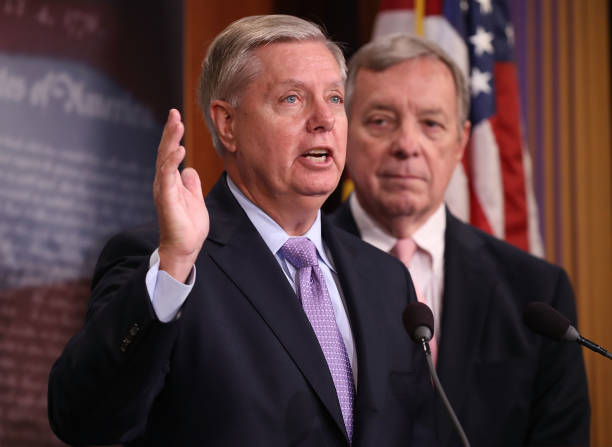 "As long as Stephen Miller is in charge of negotiating immigration, we are going nowhere. He's been an outlier for years," Graham told reporters as he entered a meeting of more than a dozen senators from both parties who have worked since the shutdown began to carve out space for a compromise."
""The South Carolina Republican appeared earlier this month to have forged a détente with Miller, who fought bipartisan attempts at an immigration deal in 2013 as an aide to then-Sen. Jeff Sessions (R-Ala.). But Graham, who has recently also tangled with fellow GOP Sen. Tom Cotton of Arkansas, gave specific examples on Sunday of Trump aides leaving the president ill-served in immigration talks."
"I've talked with the president — his heart is right on this issue," Graham said. "He's got a good understanding of what will sell, and every time we have a proposal it is only yanked back by staff members."
"Graham pointed to a handout that was distributed to lawmakers in both parties last week. It detailed a White House request for $18 billion in border security spending as part of an immigration deal. But Trump quickly disavowed the proposed compromise."
"Trump responded to his own staff's proposal by saying "I could do it for less" than $18 billion, Graham recalled. "So what does the White House staff do a couple of days later? They pitch a proposal for $33 billion. That's just not credible."
"The bipartisan Senate group met Sunday afternoon with the goal of crafting a proposal to set up an immigration vote in that chamber, as well as an agreement to reopen the government until Feb. 8."
"After leaving the meeting, Graham praised White House chief of staff John Kelly for having "brought order to chaos." While Miller has "evolved on a pathway to citizenship," Graham added, "his view of immigration has never been in the mainstream in the Senate."
"He also praised another occasional sparring partner within his own party, Sen. Rand Paul (R-Ky.), for going on CNN on Sunday to propose that the "Senate work its will" on immigration despite lingering uncertainty as to what agreement Trump would back."
On January 20, 2018, Caroline Orr of Shareblue Media penned the following report, "Senator Duckworth Slams President." ("Iraq War vet Tammy Duckworth nails Trump: I will not be lectured by a draft dodger")
Excerpts:
"I have a message for Cadet Bone Spurs: If you cared about our military, you'd stop baiting Kim Jong Un into a war that could put 85,000 American troops … in danger."
"Senator Tammy Duckworth (D-IL), a U.S. Army veteran who lost both her legs while serving in the Iraq War, is no stranger to
calling out Donald Trump
 for his horrid treatment of our military and veterans."
"And on (1/20/18), she delivered another fiery take-down of ostensible commander in chief." 
"I will not be lectured about what our military needs by a five deferment draft dodger," she declared on the Senate floor.
"Duckworth's remarks came one day after Trump and his Republican allies in the Senate presided over a government shutdown that put political brinkmanship ahead of national security and the well-being of U.S. service members."
"Trump, who led the charge, started the day Saturday by accusing Democrats of "holding our Military hostage over their desire to have unchecked illegal immigration."
Citing Trump's tweet, she slammed Trump for his baseless accusations and delivered a scorching retort to his bluster.
"I spent my adult life looking out for the wellbeing, the training, the equipping of the troops for whom I was responsible," Duckworth said. "Sadly, this is something the current occupant of the Oval Office does not seem to care to do."
"I will not be lectured about what our military needs by a five deferment draft dodger," she said, referring to Trump's five deferments from the draft during the Vietnam War."
"And I have a message for Cadet Bone Spurs: If you cared about our military, you'd stop baiting Kim Jong-un into a war that could put 85,000 American troops and millions of innocent civilians in danger."
"As Duckworth noted on Friday, the Pentagon actually warned this week that a short-term spending bill like the one offered by the GOP could have "wasteful and destructive" national security ramifications."