Finally, the true intent of the republican Donald Trump and his sycophants in the US Congress and in the White House Have been revealed. These players include the Congressional Senators Tom Cotton of Arkansas and David Perdue of Georgia, and the president's staffers, General John Kelly, Chief of Staff,  Stephen Miller, a Senior Adviser and Gene Hamilton, an aide to Jeff Sessions and former ICE official who played a crucial role in the Trump Administration's termination of DACA.
The republicans have been holding DACA (program to prevent deportation of young peoples who came to the US as children with undocumented parents and who know no other country) as a bargaining tool to get Democrats to sign off on their real intent which is to cut back on "legal immigration." The cut back of legal immigration is the crux of the legislation sponsored by Senators Tom Cotton and David Perdue. 
The president doesn't just want his wall with added border security but the cut back of legal immigration.  Democrats should argue that the cutting back of legal immigration should not be a part of this negotiation to fix the DACA (Deferred Action for Childhood Arrivals) program, but it should be part of a comprehensive immigration plan. It should be explained that an increase of legal immigration is essential to spur economic growth and this policy is widely backed by big business.  In addition, there is not enough time before February 8, 2018 to deliver on a comprehensive immigration plan.
For Review:
Robert Reich, former Secretary of Labor, for which Time Magazine named him one of the ten most effective cabinet secretaries of the twentieth century. In October 2015, he wrote the following warning piece about immigration.
THE 4 BIG LIES ABOUT IMMIGRANTS – AND THE TRUTH
Donald Trump has opened the floodgates to lies about immigration. Here are the myths, and the facts
MYTH:  Immigrants take away American jobs. 
Wrong. Immigrants add to economic demand, and thereby push firms to create more jobs.
MYTH: We don't need any more immigrants. 
Baloney. The U.S. population is aging. Twenty-five years ago, each retiree in America was matched by 5 workers. Now for each retiree there are only 3 workers. Without more immigration, in 15 years the ratio will fall to 2 workers for every retiree, not nearly enough to sustain our retiree population.
MYTH: Immigrants are a drain on public budgets. 
Bull. Immigrants pay taxes! The Institute on Taxation and Economic Policy released a report this year showing undocumented immigrants paid $11.8 billion in state and local taxes in 2012 and their combined nationwide state and local tax contributions would increase by $2.2 billion under comprehensive immigration reform.
MYTH: Legal and illegal immigration is increasing. 
Wrong again. The net rate of illegal immigration into the U.S. is less than zero. The number of undocumented immigrants living in the U.S. has declined from 12.2 million in 2007 to 11.3 million now, according to Pew Research Center.
Here's the rest of the story…
On January 25, 2018, Michael D. Shear and Sheryl Gay Stolberg of the New York Times penned the following report, Trump Immigration Plan Demands Tough Concessions From Democrats.
Excerpts:
President Trump proposed legislation on Thursday that would provide a path to citizenship for as many as 1.8 million young undocumented immigrants in exchange for an end to decades of family-based migration policies, a costly border wall and a vast crackdown on other immigrants living in the country illegally.
Describing the plan as "extremely generous" but a take-it-or-leave-it proposal, White House officials said they hoped it would be embraced by conservatives and centrists in Congress as the first step in an even broader effort to fix the nation's immigration system.
Officials said the legislation would pave the way to citizenship not only for the 690,000 people who had signed up for protection under an Obama-era program, known as Deferred Action for Childhood Arrivals, or DACA, but also for another 1.1 million undocumented immigrants who would have qualified for the program but never applied. Mr. Trump ended the DACA program, whose protections did not include a path to citizenship, last September.
"But the new plan — drafted by Stephen Miller, the president's hard-line domestic policy adviser, and John F. Kelly, the White House chief of staff — was immediately rejected by Democrats, immigration advocates and some Republicans, with some describing it as nothing but an attempt to rid the country of immigrants and shut the nation's borders."
"Republican and Democratic senators are working on a narrower immigration plan of their own. They hope that if it can pass the Senate with a strong bipartisan majority, it will put pressure on the House — where attempts at immigration overhauls have died in recent years — to pass the legislation as well."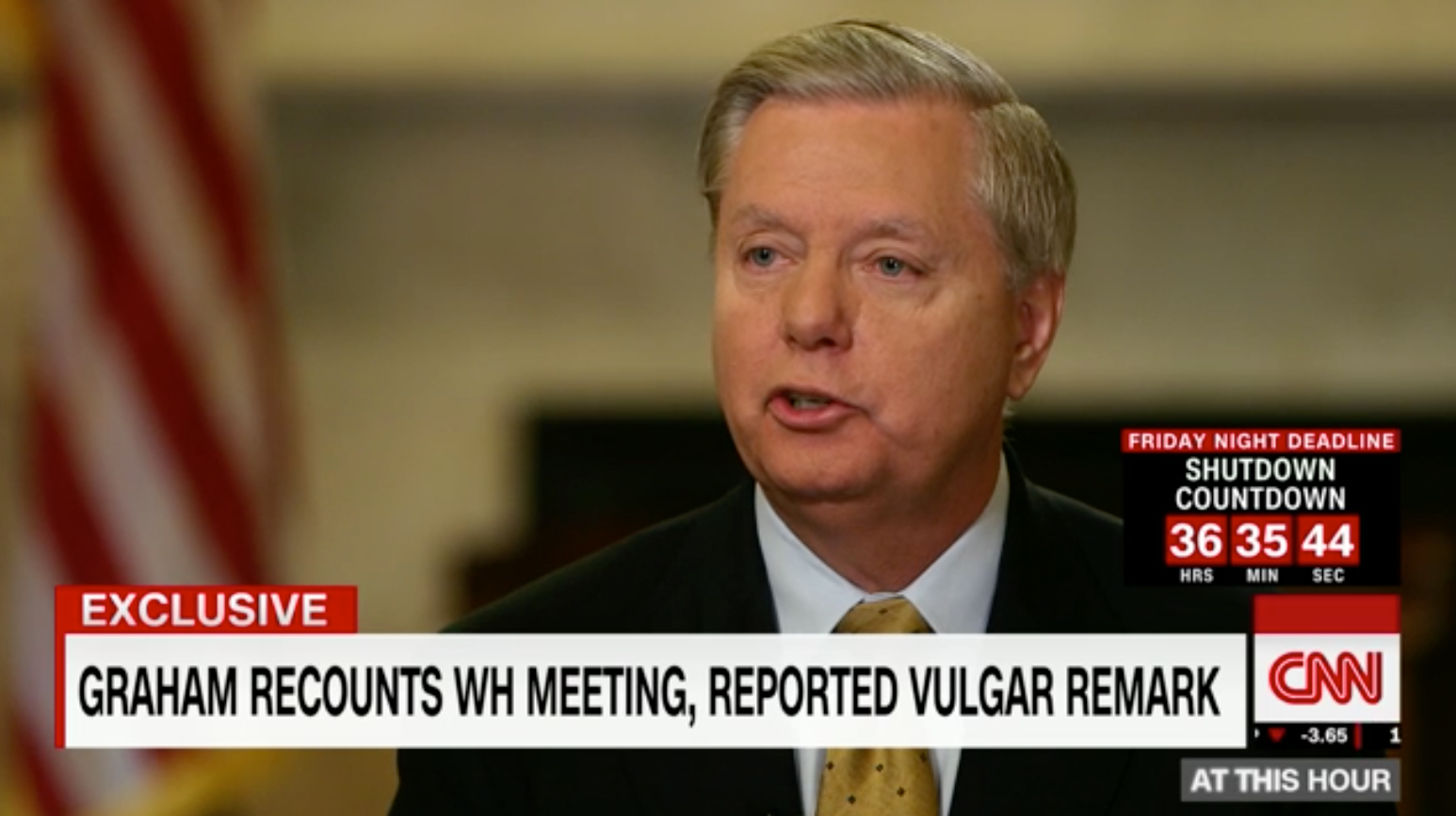 "Senate passage of a bipartisan bill could perhaps leave Mr. Trump with the take-it-or-leave-it decision. Just over two weeks ago, in a televised negotiating session at the White House, Mr. Trump said he would sign anything that got to him."
"Senators Lindsey Graham of South Carolina and Jeff Flake of Arizona — Republicans who have in the past fought against hard-line immigration policies — said the Senate was unlikely to simply accept the president's legislation."
"We're getting started without them," Mr. Flake said. Mr. Graham said bluntly, "This is a negotiation."
"Members of both parties said that legislation would have a better chance of passing if it focused on legal status for DACA recipients without a dramatic crackdown on illegal immigrants or new restrictions on legal immigration for extended family members."
"Anti-immigration activists also assailed the plan, though for the opposite reason. Breitbart News greeted word of the president's plan with the headline "Amnesty Don Suggests Citizenship for Illegal Aliens."
"Under Mr. Trump's plan, described to reporters by senior White House officials, young immigrants who were brought into the US illegally as children would be granted legal status, would be allowed to work, and could become citizens over a 10-to-12-year period."
"In exchange, Congress would have to create a $25 billion trust fund to pay for a southern border wall, dramatically increase immigration arrests, speed up deportations, crack down on people who overstay their visas, prevent citizens from bringing their parents to the US, and end a State Department program designed to encourage migration from under-represented countries (the diversity visa lottery)."
"White House officials said that the list of enhanced security measures — which have been on anti-immigration wish lists for decades — were nonnegotiable. They warned that if no deal is reached, DACA recipients will face deportation when the program expires on March 5."
"One senior official said the young immigrants would not be targeted, but are "illegal immigrants" who would be processed for deportation if they came into contact with immigration officers."
"Officials said the president's decision to formally present a plan to Congress was a direct response to members of Congress, including Senator Mitch McConnell of Kentucky, the majority leader, who had complained that they did not know where the president stood in the immigration debate."
"We're basically signaling that this is the bill the president can sign," one senior official said during the briefing."
From left, Senate Majority Leader Mitch McConnell, R-Ky., Senate Finance Committee Chairman Orrin Hatch, R-Utah, and Treasury Secretary Steven Mnuchin (AP Photo/J. Scott Applewhite)
"Officials said they expected Mr. McConnell to bring the president's plan to the Senate floor for a vote during the week of Feb. 5, just days before the Feb. 8 expiration of a short-term government spending plan."
"The president's legislative proposal is designed to exert maximum pressure on Democrats, who are desperate to protect the young immigrants, known as Dreamers, but who fiercely oppose the policies embraced by hard-liners like Mr. Miller."
"The strategy would work only if the Senate fails to reach a broad bipartisan accord on an alternative: legislation that would protect the Dreamers and bolster border security, but reject the most draconian aspects of the White House's proposal." 
"And even as Mr. Trump was offering reassuring words to the Dreamers — "tell them not to worry," he told reporters Wednesday evening — senior White House officials were emphasizing the more hard-line features of their forthcoming immigration proposal."
"In September, Mr. Trump ended the DACA program and set it to expire at the beginning of March, when recipients would no longer be able to work legally in the United States and would once again face the threat of deportation."
"Democratic lawmakers and activists say they will refuse to accept any proposal that requires them to forsake the well-being of other immigrants, including the parents of the Dreamers, to secure the fate of the young immigrants themselves."
"It is shameful that the White House is holding these youth hostage in exchange for their extreme immigration agenda," said Kevin Appleby, the senior director of international migration policy for the Center for Migration Studies.
"On Thursday (1/25/18), a bipartisan group of senators calling itself the Common Sense Coalition gathered in the office of Senator Susan Collins, Republican of Maine, to discuss the immigration issue. At issue is the scope of the bill. Some senators want to draft a narrow bill that bolsters border security and codifies protections now extended to DACA recipients, which do not include a path to citizenship. Others say the legislation should take Mr. Trump up on his offer of citizenship, but to do that, lawmakers might have to take the rest of the White House's deal."
"Do we simply codify what DACA is and extend it out over a period of time, or do we try to go farther than that as the president is suggesting?" asked Senator Mike Rounds, Republican of South Dakota. "If you do that, you have to address the issue of chain migration, and that's where it becomes a lot more complicated."
"Hard-liners, apparently led by Senator John Cornyn of Texas, the No. 2 Republican in the Senate, say the White House's strategy needs to be considered — and that means four elements: Dreamers; border security and a wall; chain migration; and an end to the diversity visa lottery."
"Everybody wants to alter reality in a way that sort of suits their needs," Mr. Cornyn said. "But the reality is the president said there has to be four pillars. People just need to accept that and deal with it."
"Senator Richard J. Durbin, Democrat of Illinois, and Mr. Graham have been leading bipartisan talks on immigration. Their initial proposal — which did not include the president's more hard-line proposals — was rejected by Mr. Trump during a White House meeting in which the president used vulgarities to describe Africans."
"On Wednesday (1/24/18) night, Mr. Graham held a meeting with a far larger group of about 30 senators. They decided that Mr. Durbin, the No. 2 Democrat in the Senate, and Mr. Cornyn would each function as a clearinghouse for ideas on immigration from their respective parties."