The Koch brothers and all the other republican donors have invested heavily in the Republican Party so that its members can hold the majority of seats in the US Congress with their man in the White House. They are not about to go gently into that good night without doing everything possible to blunt the predicted upcoming tsunami of democratic wins in the mid-term November 2018 elections.
Here's the rest of the story…   
On January 30, 2018, Tim Mak of NPR penned the following report, "Koch Brothers, Behind Tea Party Wave, Face Democrats' Rising Tide In 2018"
Excerpts:
"Eight years ago, the Koch brothers' network spent millions to help boost the Tea Party wave."
"In 2010, the right benefited from historical trends: Midterm elections are traditionally disastrous for the president's party. Close to a decade later, the wave is rolling back in."
"You're just going against the tide. You're going against history, which makes it a little tough," quipped network official Tim Phillips, president of the grassroots organization Americans For Prosperity."
The topic of how to defend the conservative majority was all the buzz over the past few days as some 550 well-heeled donors gathered at the palatial Renaissance Esmeralda near Palm Springs, Calif.
"The energy that you saw [on the right in 2010] is on the left right now" and the prospects "are scary," donor Christopher Wright, the CEO of Liberty Oilfield Services, told NPR. "We moved the freedom ball forward a fair bit in 2017, but that could come nearly to an end if Democrats take control of the House and/or the Senate. Very real chance that happens."
The network, which includes 700 high-dollar donors who contribute at least $100,000 annually, is a powerful force in the American political landscape promoting libertarian economic and social policies. And they're gearing up to spend big money — scowling in the face of what could be an electoral tsunami if history is a guide.
Facing this challenging midterm environment, the Koch network will spend nearly $400 million over the 2018 cycle to defend conservative policy gains from last year. This is 60 percent higher than they spent in the 2016 election cycle, which included a presidential campaign.
This commitment is also an order of magnitude higher than what their network of conservative and libertarian donors contributed in the 2010 election — a campaign during which billionaire brothers Charles and David Koch burst into the national consciousness as villains for the left, due to their millions in funding for free market causes.
"It all seems so quaint now. During the 2010 cycle, the Koch network spent a comparatively meager $125 million to influence American policy and politics."
"Cautiously at first, the Koch network eventually embraced the Tea Party movement during its ascendence."
"Their plan this year is to drive the right's enthusiasm up by highlighting the GOP-controlled Congress' only major legislative achievement — a massive tax cut bill, which also zeroed out Obamacare's individual mandate."
"In [the Obama] years, we were really explaining just how terrible Obamacare was… our job [now] is to explain why these tax reforms are benefitting a lot of people, why getting good judges through helps the quality of life in America, why veterans administration reforms protects one of our most precious assets," Phillips said, regarding the about-face change in circumstances."
The Koch network plans to spend at least $20 million on telling voters about the benefits of Congress' tax legislation through paid television advertisements, digital efforts and town halls. And that's on top of the $20 million they already spent advocating for the tax efforts to pass.
"There's this emotional component [to supporting tax reform] there that's every bit as emotional, every bit as powerful as the emotions around why Obamacare was so bad for people," Phillips insists. "There's emotion on both sides, and our job is to make sure we drive that."
"But the political right may soon confront, electorally, how much harder it is to take credit than it is to cast blame."
"It's a more sophisticated sell, which means it's a harder sell," Wright said.
There's no denying that the momentum is with the other party — and they don't deny it.
"We acknowledge the left is energized right now. There's no question about that. It's not just marches and such that they're doing. It's showing in some of the recent elections," Phillips said."
And if they get swept away by a Democratic wave this November? The Koch network's spokesman argues that it is still worth spending hundreds of millions to blunt the left's momentum.
"We're focused on the long term. A political committee or candidate might take that approach, of not spending money because they're inevitably going to lose," Davis said. "Even in ads that we would run or efforts that we'd be making in the field today for a candidate, they're going to be around particular issues. So we're still educating, in that process, educating the American people on the principles and the values of how that particular public policy change will help improve their lives."
"Free trade, once an orthodoxy on the right, is now in question. Comprehensive immigration reform, around which a large number of business-minded Republicans agreed was necessary, now seems like a distant memory."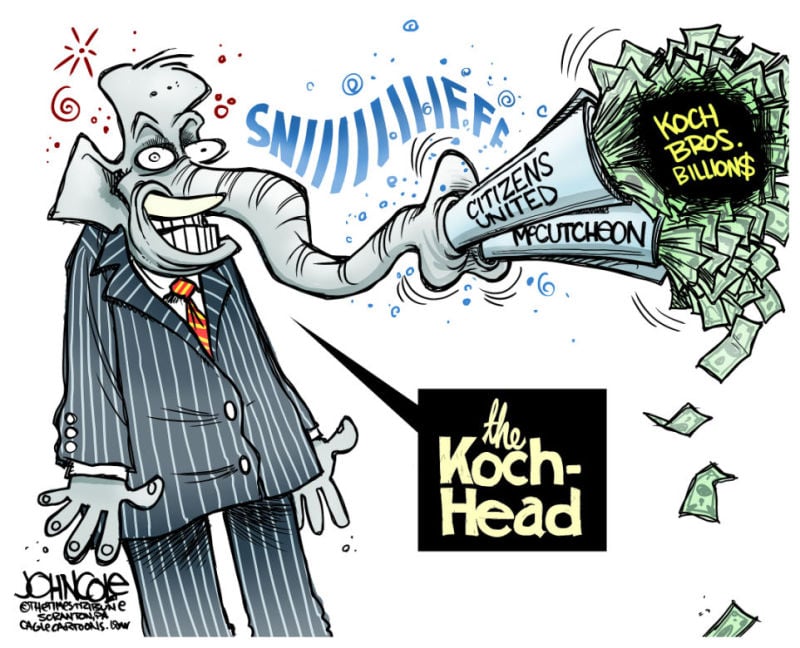 "And then, of course, there is the matter of Trump."
"Trump gives [the left] plenty of fodder to oppose, and to arouse people's emotions, and to energize people. They probably have an easier sell this year than Republicans or 'Team Freedom' does." Wright said."
"The Koch network preaches openness on immigration ("immigrants are essential to the success of our country," said one official); a respect for the press (essential for a "free and open society," another official preached to the hundreds of assembled activists); and a second chance for felons (the criminal justice system is morally indefensible, constitutionally dubious and fiscally ruinous, according to a top Koch network lawyer)."
"But network officials don't much want to directly discuss the president. They shake off questions about Trump's rhetoric and popularity; and pivot to talking about, well, tax cuts."
"We don't get involved in personalities, and all the other stuff. That's just not what we do as a network. We focus on explaining to you the problems with certain policies… or we focus on, 'Hey these are good policies, and here's why they're good,'" Phillips said.
On January 29, 2018, Kathryn Watson of CBS News penned the following report, "How the Koch brothers plan to keep America red in November"
Excerpts:
"The fearsome political network backed by billionaire donors Charles and David Koch has a strategy to keep America red in November 2018."
"The goal is simple: They're prepared to spend upwards of $400 million to keep the House, Senate, state legislative chambers and governorships firmly in Republican hands."
"Achieving that goal will not be so simple. The Koch network — comprised of business and political advocacy arms and thousands of donors — is gearing up for what they see as perhaps the toughest election in which they have ever invested. AFP (Americans for Prosperity) president Tim Phillips said he sees 80 competitive House races this year. House Minority Leader Nancy Pelosi only needs 24 seats, he noted, to again become speaker of the House."
"Historically, the new president's party suffers in the midterms at both the federal and state levels. We think about Bill Clinton in 1994, Barack Obama in 2010," Seidel said. "Both had approval ratings in the mid 40s and suffered tremendous losses in the House and Senate. Now making the environment even more challenging this year are the high unfavorable ratings plaguing both President Trump and the Republican-led Congress. And the recent elections in Virginia and Alabama suggest that both anger and enthusiasm are high among progressive groups. And so, many are saying 2018 may be a wave. And the Democrats are certainly fundraising off that."
"Seidel and Phillips emphasized to donors in the room Monday — donors who had to contribute at least $100,000 to attend the winter gathering of what is known as the Network Seminar — how crucial those victories are for protecting Republican achievements in 2017, such as tax reform."
But Phillips said AFP and their allies already have the grassroots support and strategy in place to maintain GOP majorities.
"Here is how their strategy breaks down:"
The Senate
With Republicans holding a razor-thin majority of 51 to 49 seats in the Senate, the Koch network wants to invest in paid media ads early. Seidel said most voters decide who to support long before ads hit the air, and that they don't want to invest in the races that are a clear win or a clear loss.
"See, we take a business-like approach to this," she said. "We don't want to waste resources on a race that's either a clear loss or a clear win. We want to make the difference."
Right now, the Koch network is analyzing 14 competitive Senate races. Already, they've already found four they intend to invest in, targeting Democratic incumbents in Wisconsin, Indiana, Missouri and Florida. Those are all races where AFP and its affiliates will be on the offensive, working to take those states from Democrats. They're also all states Mr. Trump won in 2016.
In Florida, the network already has tens of thousands of activists in place. The Koch-affiliated Libre Initiative, a Hispanic outreach organization, has already been knocking on doors to tell people how their senators voted on the new tax law, and pitch the benefits of it to Florida voters. The Koch network has announced it will spend $20 million on what is effectively a public relations campaign for the tax law, after spending $20 million to help it pass.
"We're the only group on the outside that has the infrastructure to seize opportunities across these states," Seidel said.
The House
The Koch network's data arm, i360, is using complex data analytics to rank competitive House races. AFP and related groups will weigh the most competitive races, and determine which politicians champion their causes, and who has the best chance of winning, to decide where to invest ahead of November.
"By the time we get to late spring, that list will be much more developed because the races will be developed," Phillips said.
Then, the network will look to direct mail and digital efforts to reach voters. In late summer into early fall, AFP and others will also be ramping up their grassroots efforts.
The governor seats
This fall, 36 governor seats are up for grabs, 26 of which are currently held by Republicans. AFP is analyzing 15 races to determine which ones to invest in ahead of November, and they've already selected five — Nevada, Wisconsin, Illinois, Michigan and Florida, which all currently have Republicans in the governor's office.
They're already engaging with media buys, and recently bought a seven-figure ad buy supporting Adam Laxalt, Nevada's current attorney general who is vying to be the next GOP governor.
The state legislative seats
AFP will also be investing in state legislative races.
"These races are so critical to our overall strategy," Seidel said.
Republicans in the last decade have been gaining ground in statehouses across the country. In 2010, the GOP controlled 14 state legislatures. After the 2016 election, they controlled 32, an historic high for them, and a historic low for Democrats.
But the fragility of some of that control became especially apparent after Virginia's Republican House of Delegates nearly lost their majority to Democrats by one vote in one race. The AFP and allied groups will decide which races are the most competitive in the most competitive chambers, and support those candidates.