The words by a White House insider that the president's Chief of Staff General John Kelly is a "big fat liar" rings true. General Kelly covered for the Staff Secretary Rob Porter for over a year when he had been informed by the FBI that the young man would not qualify for his "security clearance" status because of his history of domestic abuse which exposed him to possibly being blackmailed in the future. Yet this same man with only an interim security clearance status had unencumbered access to the most sensitive classified material possible which he regularly shared with the republican President Donald Trump.
It was only when this story was made public by media outlets, did Rob Porter resign in haste. Instead of General Kelly coming clean about this situation, he has continued to deliberately lie about the sequence of events and his role in this debacle. What's worse is that he ordered staffers to lie as well. He ill-served his boss as far as we know, the president was caught unawares.
 Here's the rest of the story…
On February 13, 2018, Ashley Parker, Philip Rucker, and Josh Dawsey of the Washington Post penned the following report, "White House reels as FBI director contradicts official claims about alleged abuser" (There's a link to the entire report below)
Excerpts:
"The White House struggled Tuesday (2/13/18) to contain a widening crisis over its handling of domestic violence allegations against a senior official, as it reeled after sworn testimony by the FBI chief directly contradicted what President Trump's aides had presented as the official version of events."
"FBI Director Christopher A. Wray told the Senate Intelligence Committee that the bureau had completed a background report on then-staff secretary Rob Porter last July and closed out the case entirely last month. Wray's account is at odds with White House claims that the investigation required for Porter's security clearance was "ongoing" until he left his job last week, after his two ex-wives publicly alleged physical and emotional abuse."
"The latest bout of turbulence is exacerbated by the administration's reputation, earned over 13 chaotic months, for flouting institutional norms and misrepresenting facts to the public."
"The public relations fallout is further compounded by Trump's own history of alleged sexual assault and his seeming reluctance to publicly condemn violence against women and give voice to the national #MeToo reckoning."
"The president has said little publicly about the Porter issue other than to praise the former aide for doing "a very good job." But he has privately expressed frustration with the week-long fallout, peppering advisers and confidants with questions about the media coverage and how the controversy is playing for him personally."
"The Porter drama has become all-consuming, creating an atmosphere of chaos and infighting reminiscent of the "Game of Thrones" stage early in Trump's presidency — and distracting from the administration's budget and infrastructure agenda."
Many aides blame Kelly
"Inside the West Wing, a growing number of aides blamed Trump's second White House chief of staff, John Kelly, for the bungled handling of the allegations against Porter. Trump in recent days has begun musing about possible replacements, according to people with knowledge of the conversations."
"Asked by a reporter to assess Kelly's standing with Trump after a week of troubling revelations, White House press secretary Sarah Huckabee Sanders said that "the president has confidence in his chief of staff."
"But Kelly does not enjoy the confidence of an increasing number of his subordinates, some of whom said they believe that the retired four-star Marine Corps general has misled them."
"Kelly is "a big fat liar," said one White House official, who spoke on the condition of anonymity to share a candid opinion. "To put it in terms the general would understand, his handling of the Porter scandal amounts to dereliction of duty."
""This portrait of the West Wing in turmoil is based on interviews with more than a dozen top White House officials and outside advisers and confidants, most of whom spoke on the condition of anonymity because they feared retribution."
"Kelly's attempts at explaining his role, according to some aides, have included telling senior staff members last Friday (2/8/18) to communicate a version of events many believed to be false, as well as telling at least one confidant that he has "a good bulls— detector" and had long detected troubling characteristics in Porter."
"But Kelly initially defended Porter last week as "a man of true integrity and honor." And in recent weeks, Kelly was even considering giving Porter an expanded role in policy development, a potential promotion first reported by CNN."
"Credibility is the coin of the realm for any White House chief of staff, and it's especially important in a White House where truth was the first casualty and credibility has been the second," said Chris Whipple, who wrote a book about chiefs of staff."
"The internal animus is not limited to Kelly. White House counsel Donald McGahn and deputy chief of staff Joe Hagin are also facing scrutiny over how Porter managed to work at the White House — and hold an interim security clearance — for more than a year despite the allegations of abuse during his two marriages.
Wray disputes account
On Tuesday, Wray contradicted the White House's account of when the bureau informed officials about the status of Porter's security clearance investigation.
"White House officials had said that they were first contacted last summer by the FBI about Porter's clearance, and that the investigation as of last week was "ongoing" and had not been completed."
"But Wray, testifying before the Senate Intelligence Committee, said that the FBI submitted a partial report on Porter's clearance last March and that the investigation was completed last July. Soon after, he added, the FBI received a request for a follow-up, which the bureau completed and provided last November."
"The FBI closed the file in January, and when it received additional information this month, "we passed it on as well," Wray said."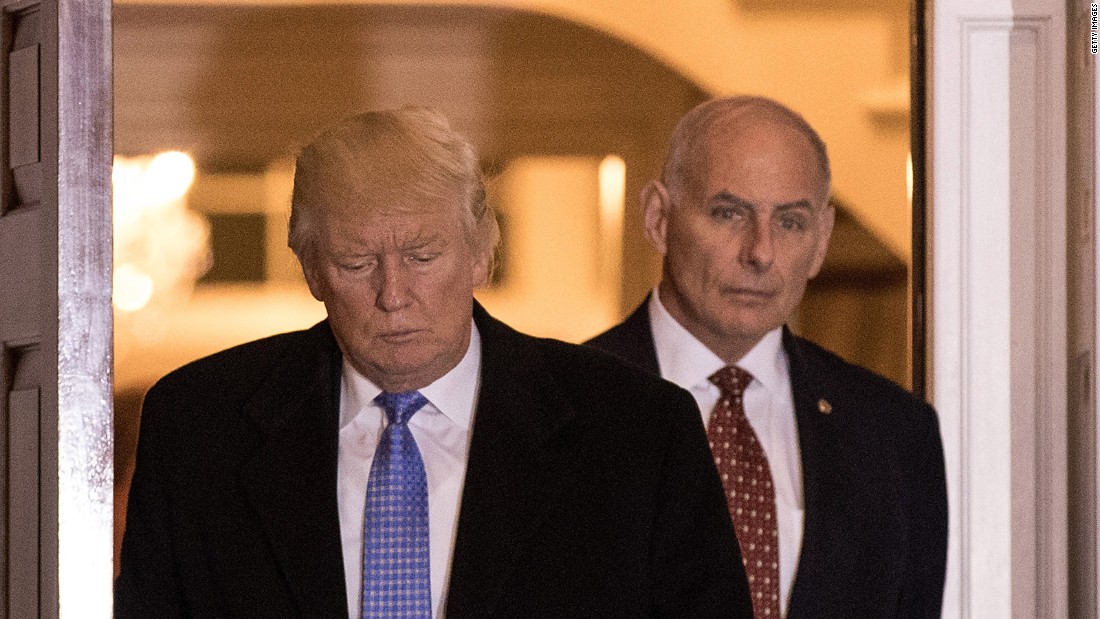 "At the White House, Sanders sought to square the conflicting timelines, arguing that even after the FBI closed its investigation, the presidential personnel office was still reviewing Porter's case when he resigned last week."
"Clearly things happened after the FBI delivered this information to the White House that resulted in Porter's case just pending for an extended period of time in the personnel office," said Ron Klain, a senior White House aide in the last two Democratic administrations. "It was a deliberate decision to let him stay at the White House with this hanging over his head."
The fallout has left Kelly with diminished internal support."
Several Kelly antagonists have sought to fan speculation that his position may be in imminent danger, noting that Trump has been seeking counsel from friends about who he might bring on as a new chief of staff. The president has floated replacing Kelly with either Gary Cohn, the director of the National Economic Council, or House Majority Leader Kevin McCarthy (R-Calif.) — though Trump has often sounded out friends about personnel changes that he ultimately does not make.
Nonetheless, one foe described Kelly as "well done," while another said he was in "big league" trouble.
Link to Washington Post report: White House reels as FBI director contradicts official claims about alleged abuse