I was watching some of the US Senators debate the immigration issues including the DACA program on C-Span2 TV today (2/15/18) when one of the speakers referred to a press release by the US Department of Homeland Security (DHS)  thrashing all the bi-partisan immigration reform bills while backing only President Donald Trump's "four pillars" of immigration reform, laid out in his State of the Union address Jan. 30. Senator Tom Carper (D-DE) mentioned this DHS report that was full of distortions and misinformation.
I did track down the DHS press release which was picked up by every conservative right media outlet such as Breitbart, the Daily Signal, the Daily Caller and Frontpage Magazine.
The "four pillars" of immigration reform is exactly what the republican President Donald Trump's Chief of Staff General John Kelly had been pushing at that same meeting  In January 2017, where the president referred to certain countries as sh_tholes. It appears that the former head of DHS , General John Kelly and his handpicked replacement Secretary Kirstjen Nielsen have been operating on the same page as proponents of this "four pillar" plan.
It is important for readers to know that this press release is what many republican senators took to heart before the commencement of these debates which frankly doomed the passage of any bi-partisan proposals.  This is what DHS wrote.
Disclaimer added on 2/15/18: A per https://mediabiasfactcheck.com/daily-signal, the Daily Signal is not a reliable source., but that is the point of this post. This was what the GOP US senators with a more conservative bent were looking at first thing on the morning of 2/15/18. This DHS press release was spread over every right wing media platform.
Because of its partisan nature and because it was full of falsehoods, it would never be printed on papers by NYT, WAPO, ETC. But it should have been because this document needed to be fact-checked to be a counter message to what was detailed in the DHS document.
This right wing media outlet is what the president's followers are reading.  Although they are the ones in the minority, they the ones who are driving policy. "We the people" cannot ignore this reality.
We just saw them and the president do what they have been wanting to do but couldn't because it put them in a bad light with the public who are strongly of favor for fixing DACA. THE RIGHT WING ANTI-IMMIGRATION REPUBLICANS NEVER WANTED DACA AND THEY KILLED IT WITH THIS DHS "FAKE NEWS" REPORT.
The anti-immigration conservative proponents have every right to print and share their opinions but they do not have the right to disseminate outright falsehoods without being challenged on their assertions.
Here's the rest of the story…
On February 15, 2018, Kyle Perisic of the Daily Signal penned the following report, Senate Bill 'Destroys' Ability to Enforce Immigration Law, DHS Says
Excerpts:
"The Department of Homeland Security came out swinging early Thursday (2/15/18) against a Senate bill that it said would grant amnesty to an estimated 10 million illegal immigrants and "destroy" the agency's ability to remove illegal residents from the country."
"It would be the end of immigration enforcement in America and only serve to draw millions more illegal aliens with no way to remove them," the DHS wrote in a lengthy press release that doesn't name or quote any department officials.
"By halting immigration enforcement for all aliens who arrived before June 2018, it ignores the lessons of 9/11 and significantly increases the risk of crime and terrorism."
"The bill slammed by homeland security officials is sponsored by Senate Minority Leader Chuck Schumer, D-N.Y.; Sen. Mike Rounds, R-S.D.; and Sen. Susan Collins, R-Maine."
"DHS calls it an "egregious" violation of President Donald Trump's "four pillars" of immigration reform, laid out in his State of the Union address Jan. 30."
"Trump's 4 pillars include:"
—"Providing a pathway to citizenship to about 1.8 million so-called "Dreamers," those brought to the U.S. illegally as children."
—"Securing the southern border with $25 billion for walls, fencing, and other measures."
—"Abolishing the Diversity Visa Lottery system, by which visa recipients are selected randomly rather than based on merit."
—"Ending chain migration, the policy that allows immigrants to bring in family members who might not otherwise have qualified to enter."
"The DHS said the Schumer-Rounds-Collins bill either ignores or violates each of the four pillars."
"Trump apparently agreed, writing on Twitter that the bill would be "a total catastrophe":
The Schumer-Rounds-Collins immigration bill would be a total catastrophe. @DHSgov says it would be "the end of immigration enforcement in America." It creates a giant amnesty (including for dangerous criminals), doesn't build the wall, expands chain migration, keeps the visa…
 "
The department said the legislation from Schumer, Rounds, and Collins would provide a "safe, enforcement-free haven" for more than 10 million illegal immigrants. It is not a "Dreamer" bill, the agency said, but rather would give "mass amnesty" for illegal immigrants regardless of age."
"The bill would expand chain migration and keep the diversity lottery, DHS said."
"The legislation also would fail to secure the border, the department says, because it would leave "long-standing loopholes wide open," the agency said, "undermining [its] ability to remove aliens and perpetuating the catastrophic 'catch and release' policy."
"These loopholes create a dramatic pull factor for illegal immigration," DHS said.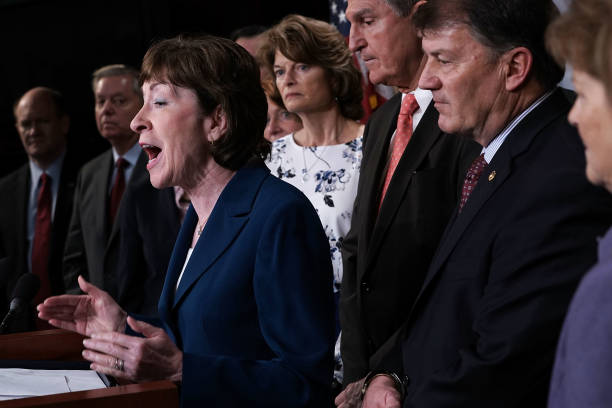 A Note for our Readers: