The news is out already that the president's former campaign manager Paul Manafort's long time business associate and campaign deputy Rick Gates has pled guilty in exchange for a plea deal with the FBI in its Trump-Russia probe. In the plea deal, the name that pops up is the republican California US congressional Rep. Dana Rohrabacher, a well known Russian apologist. This news reminds me of the following story.
As per a 5/17/17 LA Times report by Sarah D. Wire, "In a private meeting with Republican colleagues last year, House Majority Leader Kevin McCarthy commented that then-presidential candidate Donald Trump and California congressional colleague Rep. Dana Rohrabacher (R-Huntington Beach) were being paid by Russian President Vladimir Putin."
"There's two people I think Putin pays: Rohrabacher and Trump," McCarthy said in the recording of a June 15 exchange obtained and published by the Washington Post. At that point, House Speaker Paul D. Ryan (R-Wis.) cut off the conversation and swore those present to secrecy."
But why would Representative Rohrabacher's name be mentioned in the FBI's plea deal with Rick Gates?
In an aside, this story tells me that republicans were already fully aware that President Donald Trump was probably in the pocket of Russia as they supported him to become our 45th US president.
Here's is the rest of the story…
On February 23. 2018, Akbar Shahid Ahmed of the Huff Post penned the following report, "Pro-Russia GOP Congressman Features Prominently In Trump Aide's Plea Document"
"Rep. Dana Rohrabacher has been interviewed by congressional investigators but not yet by special counsel Robert Mueller."
"The criminal information document released by special counsel Robert Mueller ahead of Trump campaign aide Rick Gates' guilty plea on Friday contains prominent references to "a member of Congress" who met in 2013 with future Trump campaign chairman Paul Manafort and another lobbyist."
"HuffPost has identified that member as Rep. Dana Rohrabacher (R-Calif.), a loudly pro-Russia lawmaker who has drawn the attention of Mueller and congressional investigators probing Russian interference in the 2016 presidential election."
"Mueller has not yet interviewed Rohrabacher, the congressman's spokesman told HuffPost on Friday in a message that also confirmed the 2013 meeting with Manafort. But Mueller's team wanted to interview Rohrabacher as of late last year, according to news reports, and the criminal information released in advance of Gates' plea suggests they were asking about Rohrabacher recently. The congressman has already been interviewed by the House and Senate Intelligence committees."
"Gates has told a court that he lied to federal investigators on Feb. 1, 2018, about his knowledge of the meeting between Rohrabacher, Manafort and lobbyist Vin Weber when he falsely claimed he did not know Ukraine was discussed. Ukraine is one of the top foreign policy concerns of Russian President Vladimir Putin. Manafort spent years working for Ukrainian politicians close to Moscow. And Rohrabacher was one of only a few U.S. lawmakers to oppose American assistance to a new government in Ukraine established in 2014 after protests against Putin's allies in that country."
"Rohrabacher has become notorious for being what The New York Times calls "an apologist" for Putin. "There's two people I think Putin pays: Rohrabacher and Trump," House Majority Leader Kevin McCarthy (R-Calif.) said during a 2016 meeting of the GOP's top brass, according to a secret recording shared with The Washington Post. (McCarthy later said he was joking.) Russian intelligence officials gave Rohrabacher a code name because they viewed him as a valuable source, The New York Times revealed last year."
"Rohrabacher maintains that he is simply motivated by a sincere desire for better relations between Washington and Moscow. In a 2014 Twitter exchange, the congressman wrote, "Have known Manafort 35 years. As in all matters, I make up mind based on truth & right, not donations or even friendship."
"As both chair of the House Foreign Affairs subcommittee covering Europe and a former anti-Soviet hawk, the congressman argues that the two countries with the world's largest nuclear arsenals need to get along and that Americans should have more sympathy for Russia's priorities and its fears of Western encirclement."
"His team said that Friday's news does not show any wrongdoing."
"As the congressman has acknowledged before, the meeting was a dinner with two longtime acquaintances ― Manafort and Weber ― from back in his White House and early congressional days. The three reminisced and talked mostly about politics. The subject of Ukraine came up in passing," Ken Grubbs, Rohrabacher's spokesman, told HuffPost in an email. "It is no secret that Manafort represented [pro-Putin Ukrainian President] Viktor Yanukovych's interests, but as chairman of the relevant European subcommittee, the congressman has listened to all points of view on Ukraine. We may only speculate that Manafort needed to report back to his client that Ukraine was discussed."
"Still, Rohrabacher has emerged as an important figure in the investigations into potential collusion between the Trump campaign and Russian efforts to help President Donald Trump and hurt his rival Hillary Clinton."
"One of a mere handful of well-known GOP figures in Washington who were enthusiastic about Trump before his election victory, Rohrabacher was once under consideration to be the new administration's secretary of state. He has cast doubt on the conclusions of the U.S. intelligence community about the election and said voters benefited from the hacks of Clinton campaign messages. Last year, he met with Julian Assange of WikiLeaks, the group that released the stolen Clinton materials, and said he wanted to give Trump information proving the hack was not committed by Russia. Soon afterward, top Republicans curtailed his powers on his influential subcommittee. And in 2016, Rohrabacher had meetings with Trump adviser Michael Flynn ― who is now cooperating with Mueller ― and with Russian lawyer Natalia Veselnitskaya ― who is known for a Trump Tower meeting she had with Donald Trump Jr., Manafort and others hoping that Russia would share information damaging to Clinton."
"The 15-term congressman is courting controversy even as he faces what observers describe as his toughest re-election race yet in a California district that seems to be turning more liberal. He appears unfazed."
As per a 2/23/18 LA Times report by Sarah D. Wise, Here is a 2016 timeline of Rep. Rohrabacher's activities:
April 2016
A meeting in Moscow
During a congressional trip to Russia in 2016, Rohrabacher and his longtime friend and employee Paul Behrends met privately with high-ranking Russian justice officials.
At the time, Congress was considering expanding the 2012 Magnitsky Act, which prevented Russians believed to be involved in certain human rights abuses from traveling to the United States or spending money in the country.
The law was named for whistle-blowing lawyer Sergei Magnitsky, who died under suspicious circumstances in a Russian prison after he accused several top Russian officials of misappropriating $230 million in taxes.
Russian President Vladimir Putin was incensed by the restrictions. In retaliation, he halted U.S. adoptions of Russian children.
"During the April meeting, according to multiple news reports, Rohrabacher was given a memo stamped "confidential." Deputy general prosecutor Viktor Grin, one of the Russians whose foreign accounts were frozen under the Magnitsky Act, was in the room, according to news accounts."
"Changing attitudes to the Magnitsky story in the Congress… could have a very favorable response from the Russian side," the memo said, according to the Daily Beast."
"It contested the details of the Magnitsky case, including how the lawyer died, and leveled accusations against Magnitsky's American-born boss, financier Bill Browder. They wanted Rohrabacher to cast doubt on what had happened to Magnitsky, and try to at least get Magnitsky's name removed from the law."
"Politico also reported that Rohrabacher huddled with Russian-American lobbyist Rinat Akhmetshin and Russian lawyer Natalia Veselnitskaya while he was in Moscow, a meeting Rohrabacher hasn't confirmed. The pair later went on to lead lobbying efforts against the expanded Magnitsky Act when Rohrabacher returned to Washington.'
"Rohrabacher called stories about the trip and the document a "nothing burger" this month, saying that as chairman of the House Foreign Affairs Subcommittee on Europe, Eurasia and Emerging Threats he has an obligation to get information from many sources. He said foreign governments often pass on information to try to prove their point."
"The criminal justice department in Moscow had done a study of the Magnitsky case and had investigated it, and I was asked if I would look at it, and I said sure," Rohrabacher said. "I'm the chairman of the subcommittee that's supposed to focus on Russia. It's absolutely appropriate, and I think anybody that doesn't spend that time focusing on their responsibility is derelict in their duty."
May and June 2016
"Lobbying fellow House members"
"Soon after Rohrabacher and Behrends returned to Washington, Rohrabacher delayed further consideration of the expanded Magnitsky Act."
"The congressman came across some information that puts the Magnitsky narrative as we know it into some question, and he wants to pursue it," Rohrabacher spokesman Ken Grubbs told National Review at the time."
"Rohrabacher and Behrends began setting up a subcommittee hearing on the Magnitsky Act with plans to invite Browder and show a documentary disputing the facts of the Magnitsky case."
"Also trying to sway members of Congress at this time were the lobbyist and lawyer Rohrabacher had reportedly met with in Moscow months before: Akhmetshin, a registered lobbyist for Human Rights Accountability Global Initiative, a group started by Veselnitskaya to lift the adoption ban, but widely thought to be focused on getting rid of the Magnitsky Act sanctions."
"But Rohrabacher's plan for a subcommittee hearing was waylaid by Foreign Affairs Committee Chairman Ed Royce (R-Fullerton), who instead arranged for the full committee to discuss U.S. policy toward Russia in June, a move that meant Royce controlled who would be called as a witness."
"Veselnitskaya can be seen in video of the hearing sitting behind then-U.S. Ambassador to Russia Michael McFaul."
"Neither Akhmetshin or Veselnitskaya registered as foreign agents with the Justice Department, but Akhmetshin did register as a lobbyist. His 2016 registration lists three foreign clients, all Moscow residents."
"One of them, Denis Katsyv, owns Prevezon, the company sued by then-U.S. Attorney for the Southern District of New York Preet Bharara for using the stolen money Magnitsky was investigating to buy Manhattan real estate."
"Bharara was fired by Trump along with other U.S. attorneys, and his replacement settled the case against Katsyv and Prevezon in May for $6 million. Democrats on the House Judiciary Committee have questioned Attorney General Jeff Sessions about the timing of the settlement, which came just days before the trial was set to begin and for about half of what the Justice Department initially sought."
June 9, 2016
A meeting in Trump Tower
Around the same time as Rohrabacher was organizing the subcommittee hearing that never happened, the president's eldest son, Donald Trump Jr., agreed to meet with some people with Russian ties after he was told he would be given derogatory information about Clinton, the Democratic presidential nominee, as "part of Russia and its government's support for Mr. Trump," according to emails.
He brought along his brother-in-law, Jared Kushner, and then-Trump campaign chairman, Paul Manafort, to the Trump Tower gathering.
Veselnitskaya provided Trump Jr. with material she said showed improper donations to the Democratic National Committee. Then Veselnitskaya and Akhmetshin began to talk about the Magnitsky Act and Russian adoptions, according to multiple news accounts.
Huntington Beach businessman Ike Kaveladze also attended the meeting. Rohrabacher said in an interview he'd never heard of Kaveladze, a constituent who lives near Rohrabacher's Costa Mesa home, until after the Los Angeles Times identified him as a meeting attendee.
Reports on who attended the meeting thrust Rohrabacher's efforts to remove Magnitsky's name from the sanctions law back into the spotlight.
June 15, 2016
'There's two people I think Putin pays: Rohrabacher and Trump'
House Majority Leader Kevin McCarthy, a GOP California colleague of Rohrabacher's, speculated in a private meeting that Trump and Rohrabacher were being paid by Russian President Vladimir Putin.
"There's two people I think Putin pays: Rohrabacher and Trump," McCarthy (R-Bakersfield) said in a recording of the exchange, first reported by the Washington Post in May. At that point, House Speaker Paul D. Ryan cut off the conversation and swore those who were there to secrecy.
A transcript of the tape noted that McCarthy was laughing during the conversation with other Republican leaders. After the transcript leaked, both McCarthy and Ryan said the comment had been a joke.
Sept. 20, 2016
A meeting with Trump campaign advisor Michael Flynn
Rohrabacher allegedly met in Washington with Trump campaign advisor Michael Flynn in the weeks before the election. Also attending were Flynn's son, Michael G. Flynn, and Flynn's lobbying associates at the Flynn Intel Group.
Flynn went on to briefly serve as National Security Advisor in the Trump administration before he was caught lying about conversations with the Russian Ambassador, prompting an intense look by the FBI into past work with foreign governments done by Flynn and his son.
In November 2017, NBC News reported that the FBI was interviewing witnesses about the content of the meeting Rohrabacher attended.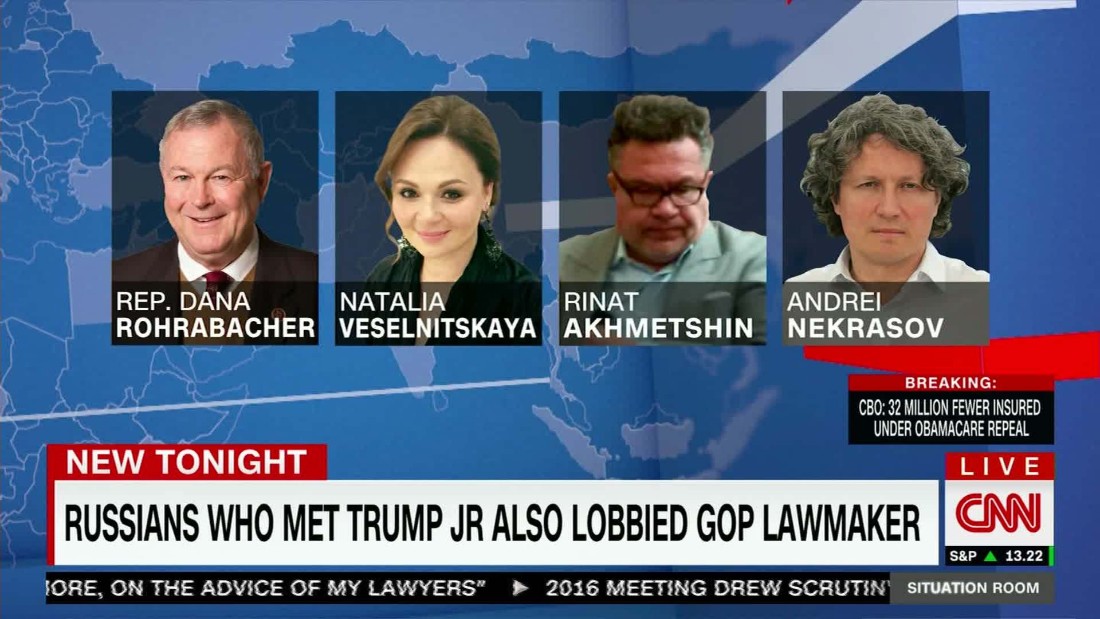 Spring 2017
A canceled trip to Russia
After promoting a trip to meet with the Russian parliament in January, Rohrabacher canceled it with no notice weeks later.
Rohrabacher said in an interview that he decided not to go because he was worried the national focus on Russia would make it difficult to have serious conversations with Russian officials.
But a senior House GOP aide who asked not to be identified because he was not authorized to speak to reporters said Royce declined Rohrabacher's request to travel to Moscow shortly after the inauguration.
July 21, 2017
Accused of violating Russian sanctions
Rohrabacher has now been accused of violating the Russian sanctions he fought against by the man who convinced Congress to approve them.
In a complaint filed with the Treasury Department's Office of Foreign Assets Control, Browder alleged that by getting information from Grin – one of the Russians sanctioned under the Magnitsky Act – and using it to try to change U.S. law, "Rohrabacher's and Behrends' reported actions thus provided services to one of the central figures targeted by the Magnitsky Act."
Such complaints are most commonly made about the actions of big banks or private citizens, not a sitting member of Congress.
In a statement responding to the compliant, Rohrabacher said, "anyone who knows me understands that I am the member of Congress least likely to take directions from government officials, especially foreign government officials."
Aug. 16, 2017
A meeting with WikiLeaks founder Julian Assange
Rohrabacher traveled to London during the August congressional recess to meet with WikiLeaks founder Julian Assange, who is living in asylum at the Ecuadorean embassy there. The meeting was arranged by far-right blogger and provocateur Chuck Johnson.
Rohrabacher said in a statement afterward that the Australian fugitive "emphatically stated that the Russians were not involved" in the theft of Democratic National Committee emails during the 2016 presidential campaign.
This blog was updated on 2/24/18